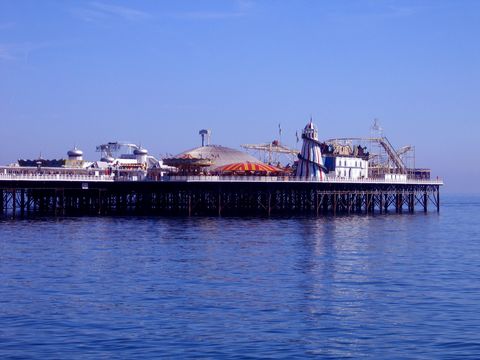 Just an hour from London on Brighton is most certainly England's most famous seaside with plenty to see and entertain.
With just a day or two to spend in Brighton, you definitely must see the Royal Pavilion. It's the most extraordinary of royal palaces, indeed, perhaps the most extraordinary building in Britain—an absolute five-star, don't-miss attraction. 
But Brighton has far more than just one spectacular building. It has a fascinating museum and art gallery, a former royal stables that is now a concert venue with splendid acoustics, the 19th-century Theatre Royal, fine churches, a fishing museum, and a pier that has all that is glitteringly tawdry and absolutely typical of the English seaside.
Read more: The Cliffs of Penwith - Cairns, quoits and kitsch at the tip of Cornwall
Architect Sir Hugh Casson described Brighton as a performance: "A seven-days-a-week, all-the-year-around presentation complete with sets, lights, props, comics, extras, and transformation scenes."
Brighton Pavillion
No piece of that scene is more remarkable than the Pavilion. It began life as a farmhouse; now it flaunts minarets and onion domes, looking especially magical at night when spotlights pick out its myriad embellishments.
Prince George, eldest son of George III, arrived in Brighton in 1783 hoping that sea-bathing—then the latest therapeutic craze—would alleviate his gout. He decided that the farmhouse was just the spot to enjoy the company of Mrs. Fitzherbert, his illegal wife. (As heir to the throne, he was not permitted to marry a Roman Catholic.) By 1787 he had transformed the farmhouse into a neo-classical mansion, but after becoming regent in 1811 and then king in 1820, he decided more splendor was called for. Architect John Nash then confected this palace that looks somewhat Indian and somewhat Islamic from the outside, and somewhat Chinese and a lot like Aladdin's cave from the inside.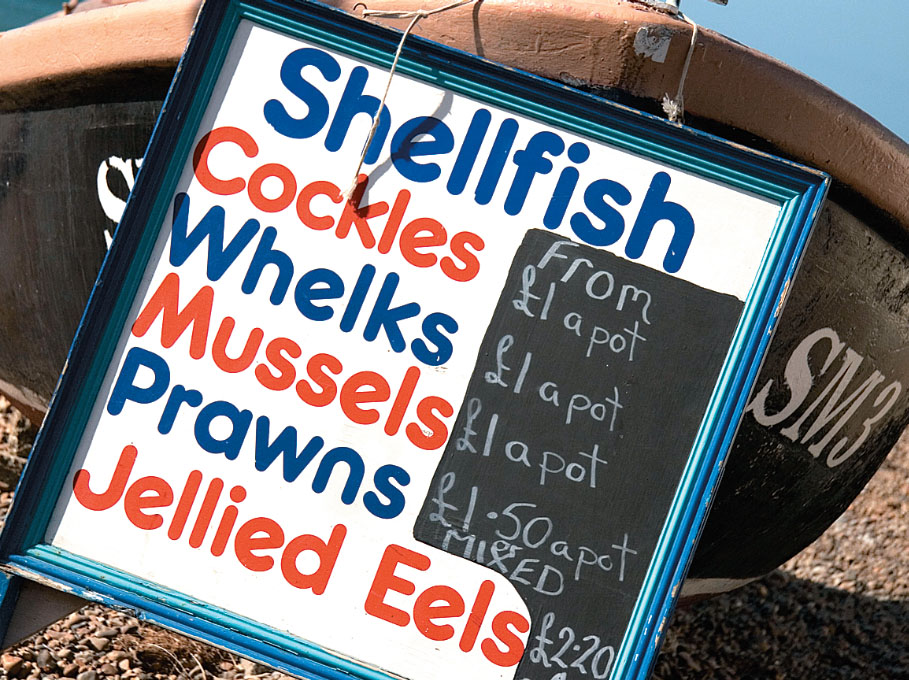 3
The entrance and Long Gallery are serene examples of chinoiserie, whose elegance does little to prepare visitors for the Banqueting Room, into which they lead. This vast chamber has walls painted with Chinese scenes, corners filled with carved palms, a table set with Royal Crown Derby china for 30 and most spectacular of all, a chandelier to beat all chandeliers. Weighing a ton, it falls from the leaves of a giant palm and is held in position by the claws of a dragon that wings its way over the dining table, quite as if it had flown from the pages of Beowulf to superintend the diners below.
Read more: Iconic old Cornish hut, Newlyn Tidal Observatory, with national importance
Not surprisingly to modern minds, the kitchens lie near to the Banqueting Hall—an unusual arrangement in an era when cooks usually labored in remote basements. Alert to the advantages of hot food, George IV insisted that the kitchen be close. Occasionally he even dined there, sitting on a red carpet, enjoying the handsome palm-tree columns holding up the ceiling, and glorying in the displays of copper pans and molds needed for the fanciful dishes of his day.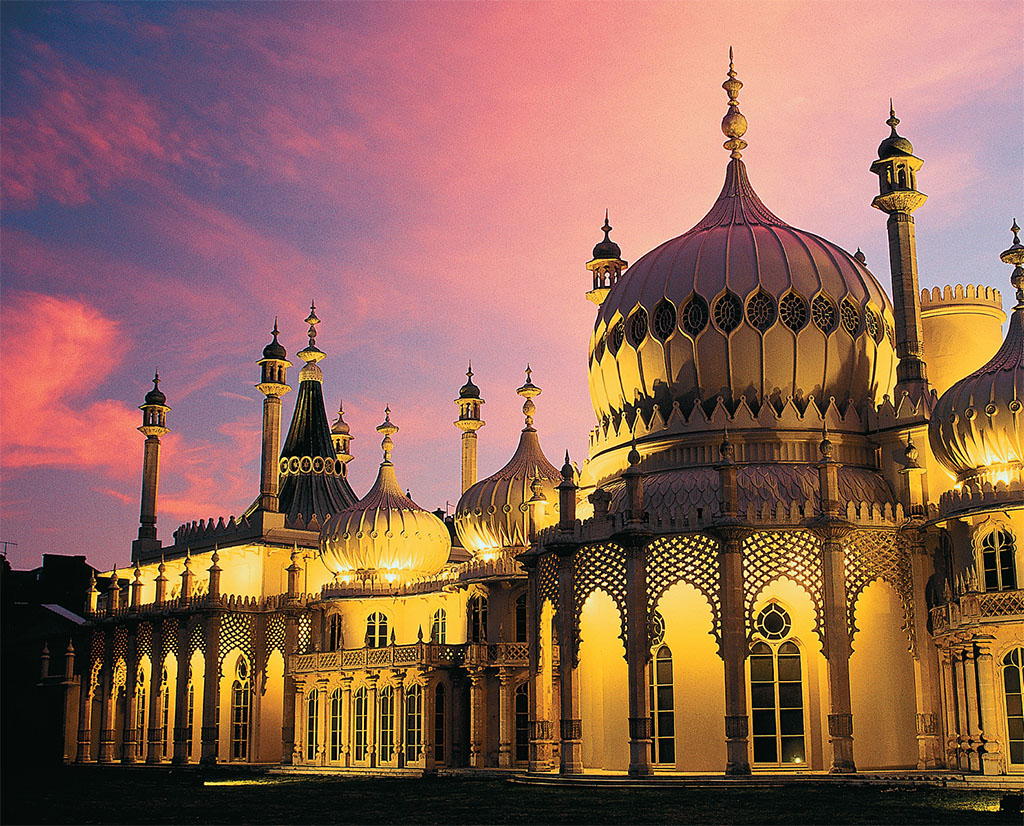 3
After dining, guests would be escorted to the music room, where soft light beamed down from pretty parasol-shaped lampshades. Here musicians, or perhaps the prince regent himself, played for them. Overnight guests were accommodated in gorgeous bedrooms, but considering the Pavilion was the home of royalty, the opulent bedrooms are surprisingly small—one reason why Queen Victoria did not like living there. Indeed, the Pavilion is a pleasure dome for a frolicsome prince rather than a family home for a queen with a brood of nine children. She sold it to the city of Brighton, which has since maintained it for public use.
Emerging from the Pavilion replete with eye-candy riches, you may think the neighboring Brighton Museum and Art Gallery will be small potatoes. Not so. Its display of commemorative pottery with political motifs offers a unique way at looking at England's history. There is also an extensive collection of costumes and 20th-century decorative arts, as well as an array of world history exhibits.
Entertainment
Nearby lies the Dome. Once the royal stables, the Dome now houses two concert halls and the Pavilion Theatre, venues used throughout the year. Either here or at the nearby Theatre Royal, visitors to Brighton can catch musical, dramatic and dance performances immediately before they appear in London's West End. In addition, Brighton's numerous clubs and pubs offer music. The Joogleberry Playhouse hosts cabaret, jazz and flamenco, and Komedia has 700 performances of music and comedy every year. The oldest cinema in England, the Duke of York's, shows foreign and independent films. There's no lack of something to do after dinner!
Where to eat
As for dinner itself, options abound. On Regent Street near the Dome and the Theatre Royal, Indigo serves food from Hispanic countries; next door, Yo sends sushi round on a conveyor belt, while Carluccio's is an Italian deli and café. On the beach, Due South is a permanent fixture on lists of Britain's best restaurants. Nearby The Plaza on King's Road has sea views and a fine table d'hote menu. As for pubs, Brightonians favor the Basketmaker's Arms on Gloucester Street for hearty fare at good prices; The Greys on Southover Street looks modest but is regularly rated as one of England's best gastropubs because of its excellent versions of classic English dishes and its stellar array of Belgian and English beers.
St. Peter's Church
The Grey's is a ten-minute walk from the Royal Pavilion. En route you pass St. Peter's Church, built in the Gothic style to the design of Charles Barry, whose best-known work is the Houses of Parliament. Inspired by York Minster, St. Peter's has a strong musical tradition with a choir school and 10 bells.
St. Peter's was built in 1828 when Brighton's mother church St. Nicholas had become too small for the growing population. The only medieval building in Brighton to survive the fire of 1514, St. Nicholas is lovely. Try to catch one of the free concerts at 12:30 p.m. every Wednesday. Tea and coffee are served, and you can bring your own lunchtime sandwich to eat while glorying in the music and the massive Norman arches. St. Michael and All Angels on Victoria Street has sumptuous stained-glass windows by William Morris and also is worth visiting.
Lanes
Getting around Brighton on foot is easy. The city is compact, and as you go from one sight to another you are sure to come upon shops and galleries that pique your interest. Churchill Square in the town center is a mall packed with Britain's favorite chain stores. More interesting are the Lanes, a mazy district of old streets and alleys where antique shops complement high-fashion boutiques, and alluring jewelers snuggle up to comforting cafes. (If late afternoon brownout is sapping your will, stop at Brown's on Duke Street for afternoon tea. It comes plain or jazzed up with either a flute of champagne or a martini.)
Kemp Town
Kemp Town on the east side of Brighton is another lively area of shops and restaurants set flamboyantly in elegant squares and seafront terraces. Even more than the Lanes, Kemp Town has a village-like ambiance—it's hip and fun rather than old and sleepy. Beyond Kemp Town, the Marina has outlet shops and waterfront bars for watching the sunset.
The Fishing Museum
Here on the sea you can see Brighton at all stages of its history. Its beginnings as the medieval fishing village of Brighthelmstone are captured in The Fishing Museum, which lies on the shore opposite the Lanes, where the fishermen once lived. Further west you reach Hove, whose elegant Regency Squares and terraces housed the aristocratic visitors who came to Brighton to get well amid the luxuries of the fashionable world. The most spectacular terrace is Brunswick Terrace, built in 1823 and best seen from Hove Lawns on the seafront.
Brighton Pier
In the other direction lies Brighton Pier, built in 1899 to entertain hordes of visitors brought from London by the train to enjoy a respite from work. The pier houses amusements, rides, and souvenir shops. You can buy fish and chips or pickled cockles and jellied eels. If you have a sweet tooth, there's doughnuts and candy floss. Most important, you can buy some of the Brighton rock that gave its name to Graham Greene's novel. It's not a rock a la Plymouth Rock, but cylindrical candy sticks, typically peppermint flavored. Crucially, it has the name Brighton all the way through it. You can also get rock shaped like fruit or fried eggs or giant humbugs, or just about anything. It's bright, cheap, definitely not good for your teeth, but an absolutely authentic English seaside treat.
You can travel to Brighton by train or bus from London and Gatwick, and by bus from Heathrow. Eco-friendly buses named after local heroes such as Mrs. Fitzherbert and Dame Millicent Fawcett will transport you everywhere if you don't want to walk. An unlimited day pass costs only £3. Don't rent a car: the streets are busy and parking difficult. For more information on Brighton and Hove (now united as one city), check www.visitbrighton.com.
Read more: From Constable Country to The Wash - discovering East Anglia
* Originally published in Nov 2007.