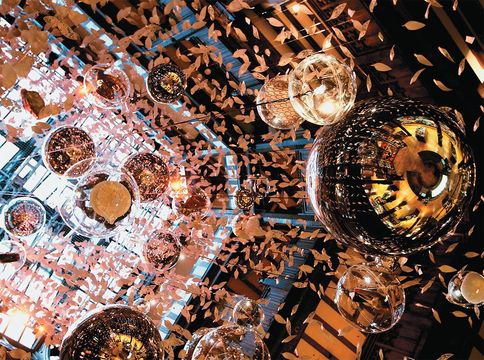 To most people, the words "Christmas in London" evoke long-ago images of carolers, plum pudding, and Tiny Tim. But today's shoppers know that Regent Street, along with adjoining Heddon Street, Carnaby Street and Kingly Court, is the shiniest, glitziest, most spectacular, Christmassiest place in town.
Editor's note: Of course, due to the COVID pandemic travel is restricted somewhat and most events are canceled in order to obey social distancing. Let's just enjoy this article from a 2011 edition of British Heritage Travel and plan our Christmas outtings for 2021.
Regent Street was laid out by John Nash in the early 19th century as a handy route for the Prince Regent to travel between his home, Carlton House, and his summer villa in Regent's Park. But when the Prince became King George IV, he no longer needed Carlton House, and the villa never materialized. The street was built all the same, this time as the first purpose-built shopping street in the world. Completed in 1826, it runs from Oxford Circus to Piccadilly, neatly dividing Mayfair from Soho.
Nowhere is the Christmas spirit more apparent than at super toy emporium Hamley's and at Liberty, known as a world style center. Just window-shopping can be a December treat. Last year Liberty's windows featured evening wear, fashions and accessories displayed with cutouts in bright, fluorescent pink. The store collaborated with Rob Ryan to produce cutout filigree imagery, and the entire branding for the season was based on a romantic fairytale of long-lost love.
This year one window display takes shoppers to the Alps. Cutouts of cuckoo clocks fill the windows, creating a magical woodland theme of log cabins, antlers and birds made out of twigs and feathers. Black crystal and drop chandeliers designed as Christmas tree ornaments are displayed in another window. By contrast, pure white crystal shows up in the next showcase, while sugarplum fairies with hand-painted gossamer wings and skirts flit through another.
With shoppers lured through the doors, the real buying frenzy begins, especially on the ground and fourth floors. There will be activity all over the store, but those are the two key areas. The fourth floor features furniture arrayed on a mezzanine where shoppers can look down at the merry melee below or up at the authentic Tudor ceilings.
Liberty was founded by Arthur Lasenby Liberty in 1875. It started by selling art objects from the Far East but soon developed its own style, linked to the 1890s aesthetic movement and Art Nouveau. In Italy, Art Nouveau was known as Stile Liberty, while in Britain, a small-scale floral print became known as a "Liberty Print." Liberty made some of its own fabrics, and famous Pre-Raphaelite artists prowled its aisles looking for inspiration. The store still prints some fabrics, and a Liberty scarf or bibelot is considered by some the ultimate luxury gift.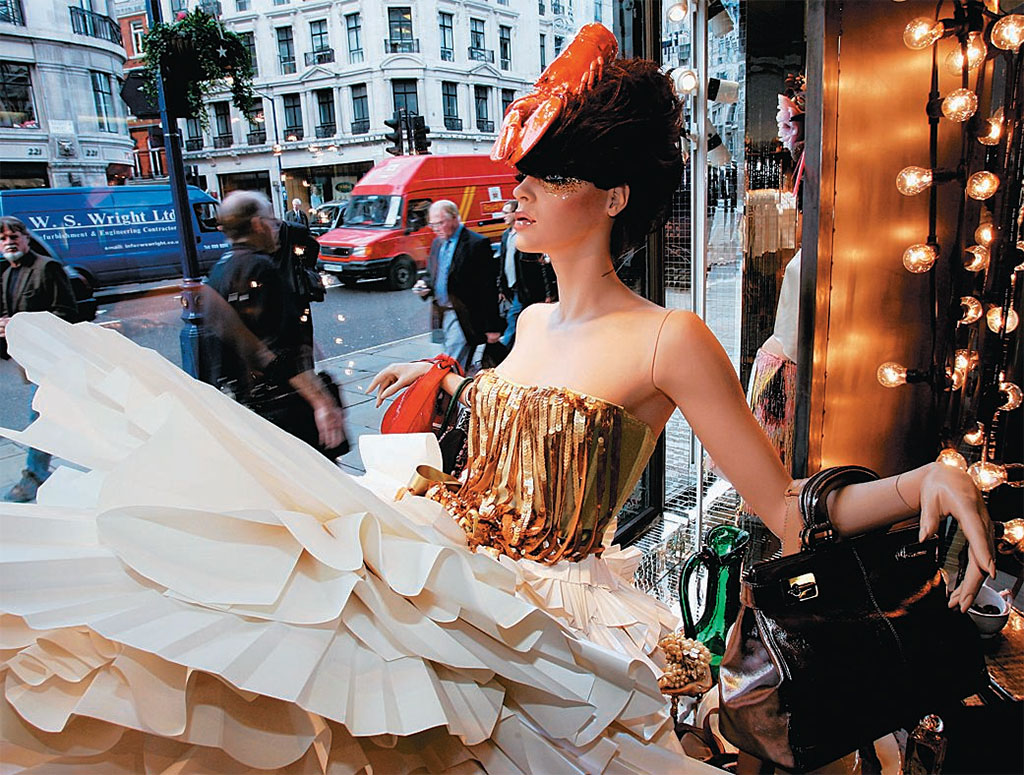 5
The store was housed in two side-by-side buildings on Regent and Great Marlborough streets, the Regent Street side designed in early 20th-century neo-Baroque. Second and most distinctive was the Tudor building, housing the main entrance today. It was built from the timbers of two ships, HMS Impregnable and HMS Hindustan.
Meanwhile, Hamley's has been flourishing since 1760, when it was founded by William Hamley in Holborn. His grandsons moved it to Regent Street in 1881. It went from selling tin soldiers and rag dolls to its present array, seven floors of every toy imaginable. In 1921 it was the first to sell a game initially called Gossima, then ping pong and finally, officially, table tennis. By then Hamley's was the largest toy shop in the world, a distinction it still has today. The store was bombed five times in the Blitz, but the staff put on tin hats and carried on.
Shoppers are greeted at the door with a flurry of bubbles and invited to a game of catch with an enormous flying saucer. Life-sized mother giraffes and lions nuzzle their babies as kid-friendly music plays throughout the store. On Valentine's Day giant hearts dangle from the ceiling, and employees hand out roses and chocolates everywhere.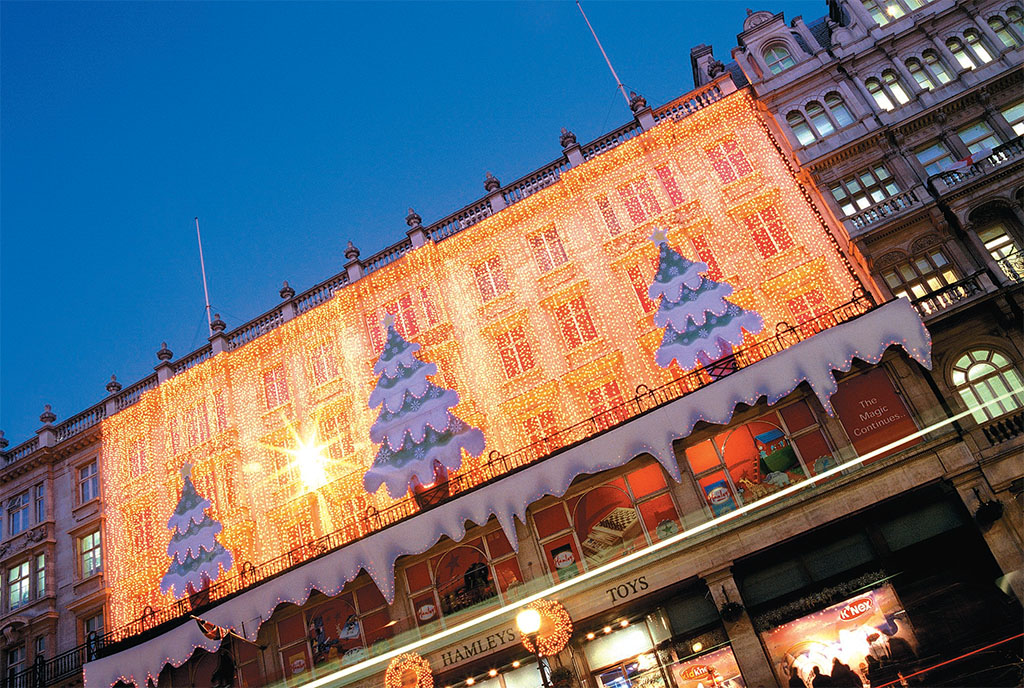 5
But Hamley's goes all out at Christmas, where it becomes a truly magical experience. It snows on the staircase, which might take visitors to the worlds of Harry Potter or Narnia. The Narnia staircase leads children through the famous story, and they can sit on the Ice Queen's throne and see some of the props used in the film.
"If it doesn't actually snow, it's snowing at Hamley's," says Soley Sami of the store's customer services. Santa hosts brunches and birthday parties with treasure hunts and party games, as shoppers walk through arches of holly and glittering trees everywhere.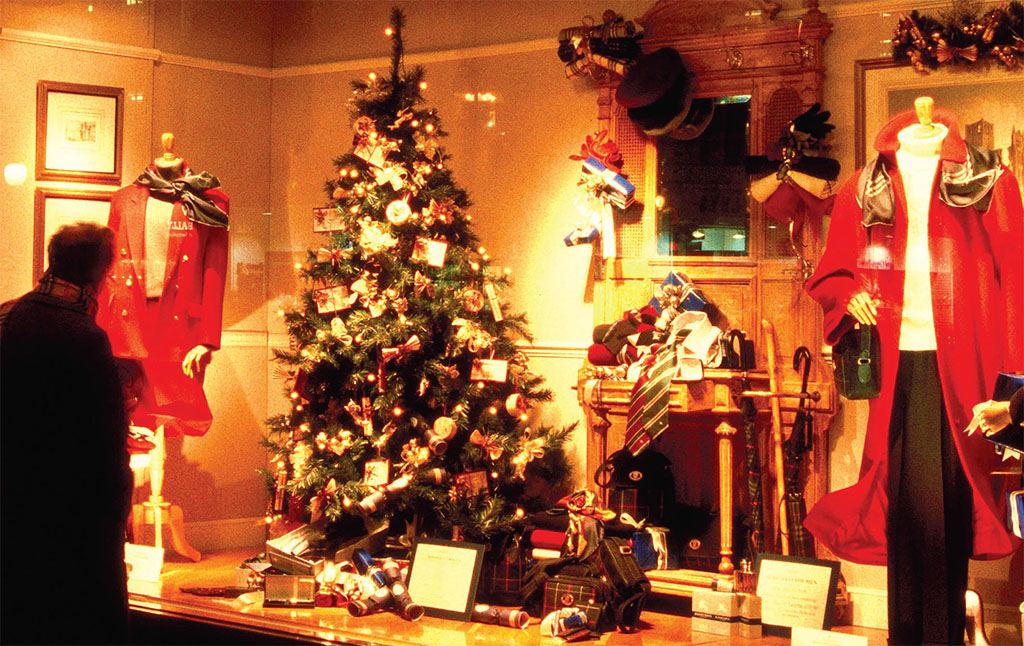 5
"Christmas at Hamley's is very magical," says Sami. "We try to make it special for everybody. We had a lovely grotto last year. We also transform one area of the store into Santa's workshop. In the queue, kids are entertained by elves who make them laugh and enjoy themselves while they're waiting to see Santa. Outside are the Regent Street lights, and when they get turned on it's such a big event. It's a London spectacular."
A London spectacular indeed, as the famous light switch is flipped by luminaries who have ranged from the Prince of Wales to Dame Edna Everage. The switch might be found in Burberrys, British Airways, Mappin & Webb, Austin Reed, or any of the Regent Street businesses. Past themes have included pantomime, white lights depicting cascading waterfalls and stars, "Alladin" and a celebration of West End musicals.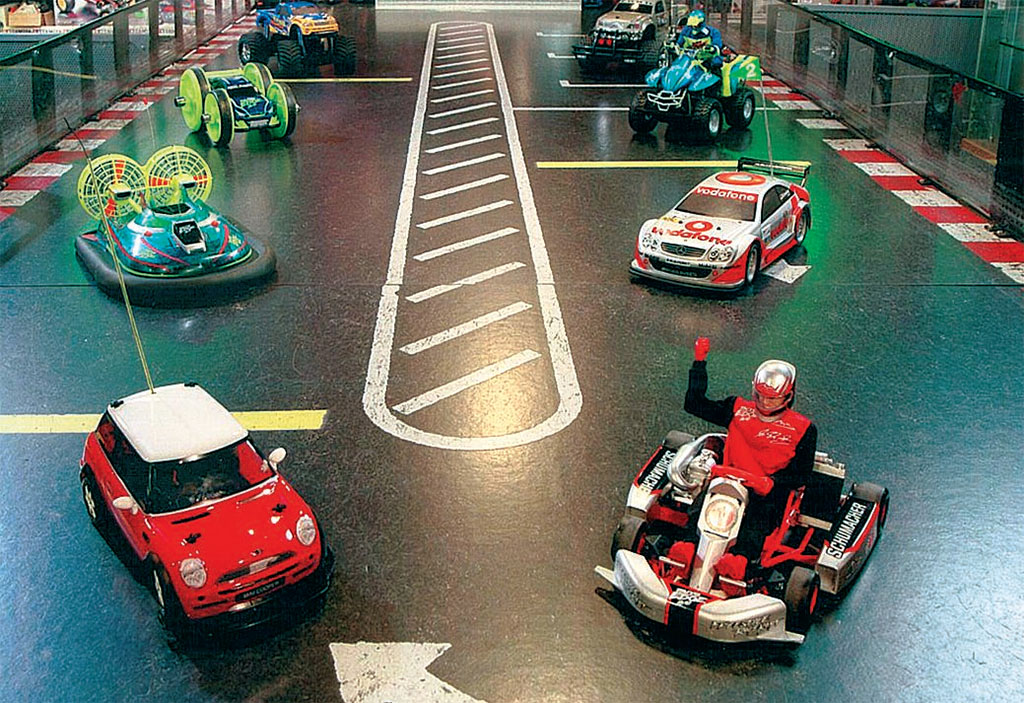 5
The Regent Street lights first glowed in 1954, a reaction to a Daily Telegraph piece deploring London's drab Yuletide appearance. An association was organized and a simple display of lanterns on building facades appeared. The lights became more elaborate each year until 1971, when they were turned off for seven years, due to the economic climate and increased costs. The lights are financed by Regent Street retailers and other sponsors.
Tourists and locals alike flock to the site, especially at the 6 p.m. switching-on ceremony that takes place early in November, conducted in most recent years by pop stars and singers. Popstar Lee Ryan did the honors in 2005, lighting up an Ice Age 2: The Meltdown display as fireworks filled the sky in honor of Guy Fawkes Day, and Hamley's switched on their lights as well. More entertainment followed, provided by Bananarama and the casts of Mamma Mia! and Scrooge. Regent Street's Absolut Ice Bar hosted a private party with free canapés and drinks and a chance to watch the switching-on ceremony in chilly comfort on live-relay plasma screens. The previous year, boy band Busted lit up the street, promoting Disney/Pixar's The Incredibles.
Adults may cavort in the Ice Bar and teens gyrate to the beat, but the season belongs to the children who yearn for a toy from Hamley's and often get their wish. As Sami says, "There's nothing more wonderful than seeing a kid who got the thing he wanted for Christmas."
* Originally published in Jan 2016.