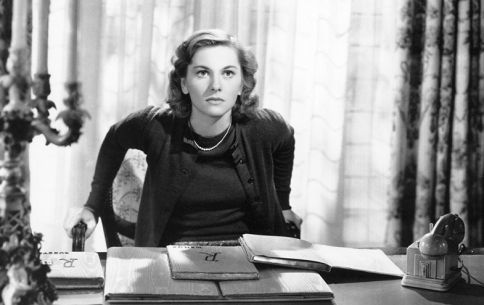 Daphne du Maurier came from a line of distinguished eccentrics.
Her great-great-grandmother, Mary Anne Clarke, dallied with the Duke of York. Her grandfather, George du Maurier, was a Punch caricaturist and novelist who wrote Trilby and Peter Ibbetson, largely unread today but wildly popular in their time. Her father, Sir George du Maurier, was a famous actor-manager who ran Wyndham's Theatre in London. He introduced a natural style of acting, drawing gasps when he casually lit a cigarette on stage. He treated his three daughters like the sons he never had, teaching them boxing and cricket. "Uncle Jim" Barrie wrote Peter Pan for her cousins.
Du Maurier's beginnings
She was a staunch royalist—her husband, Major Frederick Arthur Montague Browning, otherwise "Tommy," was comptroller and treasurer to the royal family for many years, and she once wept at the queen's speech—but she found weekends at Balmoral boring and being presented at court silly. She worried about finances but refused to promote her books with signings, television appearances or press conferences. She deplored the increased tourism in Cornwall while being partly responsible for it.
Daphne du Maurier was born 100 years ago, growing up in London's Regent's Park and Hampstead. She was educated at home and at a French finishing school. Her family frequently summered in the country, where she adored the freedom to run and play games of her imagination in the woods. In 1927 the du Mauriers bought a modest summer home built into the hillside at Bodinnick overlooking Fowey, a picturesque village and working port that with a little stretch of the imagination could be in the Mediterranean. The house was originally called Swiss Cottage because of its half-timbered facade. The family eventually relieved it of its Alpine touches and renamed it Ferryside.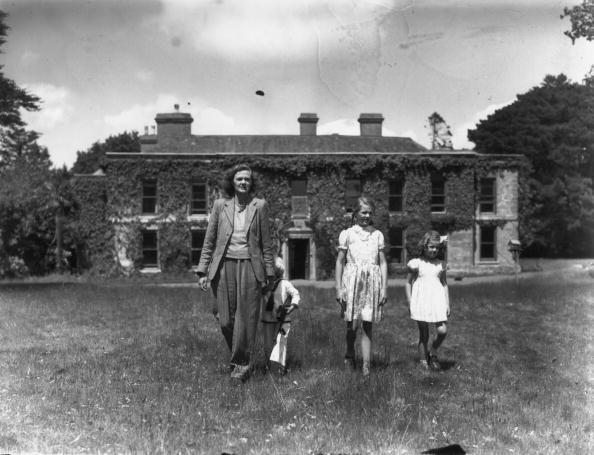 5
The day after her 20th birthday, Daphne was allowed to remain at Swiss Cottage while her family went back to London. It was the first time she had ever lived alone and achieved the peace and solitude she needed to write. She talked with local families, went for long walks, watched boats being laden with china clay as they still are today and shouted for the ferry when she wanted to cross over to Fowey. She sailed and rowed; a much-reproduced photograph shows her pulling valiantly at the oars, Swiss Cottage in the background. She saw a ship go aground and all its passengers brought to safety, a scene she would depict in Rebecca.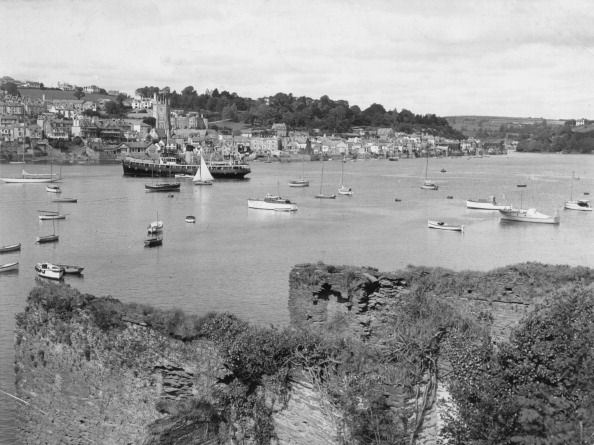 5
Menabilly
Her prowlings around the woods near Fowey led her one day to a large abandoned house called Menabilly. She visited it again and again, enchanted with its ivy-covered exterior. Glimpses through its shutters of tattered wallpaper, ancestral portraits and other evidence of faded grandeur held great significance for her. Once she crept through a window and found a battered rocking horse in the nursery and a rusty corkscrew on the mantel. It would eventually be the setting for three novels, most notably Rebecca, where Menabilly, along with the memory of another house she had visited as a child, became Manderley.
One day she saw a derelict schooner, Jane Slade, rotting away, its once-proud figurehead slipping into the mud. The Slade family gave her access to their family papers, and she turned them into her first book, a romantic novel. In 1931 popular romances were rather new, and reviewers were at a loss as to what to make of The Loving Spirit, but they generally reviewed it favorably. The Slade family gave her the figurehead, and today it is mounted under the eaves of Ferryside.
Jamaica Inn 
One day in 1936, Daphne and a friend rode horses through the "dark, diabolical beauty" of nearby Bodmin Moor. Lost for hours in mist and rain, they fell at midnight into a welcome hostelry, Jamaica Inn. Built in 1750 as a coaching house for travelers from Launceston to Bodmin, Jamaica Inn soon became the dropping-off point for contraband, including tea, tobacco, silk, and brandy. (It probably took its name from the latter.) Daphne's vivid imagination soon put the inn into one of her most successful books, filled with smugglers, cutthroats, and, of course, forbidden love. Reviewed as "perhaps the most accomplished historical romance ever written," Jamaica Inn was later released as a film, directed by Alfred Hitchcock, with Maureen O'Hara as heroine Mary Yellan and Charles Laughton as Sir Humphrey Pengallan.
Today visitors can still dine and sleep at the inn. There, a sound-and-light show takes them to the world of smugglers, some of Daphne's artifacts are on view and one of 15 assorted ghosts might appear in their bedrooms or gallop ominously through the courtyard. (Oddly, Daphne seems never to have depicted ghosts in her books, not even the woman in blue said to look out of a window at Menabilly.) A few miles to the east is the village of Altarnum, where Daphne made the vicar of the "Cathedral of the Moors" the villain of her story. Hawk's Tor, Kilmarth Tor, Twelve Men's Moor, and Trewartha Tor are other landmarks mentioned in Jamaica Inn.
Problems in the house
Daphne wrote and resumed her obsession with Menabilly, which she called "my Mena." She frequently led her children on long tramps through the beech woods to the wrought-iron gates. Up the gravel path, they went to spy on the house, which by now had been abandoned for 20 years. She actually pushed her face into the ivy to kiss the brick walls of the long, two-story house, insisting that it was hers "by right of love."
Every inch of Menabilly needed redoing, from plumbing and electricity to painting and furnishing. Daphne, who hated housecleaning, worked along with whomever she could persuade to help her. In 1943 she happily moved her family in and had everything ready to greet Tommy when he got leave that Christmas.
The children, Tessa, Flavia, and Kits, were not as enchanted with Menabilly as their mother. There was no central heating, and the bedrooms were frigid in winter. Rats, bats, and beetles abounded, ferns and fungus grew out of the walls, and the north wing was off-limits because it was in danger of collapse. Daphne did her writing in a garden hut. She wrote The King's General after discovering that there was a skeleton bricked up in the cellar, with nothing but a table, a trencher, and a pair of Cavalier shoes for company. After Rebecca and Frenchman's Creek achieved popularity, visitors, including American GIs, boldly flocked to the grounds unannounced and unwanted. Today there is no public access to Menabilly, and it can barely be glimpsed through the trees.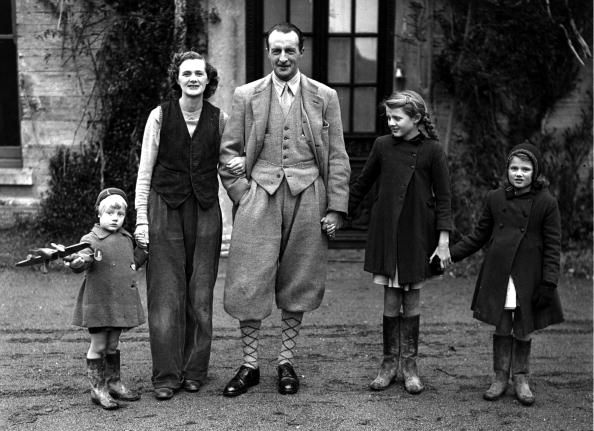 5
Leaving Menabilly 
In June 1969, four years after Tommy's death, Daphne was forced to leave Menabilly. Her lease had already been extended by several years. Dr. Rashleigh had died, and his nephew and heir understandably wanted to move in. He let her rent nearby Kilmarth, a house that was part of the Rashleigh estate. It was smaller and brighter than Menabilly, easier to keep up and located on a cliff overlooking the sea. Daphne added quarters in the back, where her grandchildren could make noise without disturbing her.
Daphne was made a fellow of the Royal Society of Literature in 1952 and a Dame of the British Empire in 1969. In 1977 she won the Mystery Writers of America Grand Master Award, and in 1996 her face and typewriter graced a British postage stamp.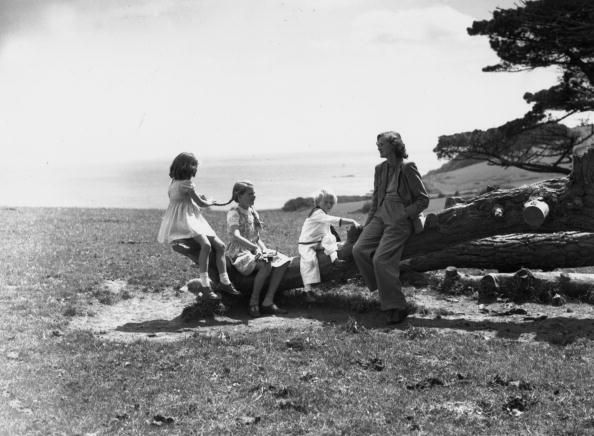 5
Along with Jamaica Inn, Hitchcock would direct film versions of The Birds and Rebecca, in which he called the famously unnamed heroine "Daphne." There have been two television versions of Rebecca, while Hitchcock's film went on limited re-release in Britain in 2006, generating at least one review revealing sinister meanings that most readers would never suspect.
Modern critics have paid more serious attention to Daphne's work, the entire canon of which was reprinted in 2003. Since 1997 a Daphne du Maurier Festival of Arts and Literature has been held at Fowey, attracting radio presenters, authors, and, in 2006, a dramatic presentation of The House on the Strand by the Tywardreath Players. Today, tourists from all over the world come to Fowey on the Cornish Riviera to explore the world of Daphne du Maurier
Daphne summed up her Cornish home in these words: "I walked this land with a dreamer's freedom and a waking man's perception—places, houses, whispered to me their secrets and shared with me their sorrows and their joys. And in return, I gave them something of myself, a few of my novels passing into the folk-lore of this ancient place."
* Originally published in 2007.