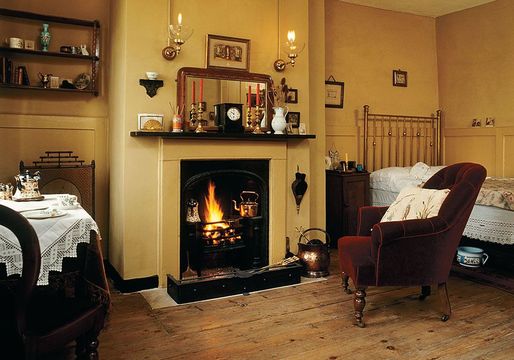 Almshouses across Britain have sheltered elderly and poor parishioners giving them succor since the 10th century, a tradition that continues today. Here's a short history of almshouses and some you can still visit today.
In his will of November 1665, John Osbaldeston of Chiswick, London, left £500 to be invested in land for the maintenance of the poor of Leyland, Lancashire. His generosity survives, as examples do throughout much of the country, in the form of almshouses—accommodation for the poor and dispossessed.
Until the 17th century, the state made no specific provision for old, injured, and destitute people. While religious foundations provided some care for the poor and sick, much of this assistance ended following the dissolution of the monasteries in 1536.
At the Hospital of St. Cross, Winchester, Hampshire, however, this succor is still supplied in the form of free bread and beer. Reg Sweet, Master of St. Cross, says:
"The Wayfarer's Dole is still provided, but only if requested by a visitor—who can be anyone, including tourists."
The beer, currently London Pride, is donated by London brewer Fuller's. This is a hospital in the historic sense of the word—in other words, a place of hospitality and welcome.
Almshouses have sheltered elderly and poor parishioners, often at a peppercorn rent, since the founding of the first recorded almshouse by King Athelstan in York in the 10th century. The oldest charity still in existence, thought to be the Hospital of St. Oswald in Worcester, was nearing a century old when William arrived in 1066.
At its simplest, an almshouse is an endowed institution providing residential support for the elderly poor. Its facilities are often comfortable with all mod-cons. Some might insist that residents demonstrate a connection with a local area, church congregation, trade or craft or military service. Financial support comes from bequests, donations and fund-raising efforts.
Some of these facilities are among the most beautiful and well-maintained buildings in Britain. While these buildings are people's homes and therefore off-limit to visitors, a number do open their properties for limited access to visitors. Many are open on a daily basis or for special days throughout the year.
Peppercorn rents: not to be sneezed at
Almshouses may apply a peppercorn rent to their residents as part of their charitable work. In English common law, a "peppercorn" rent is one that, back in the day, was set in peppercorns when such spices were sent from the Orient and consequently extremely valuable.
Nowadays, it is a rent set at a token level, well below the market rental value of a property, to establish that the property is being rented. This allows the property to be subject to landlord/tenant regulation, without seeking to make profit. Someone might let a relative live in a flat for a peppercorn rent of £1 per month. Given the value of medieval peppercorns, financial experts figure a modern equivalent might be around £4 a peppercorn.
While no longer a refuge for the elderly, this 18th-century almshouse provides one of the most delightful of London's hidden museums without turning its back on its charitable heritage. Today, the buildings are Grade 1-listed buildings. In their heyday, the almshouses provided shelter for around 50 pensioners. It has been tastefully converted into a museum presenting the history of the English domestic interior. It does this through collections of furniture, textiles, paintings and objects displayed in a series of period rooms spanning 1600 to the present day. Adjoining the museum is a restored almshouse that is open to the public.
Operating as a charitable foundation under an act of Parliament of 1624 and a royal charter of 1631, Sackville College is considered a splendid example of Jacobean architecture. On a musical note, a Victorian warden, the Rev. Dr. John Mason Neale, composed "Good King Wenceslas" while at the college. 
Eastbridge Hospital, Greyfriars Chapel and Franciscan Gardens, Canterbury
For 800 years, the Eastbridge Hospital has been giving shelter and help to pilgrims, soldiers, local societies, and schoolchildren. For four centuries it has been a permanent home to a number of elderly people. In 1176, six years after Thomas a Becket was killed in the cathedral, the hospital was founded to help cope with the huge numbers of pilgrims coming to see his tomb.
Sherborne Almshouse of St. John, Dorset
The picturesque almshouse was built in the 15th century for "12 poor men and four poor women" and is now home to 18 elderly residents. Of particular interest is the remarkable 15th-century triptych; copies of the illuminated Royal license and foundation deed; an original letter dated 1594 from Sir Walter Raleigh to the Almshouse Master.
The water meadows alongside Hampshire's River Itchen, just a stroll from Winchester's bustling center, are the delightful setting for the very ancient Hospital of St. Cross. For centuries, this community has been home to around 25 elderly men, known as "Brothers," who wear black or red gowns and a trencher hat for daily church and other formal occasions. They reside in individual, private apartments and are not monks: St. Cross is not a monastery, but a secular foundation. Medieval St. Cross was endowed with land, mills and farms, providing food, drink and supporting funds for a large number of people. An ancient hall in the outer quad serves as a tearoom, welcoming visitors throughout the year.
The centerpiece of the almshouse is a Norman church that can be mistaken for a cathedral in miniature. Nearby stands a classic medieval hall and kitchen, as well as a Tudor cloister. Extensive gardens are immaculately maintained throughout the year.
This is a complex of Grade I-listed, 17th-century almshouses, schoolroom, warden's house and stables. The schoolroom has original 17th-century furniture and an exhibition room. Lady Margaret Hunger-ford founded the almshouses for the care of six poor people and the schoolroom for educating poor children. Arms of the foundress are on display. 
Lyddington Bede House originated as the medieval wing of a palace belonging to the Bishops of Lincoln. By 1600 it had passed to Sir Thomas Cecil, son of Queen Elizabeth's chief minister, who converted it into an almshouse for 12 poor "bedesmen" more than 30 years old and two women (over 45), all "free of lunacy, leprosy or the French pox." Visitors can wander through the old bedesmen's rooms, with their tiny windows and fireplaces, and view the former bishops' Great Chamber on the first floor, with its beautifully carved ceiling cornice.
Designed by Sir Christopher Wren and completed in 1692, this has to be the kingdom's highest profile almshouse. Over the last three centuries, it has given sanctuary to more than 25,000 residents, known as Chelsea Pensioners, who are old soldiers. The Pensioners have moved out of Wren's traditional rooms, known as "berths" into modern, en-suite bedrooms brought into the 21st century with full internet access.
In order to become a Pensioner, a candidate must be over 65, a former soldier who served at least 12 years in the British army, able to live independently and free of any obligation to support a spouse or family.
Pensioners, who are often seen out and about in the capital, are now likely to be veterans who fought under the flag in Korea, the Falklands, Cyprus, Northern Ireland and World War II. With a 66-acre site just off Sloane Square, the Hospital boasts a state-of-the-art infirmary, full medical and catering services and its own postcode. The Pensioners are regularly invited to attend Chelsea soccer matches and its bowls team travels the world.
St. Mary's Hospital, Cathedral Cloisters, Chichester, West Sussex
The almshouses are the homes of the residents and are therefore not generally open to the public. However, it is possible to visit the medieval hospital building by arrangement. There is usually a member of staff on hand to assist visitors, and an information booklet available for purchase.
The Greyfriar monks donated the site in the 13th century. The timber-framed building consists of six massive oak bays, with a kingpost roof more than 40 feet high and a chapel at the east end. The building was completed in 1292.
The New College of Cobham, Cobham, Kent
Based on a medieval chantry built in 1362 and partly rebuilt in 1598, the almshouses were endowed by Sir John de Cobham and his descendants. Behind the parish church of St. Mary, Cobham, you will find the quadrangular building of New College and almshouses retaining the remains of the original foundations of the college for priests, built by Sir John de Cobham also in 1362.
* Originally published in 2016.