[caption id="TypicalEnglishnessGrandHotelCapersandSpanishTapas_img1" align="aligncenter" width="661"]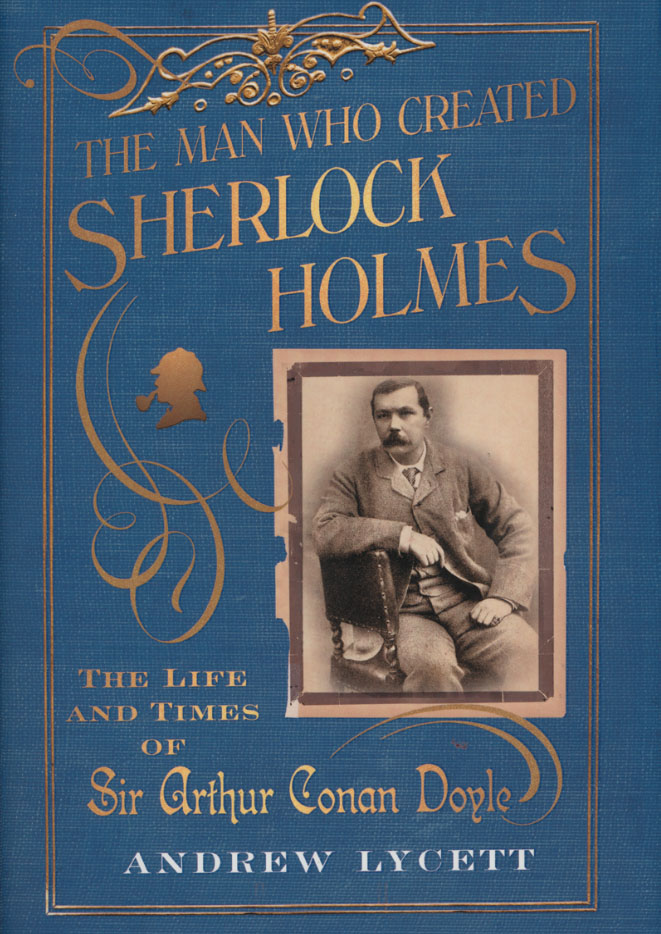 6
[/caption]
BOOKS
The Man Who Created Sherlock Holmes: The Life and Times of Sir Arthur Conan Doyle
, by Andrew Lycett, Simon & Schuster, New York, 557 pages, hardcover &doller;30.
AN IRISHMAN BORN and raised in Victorian Scotland, Arthur Conan Doyle seems a contradiction by current standards. Most renowned for his mysteries involving master detective Sherlock Holmes, who he described in one story as "the most perfect reasoning and observing machine that the world has seen," Doyle was later noted for his efforts to scientifically prove the validity of spiritualism, including communication with the dead.
Working from access to newly released personal archives, Andrew Lycett's biography, The Man Who Created Sherlock Holmes, presents in unprecedented detail what, given the context of his own time, is a logical thought process. Somewhat in contrast to the 21st-century United States, late Victorian and Edwardian England saw less conflict in the scientific and the spiritual. When one considers another of Doyle's creations, the combination of paleontology, recent explorations of South America and adventurous fantasy that was The Lost World, the reconciliation of seeming contradictions in his life story become—like the value of Lycett's book to Holmes fans—elementary, my dear reader.
—Jon Guttman
YOU WOULDN'T THINK it should be that difficult. Two English folks meeting each other, however, is an intrinsically awkward situation—rather like two Southern Baptists running into each other at the liquor store. Such casual rendezvous invariably conjure up a certain social dis-ease. Hmm … what to talk about? The weather. Hence follows an exchange of comments on whatever the state of the weather might be, with the respondent virtually obliged to agree with the assessment of the initiator. After that, the conversation flags.
The English: Characterized by modesty, courteousness, humor, self-deprecation, class-consciousness, stoicism, hypocrisy, social dis-ease and fair play, with all social interaction lubricated by alcohol. And, as Kate Fox indicates in her subtitle, they all follow the rules.
Watching the English is a minor masterpiece of social anthropology. Yes, there are national and cultural characteristics of a people, generalizations to be sure, but there as certainly as sunrise. After all, England must be the only country in the world where if you bump into someone on the Underground or in a supermarket, the predictable response of the offended is an apology: "Sorry." And where if anything goes wrong, from a late train or a bungled restaurant order to a rainy-day holiday, the universal response is a resigned acceptance: "Typical."
Those of us who are English or know the English well know the rules and follow them invariably, instinctively and unconsciously. Kate Fox, however, has explored them with the methodology and passion of a social scientist—spending hours bumping into folks on train platforms and recording responses to the wide variety of social situations and everyday experiences that make up daily life. The results are enlightening, hysterical and all too recognizably true. Pub culture, gossip, rules of workplace and play, class codes, sex, food, humor and much more: No element of life escapes Fox's gaze.
[caption id="TypicalEnglishnessGrandHotelCapersandSpanishTapas_img2" align="aligncenter" width="662"]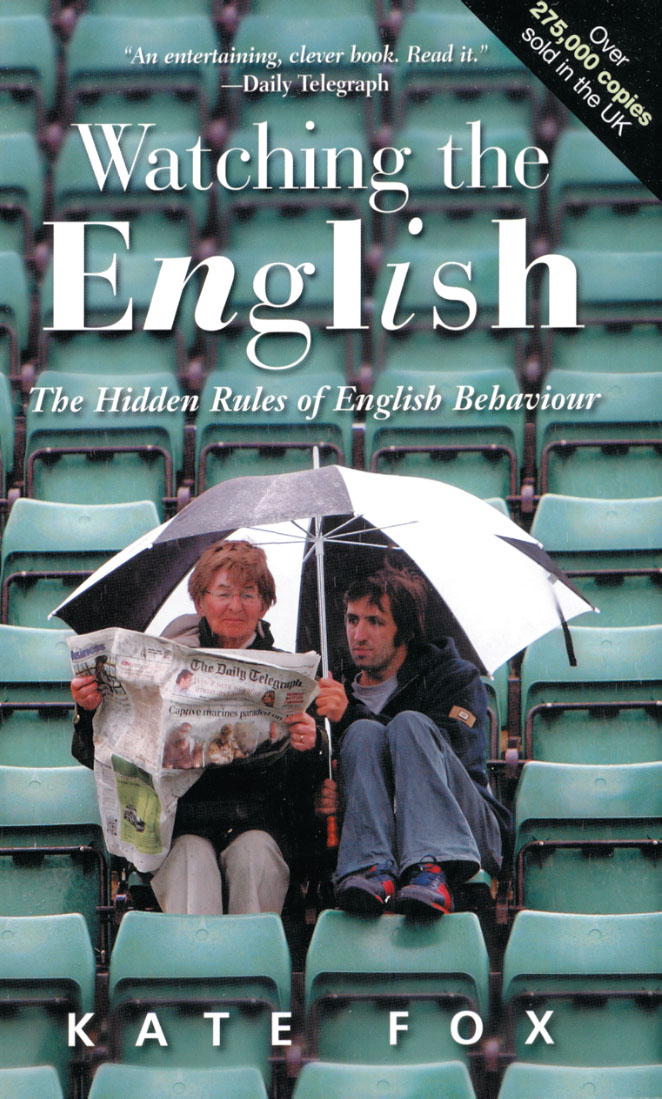 6
[/caption]
Watching the English: The Hidden Rules of English Behaviour, by Kate Fox, Nicholas Brealey Publishing, Boston, 432 pages, softcover, &doller;17.95.
A bestseller in England itself, Watching the English is finally published for an American audience. If there is a weakness to the book, it is the author's incessant reminders of her academic interest, methodology and qualifications. That's all right. After all, being English, she couldn't possibly have been thought playing when she was supposed to be working. Don't be put off; the book is eminently readable and enjoyable.
If you would know and understand the English and the inherent qualities of Englishness, this book is a tour de force.
[caption id="TypicalEnglishnessGrandHotelCapersandSpanishTapas_img3" align="aligncenter" width="665"]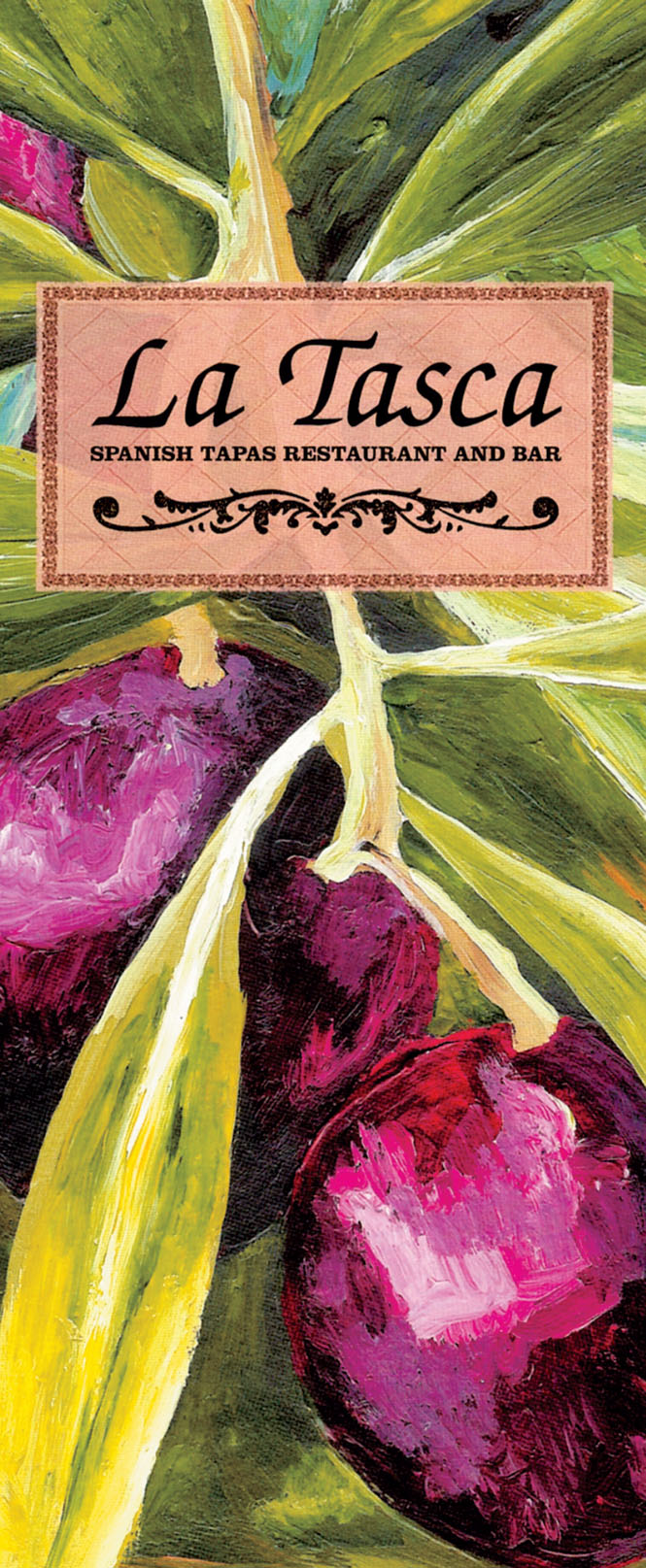 6
[/caption]
RESTAURANT
La Tasca — Spanish Tapas Restaurant and Bar
, at 70 locations across Britain
THE POPULAR SPANISH style of dining known as tapas has spread broadly across Europe and crossed the channel to Britain. The concept of tapas is simple—small, inexpensive portions of lots of different dishes.
For a couple, a family or a crowd, eating tapas is not different from eating Chinese or Indian food. You order a hoard of dishes and sample everything. For an individual traveling and dining alone, tapas is a great alternative to sitting by one's self in a restaurant or hotel dining room and ordering from a traditional menu.
A traditional tapas menu will feature anywhere from 50 to 100 items, served in small portions in individual dishes. It is perfectly appropriate to sit at the bar, male or female, sip a glass of wine and nibble at tapas. Three or four dishes with a bit of good bread for dipping in olive oil and sherry vinegar make a delightful, relatively quick and inexpensive meal.
La Tasca is a family of Spanish tapas bars that have spread across a good bit of the island, each individual in its style and architecture, and reliable in its menu. I discovered the La Tasca in Bath quite by accident on Lansdown Road and sampled chicken croquettes with roasted garlic mayonnaise, chorizo sautéed in red wine, a salad of baby spinach and avocado, and marinated olives and peppers.
The 60-plus item menu, however, includes traditional paellas, seafood, charcuterie and vegetable dishes. Next time, I've got to try the lentil and butterbean casserole in a cherry tomato sauce. Though I am a sucker for the savories, the dessert offerings looked delightful as well, ranging from Seville orange and chocolate cheesecake or a warm cinnamon pastry tart filled with sweet pear compote topped with almond frangipane to something as simple as traditional Spanish sherry poured over vanilla ice cream.
That is the wonderful thing about tapas. With such a bewildering array of selections, one is truly spoiled for choice. In most good-sized towns and cities across Britain, it is certainly possible to find tapas bars and restaurants. La Tasca is a delightful and reliable choice, where £12-20 provides a major meal. You can even plan ahead at www.latasca.co.uk.
[caption id="TypicalEnglishnessGrandHotelCapersandSpanishTapas_img4" align="aligncenter" width="662"]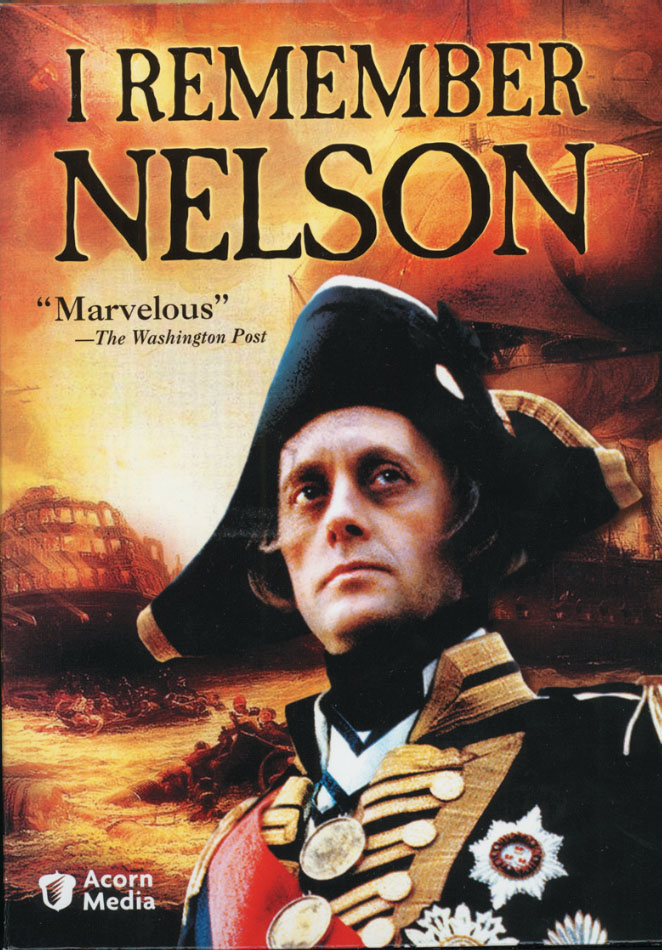 6
[/caption]
DVDS
I Remember Nelson
, 2-vol. boxed set, Acorn Media, Silver Spring, Md., 208 minutes, &doller;39.99.
IN THE CENTER OF LONDON lies Trafalgar Square. Atop its massive column stands Lord Nelson; the lions at his feet were cast from the cannons of defeated enemy ships. Across Britain, every town of any size has a smaller-scaled memorial to the man. If there is an archetypal British hero, it is Lord Nelson.
During the tumultuous years of the Napoleonic Wars, time and again Vice Admiral Horatio Nelson masterminded naval victories against the French that thwarted Napoleon's plans to invade Britain. With some reasonable justification, Nelson received the adulation of the people as a national savior. And he loved the attention. Nelson wanted to be a hero, and died a hero's death in battle.
I Remember Nelson finely dramatizes Nelson's last years through the eyes of four different narrators, each of whom loved him in different ways. First broadcast on Masterpiece Theater in the '80s, the series is available on DVD for the first time. This is a superbly crafted, timeless profile of the complexity of Nelson as a man, as well as a morality tale on the effects that fame and glory bring.
Through the perspectives in turn of his spurned wife, Lady Nelson; his unapologetic lover, Lady Hamilton; his favorite captain, Tom Hardy; and a pressed seaman on his last ship, HMS Victory, we see the swagger, the fatalism and the hubris that national adulation brings. Today, all too often, we find such flaws of character in rock stars and pampered athletes. In Nelson, at least, we see as well a willingness for self-sacrifice, a true sense of duty to his country and to his men, and the passion of a man aware of his own destiny.
As video, this four-episode set is good, if not great. As history brought to life, the series is superb. From the languor of the Neopolitan court, to the dramatized Nelson tributes on the London stage, to the smoky horrors of Victory's gun deck in battle and Nelson's dying moments, viewers, too, remember Nelson like we were there.
The Grand, 5-vol. boxed set, Acorn Media, Silver Spring, Md. &doller;59.95.
SCHEMES AND SCANDALS, romance and intrigue: What else would one expect from a five-star hotel through the rollicking years of the Roaring '20s? In this case, the hotel is the Grand, in the social center of rough and tumble working-class Manchester. Reopened after the civic desolation of the Great War, the Grand is instantly the center of the world for its management, staff and the steady stream of eclectic and privileged guests who pour through the revolving doors.
[caption id="TypicalEnglishnessGrandHotelCapersandSpanishTapas_img5" align="aligncenter" width="660"]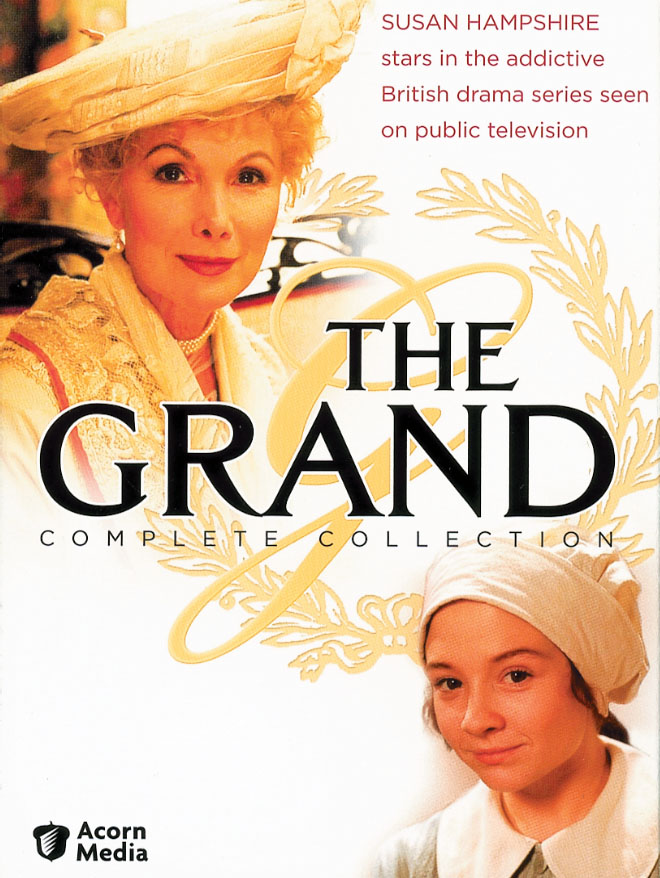 6
[/caption]
Of course as silent but invited guests, we see much more of life at the Grand than any of its participants, getting behind the bedroom doors, into the service kitchens and into the lives of its characters, upstairs and down. This splendid Granada production makes us care about its chambermaids and porters, its regular guests and the dysfunctional Bannerman family who inherited the opulent hotel from its founding father.
Susan Hampshire headlines a brilliantly cast ensemble, largely because she is the most recognizable name, but every character is a star in this galaxy—and it is impossible not to care about them. For those who work within its walls, the Grand is not simply a job, but their life. From the kindly, honorable John Bannerman who struggles with his ownership, to the seemingly impervious hall porter, Jacob Collins ("30 years in service, ma'am"), to the giggling young chambermaids in their dormitory below stairs, the Grand absorbs their entire existence.
Like all great costume dramas, The Grand reveals as much about its times and cultural milieu as it does about the specific events that comprise the plotline. With Britain reeling in the aftermath of that first World War, the '20s brought much of the prewar England into a strange new world—where the old verities of class identity, social and moral security are alarmingly challenged.
In such a world, heroes and villains are not necessarily what we might expect. Those born to wealth and privilege often show little of the human values of nobility, kindness and noblesse oblige, while those born of a station without expectations of advancement demonstrate resilience, compassion and understanding. In short, we must reevaluate our assumptions of people.
The leading character in the story is the Grand hotel itself, and its plotline the changing fortunes of the institution over a handful of years. Each of the many human participants plays his or her role in that story, either actively in generating those fortunes or passively in adapting to them. But it is their lives we end up agonizing over and cheering. The themes are often dark and saddening, but the human spirit does triumph over all. And the Grand lives on.
There are 18 episodes, some 15 hours altogether, to this series. They are riveting, and once you get caught up in the magic of the Grand and the lives of its inhabitants, you won't be able to stop. The box blurb calls the series "addictive," and it is. This is A+, unforgettable British video.