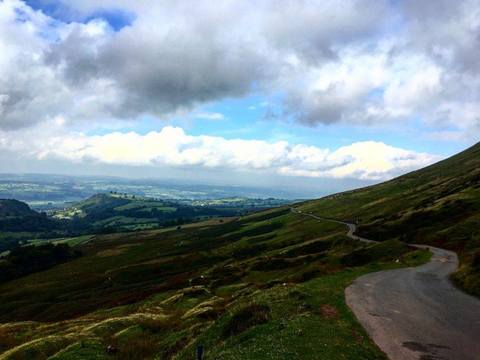 Unless you're already in the know about epic bike jaunts around the world, the sights along the 20-mile uphill pedal through the Brecon Beacons National Park will surprise you. Led by a guide from Drover Holidays, my group of eight rode our two-wheeled hybrid chariots to discover the magic of the Welsh countryside. Our departure point was the charming market town of Abergavenny in Monmouthsire County. Our destination: Hay-on-Wye, the internationally heralded secondhand book village in the Brecknockshire District.
We left behind the quaint cozy comforts of Abergavenny's Angel Hotel, satiated with a golden mylk (a turmeric and oatmilk based tonic) from the Art Shop & Chapel, and wheeled along confidence-building smooth, flat land. Soon, however, we found out why this journey was named one of The Guardian's "best UK bike rides." Things got more challenging fast and we huffed and puffed our way through verdant valleys, patchwork hills, ancient woodlands, snaking estuaries and winding country roads, but we were never alone. Grazing sheep litter the countryside at all possible junctures.
6
There they were, awkwardly perched along the River Wye, the green hills of Radnorshire, the Black Mountains range, the Golden Valley, the Herefordshire farmlands. As we rode up a series of ascents, more sheep awaited. Into the Black Mountains, we found a jarring landscape shaped by the Ice Age, ravaged during the Iron Age, and civilized during the Norman conquest. Now, a coterie of ruined castles, priories and medieval farmhouses.
We pedaled through the enchanting Vale of Ewyas and passed the time-ruined Augustinian monastery of Llanthony Priory. After crossing the Gavenny and Grywbe River valleys, we biked along places with impossible-to-pronounce names like Usk at Glangrwyney and Blaenavon, before finally coming upon a a trifecta of majestic peaks: Blorenge, Skirrid and Sugar Loaf. Up, up, up we went to reach the Gospel Pass (named during the Third Crusade). At 1,801 feet above sea level, it's the highest throughway in all of Wales.
6
There was a reward for all our hard work that day: a speedy descent into Hay-on-Wye and  a visit to Hay Castle. Castle's activities director Mari Fforde told us of the legend of a female giant named 
Moll Walbee
, also known as Maud de Breos. It's said she built the castle in a single night by carrying stones in her apron. After that, Fforde shared the nearly as impressive tale of the man who loved books so much that he transformed his hometown into a world famous destination for secondhand bookshops.
6
Richard Booth, the self-proclaimed "King of Hay," got his title by buying the Norman fortress now known as Hay Castle when he was barely 30-years of age. Something of a Willy Wonka-esque bibliophile, armed with a love of literature and a gift for media spectacle, he formed The Hay Festival of Literature & Arts and declared the town an independent kingdom. His antics put Hay, with its charming antique shops and locally sourced cafes, on the map. Not to be missed: Booth's own bookstore, The King of Hay (named after him, of course). Such cheekiness naturally appeals to tourists and bookworms alike who refer to the quaint Welsh town as "The Town of Books" and "the largest library on earth."
6
In the days of riding that followed, we headed across to mid-Wales to explore Powys. Referred to as the "paradise of Wales," it reportedly has the happiest people living in the UK. Our group tackled a mere 8 miles of the 72-square-mile reserve in the Welsh Lake District of the Elan Valley. We biked wooded trails, took on highlands and marshland, passed reservoirs, dams, and a 73-mile aqueduct—a true triumph of Victorian-era engineering. A short drive west along the 186-mile Pembrokeshire Wales Coast Path landed us in Aberaeron for the night. (I stayed at the delightful, purple-hued Harbourmaster Hotel and dined at its Harbourside restaurant.) The sleepy harbor village is built around a central square with Regency style architecture.
6
In Pembrokeshire the following day,  our ride was a mostly coastal jaunt of windswept precipitous cliffs, wide expanses of sandy beaches and rolling farmland. Until, of course, the flatlands gradually grew to undulating hills. A haven for swimmers and beachcombers and wildlife watchers, this town in West Wales was the perfect relaxing place for the end of our journey. The more adventurous sort can consider coasteering, a hybrid of canyoneering where land- and sea-loving explorers scramble, boulder, rock-climb and cliff-jump in and out the water. Jumping from a 60-foot cliff into 60-degree water is a bracing finish after a days of viewing the green magic of Wales.
Those heading across the pond in 2017 can schedule their adventures around Wales' official "Year of Legends" 12-month theme.  Activities produced by Visit Wales kick off with "Love Stories" in January and February; then "Film Locations" in March and April; "Sporting Legends" in May and June, "Summer Festivals" in July, August and September; and lastly, "Food Routes" in October, November and December. For more, go to VisitBritain's website.