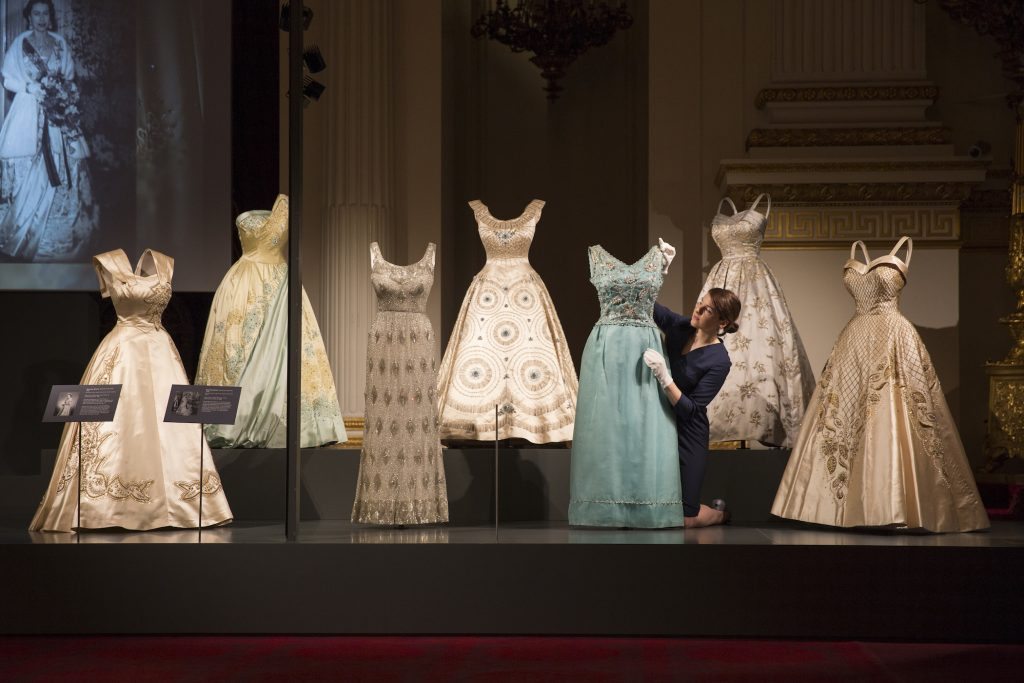 Take The State Rooms at Buckingham Palace tour over the next couple months and you may notice the crowds walking at a slightly faster-than-expected pace through the first half. They start to pick up speed just a little while strolling past the magnificent courtyard, and then they get even a tad quicker climbing the magnificent gilded staircases, almost all but ignoring oil paintings, marble sculptures and other royal marvels along the way. Normally, these delights and artworks would have the tourists meandering, even shuffling their feet, to slowly take it all in, but now they're almost brisk on the red carpets of Her Majesty's official London residence. Until October, they will continue to skip past practically all of it to get to the real beauty and treasure: Queen Elizabeth's dresses.
"I remember that one!" said an American in a union jack sweater as she pointed to a royal blue outfit with a matching hat by Sir Norman Hartnell in the Ball Supper Room. Later on, in the grand Ballroom, with the Queen's wedding dress on one end and her coronation dress on other, three English ladies would stare intensely and approvingly at the row of mostly block-color outfits placed in-between and agree that Her Majesty "certainly does appreciate a nice tasteful solid!" (The same three were spotted nearly swooning over the sparkly glamour of the state visits and overseas tour dresses just a little while later.) And that was all before they came to the hallway of hats.
Caroline de Guitaut, exhibition curator and Senior Curator of Decorative Arts, answered a few questions for British Heritage Travel about the importance of the show, insights into the Queen's personal style and the subtle politics of royal fashion.
British Heritage Travel: What was your main concern in curating this exhibit? Did you want to focus on the history or on the beauty of these dresses?
Caroline de Guitaut: Fashioning a Reign: 90 Years of Style from The Queen's Wardrobe marks Her Majesty's 90th birthday through an unprecedented display of fashionable dress covering the period from The Queen's childhood to the present day. The outfits on display have been worn on many memorable occasions in The Queen's life and our nation's history, so there is definitely a focus on history, but they are also remarkable and beautiful examples of British couture.
[caption id="attachment_13701821" align="aligncenter" width="702"]
6
A display of evening wear from the exhibit at Buckingham Palace.[/caption]
 BHT: Do you have a favorite dress from the show? Or is that just impossible?
Caroline de Guitaut: It's very difficult to single out a favourite piece in the exhibition, but I have always loved Hartnell's 'New Look' style dress from the 1940s for its combination of shape and cut and beautiful fabric.

[caption id="attachment_13701818" align="aligncenter" width="702"]
6
Outfit and hat designed by Sir Norman Hartnell, worn by The Queen to the wedding of Princess Anne at Westminster Abbey on November 14, 1973[/caption]
 BHT: Do you think visitors will be able to form opinions about Her Majesty's personal style?
Caroline de Guitaut: Visitors will get a real insight into how The Queen dresses to undertake her various important roles, most notably as Head of State. But I think from the number of different ensembles on display it is easy to observe how her personal style has been defined.
[caption id="attachment_13701819" align="aligncenter" width="702"]
6
Turquoise silk shift dress with silver floral embroidery by Hardy Amies. Worn by The Queen for an official portrait by Cecil Beaton in the White Drawing Room, Buckingham Palace, 1968[/caption]
BHT: Do you suspect Her Majesty has a favorite dress? You mentioned that she wore the dress Norman Hartnell designed for her in 1972 several times.
Caroline de Guitaut: It is impossible to say which is Her Majesty's favourite dress. However, two of the most important dresses that she has worn–her wedding dress from 1947 and her coronation dress from 1953– are both on display together for the first time.
6
BHT: Can you tell us how Queen Elizabeth has supported British designers? And are there any noteworthy American designers included?
Caroline de Guitaut: The Queen has been a steadfast supporter of British fashion design throughout her life wearing exclusively clothes made by British designers. I am afraid therefore there are no American designers represented.
[caption id="attachment_13701820" align="aligncenter" width="702"]
6
One of the less glamorous but very important outfits: Auxiliary Territorial Service overalls and cap worn by Princess Elizabeth whilst serving in the wartime ATS during WW2[/caption]
BHT: Can you talk about how politically significant fashion is for a female monarch?
Caroline de Guitaut: The Queen is not involved in political matters, however her wardrobe has often included dresses worn on tours or for overseas visits which have paid a subtle compliment to the nation visited. This can take the form of the use of national colours, outfits which respect religious or social conventions or dresses embroidered with motifs which are the emblems of certain countries.
Fashioning a Reign: 90 Years of Style from The Queen's Wardrobe at Buckingham Palace will be open to the public until October 2, 2016. The three exhibitions for Fashioning a Reign will appear at three separate special displays at each of Her Majesty's official residences. A total of 150 outfits will be shown across the Palaces.