Cruising in the UK is booming; the perfect getaway is a treasure on our doorstep
[caption id="WeighingAnchorforaRoundBritainCruise_Feature" align="aligncenter" width="1024"]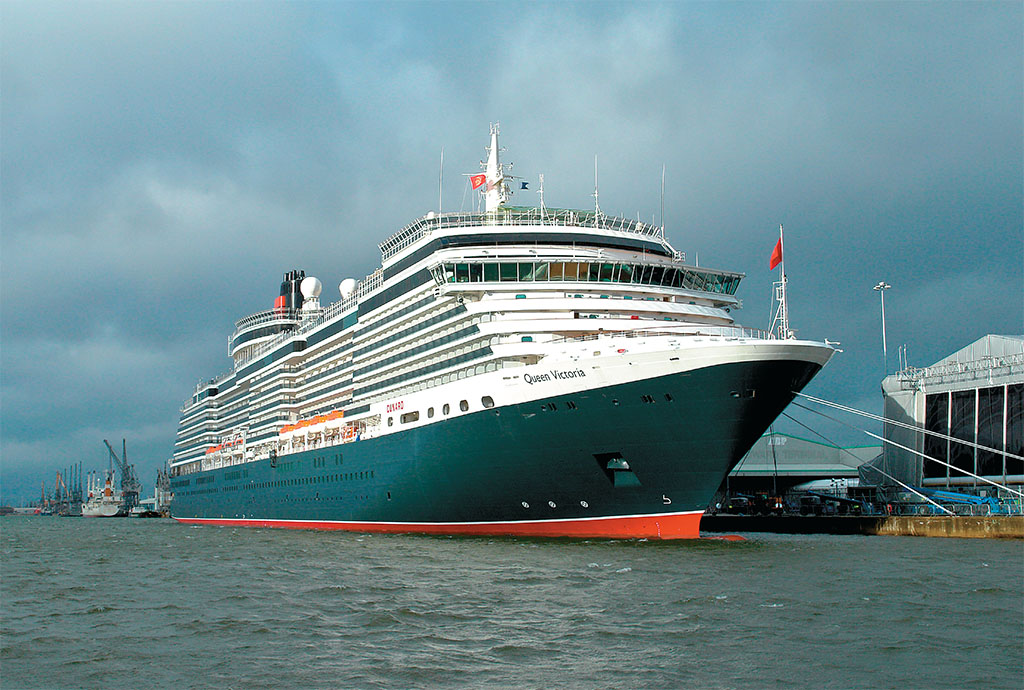 7
[/caption]
[caption id="WeighingAnchorforaRoundBritainCruise_img1" align="aligncenter" width="778"]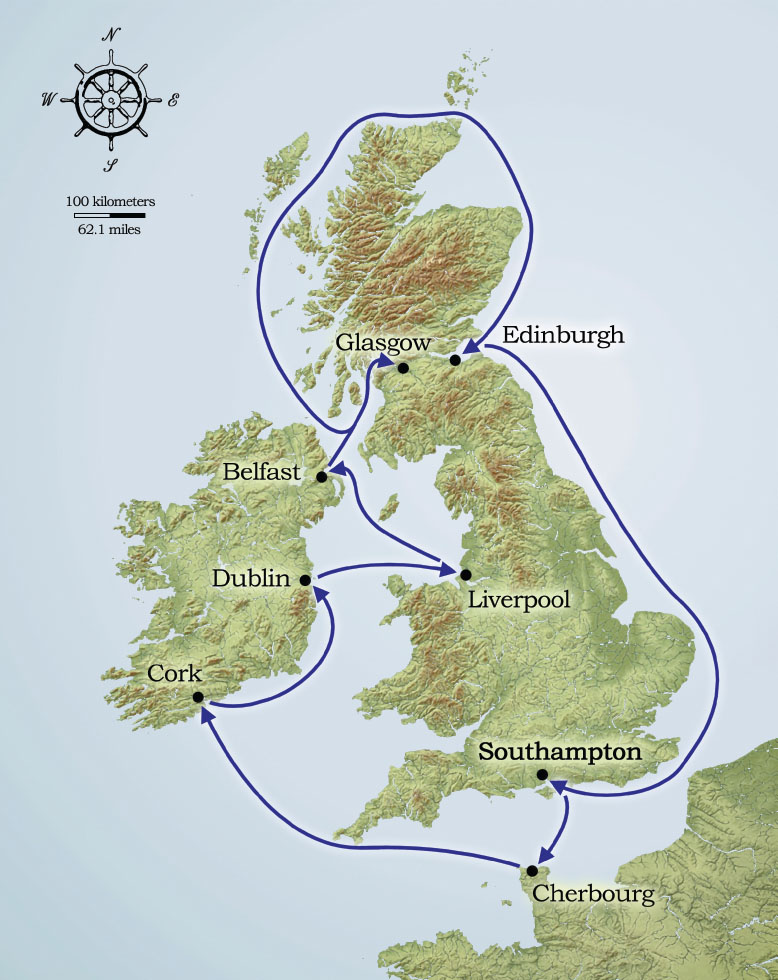 7
Cunard's

Queen Victoria

, shown here at Berth 101 in Southampton, is only one of many cruise ships now including the circumnavigation of Great Britain on their cruising calendar.
[/caption]
Back in the old days, cruising was about taking to the azure sea to laze on deck chairs, watching the waves on the Ionian Sea lap dreamlike Greek Islands in the distance; or thinking about getting high in Bali as the South Pacific lapped the ship's prow under a South Pacific sky.
As cruising has become increasingly popular globally over the last decade, Britain has become an unlikely destination for fleets of high-end cruise ships that are now circling the British Isles. Instead of choosing to visit sun-kissed Caribbean islands or drinking in the deep blue of the Mediterranean, growing numbers of passengers have been signing up to brave the North Sea, English Channel and the Irish Sea.
So why are cruise passengers abandoning the Mediterranean or Caribbean for the rough and chilly North Sea? It would seem that one impetus has been the desire to steer away from the main cruise tourist track. And then there is the variety of traditional British maritime towns and the pastel pretty, sheltered harbors of the Scottish isles and Cornish peninsula and wild coastal landscapes. Also proven draws are ancient archaeological sites and the wildlife both on and off-shore. Cruise lines have tapped a growing desire for just these attractions, combined with all the amenities of a shipboard holiday.
It's all about perception, considers Tony Maniscalco, sales and marketing manager of UK-based specialized travel operator Ramblers Worldwide Holidays. Maniscalco is seeing increasing numbers of passengers looking to get away from mainstream and overcrowded cruising regions.
He says: "It's not so much about the North Sea. It's more about what the shores of the North Sea have to offer. And 'round Britain cruises include the English Channel and Irish Sea as well.
[caption id="WeighingAnchorforaRoundBritainCruise_img2" align="aligncenter" width="1024"]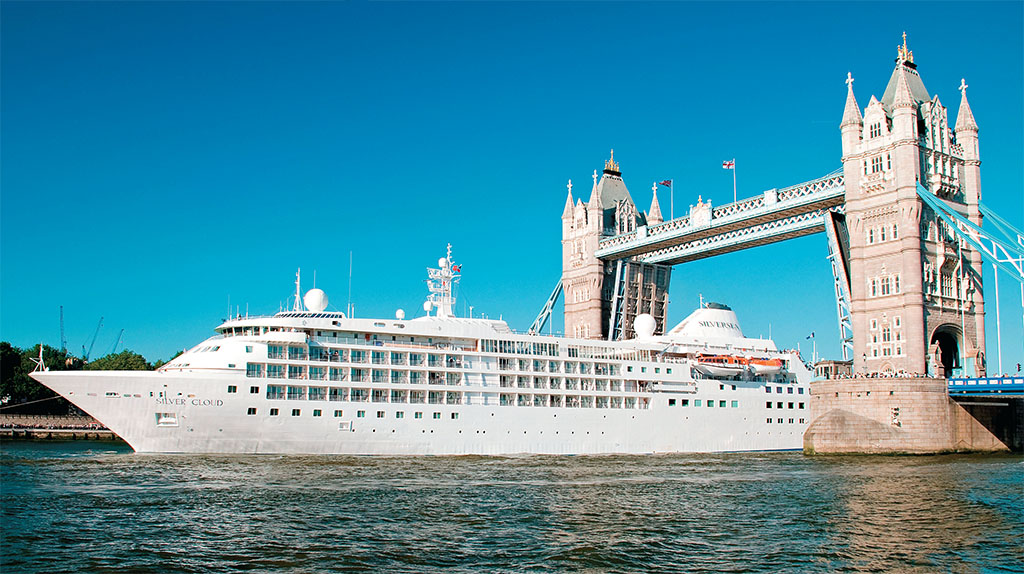 7
Where larger vessels could not pass, Tower Bridge opens for

Silver Cloud

, flagship of Silversea Cruises, admitting the 16,800-ton ship, into the Pool of London. 'Tis not your usual boat ride on the Thames.
[/caption]
"If you cruise the Mediterranean or Caribbean, the scenery may be beautiful, but it's often similar, one place to another. If you cruise the British Isles, however, you have a huge variety of landscapes, from the lush semi-tropical vegetation of the Scilly Isles and Channel Islands, the cliffs and estuaries of the southern Cornish coast to the barren moorland and cliffs of Scotland's Western Isles and the northern Orkney Islands. If it's history you're after, then coastal cities like Edinburgh are well worth the visit, and on the Orkney Islands you can see ancient Stone Age remains."
While there has always been small-scale cruising activity along the British coast, especially around the Scottish isles, last summer saw a significant ratcheting up of activity when some of the most important global cruising companies turned their attention to serving this market. Famous names like P&O, Cunard and Princess are now selling cruises alongside smaller operators such as Ramblers Worldwide.
Cruise industry insiders point to three significant factors that have come together to prompt this growth: distance, "staycation" and the BBC series Coast.
The distance factor is significant because, though the entire UK coastline measures around 11,000 miles, the relative compactness of the British Isles means that the actual time spent aboard between stops can often be only a day, preventing any outbreaks of cabin fever.
"Staycation" is an ugly neologism that crept into the language last summer to describe the switch from foreign holidays to holidaying in the UK. The significance is explained by Michele Andjel, marketing executive at P&O Cruises.
She says: "While avoiding airports and avoiding the fluctuations of currency are always a positive, 'round Britain cruises give an opportunity to see both the more well-known attractions and some of the lesser known parts of the stunning British coastline while visiting the UK's most vibrant cities, such as Newcastle, Glasgow and Edinburgh. There is also an increasing fascination and interest in the heritage of Britain, and in particular with the provenance of local food and culture."
Andjel describes P&O Cruises' passengers as experienced cruisers who can enjoy many onshore options, from visiting local food producers and seeing the well known attractions in cities to self-guided tours.
Coast factor
Then there is the "Coast factor." In 2005, the BBC aired a series simply called
Coast
. "The coast is where the story of a nation—its history, geography and above all, its people—is told most vividly," said presenter Nicholas Crane at the program's launch. Now in its third series,
Coast
is often repeated and has shown many Britons parts of their coastline for the first time. The program dwells on the natural history of the coastline, but also brings in the history of the many ports and towns of all sizes dotted along the water's edge.
Andjel is not alone in the cruise industry in acknowledging its debt to the program maker: "There is no question that
Coast
has been very influential in creating interest in the British coastline. This ties in with the growth of the staycation, and people's growing interest in the provenance of British food and culture," she says.
Last summer, when a growing number of shipping lines launched such cruises, travelers voted with their checkbooks and booked up with amazing speed. When P&O Cruises put its 1,200-berth
Artemis
on sale for its first around Britain cruise, tickets were sold out within the hour.
In 2010, the line is more than doubling its berths on these cruises as it again sends out
Artemis
in company with the 1,800-berth
Oriana
. New ports of call in 2010's schedules are Newcastle, Stornoway in the Outer Hebrides, Milford Haven and Belfast:
Oriana
departs on June 30 and
Artemis
on August 16.
Cunard is not giving up the field, bringing in its heavy-weight liners to serve the market:
Queen Mary
II and the new
Queen Victoria
.
In October, Cunard's 2,620-berth
Queen Mary
II undertook an eight-day voyage from Southampton calling at British, Irish and French ports as part of the ship's fifth anniversary sailings. In 2010, the £300 million 2,000-berth
Queen Victoria
is undertaking a 'round Britain cruise, also starting from Southampton but going in the opposite direction to its illustrious sister.
Passengers are never at sea on this voyage for more than one day; visits to cities last a minimum of nine hours. Calls are made at Cherbourg, Cork, Dublin, Liverpool, Belfast, Greenock for Glasgow and Rosyth for Edinburgh.
Eric Flounders, Cunard public relations manager, easily sinks one possible objection to round Britain cruising—that the island is surrounded by some of the coldest and roughest seas on the planet.
He says: "These ships are very large ships, well able to cope with the roughest seas. They are good ships to be on in bad weather. After all, they are designed to sail across the Atlantic."
[caption id="WeighingAnchorforaRoundBritainCruise_img3" align="aligncenter" width="948"]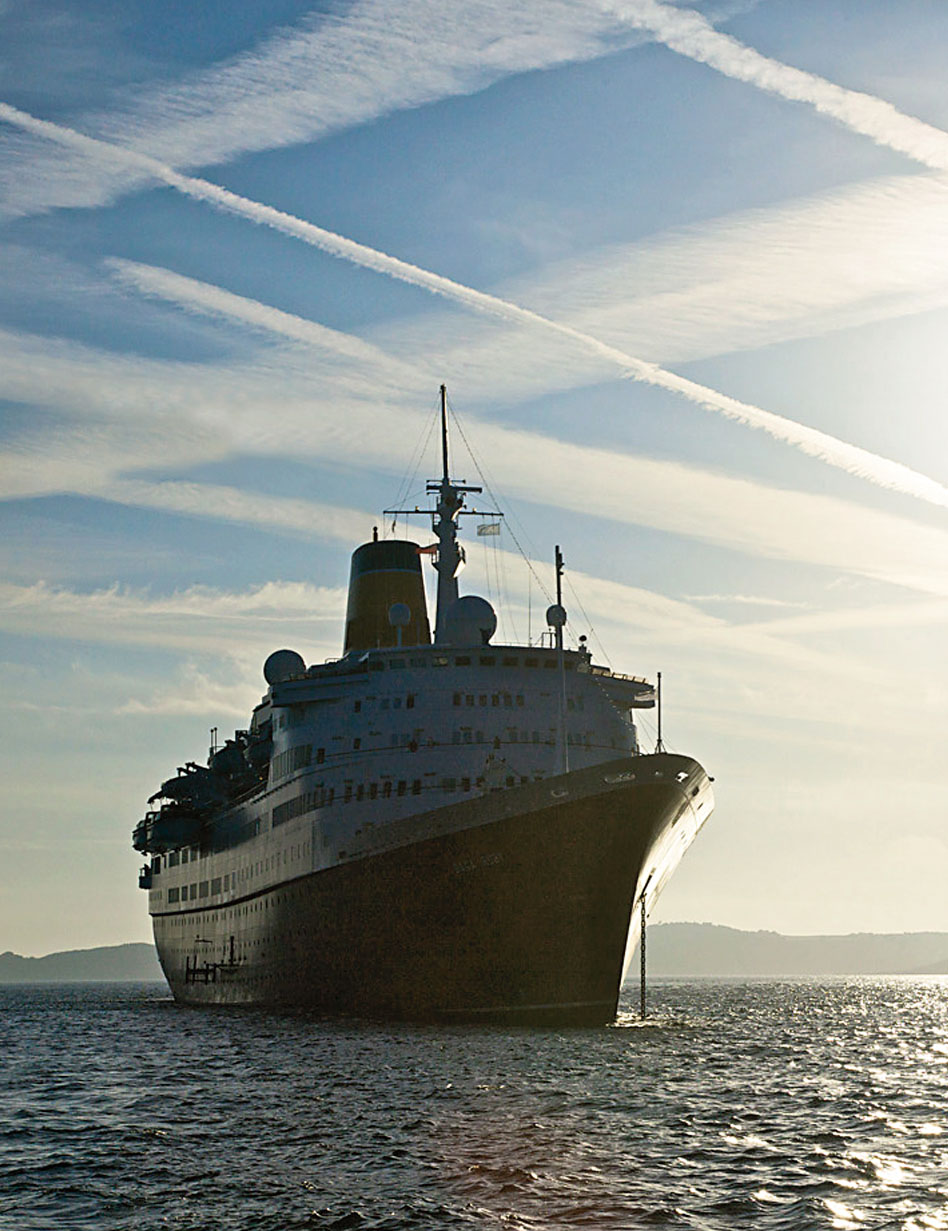 7
Saga Ruby

sails here off St. Peters Port, Guernsey. Catch the ship yourself next August on its departure from Dover. No children aboard.
[/caption]
Personalized service
While some of the more established, luxury liner companies are loading their 1,000-berth plus vessels on their British cruises, an Italian line has deployed a class of smaller, intimate vessels that could slip into more out of the ordinary ports off the beaten path. Silversea Cruises' vessels were specifically designed for fewer guests, more space and the highest levels of personalized service, according to Emma Hunter, Silversea's communications coordinator, UK, Ireland and the Middle East.
"Silversea voyages possess a completely international clientele. The cruises round Britain however appear to be most popular with our American guests with particular interest shown towards ports of call in Scotland and Ireland," says Hunter.
In 2010, Silversea will offer three around Britain cruises using the 296-berth
Silver Cloud
and the 132-berth expedition ship
Prince Albert II
. Cruises embark and debark from London, Tower Bridge and Portsmouth, depending on the itinerary.
In May, Silversea is sending its
Prince Albert II
out on two back-to-back cruises that circle the island. On May 10,
Albert
will leave Portsmouth for a 10-day cruise to Leith. After arrival in Leith, the ship returns to London on May 21 for a 15-day cruise.
In August, Silversea is operating two London and return 10-day cruises on
Silver Cloud
, including calls at Edinburgh, Oban and Fowey, Cornwall. All port calls are a minimum of six hours.
Walking on water
Specialized travel operator Ramblers Worldwide is offering three 10-day Roaming Around Britain cruises for 2010, in May, August and September. Most passengers on their cruises are British as, according to Maniscalco, not many people "outside of the UK have heard of our products, however, this is something we are trying to address."
Given their lack of coverage in the U.S., how popular are these cruises with American passengers?
"Any Americans next summer would be pioneers on these trips," Maniscalco says. "The vast majority of passengers would be British taking the chance to discover our own coastal heritage and the outlying islands that are difficult to reach from a land-based holiday. We don't currently actively advertise in the U.S., so we have very few if any Americans on board. However we are sure these cruises would be a hit as the standards on Fred Olsen ships are very high in terms of service, and comparable I am sure with what the average American would expect on a cruise."
Ramblers Worldwide's cruises are fairly short and go to some pretty out of the way places. It is feasible to do a section of a cruise, although this would be subject to acceptance by the cruise line. Passengers generally take the whole trip which would also include a walking itinerary with a leader.
Passengers booking on Ramblers Worldwide are a combination of experienced cruisers and first-timers, Maniscalco says: "We're attracting a combination of those who would normally go on a hotel-based walking holiday and cruisers who would like to see a bit more of the country or be a little more active through our guided forays ashore."
He adds that unlike rival lines, their brochure prices include excursions, avoiding extra and expensive on-board costs, which can mount up. Excursions planned for next summer include Edinburgh, city sightseeing down the Royal Mile; Falmouth, a three-hour walk along the SW Coastal path and a visit to Glendurgan Gardens; Tresco, a two-hour walk around the coast, then a visit to the Abbey Gardens; Invergordon with an ascent of Cnoc Fyrish, followed by a visit to the Glenmorangie Distillery; and a visit to Stornoway—crossing the island for a four-hour walk on the island of Great Bernera.
[caption id="WeighingAnchorforaRoundBritainCruise_img4" align="aligncenter" width="1024"]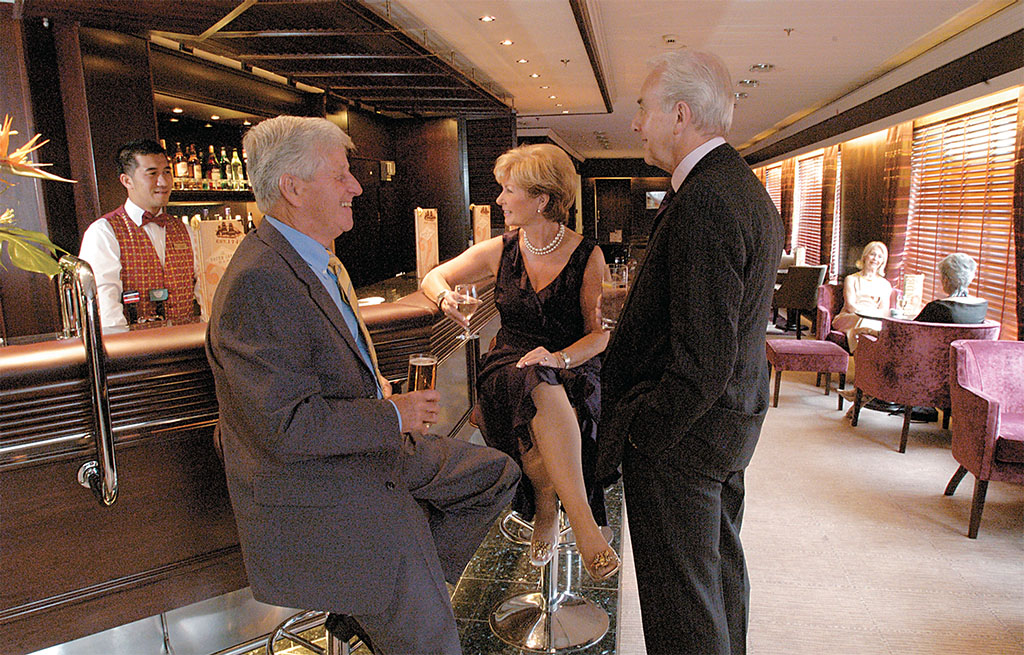 7
At the South Cape Bar on

Saga Ruby

, passengers relax after a day at sea. Despite all the amenities of cruising, the real attraction is seeing the ports and landscapes of Britain's spectacular coastline.
[/caption]
WELCOME ABOARD
P&O Cruising:
Oriana
departs on June 30 and
Artemis
on August 16. Fares are from £1,129 per person.
www.pocruises.com
Cunard: Queen Victoria. Fares start at around £1,250 per person. www.cunard.co.uk
Silversea: Prince Albert II on May 10 and May 21. Suites on both voyages start at £3,441. Silver Cloud August departures. Suites start at £4,421. www.silversea.com
Ramblers Worldwide Holidays: sailings in May, August and September. Fares start from £1,100. www.ramblersholidays.co.uk
Saga Cruises: Saga Ruby departs Dover on August 10. Fares from £1,924 per person. www.saga.co.uk.
Crystal Cruises: Crystal Symphony sails on June 14 and August 25 from Dover. Fares are from $3,280. www.crystalcruises.co.uk
NB. Fares and dates are correct at time of going to press.
[caption id="WeighingAnchorforaRoundBritainCruise_img5" align="alignright" width="378"]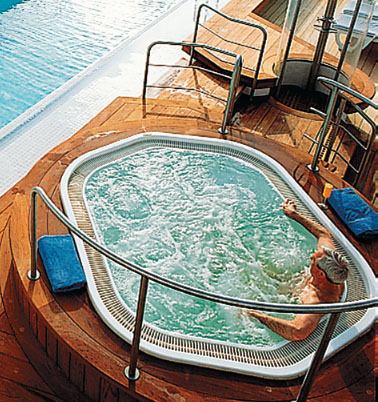 7
The hot tub on

Silver Cloud

is a great way to relax at sea.
[/caption]
Senior sailors
Saga Cruises is another line that has carved out a niche in the cruising market around the British Isles. Having grown out of the SAGA travel empire aimed at the retiree market, its ships are exclusively for travelers aged 50 and over—no children or teenagers on board. A traveling companion or family member traveling with the passenger may be aged 40 or over.
The line's 661-berth
Saga Ruby
will use Dover as an embarkation point for a cruise in early August. On August 10, it will leave on a 13-day Treasures of the Anglo-Celtic Isles cruise. The cruise will call at Falmouth for the Eden Project.
U.S. cruise line Crystal Cruises is another line that embarks at Dover. Its 2010 schedule has two voyages at the height of summer: a seven-day Ballads of Britain cruise on June 14 and the 11-day Crowns and Kilts cruise from August 25. Both use the 922-berth
Crystal Symphony
.
Over the yardarm
Taking a cruise around the British Isles is a neat and comfortable way of seeing places in Britain that it would take years of flights and train trips to reach. Britain's lack of a coastal highway means that any itinerary to enjoy the coastline by road requires constant diversions inland or routes blocked by estuaries and inlets.
British sea power used to be the means by which Britannia ruled the waves: British sea power now means a great holiday afloat.