THE MOTHER OF PARLIAMENTS
[caption id="WestMinster_Feature" align="aligncenter" width="1024"]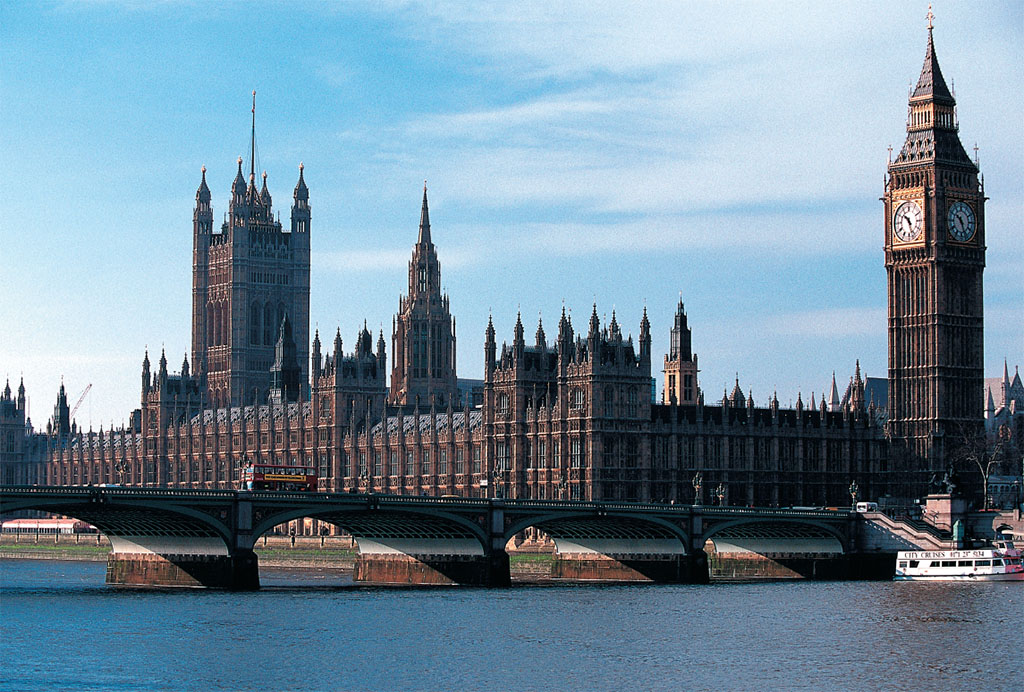 11
The Palace of Westminster, known as the Houses of Parliament, was designed by Sir Charles Barry and built on the banks of the Thames in 1840-50. Covering eight acres, the palace contains 1,100 rooms, 100 staircases and two miles of hallways (www.britainonview.com/Doug Meki).
[/caption]
IN ONE OF HIS CLASSIC NOVELS ABOUT VICTORIAN parliamentary politics, Anthony Trollope compares members of the British House of Commons to the gods on Mount Olympus, "shaking the heavens and striking one another down with the wind and thunder of their oratory, objects of wonder to mere mortals." Throughout the six centuries of its existence, Parliament has indeed served as a backdrop for a colorful parade of orators, members with convictions or provocations that changed, as the English world changed, from generation to generation.
"Objects of wonder to mere mortals" the members of Parliament (MPs) may have been, but early parliamentary debate proved to be a strange mix of wisdom and stupidity, of substance and triviality. Sir Robert Walpole, generally thought of as England's first prime minister (1721-42), speaking in the early 18th century with his natural geniality rather than with any wind or thunder, persuaded the House of Commons to put 50 capital offenses on the statute book—most of them dealing with poaching, cutting down trees and robbing fish ponds. Sometime later in that century an unnamed MP, clearly one with a social conscience, presented a measure to the House of Commons to secure better working conditions for "climbing boys" (chimney sweeps). The bill stipulated that the boys should not be forced to work in lit chimneys, and that the little urchins should be washed once a week.
A century or so after Walpole's time, Arthur Wellesley, Duke of Wellington, an autocratic prime minister (1828-30) still basking in the glory of his victory over Napoleon at Waterloo, addressed the House of Lords on the subject of a proposed parliamentary reform bill. At the time, only one Englishman in 100 had the vote. In addition, several large towns had no representation in Parliament, while so-called "rotten boroughs" with zero population had one or more members, handpicked by unscrupulous political party leaders. Amazingly, Wellington denounced the bill that would have corrected these injustices. With thunder and defiance in his voice, the trim and erect figure proclaimed, "From the period of adoption of reform…will date the downfall of the parliament."
Another hundred years later, in 1912, 37-year-old Winston Churchill, the Liberal MP recently appointed First Lord of the Admiralty, addressed the House of Commons. In his visionary speech, dutifully written out and memorized ahead of time as was his habit, but delivered with his characteristic Olympian thunder, Churchill introduced a naval building program audaciously announcing that Britain must maintain "a 60 percent superiority in Dreadnoughts over Germany and two keels for every additional ship laid down by her."
In contrast to Churchill's confrontational speech against the German arms buildup just prior to World War I, Conservative Prime Minister Neville Chamberlain's address to the House of Commons 28 years later on the eve of World War II urged appeasement. "How horrible, fantastic, incredible it is," Chamberlain thundered, "that we should be digging trenches and trying on gas masks here because of a quarrel in a far away country between people of whom we know nothing."
[caption id="WestMinster_img1" align="aligncenter" width="1024"]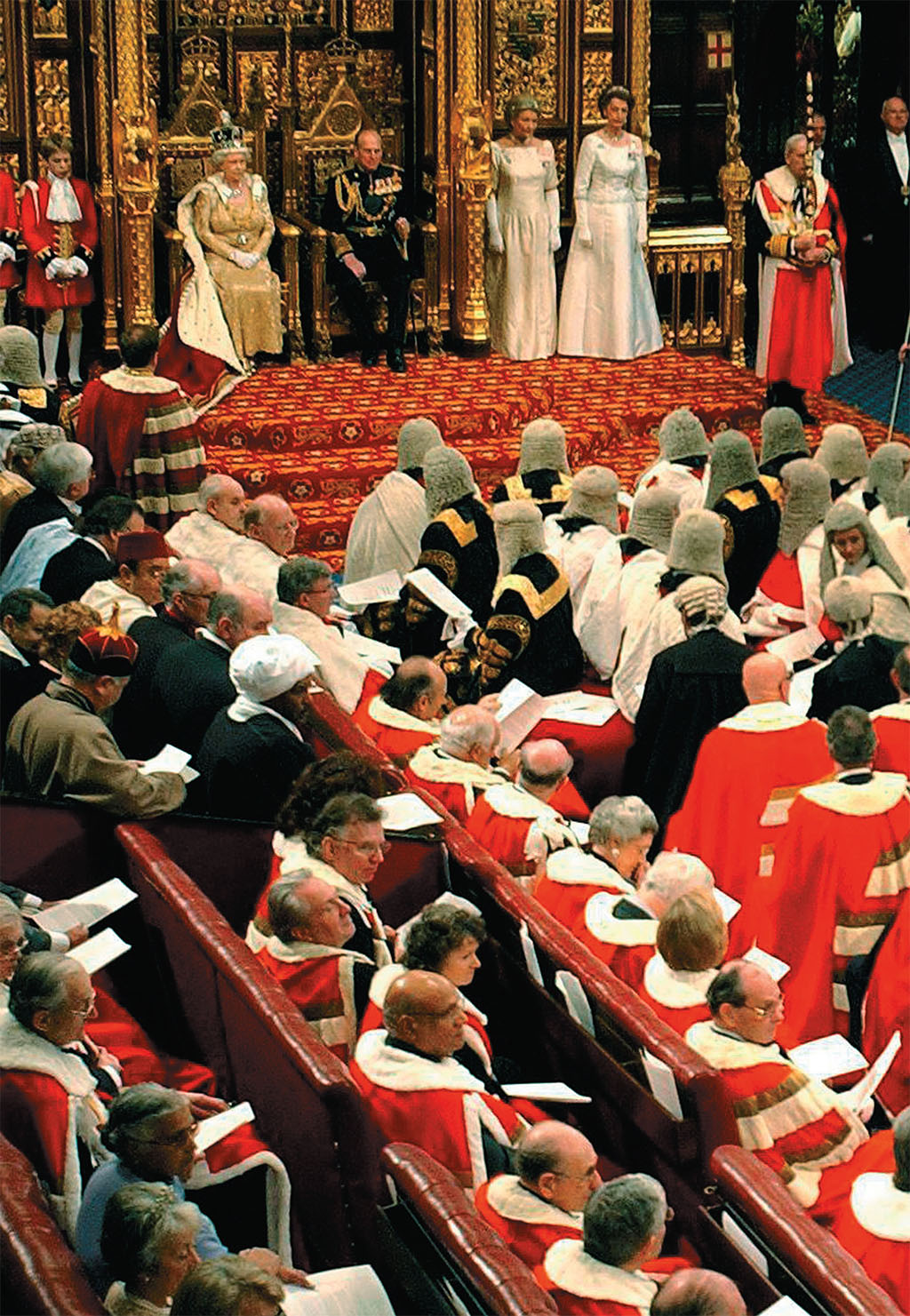 11
In November, the Commons and Lords assemble in the House of Lords for the State Opening of Parliament. The Queen's speech outlines the Government's legislative agenda for the political year.
[/caption]
Parliament did not, of course, begin with Walpole and his fatuous concern over poachers. Its underpinning, the Magna Carta, the very backbone of English liberty, dates back to the Middle Ages, to the feudal world of 1215 when the improvident King John ruled. As he squandered money on foreign wars, he taxed his barons heavily. They reacted by issuing a charter that proved to be a protest against arbitrary government, a statement of feudal rights with safeguards against royal abuse. In setting his seal to the Magna Carta, King John conceded that even the king must obey the law.
The entity whose task it was to define and administer that law became known as "Parliament." Historian Simon Schama, in his excellent A History of Britain, explains that it was during the reign of Henry III, son to King John, that the king's advisers became increasingly bold in asserting their rights over the monarchy. Perhaps the king's council was not yet comparable to today's Parliament, but it was more than the pliant instrument of royal will. Already, Parliament's two houses were taking shape. The council of barons, men of royal blood, worked closely with the king. Over time the royal ranks of viscount, earl and marquess, as well as that of baron, would qualify a man as a "peer of the realm." This meant membership in the House of Lords, as the king's council gradually became known. Membership was hereditary, passing from father to oldest son.
According to Schama, during Henry III's time not only the royal barons but also knights of the shire, elected by their peers, and town burgesses, also elected, deliberated on the business of the kingdom. "So a Manchester cloth merchant or a Suffolk knight with a few acres," he writes, "now got to decide" matters of state. These men made up a lower council or what would become known as the House of Commons. Schama points out, too, that this represented not only an enlargement of the political community, but also a connection between insubordination and patriotism. More than 100 years after Magna Carta, during the reign of Edward III, Parliament reasserted its right to be consulted on matters of war and peace and its right to control the nation's purse strings.
DURING HENRY III'S TIME, ROYAL BARONS, KNIGHTS OF THE SHIRE AND TOWN BURGESSES DELIBERATED ON THE BUSINESS OF THE KINGDOM.
Two hundred and fifty years later, chafing under Parliament's control over those very funding issues, the formidable Queen Elizabeth I addressed the House of Commons, undoubtedly "shaking the heavens" by accusing Parliament of conniving to blackmail her. It was, she theatrically intoned, attempting to force her into marrying by withholding money from the throne. (The queen must give birth to an heir, reasoned MPs, if the succession were to proceed peacefully.)
If "shaking the heavens and striking one another down" is a parliamentary obligation, the MP for Cambridge in the mid-17th century performed his duty impeccably. He was none other than Oliver Cromwell, a Puritan and gentleman landowner, but more significantly a charismatic army commander who succeeded no less in abolishing the monarchy and establishing the British Commonwealth (Republic), of which he became the Lord Protector. It would be a full decade before royal rule was restored to England.
The unfortunate King Charles I, whom the Republicans eventually beheaded, had ruled autocratically, haughtily disdaining Parliament. Now Parliament abolished the monarchy and the House of Lords and radically proclaimed that hereditary power was burdensome and dangerous to liberty. A few years after King Charles' execution, Cromwell, at the head of his troops, marched authoritatively into Westminster and, in turn, disbanded the House of Commons, striking down members with the words: "You have sat too long here for any good you have been doing. Depart, I say, and let us have done with you. In the name of God, go!" If this was not the first instance of parliamentary verbal swordplay, it was, perhaps, the most dramatic.
WESTMINSTER, PARTICULARLY THE HOUSE OF COMMONS, HAD BECOME THE VERY HUB OF NATIONAL LIFE.
The Cromwellian upheaval failed, however, to permanently guarantee Parliament's supremacy over the throne. By 1688 Whig and Tory MPs found it necessary to unite in order to force the abdication of the Catholic King James II, another monarch who stubbornly ruled without consulting Parliament. As soon as James II fled to France, Parliament convened, and with Dutch troops patrolling Westminster, it triumphantly declared Mary, James II's Protestant daughter, and her husband, William of Orange from Holland, joint monarchs of England.
It was around the time of this "Glorious Revolution," as the replacement of James II with William and Mary became known, that the differing agendas of the two political parties began to become more apparent. According to historian Schama, the Tory party, precursor of today's Conservative party, held that the "people" had no claim whatsoever to determine the ordering of their government. Their natural and proper state was obedience and submission to a benevolent monarch and a Parliament elected by those who, through property ownership, had a right to be included in the electorate. In contrast, the Whig party, ancestor of the Liberal party, held that the Glorious Revolution had been all that would ever be needed to secure the people against the threat of monarchial tyranny. The Revolution, declared the Whigs, with its abrogation of oppression and its guarantee of parliaments, was enough of a shield for the liberties of Englishmen.
Though William and Mary chose their council, their ministers of state, from the party commanding a majority in the Commons, the development of a formal "opposition" to the party in power did not take place until much later. By that time the party system was so entrenched that all MPs used party labels.
[caption id="WestMinster_img2" align="aligncenter" width="1024"]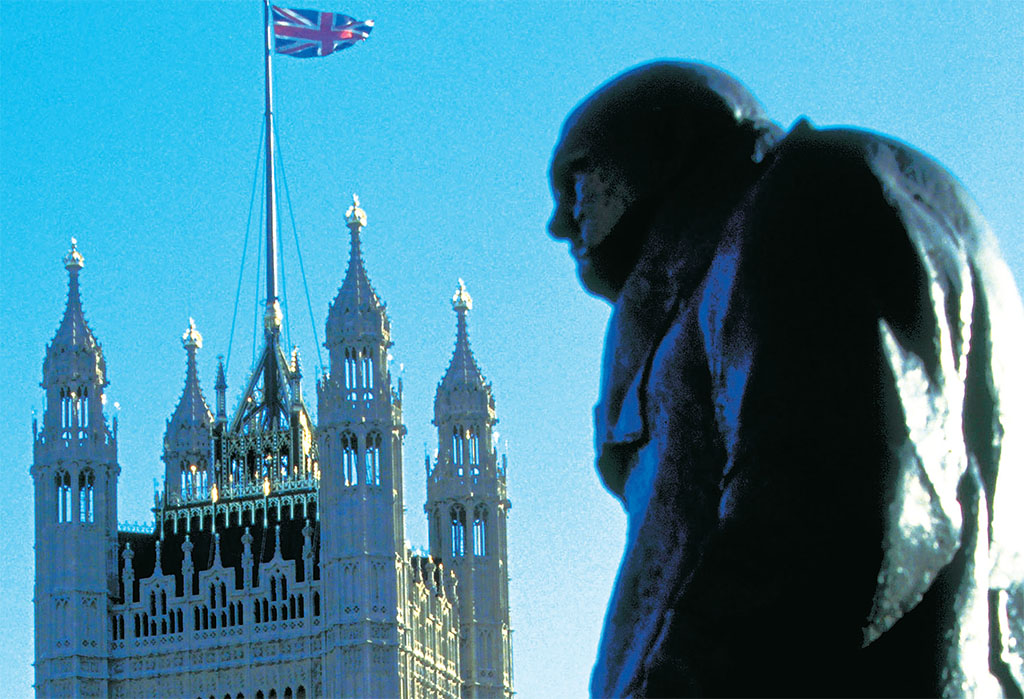 11
From his statue in Parliament Square, Winston Churchill keeps watch on the activities of Parliament. The most revered British leader of all time, Churchill certainly belongs in this company of famed prime ministers since the days of Queen Victoria.
[/caption]
[caption id="WestMinster_img3" align="aligncenter" width="667"]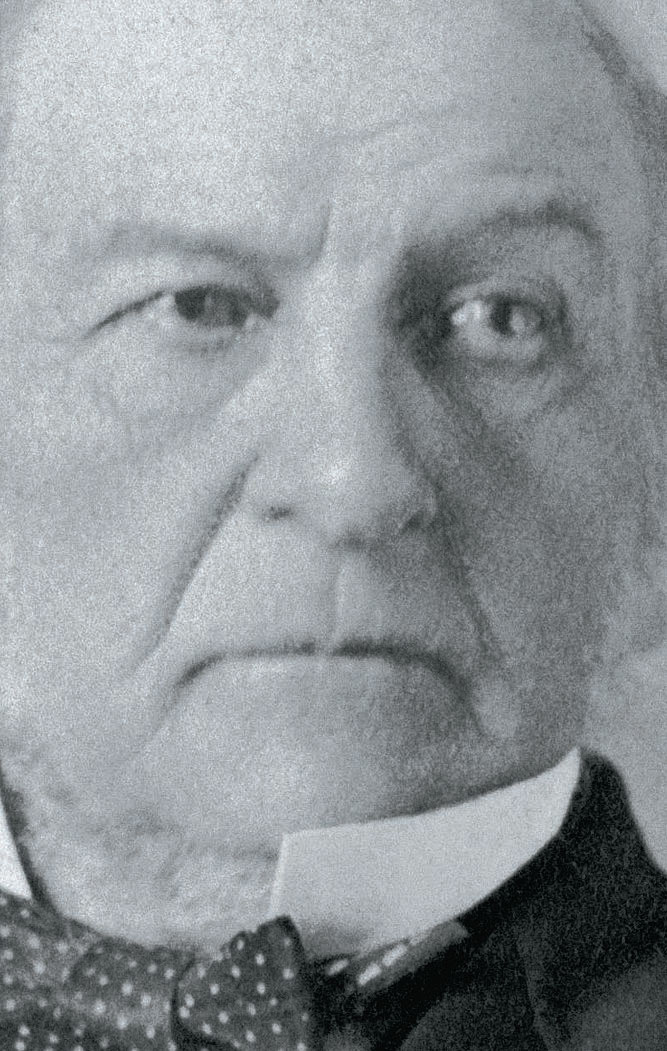 11
William Gladstone
[/caption]
[caption id="WestMinster_img4" align="aligncenter" width="396"]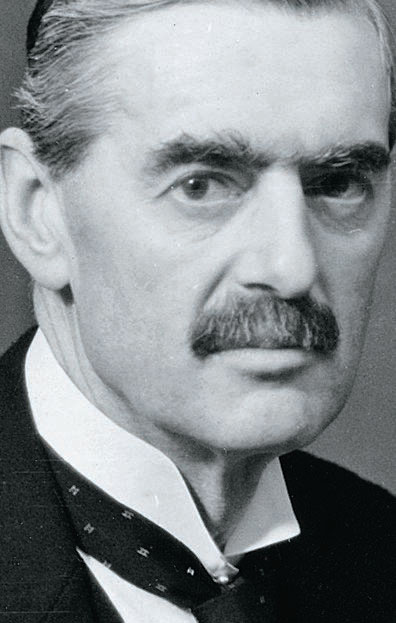 11
Neville Chamberlain
[/caption]
[caption id="WestMinster_img5" align="aligncenter" width="549"]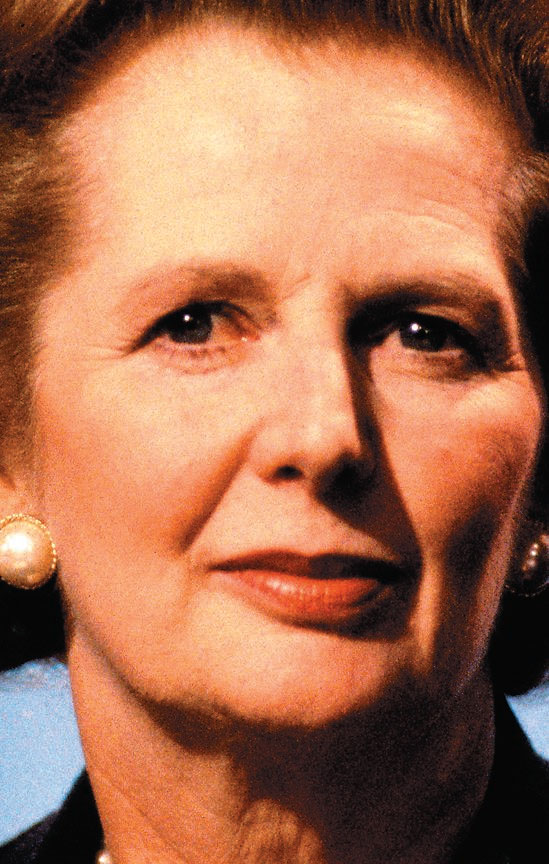 11
Margaret Thatcher
[/caption]
[caption id="WestMinster_img6" align="aligncenter" width="706"]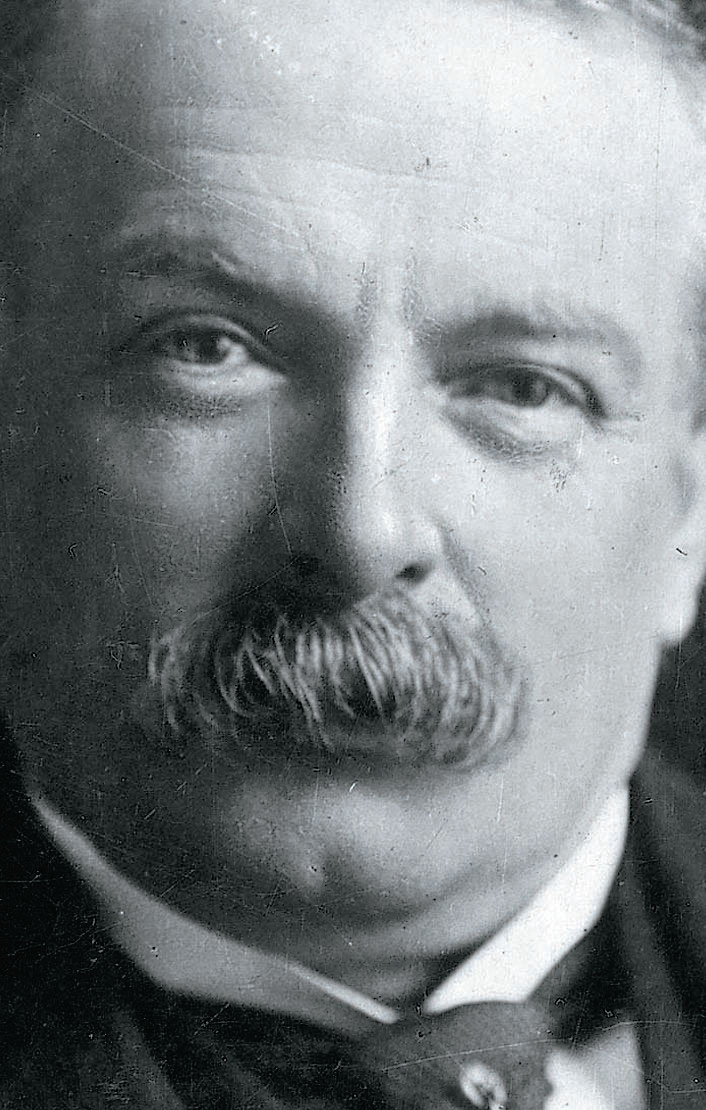 11
David Lloyd George
[/caption]
[caption id="WestMinster_img7" align="aligncenter" width="494"]
11
Tony Blair
[/caption]
[caption id="WestMinster_img8" align="aligncenter" width="450"]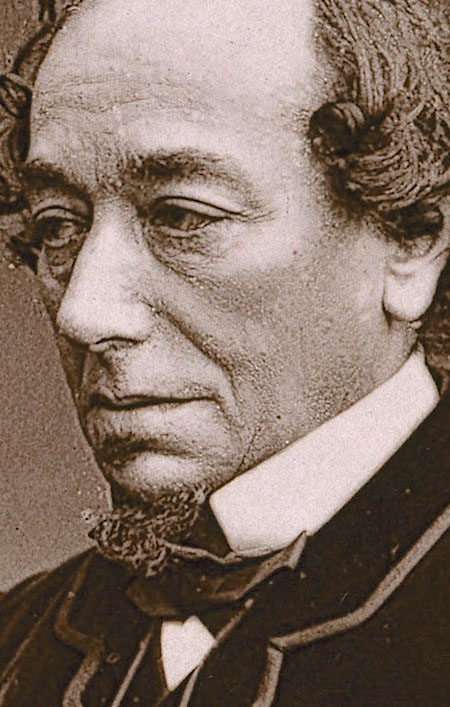 11
Benjamin Disraeli
[/caption]
In the Victorian era, Westminster, particularly the House of Commons, had become the very hub of national life. Historian Roy Jenkins describes Londoners avidly reading reports of parliamentary debates in the daily press, lawyers with bulging briefcases strutting to and from Westminster, and portraits of politicians gracing the living room walls of Mayfair. In 1846 families rejoiced over Parliament's repeal of the Corn Laws (legislation that had been in effect for some 30 years and that protected wealthy landowners from the workings of a free-trade market). Every now and then during this period, when the stench from the refuse-laden Thames became intolerable, the windows of the Houses of Parliament were draped with curtains soaked in chloride of lime so that the MPs could breathe.
[caption id="WestMinster_img9" align="aligncenter" width="1024"]

11
On the north side of the Tames next to Westminster Bridge, the Houses of parliament and westminster Abbey, just behind, dominate the London neighborhood of Westminster.
[/caption]
It was the Olympian speaker, William Gladstone (1809-98), arguably the most vibrant of Westminster's colorful parade of orators, who monopolized the parliamentary stage during this period. With his eagle eye and tall, commanding presence, he looked as though he had come from central casting. His enemies cynically dubbed him "an apostle of the night" because for years he nightly prowled the streets and alleys of London looking for fallen women to save. For pleasure he read Homer in the original Greek. Gladstone could ignite an audience and could endow a cause with an enthusiasm that went well beyond reason. A wealthy man from a mercantile background, he entered Parliament in 1833 as a Conservative (Tory), but social issues gradually transformed him into a Liberal (Whig). "For all-round parliamentary ability," notes Jenkins, "he has never been surpassed. He acquired great skill in drafting legislation and in guiding it through the Commons."
From the outset of his parliamentary career, long before his four intervals as prime minister, Gladstone's power and messianic flair as an orator were apparent. His marathon debate with Foreign Secretary Henry Palmerston over an issue with Greece—an encounter in the House of Commons that lasted four nights, dusk to dawn—played to a packed house. It became, in fact, the great set piece in parliamentary history. In one of his speeches, given on the third night and lasting until 2 a.m., Gladstone, with remarkable wind and thunder, contested and mocked the doctrine of Britain as a universal moral arbitrator, striking down Palmerston for his "vain conception that we, forsooth, have a mission to be the censors of vice and folly, of abuse and imperfection among other countries of the world: that we are to be the universal schoolmasters." This at the height of British imperial power!
A few years following the Palmerston debate, Gladstone—as the new chancellor of the Exchequer—presented his budget to the House of Commons in an evening speech that lasted without interruption almost five hours, the longest oration he ever gave. In 1868 he was elected prime minister for the first time, and it was this term of office that proved to be his greatest ministry. He was at the height of his physical and mental powers, and the Liberals had taken office with a large majority. Gladstone recognized the landslide as a popular mandate for him to press on with the work of reform. Parliament worked tirelessly as Gladstone held forth endlessly, and the consequent pace of reform was exceptional. Reform measures were passed for the Anglican church in Ireland, for Britain's elementary school system, for the civil service, for the army and for the court system, to name a few.
Not long after Gladstone's prominence, another forceful parliamentary speaker, Henry Asquith (1852-1928), assumed the limelight. If on the one hand he shouldered a reputation as a drinker and a womanizer, on the other hand, the precision and lucidity with which he could present complicated matters to the Commons was a phenomenal asset. Historians agree that he also possessed a talent for keeping strong-willed MPs working together. He was, commented one historian, "a rowboat of reason in a sea of parliamentary emotion." While chancellor of the Exchequer, Asquith delivered an oration that lasted more than two hours. In it he proposed for the first time the sensible but progressive idea that there should be different rates of tax on earned and unearned income. And, just as significant, under his leadership as prime minister, Parliament passed the Reform Act—legislation that, in effect, subordinated the House of Lords to the House of Commons.
FOR THE MOMENT, THE BRITISH PARLIAMENT IS DEFINED BY ITS ALLIANCE WITH THE UNITED STATES IN FIGHTING INTERNATIONAL TERRORISM.
Indeed, from the time of Asquith the very texture of parliamentary rule changed, yet for MPs the subtle compromises, intricacies and reversals in negotiating bills remained and continue to this day. Since the defeat of Asquith during World War I, Parliament has dealt with countless vital issues, among them Irish Home Rule, Hitler's aggression and the loss of world imperial power. For some 30 years, beginning in 1961, Parliament frequently heard the voice of Conservative MP Margaret Thatcher, England's only female prime minister. Her speeches, though delivered, of course, in feminine tones, were no less Olympian than those of her male colleagues. As Parliament confronted the nation's worrisome unemployment and inflation figures, Thatcher—perhaps somewhat counterintuitively—declared, "A man's right to work as he will, to spend what he earns, to own property, and to have the State as servant, not as master—these are the British inheritance."
Now the Thatcher years seem part of a distant past and Tony Blair, the New Labour leader who has served as prime minister since 1997, dominates Parliament. With polished oratorical skills and an unflappable demeanor even in the face of opposition heckling, Blair continues to make the case in Parliament for a different level of taxation and public services—different from the Conservative platform that prevailed for so long, a platform of cutting taxes and services.
Admittedly a Gladstone fan, Blair, like his august predecessor, puts moral conscience visibly at the center of his politics. Though eschewing the conversion of prostitutes during his free time, he is moved by the plight of England's underprivileged. Many of his virtuoso performances in the House of Commons have been aimed at reforming the nation's education systems and modernizing the nation's health care. His domestic successes, however, have been countered by criticism of his conduct of foreign affairs. While Thatcher discernibly enhanced England's status abroad by going to war in the Falklands, Blair has not been so fortunate. Today's parliamentary debates, endlessly focusing on Britain's involvement in the war in Iraq, continue to be divisive, if not hostile. For the moment, the English Parliament is defined by its alliance with the United States in fighting international terrorism.
Throughout its evolution, Parliament has been an organic institution, an official council that has altered as new government issues and public affairs have moved to center stage. Still, in the end, Parliament has been and continues to be those very "objects of wonder," the MPs themselves.