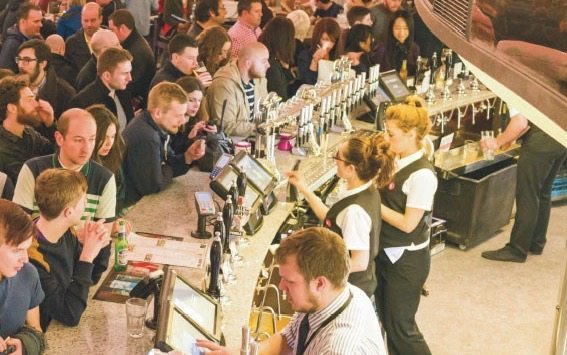 With a clean and bright formula for success
A
t present, there are around 54,500 pubs in Britain. Some 1,000 of these are JD Wetherspoon pubs. Hospitality is a devilishly difficult industry, and Wetherspoon's founder Tim Martin has cracked it.
For almost four decades, the British pub company has been quietly and deliberately staking its claim to locations in the centers of historic market towns, bustling small cities and modern urban settings.
British Heritage
readers wishing to slake their thirsts or enjoy a sit-down meal can reliably turn to JD Wetherspoon pubs the length and breadth of the island. Few, however, may appreciate how the pub chain's winning formula reflects the founding principles and private passions of its charismatic founder, Tim Martin.
[caption id="WhithertoWetherspoon_img1" align="alignleft" width="240"]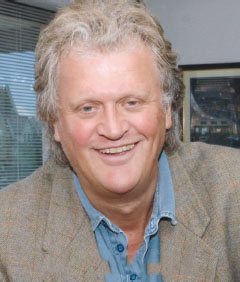 9
Tim Martin found the formula.
[/caption]
An Ulster-born former barrister raised in New Zealand as the child of a Guinness executive, Martin can be described as the Richard Branson of drinking for creating a successful hospitality brand in a very tough, competitive industry.
Pubs have been closing down for years, and Britain hasn't been an easy entrepreneurial environment. However, Martin has struck and executed a brilliant business plan: Clean pubs that are tasteful, family and community-friendly; restrooms that are kept clean. The real ale offering is varied, while both food and drink are often some of the cheapest in town. Moreover, the staff has a sense of camaraderie and presents themselves as being happy to work there.
Taking time out of his busy schedule—he had an appointment that day at the Lords to talk with parliamentarians on the subject of beer tax—to meet me in, naturally, a JD Wether-spoon's pub, Martin discussed the factors that have seen him grow a business that sells 300 million pints a year, one in 10 pints sold in the UK, from just two percent of its pubs.
Summing up what makes a Wether-spoon pub, Martin outlined his principles. He said: "I set out to avoid a cookie cutter approach to the pubs. Customers get good-quality food and drinks, served by well-trained and friendly staff, at reasonable prices. The pubs are female and family-friendly, and have good hygiene standards." His passion also extends to real or craft beers and ales; he supports that by giving the growing number of British and foreign microbreweries access to his bars.
[caption id="WhithertoWetherspoon_img2" align="aligncenter" width="700"]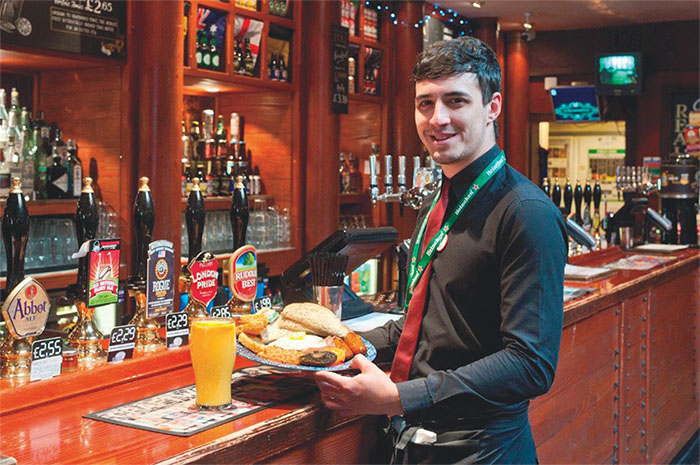 9
The Pennsylvanian is just one of many Wetherspoon's pub to celebrate the area's American connections.
[/caption]
There is a paradox in a chain claiming that it does not have a cookie-cutter approach, but in Wetherspoon's case, the company takes great efforts to avoid sameness: connecting the pub with a local historical event or personality and opening pubs in non-traditional pub buildings. Martin said: "We are very much a company that reflects the local area. We investigate local history to find figures or events to commemorate in our pub names. We then decorate them to reflect this history."
Many Wetherspoon pubs are conversions of existing buildings: former theaters, bank premises, post offices and churches, as well as a number of historic listed buildings. British Heritage travelers might drop in to the Woodrow Wilson in Carlisle; the Hudson Bay in Forest Gate, London; The Pennsylvanian in Rickmansworth; or the Alexander Graham Bell in Edinburgh for connections with home.
I mentioned real ale at this point and Martin came alive. "The current wave of British brewing is exciting and should be enjoyed. Britain is enjoying a boom in artisan and micro-brewery beer production unseen in decades. It is definitely going through a revival," he said.

"I set out to avoid a cookie cutter approach to the pubs. Customers get good-quality food and drinks, served by well-trained and friendly staff, at reasonable prices. The pubs are female and family-friendly, and have good hygiene standards."
A move a few years ago to reduce beer tax led to brewers producing "peculiarly British" beers, he said, and now there "must be a couple of thousand brewers in the UK. Most of our pubs have local breweries on tap—even the very smallest ones are available."
[caption id="WhithertoWetherspoon_img3" align="aligncenter" width="900"]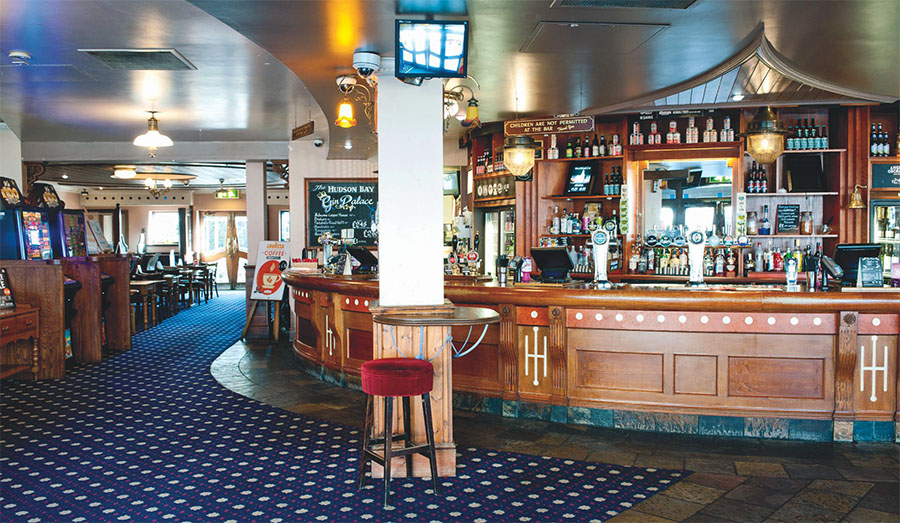 9
The Hudson Bay in Forest Gate passes inspection and looks ready for the day.
[/caption]
Kicking the tires
W
ith a turnover of some $2.5 billion, it is no surprise that JD Wetherspoon is a FTSE 250-listed company, with Martin owning around a quarter of the shares and company chairman. However, the man does not exist in an ivory tower, revealing he spends at least two days a week visiting Wetherspoon pubs to kick the tires.
Martin joked: "I visit the pubs unannounced and unaccompanied. It's because I want to avoid the old Billy Connelly quip that the Queen thinks the world smells of fresh paint." On these visits, he meets staff and customers face-to-face to ensure all is well. He carries a "Red Book," in which he notes areas for improvement. It was on view as I spoke to him, and is clearly full of neatly written notes.
Martin does not limit his interest to Wetherspoon pubs. He is happy to visit other pub businesses, including the growing number of gastro-pubs in Britain. "They certainly have a place in the market. There are some good gastro-pubs." He says that Wetherspoon's can learn from gastro-pubs.
[caption id="WhithertoWetherspoon_img4" align="aligncenter" width="400"]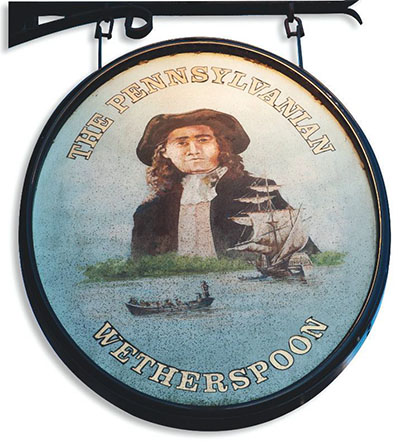 9
In Rickmansworth, stop at The Pennsylvanian
[/caption]
One of the elements attractive for British Heritage visitor is the food; with a menu that is large, varied and always well-presented (if never likely to win a Michelin star), diners can enjoy traditional British pub grub in every Wetherspoon location served until at least 10 p.m.
For early risers, Wetherspoons serves breakfast from 8 a.m. until noon in many of its locations. This has been very popular with customers, says Martin. Those with sore heads or an aversion to alcohol in the morning are able to enjoy tea or coffee during their meal.
Typical menu items for the bleary-eyed include American-style pancakes with bacon and maple syrup, bagels, a children's breakfast menu and Eggs Benedict, as well as traditional "Full English" breakfast fare. Weight watchers will be pleased that Wetherspoon provides a calorie count for each dish.

Safety first
Martin knows what makes a pub unsafe for drinkers: music (especially raucous), alcohol-only trade, inexperienced managers, poor toilets and a threatening atmosphere. He could add, of course, a dark and unwelcoming interior. It is therefore no accident that Wetherspoon pubs do not have music, serve food all day, are run by professional, long-standing mangers, and have clean and well-lit restrooms as well as light and airy interiors.
These elements drive away trouble from his houses, says Martin. He pays particular attention to restrooms. Pub restrooms in Britain are famously dingy, cold and often outside in a pub's backyard. Wetherspoon patrons can rely on the washroom facilities being as strictly inspected as the kitchen area, says Martin.
The group has an unashamed strategy of appealing to female drinkers in a manner that is, frankly, rare among other pub businesses. This has a payoff; a quick glimpse around a busy Wetherspoon will see a larger volume of female customers than in many pubs. Martin puts it down partly to the high restroom standards that he considers more important to women than men.
In appealing to these customers, he is helping the bottom line: the pub chain does not insist you drink alcohol, which means it has become the world's largest retailer of Lavazza coffee. The no-music policy also allows for easy and relaxed chatting over a meal on every visit.

Mine's a pint
T
he British pub is not a static creature; generations reinvent the pub to satisfy their social needs as much as their drinking needs. That is why pubs, such as Wetherspoon's, that match their clientele's wishes are prospering. It is too early to write off the pub. That is largely thanks to Martin and his JD Wetherspoon team; you won't exactly get an olde worlde charm, but you get an honest pint. I'll drink to that!
[caption id="WhithertoWetherspoon_img5" align="aligncenter" width="498"]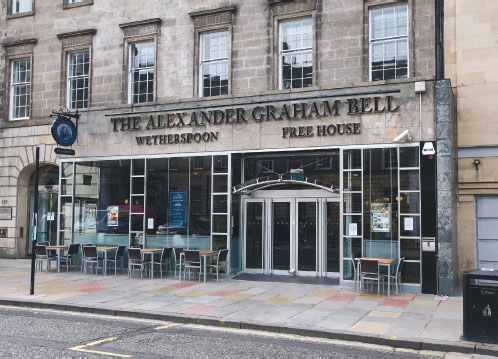 9
Wetherspoon's research local history to find figures to commemorate in their pub names.
[/caption]
[caption id="WhithertoWetherspoon_img6" align="aligncenter" width="800"]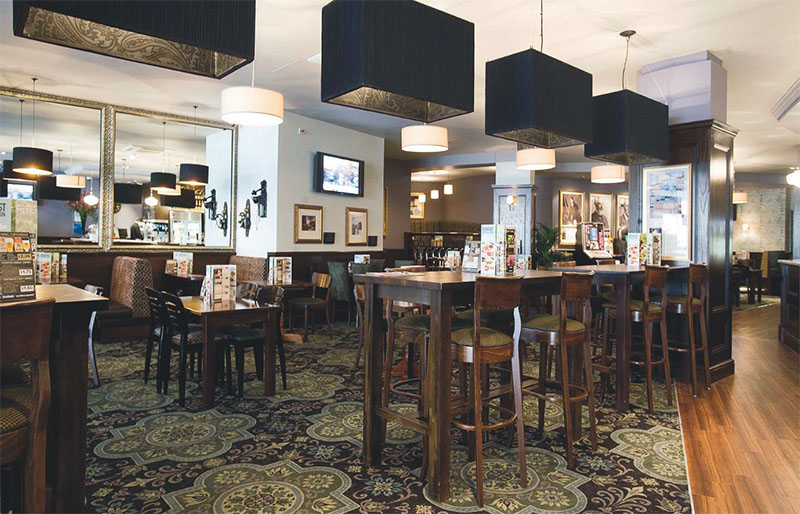 9
You can always find a Wetherspoon pub where you're going, or along the way, at

www.jdwetherspoon.co.uk

.
[/caption]
[caption id="WhithertoWetherspoon_img7" align="aligncenter" width="240"]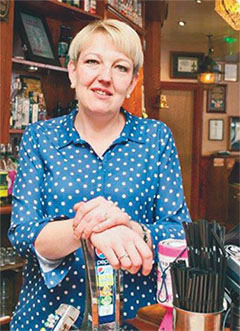 9
Managers are experienced, and staff share a sense of camaraderie and pride in their work.
[/caption]