THIS IS THE LAND of Roman occupation and Viking invasion. Castles and cathedrals, barren hillsides dotted with sheep, abbey ruins and friendly country pubs: from Yorkshire to Cumbria, England's North Country is rich with enchanting lore and dramatic scenery.
Day 1–Heading North to Majestic York
The breadth of English history is packed into the 14th-century walls of York, cultural and political heart of England's North Country since the days of the Romans. From the Jorvik Viking Centre, recreating life under Danish occupation in the 10th century, to majestic York Minster, no city in England offers such a microcosm of English history. There's precious little point driving from London to York. Take the train from King's Cross Station, which will have you in York in just about two hours. This is one place it's a good idea to have accommodations before you arrive. The good news is that the city is replete with lodgings to fit every travel budget. Best of all, the city is compact enough to be walked comfortably. A taxi from York's gorgeous Victorian train station will whisk you to your hotel or B&B in no time.
[caption id="YorkshireandtheLakeDistrict_img1" align="aligncenter" width="1024"]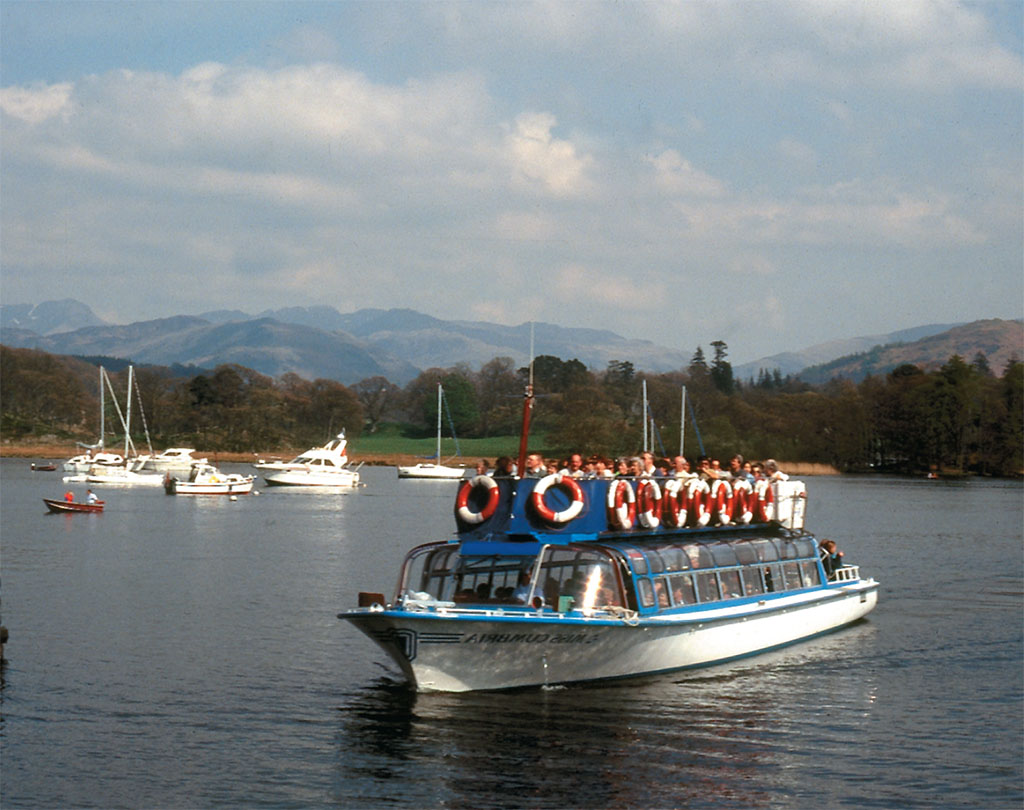 2
England's largest lake, Windermere has long been a mecca for nature lovers, boaters and fishermen.
[/caption]
Day 2–An Embarrassment of Riches
The National Railway Museum, the Castle Museum, Clifford's Tower, The Merchant Taylor's Hall and the Treasurer's House: York offers discoveries around every irregular corner. The best place to start is the Tourist Information Centre on St. Leonard's Place. City maps, current events and all manner of information and assistance are readily available. (Another terrific resource is our story "Discovering the Historic City of York" archived at
www.historynet.com
.) Then, perhaps visit York Minster, practically next door. It's among the greatest of English cathedrals and home to the finest collection of medieval stained glass in the world. The day will fly by.
Day 3–You Really Are Just Beginning
York really will need another day. If you're there in season, go early to the Jorvik Viking Centre for a ride through the city in Viking times; the lines get long at midday. Do take some time to see the city from the vantage of its city walls; you won't be able to miss them. When it's time to sit, see York from the River Ouse on a 45-minute guided boat ride from Lendal Bridge. Then, you might queue up at Bettys, York's most famous and popular tearoom. By now, your projected itinerary will exceed the time you have. This evening, the Theatre Royal will likely have something on offer. It's worth it just to see the theater.
Day 4–Into the Yorkshire Countryside
Now is the time to pick up a car and see some of surrounding Yorkshire. All the major rental agencies are right in town. You might head west this morning for a short drive to the Edwardian spa of Harrogate (see "A Bath in Harrogate," p. 36). Then, turn north for a visit to Fountains Abbey, the largest monastic ruins in England, and the 18th-century landscape gardens of Studley Royal. Nearby, visit ancient Ripon Cathedral. This afternoon, you could carry on to the market town of Thirsk for an evocative visit to the home and surgery of James Herriot. Or head on into the Yorkshire Dales to Masham and visit the Theakstone's brewery, famed for its Old Peculier. It will be a day of sensory overload before you return to the now familiar surroundings of York.
Day 5–A Delightful Yorkshire Day
It's always nice to keep some flexibility to your plans. You've still not seen the National Railway Museum or Castle Museum? Yes, you may well want another day for York. After all, we haven't mentioned the shopping either, or the Yorkshire Museum or great city art gallery. Or you might take a drive to the east, routing up through the desolate and dramatic North Yorkshire Moors. Also in that direction is Castle Howard, one of the best stately home visits in England. Yes, that's the one made famous by
Brideshead Revisited
.
Day 6–Drive to the Heart of Cumbria
Turn west today, across Yorkshire's moors and dales. On one great route, pay a morning visit to the Bronte Parsonage in Haworth, where the Bronte sisters lived and wrote. If you haven't read those famous novels, you will. Then, continue to the market town of Skipton and visit historic Skipton Castle. You continue this afternoon through the Yorkshire Dales National Park to Cumbria. One memorable visit is the Elizabethan manor of Levens Hall near Kendal, world famous for its extraordinary topiary garden. It will be a late afternoon arrival on the shores of Lake Windermere. Both Windermere and Bowness have plenty of options, but Bowness is on the water.
Day 7–Where the Landscape Dazzles
Today's panorama of the Lakes might begin with a steamer cruise on Lake Windermere (England's largest lake). Do visit Grasmere and Dove Cottage, home of the great Romantic poet William Wordsworth. After all, he's the man who made the Lakes famous. Fans of the Lake Poets might also visit his home at nearby Rydal Mount. Then, drive around Coniston Water to Hawkshead and Near Sawrey to Hillside, the home of Beatrix Potter. All around lies the pristine beauty of the meres, fells and quaint villages that make the Lakes among England's most beloved regions. You'll return to Bowness with time for afternoon tea, rest or exploration before regrouping for dinner.
Day 8–In the Majestic Northern Lakes
Turning north this morning, you'll climb high Kirkstone Pass to view beautiful Ullswater before coming to Keswick, pretty market town and hub of the Northern Lakes. Yes, do visit the Pencil Museum (where Derwent pencils have been made for 150 years) and see the dramatic and mysterious Castlerigg Stone Circle. You might take a scenic route by Crummock Water and pretty Buttermere before returning to Bowness for a bit of well-deserved leisure. Or continue through the northern lakes to the market town of Cockermouth (Wordsworth's birthplace). This evening, sample the pubs of Windermere and visit with like-minded adventurers from around the world.
Day 9–Returning South Toward London
Today marks a return to London. You could drive south; it will take the better part of the day to London (with a few stops along the way). Alternatively, you can make the short drive up to Carlisle, drop the car off and take the train south across the West Midlands. A third alternative would be to drive down through Lancashire and return your car in Chester or Preston to train from there. And, of course, if you're in the enviable position of having more time, you might strike out for North Wales or the Peak District.