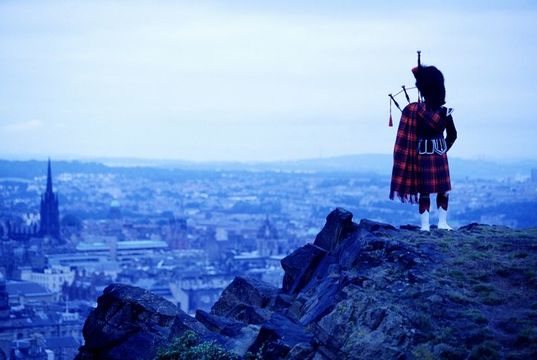 Following in the footsteps of such forebears as William Wallace
can't be easy, but Andrew, next to lead the Wallace clan,
continues to define the role of today's chief.
The romanticized image of a Scottish chieftain calls to mind a solitary man in a tartan kilt striding across heather-coated hills, bagpipes wailing in the distance.
To a degree, this description fits Andrew Wallace, next in line to inherit the title of Chief of Clan Wallace. He walks the countryside, many miles at a time, and feels the same 'Scottish prejudice' that boiled in Robert Burns' blood. But the tall, often witty Edinburghian turns serious as he envisions the much more modern role--that of ambassador, rather than leader--he will assume when he succeeds his father, Ian Francis Wallace, the Clan's 35th chief.
'What it's all about now is not necessarily anything to do with the family per se, or the clan system,' Andrew explains. 'It's just the fact that there are a lot of Scots all over the world who seriously value their Scottish roots. Given that, and given the fact that they identify with heads of their family, the modern role is to revitalize the idea of the extended family, which is what it was all about to start with, and have it as a form of kinship.'
As the role of the clan leader continues to evolve, a 20th century chief also needs to remember to approach the role with humility. Andrew believes that a modern chief should avoid seeking power and profit. With the recent box-office success of the Oscar-winning film Braveheart, however, has he been tempted to commercially exploit his ancestors' popularity?
'Oh God, yes!' he admits. But then he shakes his head. 'The thought might have crossed my mind, but it kept on going.' Although he did receive an invitation to the film's Hollywood premiere, he regretfully declined. He had a prior commitment--watching golden eagles on the Isle of Mull.
'I enjoyed the film far more than I expected, and thought they did an excellent interpretative job,' he comments. 'There is danger in any historical drama that fiction is seen as reality, but that is true of all interpretations of history. As entertainment it was superb. As a history, it was close enough to what we now view as the facts not to be too out of line.'
As for his own history, Andrew was born in Westminster, London, in February 1964, '500 yards away from where William Wallace was hung, drawn, and quartered,' he remarks. His father, from Nairn, in the Scottish Highlands, settled in Westminster to pursue his career in industry before retiring in 1977 and returning the family to Scotland. Wallace makes it clear that his heart and history are Scottish, although his mother, born in Sussex, 'despairs because she says I always forget I have good English blood in me.'
The Wallace clan originated in the Scottish Lowlands. Their first mention in 12th-century documents places most of the Wallace clan near the city of Glasgow. They and other Lowland families used surnames, a fairly recent Norman innovation, and gathered strength from family ties rather than regional alliances.
The Wallace clan fostered the same strong sense of unity as the Highland clans but without the trappings. Lowland families, Wallace explains, only began embracing such Highland traditions as calling themselves clans and having chiefs after King George IV's visit to Edinburgh in 1822.
On this royal visit, the King made a bold fashion statement by appearing in a kilt of royal Stuart tartan. The tartan represents an integral part of a clan's heritage; each set distinguishes a particular clan. The Wallace Clan traces its tartan sets back to at least 1829, preceding the Vestiarum Scoticum hoax of 1842 by the 'Sobieski Stuarts'--an embarrassing fiasco in which two Polish brothers, claiming to be descendants of Bonnie Prince Charlie, made a living creating tartans and spurious histories to go with them. Today, the Wallace Clan's green hunting set, like members of the family itself, can be found worldwide--most conspicuously, perhaps, on packages of invisible Scotch™ brand sellotape.
Andrew packed his kilt last autumn to attend his first American-Scottish games in Stone Mountain, Georgia, where he met members of the Clan Wallace Society-Worldwide. He calls that meeting a 'revelation.'
'I had always suspected that the commitment of the American Scots would be strong, but I had no idea how strong,' he says. 'The enthusiasm for Scotland and all things Scottish was both extraordinary and, frankly, very flattering. I maintain my belief that whilst the traditions are important, the true value of such events and societies is a hands-across-the-sea gesture. The clan, or family, must now be viewed in the broadest sense of the word. The American Wallaces' hospitality, interest, and friendliness was, as expected, faultless.'
Andrew takes immense pride in the Wallace name, at home or across the ocean. 'Regionally we were quite a significant family, and nationally we provided good soldiers for the Empire.' With a history like that behind him and the titles, 'The Chief of the Name, Clan, and Family of Wallace,' or simply 'The Wallace,' looming ahead, it would seem that Andrew Wallace bears a heavy burden. Genealogy adds to that weight: Andrew is the 36th generation of his family's male line.
The recorded forefather of the clan, Richard le Waleis of Ayr, first abbreviated his name as 'Wal' on a charter circa 1163. Richard had accompanied William II FitzAlan, Lord of Oswestry, to Scotland before William's brother, Walter, became steward to King David I. The name le Waleis or Walais translates as 'Stranger' or 'Welshman,' and Richard is variously believed to have been Celtic, Strathclyde Briton, Norman French, Saxon, or English.
Richard and his descendants benefited from their relationship with the future Royal Stuarts; throughout the generations, they built up a fair amount of wealth and property holdings. Sir William Wallace, Richard's great-great-great-grandson, was likely born at Elderslie, a Wallace estate near Paisley, around 1270. Wallace holdings once included Elderslie, Riccarton in Ayrshire, and other land to the east and north into Moray. Today, the family no longer owns any of these historic estates, which Andrew wryly describes as 'very considerable piles of stone.' Although Andrew may not live in 'chiefly splendour,' as he calls it, the door to his very comfortable Haymarket home always stands open to both family and friends.
Past Wallaces have found their calling as ministers, doctors, lawyers, judges, and authors. Countless 'good soldiers,' including Andrew's uncle, Malcolm Robert Wallace, 34th clan chief, grace the family's ranks. After his death three years ago, Malcolm's title passed to his younger brother, Andrew's father Ian. 'He had a good chiefly bearing about him; he was quite a character,' Andrew recalls of his uncle. 'But I suppose he always knew he was going to be a chief, which my father didn't.' They grew up in a military family, and Malcolm, who never married, became a lifelong soldier. Ian, on the other hand, entered industry after his army service and devoted himself to his family.
Andrew may be the first Wallace chief in centuries not to have performed some type of military service. The strength of personality that characterized his uncle Malcom, however, lives on in Andrew. Thomas Wallace of Tennessee, President of the Clan Wallace Society-Worldwide, remembers Malcolm as a droll man, a 'true gentleman.' Of Andrew he says, 'He has the same hidden sense of humour.' Both impressed him favourably as 'very good politicians, personable and friendly, no matter what.'
Andrew's careers and travels have led him on a meandering path around the globe, adding a depth of experience that will serve him well in his future position of ambassadorship. After attending Trinity College in Glenalmond, Perthshire, Andrew studied ecology at Edinburgh University. His love of nature led him to a job as a fly fishing guide in Chile and then in Alaska (an experience that included a harrowing encounter with grizzly bears).
His writing reflects his interests in nature and the outdoors. Andrew's publishing credits include articles in The Field, Country Life, the national newspaper The Scotsman, and the British fishing press. Andrew also co-publishes The Green Highlander, an international fly fishing newsletter. He boasts that the newsletter includes subscribers on every continent but Antarctica. This situation will hopefully be rectified, Wallace jokes, 'by recruiting someone from the British Antarctic Survey.'
Andrew also devotes his time to a project on Scotland's west coast involved with conservation and management of freshwater fisheries. He approaches this challenge with enthusiasm--almost more passion than he feels for fishing itself. 'It's bigger than the actual fishery. It's all to do with water management; whatever goes on around a river ends up in it, which I think is fascinating. And it's also very much to do with the Scottish countryside, which I adore.'
When the time comes, Andrew will matriculate his coat of arms with the Lord Lyon, Keeper of Arms, in Edinburgh and officially become Clan Chief and a member of the Standing Council of Scottish Chiefs.
When his likeness is placed in the Clan Wallace chiefs' gallery, it might well show a young man in hiking boots and wool sweater, with a fly rod or book in hand. While this may not be the romantic, 'chiefly' image that some may imagine, it somehow seems to fit this future ambassador of the modern Wallace clan.