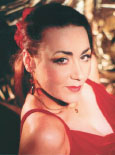 7
[caption id="WattsAboutTownFreshBakedCamembertandaColorfulCarousel_img2" align="aligncenter" width="260"]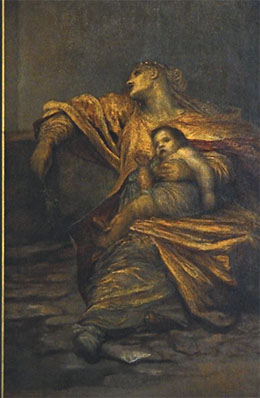 7
to St. Paul's in 1899. After her husband's death, his widow gave

Peace and Goodwill to the cathedral in 1907.
[/caption]
[caption id="WattsAboutTownFreshBakedCamembertandaColorfulCarousel_img3" align="alignright" width="260"]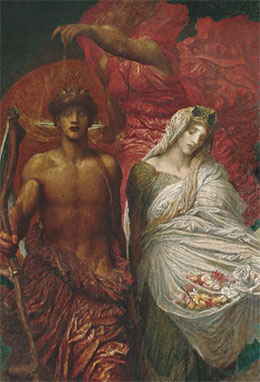 7
Victorian painter George Frederick Watts gifted

Time, Death and Judgement
[/caption]
IT'S BEEN A MONTH of strange connections. I didn't mean to become a stalker of the Victorian painter George Frederick Watts—if I'm honest I'd never really heard of him—but after I had encountered him, he just kept cropping up.
It all started when I went to visit Leighton House, in Holland Park—a darkly sparkling jewel of a place, full of Eastern promise, and, disappointingly for me, closed for refurbishment until 2010. I went on the day it closed, and was allowed into a couple of areas—not least the staggering Middle-Eastern fountain hall—but it was already being mothballed, so the best I could do was read about Lord Leighton and the artistic set around him. There were a couple of paintings of him by a G.F. Watts. He sounded vaguely familiar.
It was only when I was invited to an exhibition at St. Paul's Cathedral, celebrating the return of two of Watts' most famous paintings to the nave exactly 100 years after they were originally hung there, that I began to realize that I have been exposed to his work all my life; I just never knew it. Down in the crypt, I found a collection of Watts' works, including many of his biblically based paintings such as Jacob and Esau, The Good Samaritan and The Denunciation of Cain.
Watts is a conundrum. Throughout his life, he battled with the concept of organized religion yet retained a deep spirituality, which manifested itself in a joy in the human condition. He at once epitomized and questioned received values. While many of his contemporaries painted syrupy, romanticized scenes of poverty, wallowing in 19th-century mawkishness, Watts treated his subjects as people. His painting of a destitute seamstress, for example, is a real woman. Where others might try to play on pity, Watts finds her neither pretty not quaint. The desperation in her eyes and the harshness of her life are nigh-on palpable. I enjoyed the new hanging of the paintings Watts dedicated to St. Paul's, and I made sure I didn't miss the mosaic spandrels he created just below the cathedral's dome (it also gave me the excuse to enjoy the newly-renovated St. Paul's, scrubbed clean from centuries of city soot). But it was the humanity of his secular paintings that really touched my heart.
MY HEART WAS TOUCHED in a different way when I heard that Piccadilly's Café Royal, the haunt of Noel Coward, Winston Churchill, Rudyard Kipling and, of course, Oscar Wilde, who used to hold court in the Domino Room, had closed. It has particular resonance for me, as I performed there myself many moons ago—a show that led, ultimately, to a record deal. I was even sadder when it was announced on the lunchtime news that the contents were to be auctioned off, without reserve. Viewing was that very day. I rushed across to see the old place one last time. The glorious Napoleon-inspired entrance hall, little tickets hanging from the clock and the lights. The mirrors, silverware and crystal chandeliers, all up for grabs. Aged brandy barrels, cigar humidors, heavy velvet curtains—and a rather alarming-looking silver contraption labeled a "duck press." All headed for the hammer.
What is to happen to the site? Some of it is listed and must stay as it is, but the rest will be turned into a hotel. Such is progress.
AFTER AN EXPERIENCE like that I needed a little cheering up, and I went to another landmark that has just had a massive clear-out for a refurb, the Savoy. The main hotel is still under wraps, but the theater is going great guns, and the show, a much-lauded revival of Carousel, is packing them in at the box office. I was worried, given the mood I was in, that I'd make an exhibition of myself, so I brought along a large box of tissues. As it was, I (just about) managed to stay dry-eyed. The singing and dancing are extraordinary, and the production beautiful, with wildly imaginative back-projected sets and, of course, that amazing Rogers and Hammerstein score. But I had just the slightest feeling that the performers were chosen for their staggering singing and dancing skills rather than their acting abilities…
[caption id="WattsAboutTownFreshBakedCamembertandaColorfulCarousel_img4" align="aligncenter" width="198"]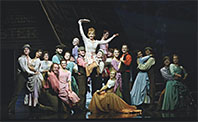 7
June is busting out all over at the legendary Savoy Theatre.
[/caption]
CAROUSEL
[caption id="WattsAboutTownFreshBakedCamembertandaColorfulCarousel_img5" align="aligncenter" width="198"]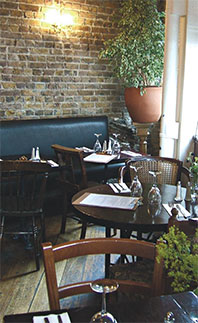 7
"Cute, funky and reasonable," Sandra avers.
[/caption]
LE GARRICK
THIS MONTH'S CONTACTS
PARABLES IN PRINT
at St. Paul's Cathedral runs until July 30, 2009—www.wattsgallery.org.uk/wattsinthecity.html
CAROUSEL, The Savoy Theatre—www.ambassadortickets.com
LE GARRICK—Garrick Street, Covent Garden—www.garrickrestaurantbar.co.uk
GUILDHALL ART GALLERY and LONDON'S ROMAN AMPHITHEATRE— www.cityoflondon.gov.uk
Postman's Park—between King Edward Street, Little Britain and Angel Street.
WHEN A FRIEND told me we were to dine at the Garrick, I was nearly apoplectic with excitement. The classic gentleman's club that goes back centuries, whose windows you can just about peer into if you stand on tiptoe on the other side of the street, revealing rows upon rows of ancient library books, Old Master paintings and chandeliers to swoon over? Oh boy…
I should have known. It turned out to be Le Garrick, a French bistro opposite. Situated in the heart of Covent Garden, Le Garrick is well-priced and hearty. Downstairs in a basement, its 19th-century walls taken back to the bare bricks with a typically Gallic sense of shabby chic, it's a jumble of mismatched chairs, old mirrors, groovy lampshades and fabulous wallpaper. It's dark, it's cozy, and it's perfect for a winter rendezvous. The menu is typically bistro-esque—full of heavyweight soups, steaks and moules-frites. I shared an entire baked Camembert with a pal before tackling the poisson du jour, lightly steamed with pommes vapeurs. It may not be fine dining, but it's cute, funky and reasonable—and it sure beats the major chains that seem to be strangling Covent Garden just now.
BACK IN THE CITY, I was on the trail of the Roman gladiators of Londinium. Archaeologists had known where the old amphitheater should be for years, but it was only when they were rebuilding the Guildhall Art Gallery in 1988 that it actually turned up. Somewhat inconveniently for the gallery, it turned up several meters underneath it, and what should have been a quick reconstruction turned into a major archaeological dig. There's not a huge amount to be seen down there, but it's well displayed.
Come to think of it, the Guildhall Art Gallery itself isn't in the top 10 Most-Visited Attractions—but it should be. A superb collection of paintings, many of which are instantly recognizable from a million greetings cards, rivals many of the larger galleries. The guy being celebrated the day I went was—you got it—G. F. Watts.
[caption id="WattsAboutTownFreshBakedCamembertandaColorfulCarousel_img6" align="aligncenter" width="198"]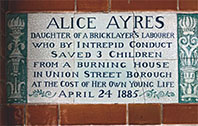 7
The artist memorialized child heroes at Postman's Park.
[/caption]
…MORE WATTS
I CAME OUT OF THE Guildhall and crossed the square, and made my way to Postman's Park near St. Bartholomew's Hospital. Near the end of his life, G. F. Watts created in an old churchyard an open gallery of ceramic memorial plaques, fired by Royal Doulton, celebrating the heroism of ordinary London citizens. Watts erected 13 tablets, each one decorated in Art Nouveau style and telling a simple tale of everyday valor. After Watts' death, his widow continued adding plaques. There are 47 in all. It is a place that never fails to move me.