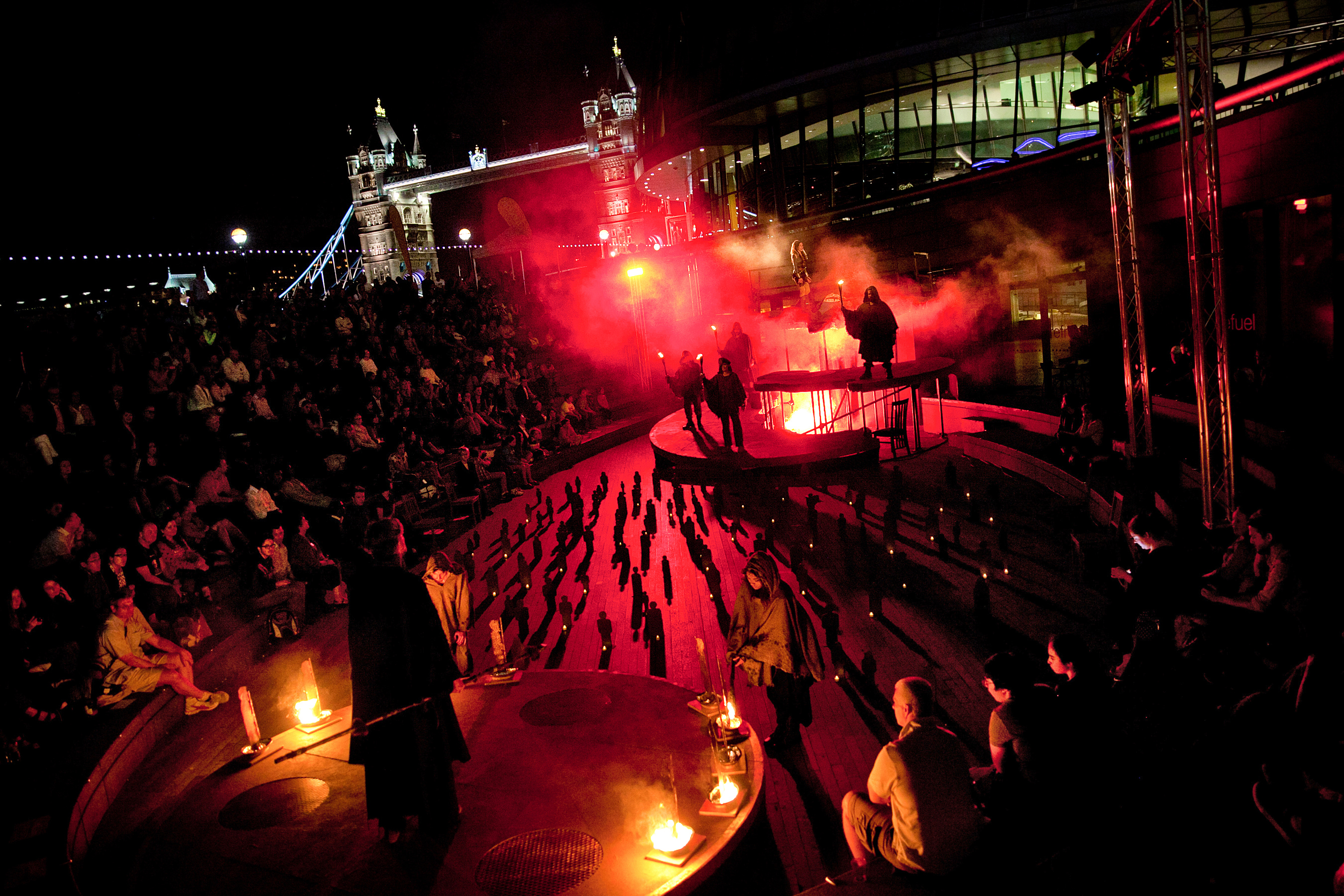 August has to be one of the best months for visiting London if you're interested in events, unusual places to eat and exciting new attractions. Counter-intuitively, other months often have better weather but for sheer variety of things to do, especially free things, this is your month.
[caption id="attachment_13695754" align="alignleft" width="702"]
Image: Sheila Burnett[/caption]
Take, for instance, the best free theatre you'll find in the capital, full stop. I have been a fan of Gods and Monsters for years now (aka Steam Industry Free Theatre) and it has never disappointed yet. The Scoop is nestled in the shadow of Tower Bridge, a few yards from the South Bank of the Thames. It's a purpose-built, modern amphitheater and although you'll find other events there at different times—notably free cinema in September, the month that Gods and Monsters takes it over is sheer magic.
It's serious stuff, done in an entertaining way. Taking Greek tragedies or other classical material as a source, artistic director Phil Willmott works with a large company to create something that works for a wide audience. It usually takes a whole evening, but is broken into manageable chunks that you can mix and match. Some people watch the spectacle over two or three nights; others take a picnic and enjoy the whole lot in one go.
It's a good idea to bring a picnic as, for the past few years, you haven't been able to buy drinks/food/ice creams, which would have been welcomed by many. It's worth hiring a little cushion as the place is built in granite, both hard AND cold after a while. Arrive about twenty minutes before curtain-up to get a decent seat. It can 'sell' out, but if it's a hot evening and the place has filled up, have a drink in a local pub and come back for the next section, there are always a few people leaving and you will get in.
[caption id="attachment_13695758" align="alignright" width="683"]
Image : Sheila Burnett[/caption]
I don't know exactly what this year's entertainment will consist of as it's not started yet, but as a rule of thumb the first part is usually  fun, knockabout stuff, intended to be enjoyed by younger audiences. For example, The Oresteia, a couple of years ago, saw a 'fun' version of Trojan Horse story as the first instalment, with puppets, gags and music meant for young people, but with enough for adults to get a lot out of it too.
The second section, after a break for people to arrive/leave, got rather darker. By the time Clytemnestra was brandishing her weapons in the third part of the trilogy, soaked in bloody gore, the sun had long set, fire brands were flaring and all but the hardiest of kids were long tucked in bed. It was awesome. Last year, Willmott tried something equally tough—the Ring Cycle—without the opera. It was visceral, dangerous and moving. And free of charge.
How do they do it? On a wing and a prayer, and by passing the bucket. If you enjoy the show, do be generous, so they can come back next year.
This year's offering, Battle Games, is a two parter that can be enjoyed together or independently.  Captain Showoff, at 6.00pm, is inspired by the Roman comedies of Plautus and The Women of Troy, based on Euripides' tragedy, starts at 8.00pm. The shows run Wednesday to Sunday, from 5th–30th August. Full details can be found here.
The Scoop is along the Thames Path on the South Bank, at Queen's Walk, More London, SE1 2DB
If you're a chocoholic, you may well have come across Royal chocolatier Prestat, well over 100 years old and still purveying the most exquisite chocolates imaginable to various members of the Royal family. Their claim to fame is the invention of the chocolate truffle, in 1896, and for that alone I am grateful.
I was absolutely delighted to hear their latest venture, Cafe Prestat, has launched in Chelsea, around the corner from Sloane Square in a quiet backstreet. You can enjoy a coffee and a chocolate croissant if you're feeling goody-goody, nibble a healthy-ish light lunch, or you can be like me and commit death by chocolate in the most genteel way possible with the full afternoon tea.
It's a charming, tiny jewel of a place, decorated in Prestat's signature jewel colours with joyful many-patterned crockery and friendly staff to bring a smile even before the first cup is poured.
Sandwiches are fresh, tangy and moreish, whether you're biting into a traditional cucumber, zingy ham or contemporary avocado. Then, mini scones with plenty of clotted cream and jam, either strawberry or a very, very dark and fruity chocolate ease you gently into the full sugary choc-fest that is the main event. Variously chocolatey muffins (my pal Timandra loved the plain with choc-chip; I was impressed with the even more indulgent double-choc variety) are all gluten-free, as are the melt-in-the-mouth florentines, chewy and chocolatey. 
I confess by the time I got to the selection of Prestat's famous truffles and wafer-thin discs, scented with cardamom, I was beginning to flag, even though Timandra and I must have drunk enough tea to float a battleship. Our solicitous waiter appeared to be used to this situation and offered to wrap them to take home. We were each presented with our 'leftovers' in a delightful prestat bag. When I got home, I discovered a couple of extra mini-muffins had been slipped in there too. Mmm...
Prestat is at 186, Pavilion Road, London SW3 2BF, Tel. +44 (0)20 7730 7715
Even if you haven't heard of London's newest 'public park', if you've looked at the capital's skyline recently you'll know exactly where it is.
The Sky Garden is right at the tippy-top of the massive skyscraper nicknamed the Walkie-Talkie. Everyone in London has watched Number 20, Fenchurch Street ascend into the clouds. (And many enjoyed the headlines when its curved glass top 'melted' cars below with reflected light.  Don't worry, it's now been fitted with sunshades.) Now anyone can go up and enjoy a 360º panorama from what is essentially a giant glasshouse in the tip of the car-melting dome. Four glass walls on different levels and an outdoor viewing platform looking directly over the Tower of London, right up there in the clouds. All for nothing! You need to book in advance for security reasons; tickets are released three weeks in advance.
There are three eateries up there—fine dining 'Fenchurch', the Darwin Brasserie and Sky Pod bar. I found that although there were no free wander-as-you-go places left on the day I wanted to go, I was able to book a table at Darwin Brasserie the day before I wanted to visit. The weather paid me back with torrential rain, but I'm planning to go back, perhaps for breakfast first thing in a morning. Now that would be one heck of a view...
If the weather is better than I got when I visited the Sky Garden, you should be able to see Canary Wharf a couple of miles downriver. It's London's other business district and although it buzzes with underground shopping malls and quirky waterfronts. (It's constructed on the city's old docks.) It's mainly for business folk. This, however, does have two distinct advantages.
[caption id="attachment_13695779" align="alignleft" width="702"]
Canada Square Park Concert[/caption]
Firstly, it's super-easy to get to—either by tube on the Jubilee Line, along the river via the Thames Clipper service, or on the Docklands Light Railway which, although nearly 30 years old, still feels like something out of the Jetsons.
Secondly, they put on an amazing array of excellent-quality events. Some are paid-for, most are totally free. From open air theatre and outdoor cinema screenings to concerts and workshops, the events are well-attended by office workers, so most are lunchtime or early evening performances. I am always impressed by the variety of fare on offer. You can play outdoor table tennis or have a go on one of the pianos that have been left around for people to have a tinkle on. You can listen to jazz or enjoy a drink by the old docks.
I'm particularly interested in a 100th birthday tribute to Ol' Blue Eyes himself, Frank Sinatra, on Tues 11th August, but there are lots to choose from, ranging right into September and beyond.
As you enjoy this even-more-British-than-usual summer, remember, folks:  Sunscreen in one hand, umbrella in the other...