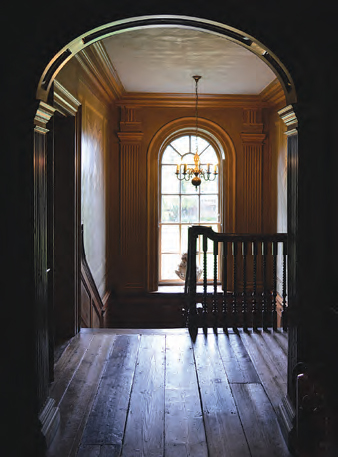 4
WHEN I SNUCK AROUND unfinished Rainham Hall last year, I promised to report back when the National Trust's latest London property finally opened to the public. It's taken nearly 70 years and £2.5 million, but it's been worth the wait.
The Hall was built for a wealthy Georgian sea merchant, but it didn't stay in the family long. Instead, this exquisite gem passed from tenant to tenant with no fixed owner, which was its saving grace in many ways. Over the years it saw only cosmetic changes, unlike many similar houses that underwent massive structural alteration. The house retains its perfect Queen Anne proportions and virtually all of it is now open to the public. It has been conserved, rather than restored, including in some places, some rather strange additions, such as 1980s rag-rolling and fanciful gilding applied by a 1920s art historian. The "shabby chic" interior contrasts beautifully with the picture-perfect dolls-house outside.
The house has been lived in by an eccentric cast of more than 50 individuals, including an 18th-century Methodist preacher, a 19th-century cycling enthusiast vicar and a 20th-century Vogue editor. There will be a rolling exhibition about each of them in turn.

Rainham Hall is very easy to get to. A short train ride from Fenchurch Street, Rainham station is virtually opposite the Hall.

[caption id="WestminsterTreasuresWaverleyandtheNTScoresAgain_img3" align="aligncenter" width="686"]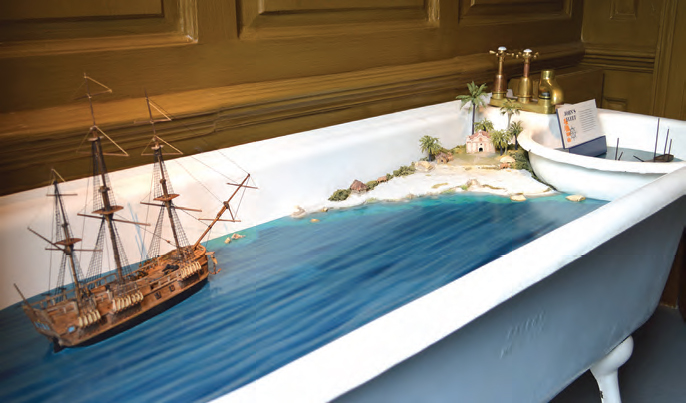 4
Ships in an Edwardian bathtub are but one eccentric addition to the conservation at Rainham Hall.
[/caption]
ONE OF THE REASONS John Harle made his home in Rainham was to keep an eye on the ships on the Thames. An even better way is to actually be on one. The last sea-faring paddle steamer in the world, the Waverley, earns her keep plying her way around the country giving pleasure trips to thousands. She lives up on the Clyde, so it takes a while to get down to the capital, but if you're going to be in London around October time it is worth booking ahead.
Make sure you start at Tower Pier, next to the Tower of London. Tower Bridge itself will open to make room for those enormous funnels to pass through, providing a heart-stopping moment as you sail underneath. Some excursions take all day and go all the way out to the sea and beyond. I've tried one and found it a little exhausting, so this time I took a more leisurely, short journey through the famous bits.
Evening trips are particularly gorgeous—at that time of year the sun sets just as you go through the bridge, which has now been fully refurbished. The ship houses several bars and a restaurant, but unless it's pouring with rain, it's worth staying on deck because there's so much to see (though don't miss the extraordinarily beautiful engine room). From the modern metropolis that is Canary Wharf, past ancient riverside pubs to Greenwich's Old Royal Naval College, Royal Observatory and Cutty Sark, there's always something spectacular. The ship turns at the Thames Barrier, before returning through Tower Bridge and up towards Westminster. If you're lucky Big Ben will chime in the distance.
BIG BEN—OR AT LEAST THE SPIRE in which the great bell is housed—is not the only tower in Westminster, nor is Westminster Abbey the only important church. Roman Catholic Westminster Cathedral, just over 100 years old, is often forgotten amid the wealth of things to see. I'd never been myself, but what a treat I'd been missing. I took my father one Saturday and we were both impressed by its sheer majesty.
[caption id="" align="alignleft" width="323"]

4
Reminiscent of Byzantine glory, the brick tower of Westminster Cathedral offers a bird's-eye view of the neighborhood.[/caption]
During the Reformation, all the Parish churches in the land became Anglican and, for a while Roman Catholicism was outlawed entirely. It was near the end of the Victorian age that the Catholic Hierarchy was completely restored. Building began in earnest in 1895 and this "masterpiece in striped brick and stone," as it was described by Sir John Betjeman, opened in 1903.
Masterpiece it is, a glorious cross between art nouveau glamor and Byzantine glory. The central nave has a dour darkness that contrasts brilliantly with the golden splendor of exquisite mosaics that glimmer in the candlelight. There's nearly always a service going on, but visitors are welcome to quietly inspect the building at their leisure.
Westminster Cathedral has one special do-not-miss: a trip up its fabulous, square tower to gain a rare bird's-eye view of that part of town. The girl that sold the tickets also became our lift-driver, bypassing the several hundred steps we would have had to take when the cathedral first opened. Once at the top, we peered through arched windows, open to the elements, to see as much of London and surrounding counties as the weather would permit. In winter, if you coincide your visit with dusk, you can watch the city light up beneath you. To add to the eccentric charm, in order to go down, we had to ring a bell to call our ticket-office-sales-lady-lift-driver to come and collect us.
THE CATHEDRAL HAS A CHARMING little café in the crypt, but Dad introduced me to somewhere new. With a completely different flavor, Westminster Central Methodist Hall is both a church and conference centre. Built in 1905, just after the Cathedral down the road, it's in a baroque style, and well worth a look, but if you're in Westminster and want a reasonably-priced, friendly lunch, nip down to Wesley's Café. There's a great range of hot and cold meals, plus hearty soups and cakes, all at decent prices in modern surroundings, not a given in this expensive part of town.
I return to the river for one last word to the wise. Thames Clipper boats don't visit Westminster Pier. If you want to get a Thames Clipper, which is an excellent way to see the river, and you are starting in the West End, head to Savoy Pier, by Embankment tube on the north bank. That way you'll be getting on board just as everyone else is getting off, stealing a march on all us poor suckers who got sent across the river.
Don't forget to catch Around Town online for other timely tips found out the hard way.