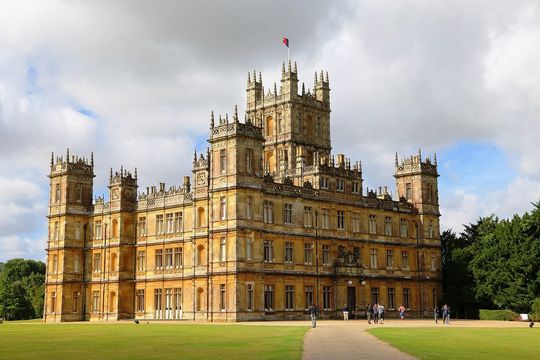 She calls Downton Abbey home and lives the real lady of the manor life, so what is it like to be Lady Carnarvon of Highclere Castle? We chat with the woman behind the real Downton Abbey, Lady Carnarvon of Highclere Castle.
Mistress of the Real Downton Abbey 
Fiona, 8th Countess of Carnarvon, laughs when I admit I'm uncertain how to properly address her. "Well, it's normally 'Lady Carnarvon.' Is that OK with you?" she asks gently. She laughs again when I tell her that it's just fine - a thrill, really! She is, after all, the Lady of the manor - of the actual Downton Abbey house, from which the Crawley family delighted us for six seasons.
With her book, At Home at Highclere: Entertaining at the Real Downton Abbey, she invites readers into her family's ancestral country seat. She shares its rooms, recipes, staff interviews and tales of four-weekend visits with some very special guests. "There's so much history here," she says. "I feel very lucky to live where I do." And lucky is how we feel, too, especially after getting the Lady of Carnarvon's advice on the very serious business of entertaining.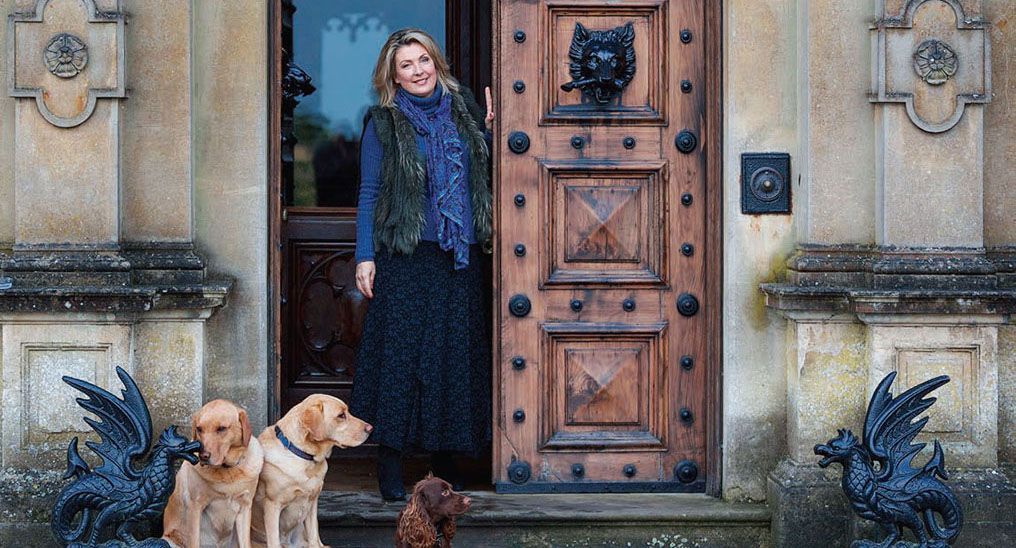 8
We really enjoyed the way the book is structured around weekend visits. What gave you the idea to do it that way?
I've written historical books about Lady Almina and Lady Catherine [her predecessors at Highclere], and I wanted to share some of the history. It was such an embarras de richesses that I didn't know where to start. So I thought of one of my favorite lines: "What is a weekend?" Some of the first-weekend house parties started at Highclere in Victorian times, so I chose some fun weekends at different times of the year to share the joys and pleasures of autumn and spring, of summer.
I started with Benjamin Disraeli and Lord Salisbury because they're so well known, and I was just so amazed Henry James had come to stay at Highclere. He'd walked down the stairs, he'd slept in the bedrooms, he'd had tea under the cedar trees! And then royalty, with the Prince of Wales in 1895 [who would later become King Edward VII], you can't go wrong. And in the 1930s [with Sir Malcolm Sargent] - the glamor, the jazz, the recession and the Depression as well! Then, I also wanted to write about today, which was in some ways harder. It's much easier to look through an eyeglass into the past.
During Disraeli's visit, they were discussing incredibly important matters of state, like voting reforms. And the Prince of Wales' visit signaled Lady Almina's arrival, a major social move.
Disraeli's visit was extraordinary. These were such important men. They were the men on the world stage at the time, and they were at Highclere, so goodness me. And Almina was just 19 [when she hosted the Prince of Wales]. 
I just can never forget that. She was so young and pulled off one heck of a visit. Quite extraordinary. He was very much a huge figure on the world stage because his mother [Queen Victoria] was Empress as well, so it was sort of, I suppose, rolling together a president and a King into one person in terms of the consequence of the honor of his visit. He obviously enjoyed food. I really enjoyed the quotes I found about that.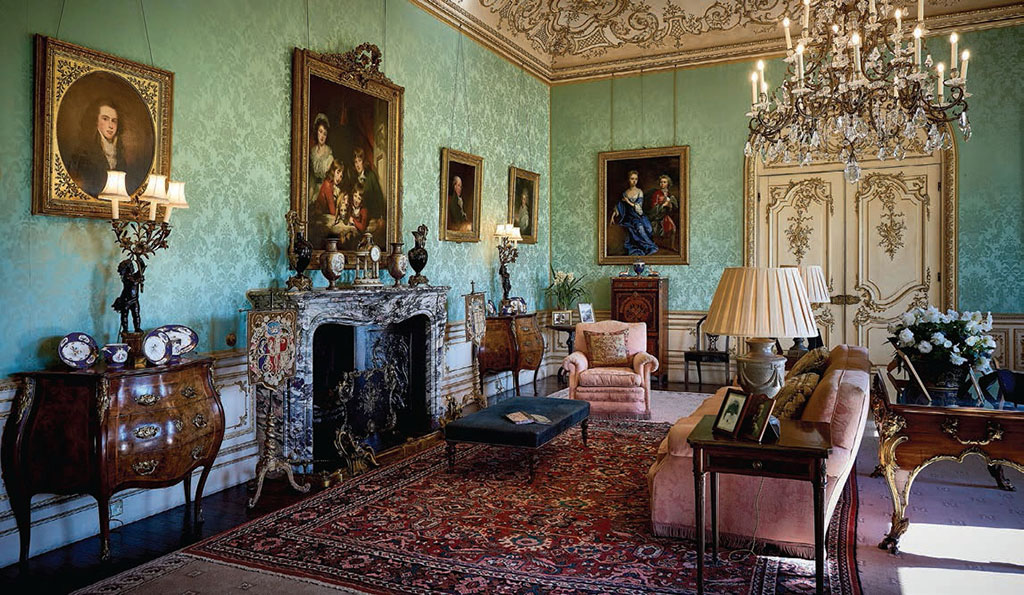 8
Tell us about that. How did you find out, for example, what dishes were served? Or what time they went shooting and that Henry James played croquet on this certain day? This is research only you are privy to?
Sometimes it's in notes from housekeepers, "boating party by the lake" or something. There are some asides you find here and there. Or you find a note in the Countess Carnarvon's diary. You find small clues when you skip around the different diaries. It's the small details I'm looking for, and you often find them just when you've nearly finished. That is all against the panoply of the larger politics and the historical framework, which I always endeavor to make as historically accurate as possible, so you're both sitting at the dining room table having breakfast with someone like Henry James and aware of what's going on around and, yes, of course, then he is quite keen to get back to London again.
I love that those entries are written in a very storytelling, short-story fashion with juicy bits, such as how Disraeli was enamored by Evelyn Carnarvon's mother, the Dowager Lady Chesterfield.
She was like a Maggie Smith character. Quite a lady about town! I can just see her daughter looking very disapprovingly. Disraeli was quite a ladies' man. I think he proposed to both the Dowager Lady Chesterfield and her sister, so he was quite keen on the family later on after his wife had died.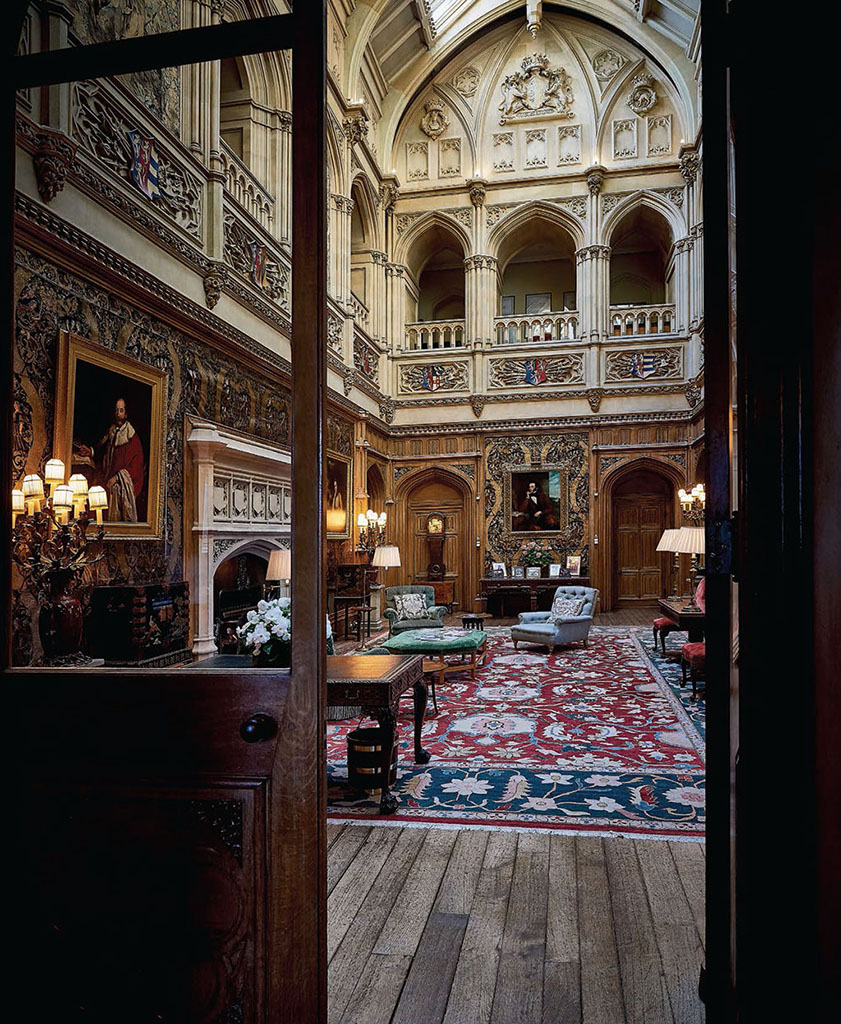 8
Some of Highclere's history inspired storylines on

Downton

. In Season 2,
Downton

became a World War I convalescent home. In real life, Lady Almina transformed Highclere into a hospital

Julian [Fellowes, who wrote and created Downton Abbey] stayed with us and he knew about that, and a convalescent home was probably less gory than a hospital on television at 9 p.m. on a Sunday. Nurses having an odd affair with the officers was parallel. Some of the secrets and stories are in my books, and then people can just go back and watch Downton and compare. It's a fun way to do it, I hope.

Any other historical advances that parallel the fictional house?

Highclere was one of the first houses to have electricity, which Almina brought in. There was that quite funny scene of Maggie Smith being blinded by the new electric lights. The new electricity was one reason that Highclere didn't burn down. Many large houses in England did have fires because there eventually weren't enough people to watch out for all the oil lamps.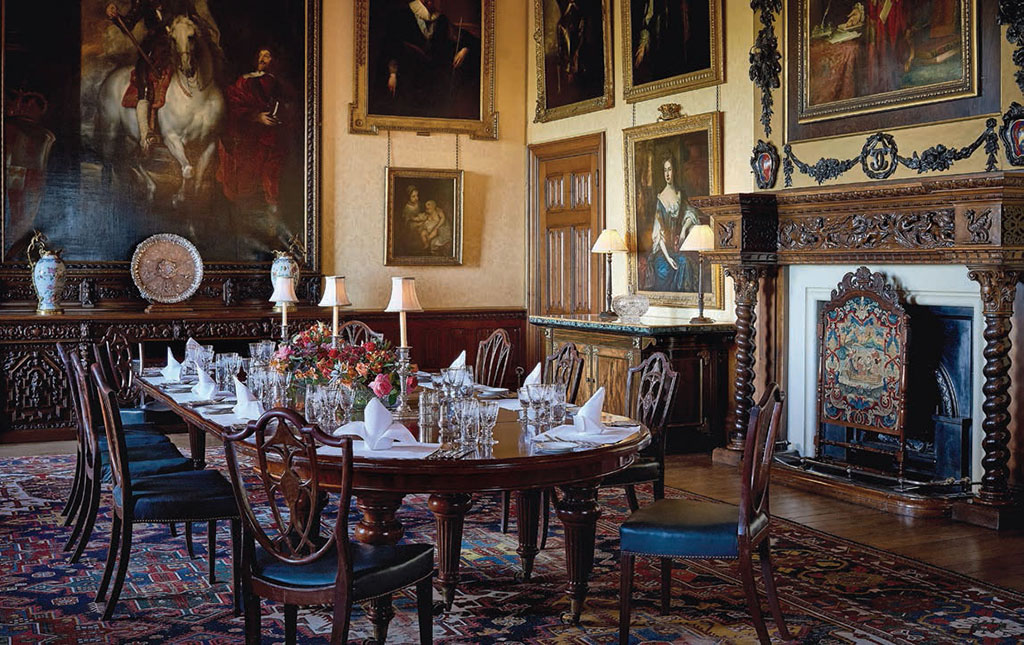 8
So looking forward has saved Highclere, led to its success, over and over? 
It did, and today we're hopefully being forward with new server rooms. We're updating all of Almina's wiring. But I leave some of the old electrical panels in because I find them fascinating. They're from 1896. I work around them to rewire into a new phase board. It's keeping up with the times. You can't standstill. You have to keep going with everything that you're doing. I'm not complacent, I don't think. I hope I'm not.
The book spotlights some of the staff: the gamekeeper, the head housekeeper, the head of security and more. Some have been with Highclere through three generations, three different Earls; it's truly their home?
It is, and I think you get some of that sense in Downton, but I wanted to show it in real life—that it was still here. Pat [Withers] has painted and decorated here for 60 years! She can tell me what something was like before the Second World War, more or less, because her father painted here before her. They're amazing people, the place's living history. I wanted to share a little bit of that. [Head of security] Les [Taylor] is going to be 90 and he's going strong. Though because of Les' discretion, because he was a policeman, I came out of our first interview and had about ten words to write!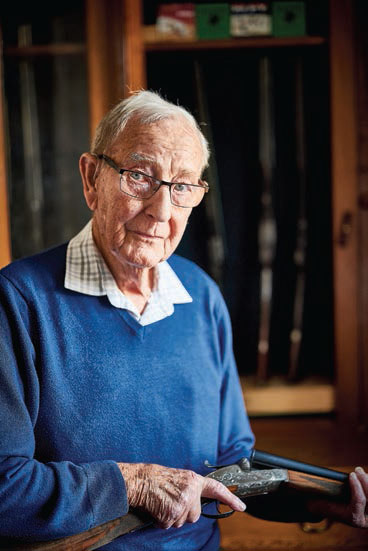 8
He's that closemouthed about Highclere's secrets? Even from you?
Not that he means to, but that's an innate part of his character. I just thought, "Oh my god, what am I going to say?" but that reflects the man. In some ways, his pared-down entry, which I sort of wrote with each person sitting at my shoulder, represents his character well. Whereas for Pat, the decorator, I could have written pages and pages about her.
What are those relationships like between the upstairs and downstairs today? Compared to the

Downton

era?
Those relationships still exist, in some way and, just as in the past, we are all in it together, but there is a green baize door. I was somewhere this morning and as I sat down on the sofa, the person I was with wouldn't sit down in my presence. It was an unspoken thing. I had said, "Please sit down," but he wasn't comfortable. There are the small things that you notice and observe like that, and it's for them to do or not do. Yet we are all a team and on a Friday, if we're all working on a building project, I'll give Pat money and she'll go off and get us all fish and chips, and then 15 of us will sit together on the floor somewhere around the project eating fish and chips together with whoever is around.
It's amazing to see some parts of the house, so recognizable from the TV show, and yet they look truly lived in and enjoyed?
I consciously wanted to preserve a home and not a museum, because that's in the name. We're a stately home. We're two or three hundred rooms, but we are a home. I followed my instinct, and perhaps my heart. Over the first couple of years, we had 140 lampshades made. It's funny, the small things like that make a huge difference. Kind of fluffing it up a bit so it looks comfortable and you want to sit down there and have a cup of tea. Visitors, they come round often - friends who are staying with me for the odd weekend. That's why we really won Downton Abbey - through good food, good wine and conversation and laughter.
I meant to ask about architect Charles Barry, who built Highclere. It's amazing that it's the same architect who rebuilt the Houses of Parliament after the great fire?
It is. Sir Charles Barry was probably the preeminent Victorian architect and Highclere perhaps one of the most important Victorian buildings in England, although of course it was clad on top of a Georgian building and the remains of many earlier homes still lie within its walls. Highclere was a very happy project for Charles Barry. He had one patron, and they were creating an extraordinary Italianate-styled house in the middle of the Hampshire countryside, whereas the houses of Parliament had politicians, budgets and committees involved…it was not such an easy project for Barry. There are many similarities between them. We are a lot less big, which is wonderful, and we didn't have the Thames running by, which was obviously a huge thing that he had to deal with when he was first beginning to build the houses of Parliament.
There are many tours that visit Highclere. Is there a part of the estate American Anglophiles might particularly love?
It changes as I read and understand more. At the moment, I am remarking on the "American Garden." Henry James wandered around it in At Home. And different stories emerge from different conversations with visitors, whether about Robert E. Lee or General Patton.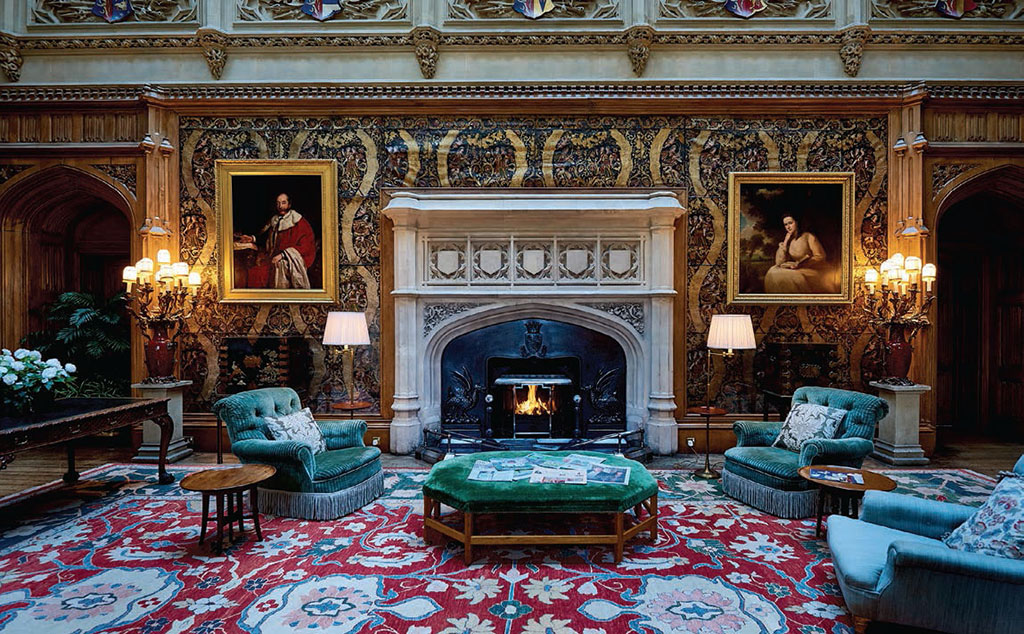 8
The book shows why entertaining is so important. Any tips for our readers?
We're living in a world where people pull out their phones and forget what it is to talk to one another. The sitting down, the conversation, the socializing is not prized the way it was. It's being lost in fast food and glancing at mobile phones. You know, I was asked to a dinner party in London two nights ago at an embassy, and I won't tell you which one. When we eat [at Highclere], we normally turn one way. My husband turns toward the lady on his left and talks to her and then we all follow suit, so everyone's talking to someone and no one is left out, and then halfway through the meal, he'll turn to the lady on the other side and everyone follows suit. When I was in the embassy in London two nights ago, the ambassador said, "We're all going to do what Lady Carnarvon does because I so enjoy it. Will you please all turn?" [Laughs] I felt a bit embarrassed, but you know what? It was good!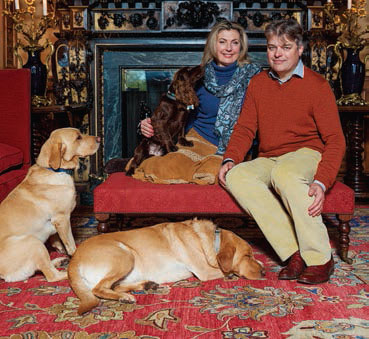 8
That tradition must become embedded into every dinner?
And no one felt left out! It's kind to people. Otherwise, you find some poor person is stuck in the middle and there's nothing.
What is it that traditions and etiquette provide us? Especially in this modern world?
You know, the subtitles of most of the books I write often provide a sense of place because I think Highclere, the ground it's built on, the sense of legacy over time and the order you see in the Downton world or the world today, there is a sense of place and order. Tradition can be very reassuring and give you a baseline that, if you wish to be distracted and diverge from, so be it, but at least you've got something to come back to and if you don't have something to come back to, I think it's much more discombobulated because you don't know where you belong. It gives you a sense of belonging.
This conversation has been edited for clarity and length. At Home at Highclere: Entertaining at the Real Downton Abbey (Rizzoli) by The Countess of Carnarvon is on sale now.
* Originally published in July 2017.