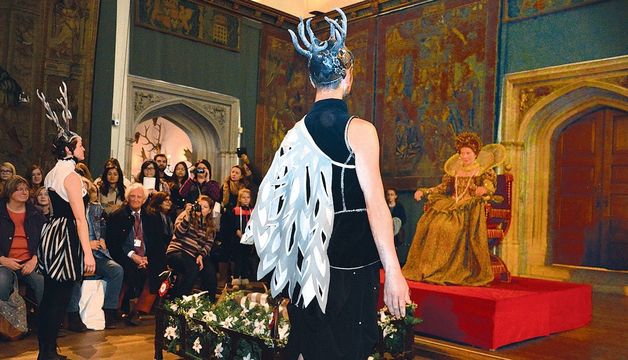 Christmas has been celebrated in Merry England for more than a thousand years. Some customs melt back even further to pagan traditions. At a time of year when twilight falls mid-afternoon and frost hovers on the breath, the joy of nighttime sparkle, mulled wine, music and entertainment is as welcome to a modern, city-hardened Londoner as any rustic medieval reveler.
[caption id="" align="alignleft" width="496"]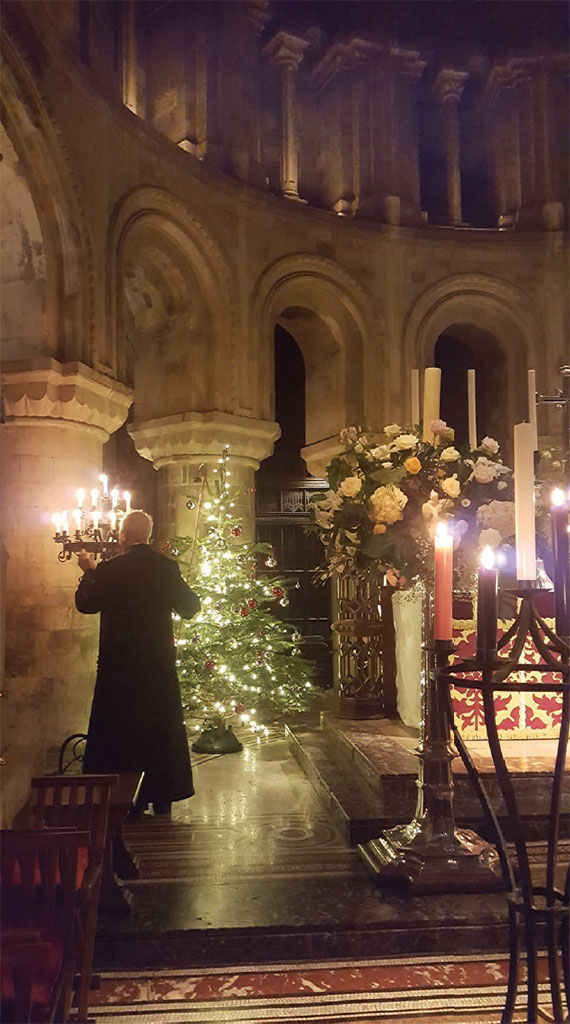 5
Preparations are finalized at St. Bartholomew the Great for the dramatic and moving Festival of Nine Lessons and Carols.[/caption]
Perhaps the "oldest" festivities on offer this year are at the Tower of London, where King Richard III and Queen Anne will be celebrating Medieval Christmas with their court, to the sound of minstrels' lutes and jesters' japes. Winter's a good time to visit the Tower, as crowds are lighter and the trees bare. If the skaters on the Tower's annual ice rink dare to look up, they can enjoy a thousand years' worth of architecture from a unique angle.
Hampton Court's ever-popular Tudor Christmas celebrates Queen Elizabeth I's reign this season. Elizabeth was as fond of keeping Christmas as her father, Henry VIII, and the palace kitchens will be working overtime to keep the Queen and her fully costumed court in roast beef and sweetmeats. The sheer heat of the great fire, still burning after 500 years, is enough to warm the chilliest hands. I go every year and budget an entire day for the experience.
Historical Christmas is at its broadest at the Geffrye Museum, now much easier to get to than it used to be, thanks to Hoxton, a new stop on the London Overground, a five-minute walk away. The museum, created within beautiful, 17th-century almshouses, depicts a typical, everyday British room through every period from 1600 to the present day. Over the festive season each version of the room is decorated in the style it would have enjoyed in its time. Christmas Past is a very popular free event, especially worth catching this year as, on January 7, 2018, the museum closes its doors for two years for renovation.
Dennis Severs' House is a short distance from the Geffrye Museum. Part installation, part re-creation of a wealthy Georgian merchant's house, it is best enjoyed during its stunning Silent Night evenings, where the visitor wanders through the entire festively decorated house, from pitch-dark cellar to chilly garret, lit only by candles. This exceptional mysterious experience, conducted in complete silence, is a glimpse into a past world. It is extremely popular, so do book ahead.
Of course, Christmas reached its zenith in Victorian times. When Prince Albert came from Germany to marry Queen Victoria, he brought with him traditions such as the Christmas tree, celebrated this year at Kensington Palace with a remarkable magic lantern "light-box" experience.
Perhaps even more influential, however, was Charles Dickens, whose story A Christmas Carol, published in 1843, has never been out of print. A new movie, The Man Who Invented Christmas, out in December starring Downton Abbey's Dan Stevens, follows the story of how a bad patch in the writer's career led to one of the best-loved tales in the English language. A visit to Dickens House Museum at 48 Doughty Sreet will reveal how the man himself used to celebrate Christmas, complete with period decorations and, this year, a special exhibition on how A Christmas Carol was conceived and created.
One of our most famous Victorian buildings, the Royal Albert Hall, has never stopped celebrating Christmas in grand style. From the 500-strong massed choir of Handel's Messiah to Carols by Candlelight, performed by musicians in full period costume, the program is varied and sumptuous. You'll feel the massive pipe organ before you hear it.
Carols are to be had everywhere, from free choral recitals held by Trafalgar Square's famous Christmas tree (an annual gift from the people of Norway since 1947) to special church carol services. Some churches use updated words to the carols; I prefer the more traditional lyrics. Long queues form early for the fabulous services at St. Paul's Cathedral, but my own personal recommendation is a short distance away, at the early 12th-century church of St. Bartholomew the Great. It's worth arriving about half an hour before the heart-poundingly atmospheric Festival of Nine Lessons and Carols, an unforgettable experience filled with music, incense, reverence and glad tidings that brings tears to my eyes.
It's generally tears of laughter at the panto. Pantomime is, for many Brits, an essential part of Christmas, but they are not all made equally. I generally find the more celebrities a show boasts, the cruder and lower quality the script. I love Greenwich Theatre's annual offering and arrange a trip for about 30 people each year, but another high-quality panto raises the roof of the recently restored Hackney Empire.
If you're after something a little more sedate, the English National Ballet's current Nutcracker is sensational. Some 79,000 people, including me, adored it in 2016. It returns this year at the London Coliseum, as Christmassy as Christmas gets.
Pilgrims have been flocking to see London's festive street lights and windows for more than a century now. While the big stores' windows are still as fabulous as ever, especially Liberty's, Selfridges and Fortnum & Mason, I think there are better lights than at Oxford and Regent Streets. Try Leadenhall Market, New Bond Street and Marylebone Lane for less well-known, opulently elegant sparkle. Marylebone Lane is also great for Christmas shopping, and Borough Market at London Bridge will supply any remaining festive food gaps. Harrods carries the best selection of tree decorations; the Christmas department opens each August Bank Holiday Weekend, a mildly surreal experience.
The past few years have seen more and more German inspired Christmas Markets. The largest is Winter Wonderland, in Hyde Park, with more bratwurst, pretzels and ice sculptures than you can shake a toffee apple at. For a rather more sophisticated version, try the new Greenwich Wintertime Festival at the Old Royal Naval College, which includes artisan food, an indoor ice rink and the sparkling, baroque glories of Sir Christopher Wren's magnificent riverside palace reflected in the dark waters of the Thames.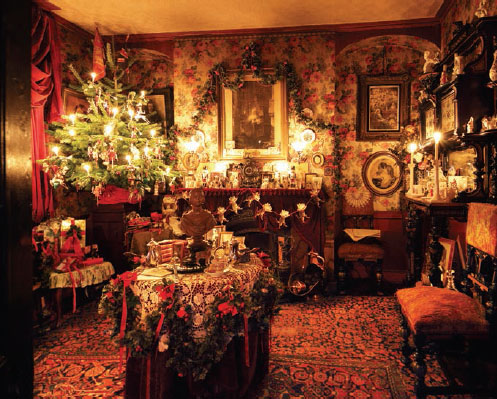 5
Back in August, the world famous bongs of Big Ben ceased as the great bell and its tower began a four-year repair program. Nothing, however, will stop 2018 being heralded, as usual, by the famous chimes, brought out of cotton wool for one night only. You'll need a ticket to see the New Year fireworks from the Embankment, but many people head for one of the bridges not cordoned off, such as the Millennium, Blackfriars or even Tower Bridge. Personally, I'll be working—moonlighting as a dancer as the Royal Festival Hall dedicates its entire five floors to the famous Vintage New Year's Party. Public transport is free from 11:45 p.m. to 4:30 a.m.
The New Year's Day Parade on January 1 is worth seeing if you've got children in tow, but for me the annual Twelfth Night celebrations on the South Bank a few days later are truly special, echoing traditional folk celebrations of centuries past. Crowds welcome the Holly Man arriving by boat, wassailing all and sundry then presiding over a traditional mummers' play. Everyone ends up at the ancient George Inn for mulled wine, Morris dancing and dark tales. I never miss it.
[caption id="ChristmasinLondon_img5" align="aligncenter" width="642"]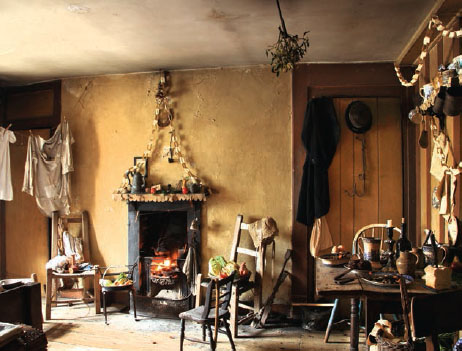 5
At Dennis Severs' House (right) and the Geffrye Museum (below) period rooms illustrate Christmas past.[/caption]
The yule log burns low. Christmas is done, yet somehow, hope remains. Spring is a few short weeks away and there is much to be enjoyed in London before then. But that is for next time.
CONTACTS
Medieval Christmas, Tower of London
hrp.org.uk/tower-of-london
Tudor Christmas, Hampton Court Palace
hrp.org.uk/hampton-court-palace
Christmas Past: 400 Years of Seasonal Traditions in English Homes, Geffrye Museum •
geffrye-museum.org.uk
Silent Night, Dennis Severs' House
dennissevershouse.co.uk/booking-and-visiting/silent-night/
Christmas at Kensington Palace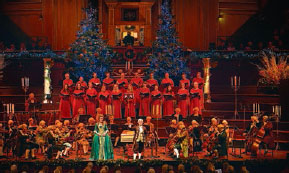 5
hrp.org.uk/kensington-palace
Dickens House Museum
dickensmuseum.com
Christmas Festival at the Royal Albert Hall
royalalberthall.com/tickets/series/christmas-festival
St. Paul's Carols
stpauls.co.uk/ Christmas/Services-Events
St. Bartholomew the Great •
greatstbarts.com
The Nutcracker •
ballet.org.uk/production/nutcracker
Winter Wonderland •
hydeparkwinterwonderland.com