Take a day or two and have an active holiday without leaving town
BOOKS
Where to Ride London by Nick Woodford, BA Press, London, 256 pages, spiral-bound, &doller;16.98
[caption id="CyclingLondonwithSandra_img1" align="alignright" width="316"]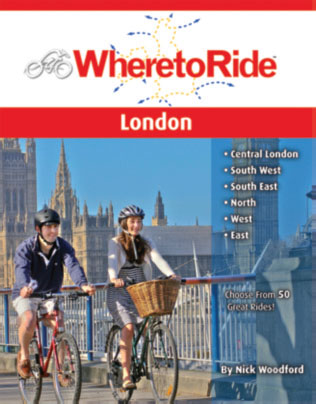 4
[/caption]
THE GUIDEBOOKS WILL RARELY tell visitors to enjoy the sights of London by bike, and in many cases I can't blame them. There are many reasons not to cycle the city's overused highways, mostly involving the desire to live a long life with the traditional number of operational limbs. I have a healthy fear of large roads, an aversion to hills and the general-fitness level of a chain-smoking 90-year-old, yet this summer I've been staggered by the sheer size of the network of quiet streets, cycle paths, parks and river/canal paths where you can take not just a long, pleasurable cycle through historic and beautiful parts even lifelong Londoners don't know about, but you can actually lose yourself in proper countryside.
Most know the Thames Path, a footway running from the river's source in the Cotswolds out to the Dartford Bridge in Kent. Tony's been cycling to work ever since the Olympics made it impossible to use his normal train, and I've been riding along the path (alternating sides for interest) to meet him on his way home, stopping off at random riverside pubs for the fun of it. Recently, two things happened that have transformed the way we make longer trips.
First, the opening of the Overground tube has created an "outer Circle Line." This suburban ring not only has the nicest trains on the network, but, unlike the rest of the tube system and the Docklands Light Railway, allows bicycles onboard. It means you can get on the tube and go almost anywhere to start a ride. It's the orange line on the tube map and it's great. You can often take a bike on the rail network, too, outside of rush-hour (collapsible bikes can go on all forms of transport if they're folded). The various companies have annoyingly different policies, but there's an excellent leaflet available from stations that explains it all.
The other thing that's changed cycling for me is a book I impulse-bought, called Where to Ride London, a series of 50 routes that tick all my scaredy-cat boxes. Each is clearly described, with a map and warnings about any tricky bits, tells you exactly how fit you need to be (most are suitable for casual riders) and has a handy graph showing how hilly it is. The routes are designed to utilize cycle paths, parks and green areas along the way. We discovered it was possible to ride all the way down from Crystal Palace to Greenwich and hardly hit road at all; it was nearly all parkland, following a river I didn't even know existed.
Other routes have taken us from historic Limehouse, by the Thames, to Camden Lock via the gorgeous Regents Canal towpath and cross-country to Woolwich. There are rides for all areas, including, incredibly, the very center of town. We're currently about a quarter of the way through the book, though I confess to having cheated on one, South Bank to Crystal Palace, which we did in reverse so it was downhill—even if it did mean circumnavigating some rather odd one-way systems.
Of course, Tony and I have bikes of our own, but it's very easy to hire one. The obvious is the "Boris Bike." Sponsor Barclays Bank must be furious that Londoners, despite taking it to their hearts, insist on calling the famous blue bone-shaker after their eccentric mayor, but few deny it's a cultural (if not financial) success. Though cheap, easy to use and brilliant for short distances, I wouldn't recommend using a Boris Bike for a proper trip. There's a reason why no one steals them. They may have saddles like armchairs, wheels designed to go over potholes the size of Wales and frames that would survive a nuclear attack, but ride one of them for more than half an hour and your own frame will tell you all about it the next day. There are two rides in the book, one through Hyde Park, the other between museums, that a Boris Bike would suit. For the rest, I'd suggest hiring a proper cycle.
[caption id="CyclingLondonwithSandra_img2" align="aligncenter" width="661"]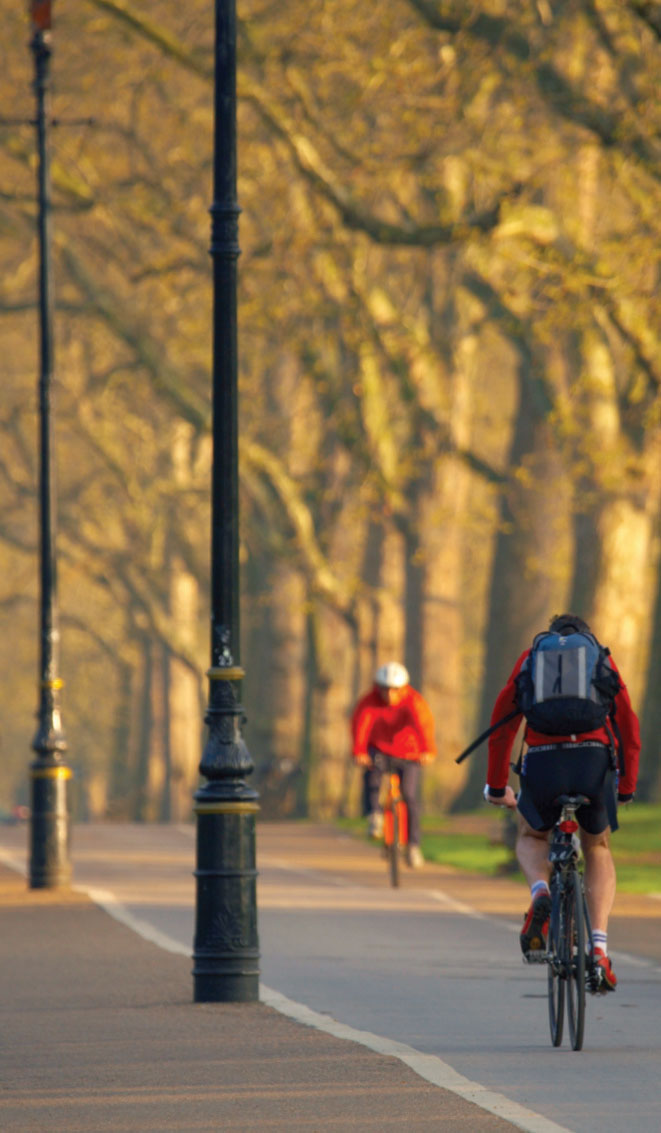 4
Amazingly, you can bike all over metropolitan London and feel like you're in the country.
[/caption]
There's an excellent blog at London Cyclist's website that lists the best hire shops in different parts of town; expect to pay around £20 per day. Make sure you get a good D-lock included in the deal. The routes are all designed to go past the unusual, beautiful, historical and downright absurd and you are going to want to get off, explore or try out one of the local pubs you pass. Sadly, there are a few light-fingered Londoners and an ordinary cable lock is no good, as Tony discovered to his cost recently. Helmets are not compulsory for pedal cycles, but you might want to wear one anyway.
Bike Hire - www.londoncyclist.co.uk/bicycle-rental-london/
This summer has been one of rediscovering my own city, of seeing it from an entirely different perspective. While I don't need to do every ride again (I'm in no hurry to re-experience peddling through Rotherhithe road tunnel, for example—perfectly safe, just creepy) there are others we've already repeated more than once. On a fine afternoon, it's an exhilarating experience and the perspective you can get from the saddle will beat that of a car, bus or cab any day.
— Sandra Lawrence
BOOK
Diamonds: A Jubilee Celebration edited by Caroline de Guitant, Royal Collection Publications, London, 120 pages, hardcover, &doller;24.95
[caption id="CyclingLondonwithSandra_img3" align="alignright" width="340"]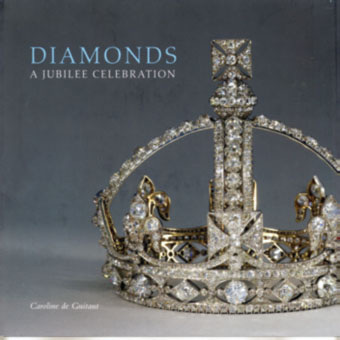 4
[/caption]
CAN'T GET ENOUGH of the Diamond Jubilee? Here's just the souvenir book from the Royal Collection to complete your own commemoration. With the Queen in Balmoral, the principal exhibition at Buckingham Palace this summer was "The Queen's Diamonds." This commemorative book on the Royal gems was published to accompany the exhibition.
From diamond-laden tiaras to glittering brooches and dazzling earrings, Her Majesty holds titular possession of the greatest collection of diamonds in the world. Exquisite photography, both of the gems and jewelry close-up and adorning several queens over the years, is accompanied by the stories of how various pieces have been acquired going back to the 18th century—including such legendary pieces as the Cullinan Diamond and King George IV's diamond-encrusted sword. This is a small coffee-table book, and a lovely one.