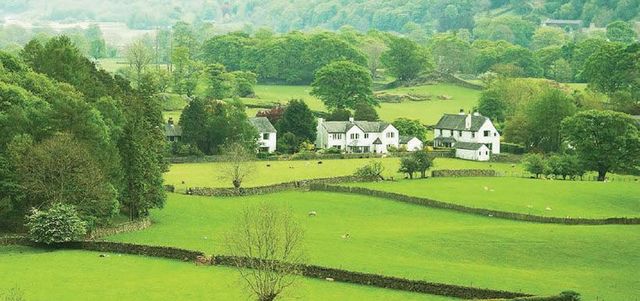 News, Notes, Events and Fun
A New Look for
BHT
Veteran readers of
British Heritage Travel
have certainly seen changes in our favorite magazine over the last few years. It is a never-ending quest to keep the magazine fresh, attractive and appealing. This issue and next you may notice a redesign at several points. Most dramatically, we have rolled our long-standing Anglo-file column into a new and expanded Dateline that we hope is livelier, easier to read and easy on the eyes.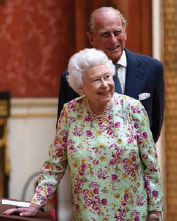 29
A Milestone for Her Majesty
The Queen and Prince Philip quietly celebrated the 70th anniversary of their marriage in November. Their platinum anniversary makes the couple the first of the Royal Family ever to reach such a milestone occasion. While their silver golden and diamond anniversaries were marked by public celebrations and national services of thanksgiving at Westminster Abbey, Her Majesty and the Duke of Edinburgh declined such festivities this time around. Their November 20, 1947, wedding was commemorated privately with a dinner party for family and closest friends at Windsor Castle.
Britain's Happy Place


29
An annual survey of 17,000 people by online real estate site Rightmove has identified Royal Leamington Spa in Warwickshire as the happiest place to live in Britain. Factors weighed in the survey included the quality of local services, community spirit, safety, average income and friendliness.
This Play's the Thing
Mark Rylance (
Wolf Hall, Bridge of Spies
) plays a mad king who's only soothed by the voice of Farinelli, the famous castrato. After receiving rave reviews in London (
The Guardian
called it "a pleasure that verges on the sublime"), this Shakespeare's Globe production, now playing at the Belasco Theater on Broadway, is lit almost exclusively by candlelight, with live music played on Baroque instruments. Intimate onstage seating is available. Open now. Tickets available at
Telecharge.com
or at the Belasco Theatre box office.
farinelliandthekingbroadway.com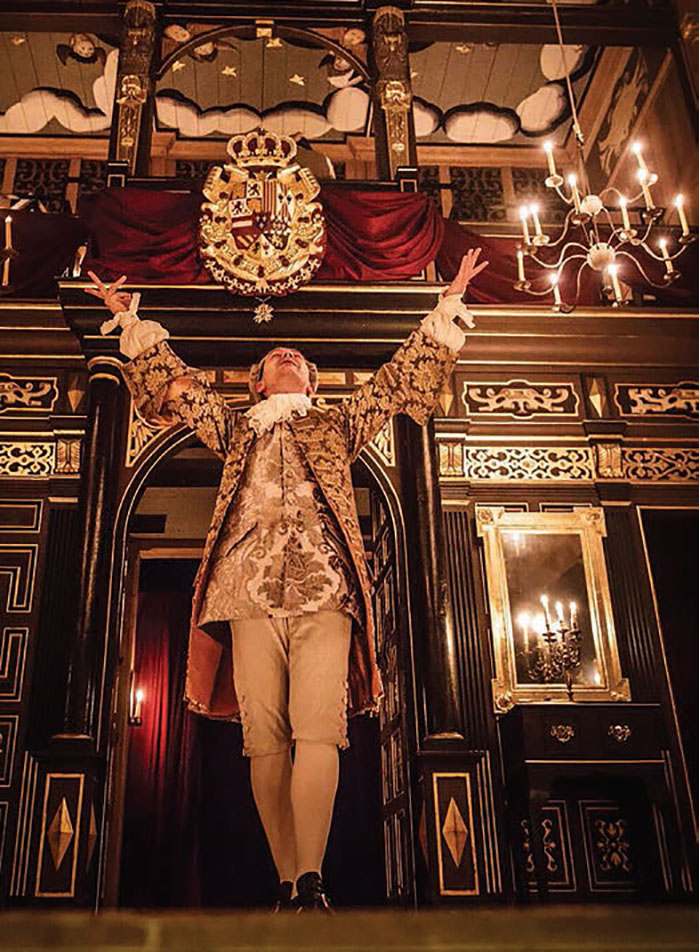 29
Downton Abbey Comes to New York
[caption id="Dateline_img7" align="alignleft" width="254"]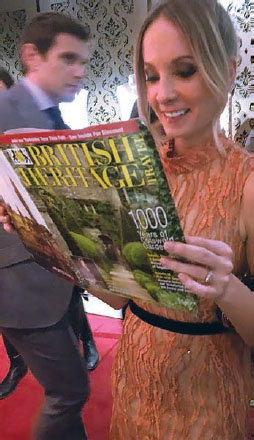 29
At the VIP opening, Joanne Froggatt (Anna Bates) checks out
her interview in our May/June issue
.[/caption]
This immersive experience re-creates your favorite fictional Edwardian-era estate right in the center of New York City. "Seeing everything so up-close, with such fine detail—it's remarkable!" Michelle Dockery (Lady Mary) told British Heritage Travel. Smell the food in Mrs. Patmore's kitchen, see the costumes up and have a visit with the Crawleys, Carson and Mrs. Hughes—all of whom chat you up through high-tech wizardry. (Read more about the exhibition here.)
downtonexhibition.com, open now, 866-811-4111

10 Great British War Movies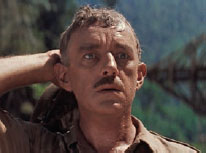 29
1
The Bridge on the River Kwai
(1957), starring William Holden, Alec Guinness and Jack Hawkins
2
Lawrence of Arabia
(1962), starring Peter O'Toole, Alec Guinness and Jack Hawkins
3
Mrs. Miniver
(1942), starring Greer Garson, Walter Pidgeon, Teresa Wright
4
The Guns of Navarone
(1965), starring Gregory Peck, David Niven and Anthony Quinn
5
Doctor Zhivago
(1965), starring Omar Sharif, Julie Christie, Geraldine Chaplin and Rod Steiger
6
Where Eagles Dare
(1968), starring Richard Burton, Clint Eastwood and Mary Ure
7
Zulu
(1964), starring Stanley Baker, Jack Hawkins, Ulla Jacobsson and Michael Caine
8
A Bridge Too Far
(1977), starring Sean Connery, Ryan O'Neal, and Michael Caine
9
The Great Escape
(1963) starring Steve McQueen, James Garner and Richard Attenborough
10
The Wild Geese
(1978)' starring Richard Burton, Roger Moore, Richard Harris and and Hardy Krüger
Phantom Thread
[caption id="Dateline_img9" align="alignright" width="455"]
29
Vicky Krieps plays Alma and Daniel Day-Lewis stars as Reynolds Woodcock in writer/director Paul Thomas Anderson's
Phantom Thread
.[/caption]
Daniel Day-Lewis (There Will Be Blood), in his final role before retiring, plays a 1950s London couture designer. Writer/director Paul Thomas Anderson won't reveal much more than that, but he admits Daphne du Maurier's Rebecca was his inspiration. Expect this period drama to be tightly stitchd with both beauty and obsession. Now playing.

The Odd and the Beautiful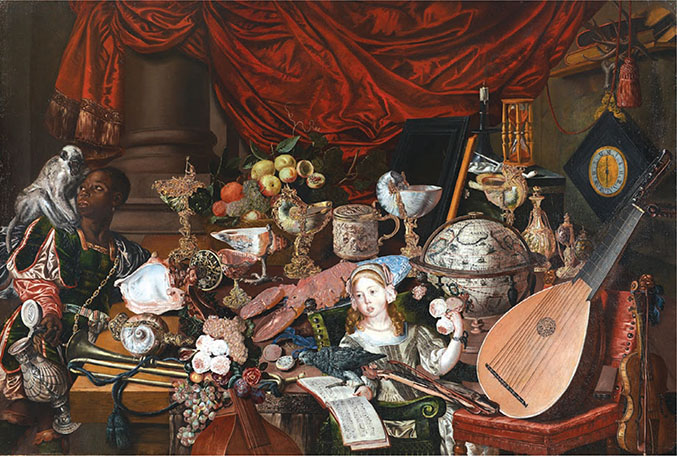 29
The Paston Treasure, an enigmatic masterpiece painted around 1663, depicts an odd collection of items including a lobster, a monkey, musical instruments, portraits, seashells and several nautiluses. It apparently catalogs the treasures of a wealthy British family who lived in Oxnead Hall in Norfolk. The painting comes to the U.S. for the first time at the Yale Center for British Art in New Haven. The accompanying exhibit has more than 140 objects, including treasures that appear in the painting. February 15-May 27. britishart.yale.edu.

29
Frankenstein 200
It is alive! Still alive. Mary Shelly's gothic materpiece turns 200 this year. Just 18 when Lord Byron challenged her to write a horror story, Shelley officially brought Dr. Frankenstein and his monster to life on January 1, 1818.
29
The Mostly British Film Festival
Come celebrate the Mostly British Film Festival's 10th anniversary February 15-22 at San Francisco's Vogue Theater. It will feature more than 25 films from the UK and beyond. Highlights include
Mad to Be Normal
, a biopic of controversial 1960s Scottish psychiatrist R.D. Laing, played by
Broadchurch's
David Tennant;
London Road
, based on the sold-out British stage musical;
I, Daniel Blake
, the top prizewinner at Cannes; and the best of the British New Wave, including
Darling
and
Alfie
. Also on the program are an appearance by
Downton Abbey's
Joanne Froggatt (Anna Bates), and a free whiskey tasting between screenings.Check
mostlybritish.org
.
Britain's Best New Building


29
Rebuilt seven years after the original 1872 structure was destroyed by fire, Hastings Pier has been named Britain's best new building by the Royal Institute of British Architects. Described by judges as a "phoenix rising from the ashes," the building incorporates timber reclaimed from the original structure. The pier includes a viewing deck and opens to the sea with a large open expanse for music performances and public events. RIBA President Ben Derbyshire lauded the new pier as a "masterpiece of regeneration and inspiration."
Painting Virginia Woolf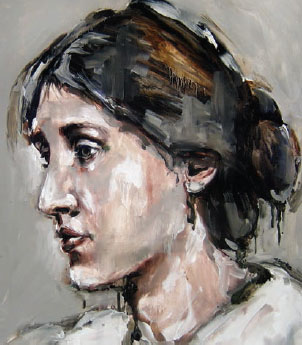 29
At Tate St Ives in Cornwall, where Virginia Woolf spent all her child-hood summers, more than 70 artists will contribute work influenced by the writer of
A Room of One's Own
and
Orlando
, using her writing, "as a prism through which to explore feminist perspectives on landscape, domesticity and identity."
Opens February 10
,
tate.org.uk
"I Would Venture to Guess that Anon, who Wrote so Many Poems Without Signing them, was Often a Woman."
—Virginia Woolf

A Temple Returns Home
Many London visitors may remember the ruins of the "Temple of Mithras" on Queen Victoria Street, misaligned, made up with modern stones and concrete and finished off with crazy paving. All that is gone, save the original stones, and the ancient Roman structure has been returned where it was originally, some 20 feet below ground level. In its place is a marvelous 3-D light installation that turns the pile of rocks into a proper Roman temple, and there are artifacts from the site on display. Entry is free, but you do have to book ahead. 
londonmithraeum.com

29
Burns Night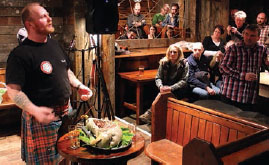 29
On
January 25
, pipe in the guests, say the Selkirk Grace and toast the haggis to celebrate the life of Scotland's beloved bard. Don't forget to sing
Auld Lang Syne
, which, of course, was a poem written by Robert Burns in 1788.
UK by the Numbers
[caption id="" align="alignnone" width="136"]

29
13: Different political parties represented in the House of Commons[/caption]

29
21: Princes of Wales to hold the title since 1301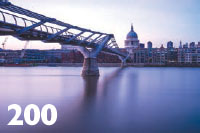 29
200: Number of bridges that cross the Thames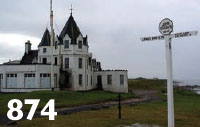 29
874: Miles by road between Land's End and John o'Groats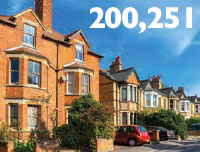 29
Average price in pounds ($265,000) of a residential home in Great Britain
ROYAL SUCCESSION: TRUTH VS. RUMOR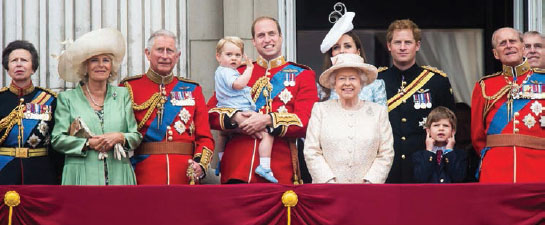 29
By Diane Clehane
In September 2015, Queen Elizabeth II surpassed her great-great-grandmother Victoria as Britain's longest-reigning monarch. Last year she celebrated her historic Sapphire Jubilee in commemoration of her 65 years on the throne. Given Her Majesty's longevity and enduring popularity, it's hard to imagine another member of the Royal Family succeeding her on the throne.
Talk of Royal succession has increased, however, since Prince Philip, 96, announced he was retiring from public life last year and the Queen, 91, began scaling back her appearances, relinquishing some of her duties to her son Prince Charles, 69. Prince William and Duchess Catherine have also stepped up their Royal responsibilities after moving back to London in anticipation of the birth of their third child.
All of this has sent the rumor mill into overdrive, with some tabloids breathlessly speculating about the possibility of the Queen passing over Prince Charles in the line of succession and naming her grandson, Prince William, as the next King.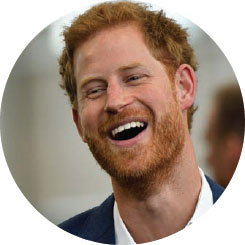 29
The truth is Prince Charles will be the next British monarch as decreed by law. Even if she wanted to, the Queen does not have the power to select her successor. The 1701 Act of Settlement enacted by Parliament requires a monarch's heir must be his or her direct successor. The Sovereign to also be a Protestant. Any changes would require a change in the law, something that would undoubtedly be a lengthy and fraught process.
One Royal insider told
BHT
, "Even if it were possible for the Queen to skip over Charles and name William as the next King, William would never accept. He knows his father has waited his whole life to be King and wholeheartedly supports him."
There has, however, been one significant change to the line of succession that could affect the next generation. In 2013, the Succession to the Crown Act ended the system of male primogeniture, where princes take precedence over their sisters in the line of succession. It also did away with the provision that Royals married to Catholics are disqualified from the line of succession.
The change in the law resulted in Prince William's daughter, Princess Charlotte, becoming fourth in line behind her brother, Prince George, and moving ahead of Prince Harry, now fifth in the line of succession. All of this is just fine with Prince Harry, who has said he does not expect to be King. He appears more than happy to pick up the mantle of his late mother, Princess Diana, and be the King of People's Hearts.
US to the UK on… Norwegian Airlines?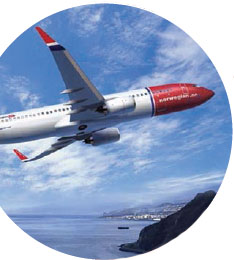 29
Yes, the Norse are making inroads into UK travel with inexpensive flights to Belfast, Dublin, Edinburgh and London-Gatwick. Plus, they have one of the newest fleets of aircraft in the industry.
Some sample one-way prices from New York at press time:
DUBLIN $109 • LONDON $149
BELFAST $99 • EDINBURGH $109

Roman Mosaic Uncovered in Berkshire Dig
[caption id="" align="alignright" width="495"]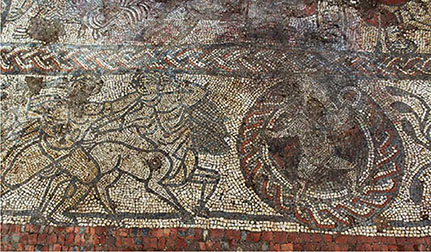 29
Described as the finest discovery of its kind in half a century, the mosaic depicts the greek hero Bellerophon astride Pegasus attacking a fire-breathing chimera.[/caption]
A rare Roman mosaic was uncovered in Boxford, Berkshire, by a group of amateur archaeologists last fall. Described as the finest discovery of its kind in half a century, the mosaic depicts the Greek hero Bellerophon astride Pegasus attacking a fire-breathing Chimera. Less than half the mosaic was uncovered before work suspended for the winter to protect it. The dig at the Roman site has been ongoing since 2011 and the volunteer group is raising funds to continue in the spring.
cotswoldarchaeology.co.uk

British-isms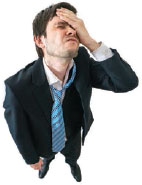 29


We speak the same language—until they say this: "Dog's dinner"
(or sometimes "
Dog's breakfast"
) has nothing to do with feeding the family pet. The English use it to refer to something that got totally messed up. "I've really made a dog's dinner of that project, I'm afraid."
Return to the Hundred-Acre Wood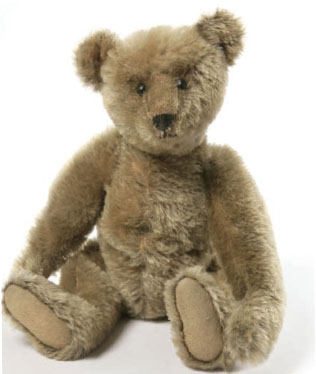 29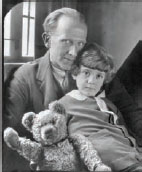 29
Learn how author A.A. Milne and illustrator E.H. Shepard created the world's imost-loved bear at London's Victoria & Albert Museum. Winnie-the-Pooh: Exploring a Classic features the original manuscript as well as pencil sketches of the illustrations, letters and photographs. vam.ac.uk

Sign of the Day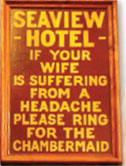 29
The British delight in word play, double entendres, puns and anything "cheeky." Nowhere is this more evident than in their signage, shop fronts—and at the seaside.
Elizabeth I Restored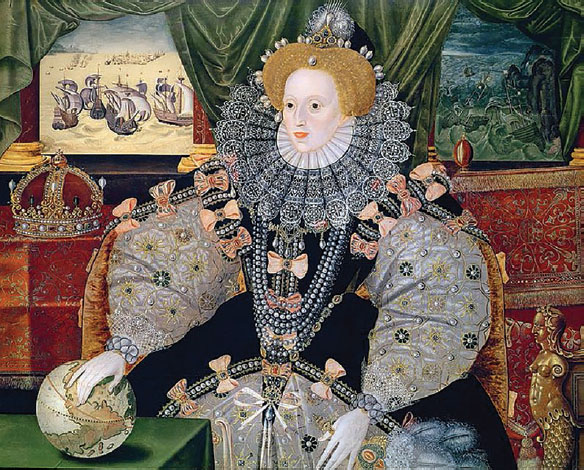 29
After a six-month break for restorers to wipe off a few centuries of grime, the Armada portrait of Elizabeth I is back up at Queen's House in Greenwich. Enjoy Her Majesty looking triumphant (and cleaner than ever) after fighting off the invasion of the Spanish fleet. rmg.co.uk/Queens-house

More than 300 Heritage Sites at Risk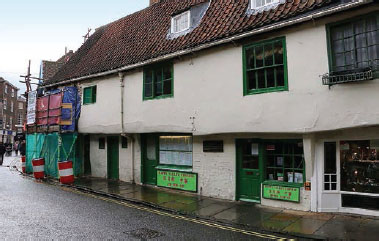 29
The annual register of historic sites has aadded 328 new historic UK sites in danger of decay, collapse and irremediable disrepair. Among them:
Lady Row, Goodramgate, York
Dating from 1316, Lady Row is the earliest row of houses surviving in York and includes the oldest existing timber-framed building in the city.
St. George the Martyr, Borough High Street, Bermondsey
Known as "Little Dorritt's Church" for its frequent appearance in Dickens' novel, the church stands next to Marshalsea debtor prison, whose prisoners were buried in the churchyard.
Accumulator Tower, Mill Road, Limehouse Basin
This is the last surviving water-powered hydraulic "accumulator towers" built in Regent's Canal Dock for operating cranes offloading cargo ships in the 19th century.

Notes From Readers
"I lived on Merseyside during the 1960s and when the film
Ferry Cross the Mersey
was shot I was one of many local 'extras' who participated in the filming. During the scene where Gerry Marsden sang the title song while strolling the decks of the ferry boat, I appeared onscreen for a whole 12 seconds! After all these years I still remember those two days of filming—if I remember correctly, the scene was shot more than 20 times, with the result that when I ran into Gerry Marsden a couple of months later at a pub in West Kirby, he recognized me and sat and had a drink with me and my friends."
Denise Williamson
Laconia, New Hampshire
"I really enjoyed Sandra's "
Around London Town
." I thought she did a great job of giving the feeling of Christmas events in London. Your Pilgrim and Puritan Heritage tour looks very interesting. You know so much about the subject. 'Our Sceptured Isle' was also very well done. I think of Queen Elizabeth as the last icon of the 20th century. She never has given an interview and still survives. It tells something about her character of leading by quiet example. However, I think Queen Elizabeth knows that with their age, the time is right for her to take a step back and give more responsibility to Prince Charles and the younger Royals."
Patty Kelly
Manassas, Virginia
Keeping in Touch
We are always delighted to hear from
British Heritage Travel
readers—and occasionally to share your enthusiasms and travel tips with other readers. We always love to hear if you have used
British Heritage
in planning your own adventures in Britain.
Email us at
[email protected]