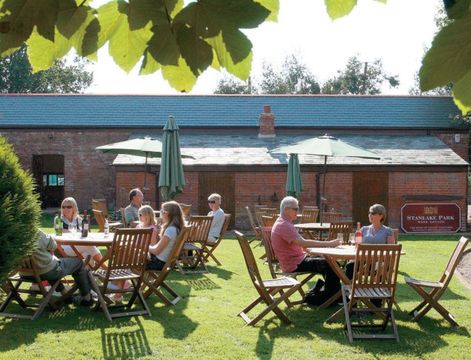 The English wine industry is under the radar no more.
You might want to sit down, clutching a glass of your favorite tipple to aid recovery, when you learn that England has around 400 commercial-scale vineyards producing more than a million bottles of wine annually. These are not hobby producers, but vineyards and winemakers that produce wine on a large scale to sell commercially, either at the farm gate or in the swankiest high-end London restaurant.
This industry has quietly grown over the last 40 years, reviving wine production that had been abandoned during the Reformation. Wine, having been brought by the Romans and often cultivated by religious communities, was deemed too Popish by the zealots creating a Protestant England.
Not that the English gave up on wine: English drinkers' tastes had driven planting in Bordeaux before the Reformation, when it was in English hands, and subsequently encouraged the creation of Port and Madeira wine to slate their thirst.
In the centuries since the zealots had grubbed up the vines, the English had turned first to France and Germany to replace domestic production, and then over the centuries to the rest of the Old World and later the New World.
A grape roadmap
Given the grape's need for just the right land, weather, sunshine and temperature, it comes as no surprise that a grape road map of the UK, broadly speaking, covers the south of the mainland. The greatest concentration of English wine production is found in the Southeast, conveniently situated for visitors from London, in Surrey, East and West Sussex as well as Kent. The North and South Downs contain much the same geology and soil type as French vineyards across the Channel.
Typical grape varieties grown in England are Pinot Noir, Rondo, Regent, Bacchus, Siegerrebe, Seyval Blanc and Phoenix. Major producers in this region include Chapel Down, Nyetimber and Hush Heath.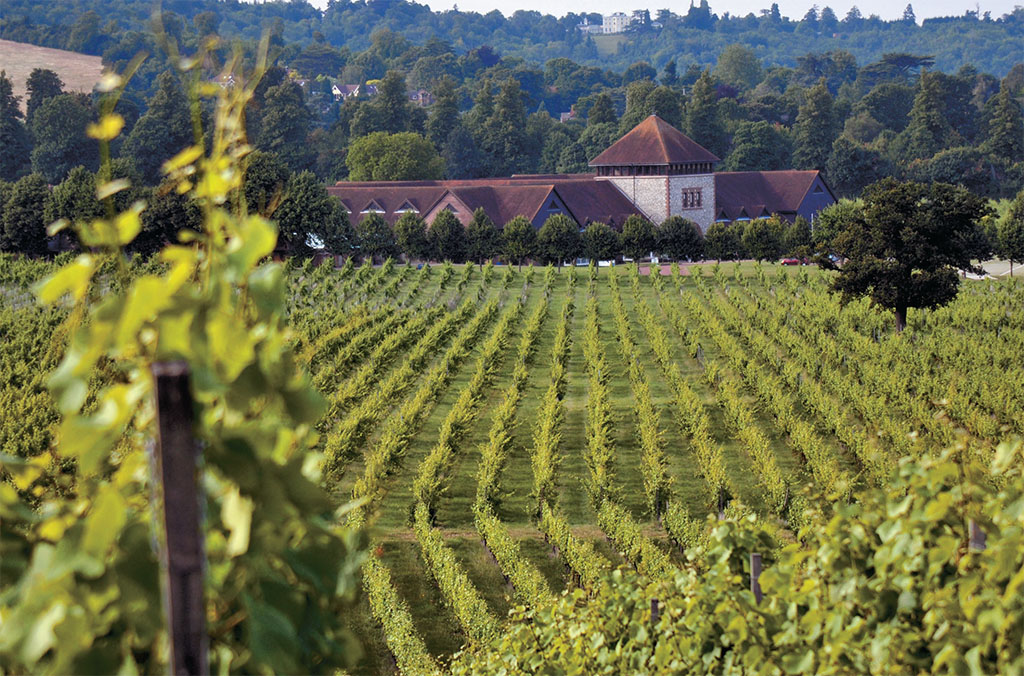 6
The next major region is the West Country. A large number of growers, seeking perfect growing conditions, have gravitated toward Cornwall, Devon, Dorset and Hampshire over the last two decades to put down roots. This has also been encouraged by the lack of spare space for vine growing now available in the Southeast corner. Major producers in this region include Huxbear, Crawthorne and Wodetone. A third area lies roughly along the M4 corridor toward Wiltshire and toward the Welsh Marches.
There are, in fact, vineyards all over the country—including a cluster in East Anglia—but they are more recent plantings, and most wine is produced south of a line running from the Thames to the Severn through London.
Keeping in line with modern trends in consumer demand and viniculture thinking, there are also a number of vineyards where vines are grown to organic or biodynamic principles.
A wine enthusiast visiting England will be pleased to learn that a number of the largest English vineyards open their land to the public and have stores there selling their products to thirsty visitors. A number have restaurants serving local foods with their wines.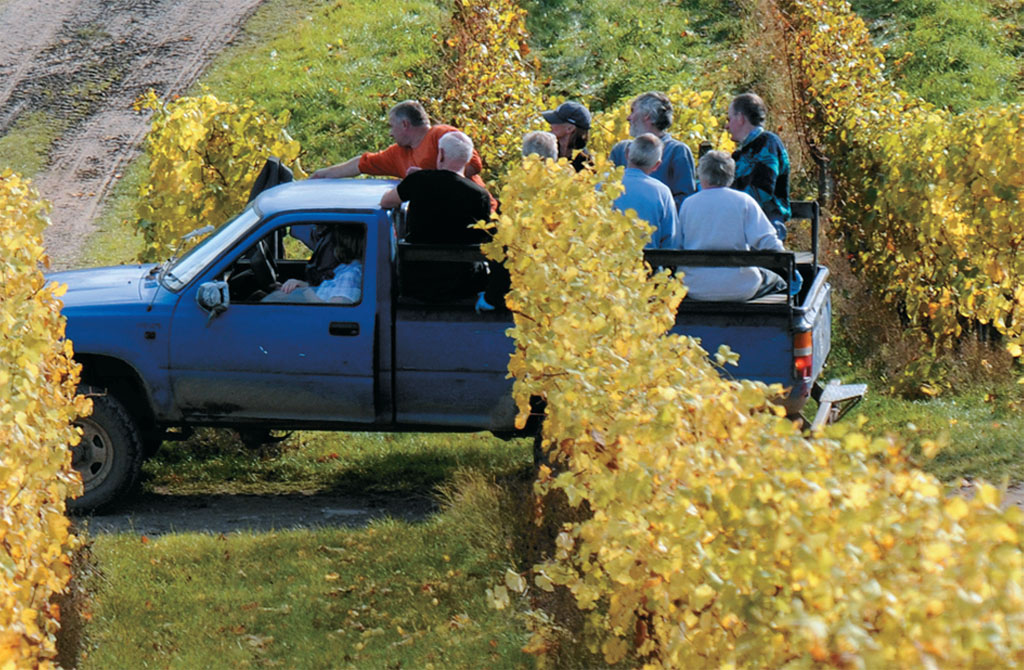 6
Is it drinkable?
The $64,000 question about wine in Camel Valley, Cornwall, is the same in Sonoma Valley, California: is it drinkable? The resounding reply has to be yes, in the majority of cases. It is true that English red wine is, to be kind, much of a gamble. The lack of burning Mediterranean heat and sunshine, soggy summers that stop the grapes from making the grade and the smaller scale of English vineyards, means that English red wine can be hit and miss.
What is more certain is that in the last decade there have been exciting developments in white wine production in the country. This advance is reflected by the comment of BBC Masterchef presenter and restaurateur Michel Roux Jr., whose empire includes high-end Le Gavroche and Roux at Parliament Square restaurants in London. He would, he says, have served an English sparkling wine to William and Kate at their nuptials instead of Champagne.
European regulations on labeling and regional protection mean, of course, that Champagne can come only from Champagne in France: English "sparkling wine" is the workaday name that the English version is lumbered with. For all that, however, these wines are made from the same Champagne grapes—Pinot Noir, Chardonnay and Pinot Meunier—used in the world's most famous sparkling wine region. Winemakers in England share not just the grape varieties: they share the same techniques and even soils. This has spurred a number of major Champagne houses who have sought to buy land this side of the Channel.
More significantly, the percentage of that trio of Champagne grapes will increase from its current 40 percent to around 70 percent as new plantings come on stream. This will mean the decline of red wine production in the long term as growers switch to the more expensive, and profitable, sparkling white wine.
The idea of spending money on a bottle of "bubbly" from Kent, Sussex or Cornwall instead of Champagne may still seem laughable to some, but again and again in international competitions, the best English sparkling wines are winning medals over Continental competition. Another push to the rising popularity of English sparkling wine has been the shift away from the world's most famous bubbly since the beginning of the global financial crisis in 2008, when expensive tastes became unfeasible for some and embarrassingly frivolous for others. While a bottle of decent Champagne fetches around $40 outside of France, prices for English sparklings come in at between $20 and $30.
Is it money well spent? In 2010, Sussex producer Ridgeview won the trophy for the best sparkling wine in the world, triumphing over prestigious Champagnes and sparkling wines at one of the most respected wine competitions, the Decanter World Wine Awards 2010. Ridgeview's Grosvenor Blanc de Blancs 2006 beat competition from Champagnes including the likes of Taittinger and Charles Heidsieck, to win the International Trophy for Sparkling Wine Over $15. This was the first time the trophy has been awarded to a wine outside Champagne.
At the same time, incredibly, after a yearly blind-tasting of 140 wines, an Italian wine magazine awarded an English sparkling wine the title of first place as the world's best sparkling wine. To rub salt into the wound, the editor revealed this to a French news channel.
In late 2010, another trend in sparkling wines in England emerged when Kent grower Chapel Down released a non-vintage wine for the first time in the English market. This is very common in France where Champagne houses such as Moet & Chandon or Veuve Cliquot will blend grapes from different harvests to create a consistent and reliable house-style of sparkling wine.
The significance is that in the past, as demand outstripped supply, at the end of each year there were never enough grapes to keep back, as English vineyards are quite small. This meant that the industry could not present consistent wines to the consumer, risking its reputation by delivering off-note bubblies in bad years. The demand for sparkling wine has now led to a rush of English plantings that are set to double the size of Champagne grape planting to 6,200 acres by the end of the decade.
Wine with a meal
While stuffy and staid restaurants and hotels in England stick with wine lists made up of Old and New World offerings, a growing number of such establishments offer English and Welsh wine. A key stimulus to the growing interest in English wine is the "locavore" movement, of consuming locally produced food and drink.
What this means in terms of wine is that it will be rare to find a Kentish wine in Devon or a Hampshire wine in Norfolk.
The relatively small production of English wine also means that it always will tend to be expensive. With restaurant and hotel margins added onto already expensive trade prices, few English wines can be called inexpensive.
This will naturally limit such wines to high-end, boutique stores and eating locations that are likely to cater to discerning and adventurous clients who like to take the road less traveled in their dining and sipping.
In the United Kingdom, premises can be licensed to sell alcohol to be consumed on or off the premises. As a result, stores selling alcohol are commonly referred to as "off-licenses."
A high-end supermarket chain, Waitrose, is the largest chain seller of English wines. As a policy, it sells only wines local to the region or county where its stores are located. In general, the best place to find off-licenses selling English wine is the West Country.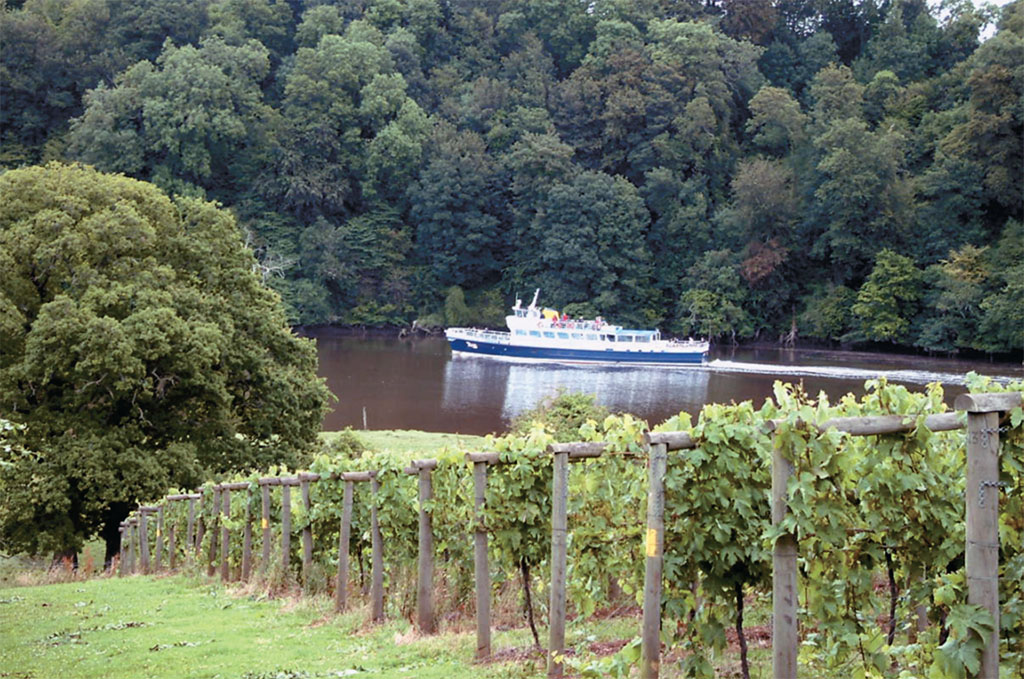 6
A London wine bar, Artisan and Vine, in Clapham, has taken the plunge and offers a full list of English wines to its drinkers. Interestingly, it was opened by an Australian businesswoman, a refugee from the City who wanted to connect to wine in a professional capacity.
The English can be very reluctant to talk about their wine, more so even to consume it. Too many memories of earlier British wine and the country's enduring love affair with European, Australian and Californian wines, mean that English wine will have few champions at home. Will it take the praise of an Italian and an Australian to demonstrate that wine produced in Great Britain might be worth a second look and a fresh set of taste buds?
If so, then the corks really will start popping.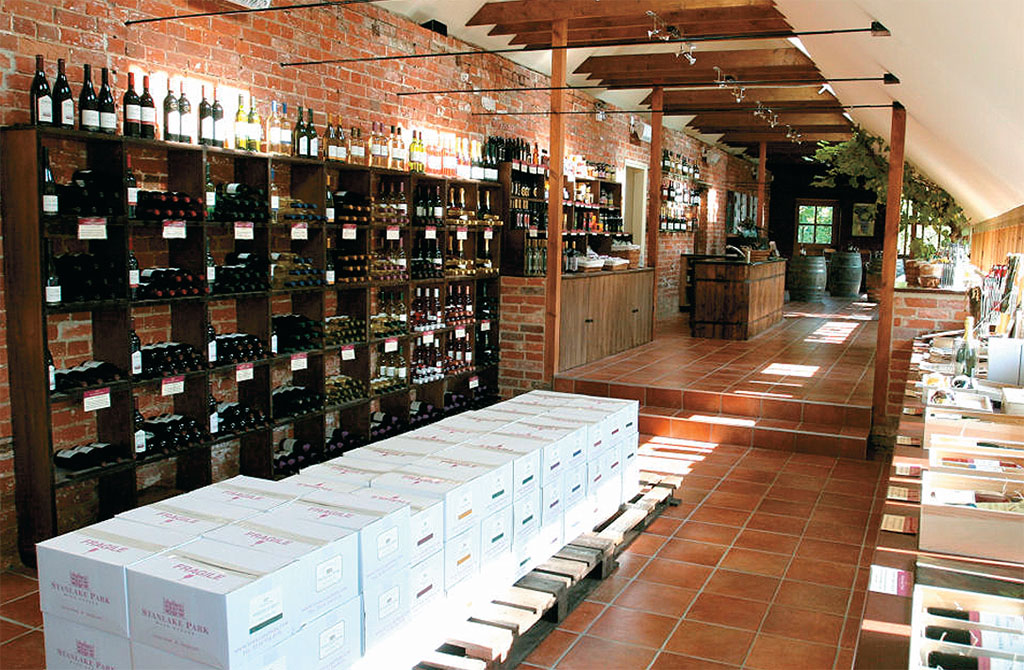 6
Half-Case of vineyards to visit
Like other wine regions, some vineyards in England offer the opportunity to visit, see the winemaking and enjoy a putter in a wine shop.
Denbies 
Situated in Dorking, Surrey, Denbies English Vineyard is an all-weather and all-year-round destination. The flint-clad chateau-style building houses two restaurants; the indoor Garden Conservatory and the third floor Gallery Restaurant with views of the estate, There is a well-stocked wine and gift shop. 
London Road, Dorking, Surrey 
www.denbies.co.uk 
Miles from London: 25
Stanlake Park Wine Estate 
In the 12th century, it was called Hinton Pipard. The name changed to Stanlake Park in the Tudor period, and the first vines were planted in 1979. There is a large cellar shop converted from an old Victorian greenhouse. The store stocks a unique range of traditional ales, ciders, spirits and liqueurs, and snacks that complement their wines. 
Twyford, Reading, Berkshire 
www.stanlakepark.com 
Miles from London: 40
Chapel Down Wines 
The Chapel Down Winery is situated in the Garden of England near the pretty Wealden town of Tenterden. It was designed and built by local artisans, with the materials used in the wine making process set in landscaped grounds, including more than 22 acres of vineyards. The wine and food store is open daily. Contemporary English food and fine wines are available in the restaurant Richard Phillips at Chapel Down. 
Small Hythe, Tenterden, Kent 
www.englishwinesgroup.com 
Miles from London: 54
Three Choirs 
Tours are offered daily no matter the weather. There is no need to book. Wine tasting, the vineyard walks, including nature trail, audio posts and the Three Choirs DVD are all available at any time the shop is open. Winery tour and tasting, £8 per person. 
Newent, Gloucestershire 
www.threechoirsvineyards.co.uk 
Miles from London: 126
Sharpham Vineyard 
This 1,000-year-old farm of 500 acres, overlooks the River Dart. Open daily from April through September, the vineyard includes the Vineyard Café and the Sharpham Wine Experience, including a full tour, light lunch prepared from estate produce and a bottle for £50 per person. You can even arrive by boat! 
Totnes, South Devon 
www.sharpham.com 
Miles from London: 225
Camel Valley Vineyard 
Every Wednesday evening at 5 p.m. between Easter and October 30th, a wine maker guides visitors through the vineyard and winery, followed up with a tasting session. The Grand Tour and Tasting is always popular, so it is essential to book in advance. Price: £10 per person. 
Nanstallon, Bodmin, Cornwall 
www.camelvalley.com 
Miles from London: 283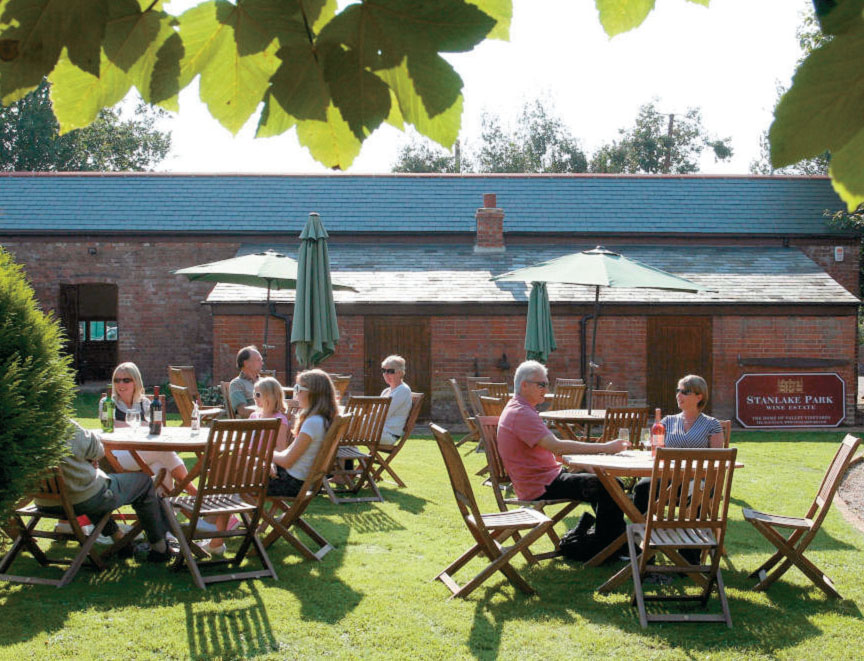 6