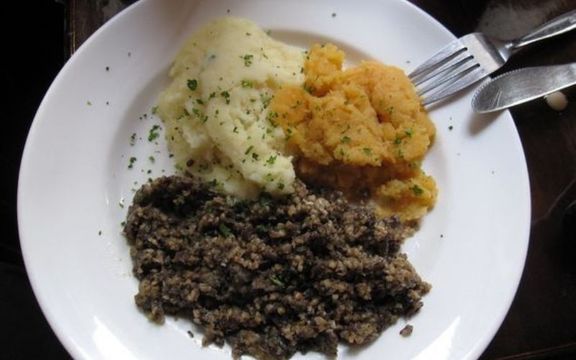 One of the most traditional Scottish dishes, traditionally eaten on Burns' Night, made with offal and usually washed down with whiskey, this is a must-try for people visiting Scotland.
"What is haggis?"... This may sound like a foreign sentence to some, but in fact, it describes a much-loved dish in bonnie Scotland that is often washed down with a slug of whiskey.
Haggis is predominantly made from offal such as liver, heart, and lungs stuffed into a sheep's stomach with a variety of spices and boiled. It doesn't sound like the most appetizing of dishes but strangely enough, this inexpensive dish is warming, hearty and nourishing and much loved by the Scots.  Commonly served with neeps (mashed turnip) and tatties (mashed potatoes) and washed down with some Scotch whiskey, haggis is a must-try dish.
Commonly served on Burns Night (25 January) as a nod to Robert Burns' immortalisation of haggis in his poem Address to a Haggis, this Scottish delicacy should be top of your to-do list on any visit to Scotland. 
Here's a short video on how haggis is made: