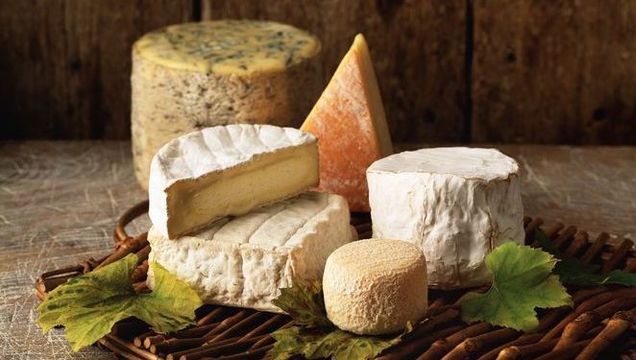 Cheese glorious cheese! Made and enjoyed on our sceptered isle since before history began. The dairy product that condenses the nutrition of milk into delectable, flavorful variations sustained peer and peasant alike through the centuries.
The ubiquitous Ploughman's Lunch has fortified the populace in one form or another since medieval times: a chunk of bread and another of cheese taken to the fields for the midday's nourishing repast.
Today, that cheese might be as commonly plated with fruit for lunch, or make its way into every course of dinner, from goats' cheese in a salad, to sauce for a chicken or fish to cauliflower cheese. For afters, a cheese board with delightful offerings from a mild Caerphilly to a pungent Dorset Blue Vinney or a Sage Derby with grapes and biscuits. Then, perhaps a bit of port and Stilton?
English Cheese
As with most foods, the English reputation for cheese lags behind that of its French neighbors. In fact, while France boasts 350 different kinds of cheese, England produces more than 750 distinct cheeses today, crafted in creameries and farmhouse dairies from Cornwall to Cumbria.
In the capital, you can sample and acquire English cheeses at Neal's Yard Dairy in Covent Garden. In fact, British cheeses are all they stock, and their specialty is a great range of delectable Cheddars.
Or, 200 miles north, pop into The Cheeseboard in Harrogate, where they stock 200 varieties of cheese, most of them English. Here is the gateway to the Dales, the local favorite is predictably Wensleydale.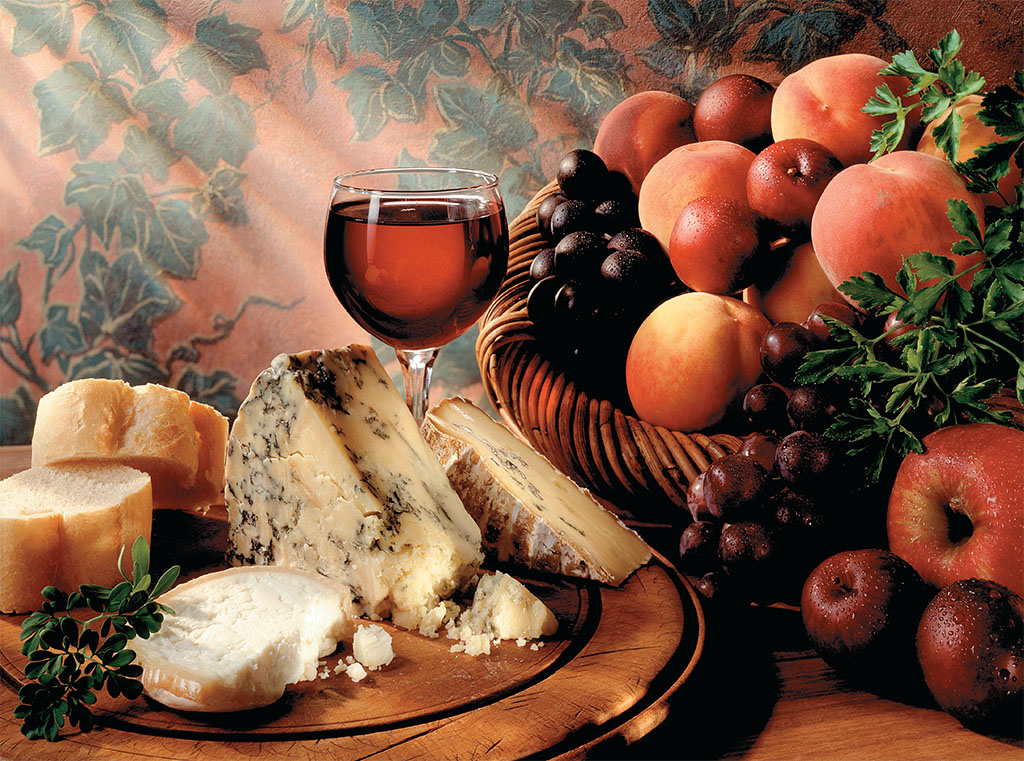 4
 Cheddar
While "cheddar" cheese is produced throughout the world, Cheddar is a decidedly English cheese, and certainly the most popular. It takes its name from its Somerset source, in Cheddar Gorge.
The original Cheddar cheese company still makes the eponymous cheese today. And while terrific Cheddars are produced in farmhouses and commercial creameries around the country, there is some argument that properly speaking, Cheddar is a Somerset cheese.
Good Cheddar is always crumbly if it is being aged properly. Joseph Harding, called "the father of Cheddar cheese," described the ideal Cheddar as "close and firm in texture, mellow in character or quality, rich with a tendency to melt in the mouth and has a full and fine flavor somewhat like hazelnut." Maturing 9 to 24 months, the cheese gets sharper with age.
Double Gloucester
First produced in Gloucester in 1498, Double Gloucester is a Cotswold cheese, still made principally in Gloucestershire today.
It is a full-fatted, hard cheese, made with whole milk, distinguished from Single Gloucester made from skimmed milk. Perhaps not surprisingly, the Double Gloucester variety has more flavor. As the local favorite, it is wheels of Double Gloucester that careen down the hill at the annual Cooper's Hill Cheese-Rolling.
Double Gloucester is aged four months, but traditionally eaten as a young cheese, while it retains a buttery texture and a mild, but pronounced nutty flavor. This is a great cheese to accompany a real ale or a young red wine and is a wonderful choice to accompany cold meats on a fresh baguette.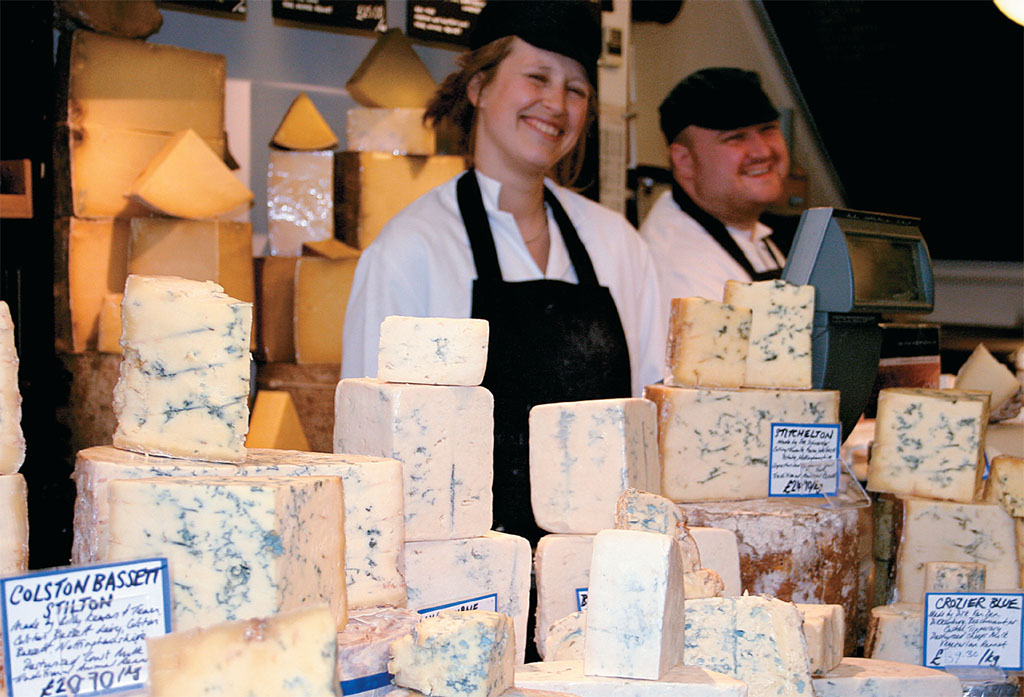 4
Stilton
One of the few world-famous British cheeses, Stilton has been called "the King of Cheeses" for generations.
It is the only English cheese that has EU-protected name status and a certification trademark. Stilton cheese can be produced only in the counties of Leicestershire, Derbyshire, and Nottinghamshire, and is actually made at six creameries in those counties.
The strong, blue-veined cheese develops its hard, crumbly rind while aging, and remains soft and moist in its interior. Stilton has been traditionally paired with sherry or port, perhaps with a few walnuts.
It also goes down a treat with a pear or apple, or a crusty roll and butter. In recent years, Stilton has found a popular pairing in soup with broccoli, and in a pungent cream sauce for steak.
Wensleydale
Yes, celebrated by Wallace and Gromit, Wensleydale takes its name from the longest and most famous of the Yorkshire Dales. The only place Wensleydale cheese is made today is the Wensleydale Creamery in Hawes, deep into the dale near the Pennines.
Farms throughout the valley provide the milk, while the creamery (employing 200 people) produces five tons of Wensleydale cheese a day.
The creamery actually makes 24 varieties of cheese, all available to sample in their visitors' center tasting room. The most popular is the traditional semi-hard white cheese, mild yet piquant, with a lingering aftertaste.
Next in popularity is the mature variety, like most firm cheeses developing piquancy as it ages. As a semi-hard, mild cheese, however, Wensleydale has proven a perfect cheese to infuse with apricot and walnut, for instance, cranberry or blueberry, to make an elegant dessert cheese.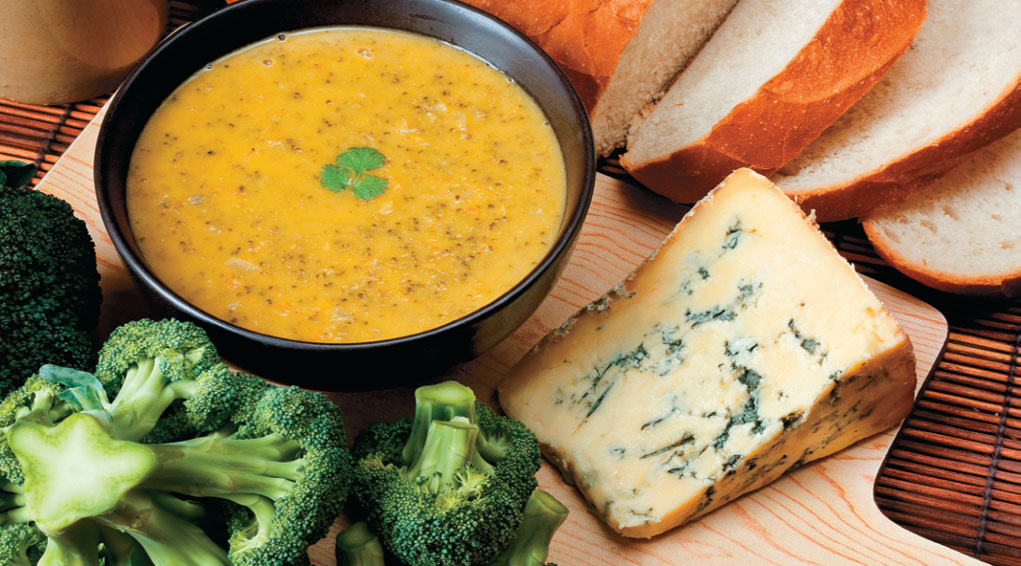 4
Chesire
Produced in the county of Cheshire and neighboring Welsh and English counties, Cheshire may be the oldest cheese in Britain. Legend has that it has been made since the Romans were here, and it was mentioned in the 11th-century Domesday Book. The firm, white cheese ages cloth-wrapped and develops a natural rind.
Milkier than many cheeses, Cheshire is firm, white and crumbly as a young cheese—aromatic, but mild. Aged Cheshire darkens and hardens into a highly flavored cheese without bitterness. With a much lower salt content than many cheeses, Cheshire is a great cheese to crumble on fruit or to use in vegetable dishes.
Red Cheshire is a variant with annatto added to create a deep orange color but does not affect either taste or texture. Blue Cheshire is a variety ripened with classic penicillium mold for added sharpness and flavor.
Broccoli-Stilton Soup
- 2 tbsp. olive oil or butter
- 1 onion – chopped or diced
- 1 stalk celery – chopped or diced
- 1 medium potato – diced
- 1 qt. chicken stock
- 1 head broccoli (about 1 lb.) – roughly chopped
- 4 oz. Stilton cheese
-2 dashes black pepper, dry mustard & nutmeg
Heat the oil in a large saucepan and add onions until soft. Add celery and potato. Cover and simmer a few minutes over medium heat. Add stock and chopped broccoli stalk. Simmer 10-15 minutes. Add rest of broccoli, just for a couple of minutes.
Then, blitz in blender or food processor to a coarse puree. Return to a gentle heat and stir in Stilton.
Season with black pepper, nutmeg, and dry mustard. Between the chicken stock and Stilton, a little salt will be needed. Reserve bits of broccoli flowerets and crumbles of Stilton to garnish.
Makes four generous servings–at only 340 calories each.
* Originally published in Sept 2013.