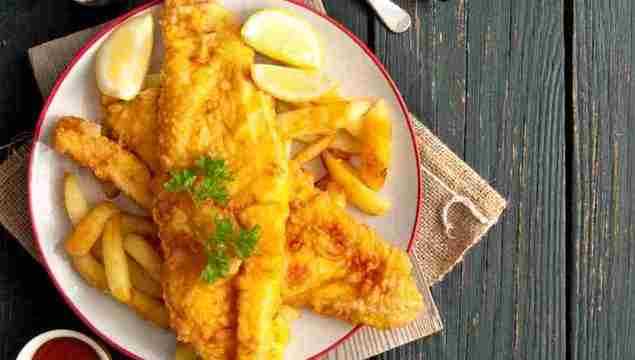 Are you in love with Britain's favorite comfort food? Then here's everything you need to know to make sure you're eating Britain's best fish and chips.
Whether it's a Saturday night supper or a treat enjoyed strolling along the seafront, fish and chips have long been a staple of the British diet. No matter where you stay in Britain, you can guarantee you're never far from a good old fashioned "chippie" - but whether it's any good or not is another matter.
The classic combination of battered fish and chipped potatoes has been a national institution for more than 150 years, coming a long way from its humble roots as a cheap, yet tasty and filling meal for the nation's poor.
But who invented the combination?
Fried fish actually arrived in Great Britain with Jewish refugees from Portugal in the 1600s, while the Belgians claim to have invented the chip. What the Brits can take credit for is uniting them. Both 13-year-old Joseph Malin and Lancashire man John Lees lay claim to this - the teenager selling them together in London's East End to help supplement his family's income in 1860, while Lees traded from a wooden hut in Mossley Market in 1863.
Whoever came up with the pairing, there's no disputing it quickly caught on and with the spread of the Industrial Revolution, fish and chips soon became a firm favorite of the Victorian working classes.
By the time fish and chips peaked in popularity in the early 1920s, there were 35,000 chippies nationwide. Writing in 1937, George Orwell proclaimed the dish as fundamental to the happiness of the masses and instrumental in avoiding revolution; they were also deemed vital in helping to win World War I, and to that end were one of the few foods exempt from rationing during World War II.
Now a multi-million-pound industry, there are more than 10,500 fish and chip shops in the UK, selling more than 300 million portions annually. But how can you guarantee you're going to be served up a culinary delight as opposed to a pile of greasy stodge?
So what do you need to look out?
Lincolnshire chippie Paul Linford has more than 40 years of frying experience. His shop in Market Deeping (near Stamford), has been named in the country's top 10 five times by the National Fish and Chip Awards.
So what is the secret to producing the perfect portion of fish and chips? How do you guarantee your chips are crispy and golden on the outside, yet fluffy on the inside with that melt-in-the-mouth texture, and your fish is flaky and tender, encased in a crisp, light brown battered shell?
According to Linford, it all starts with the ingredients - where they come from and how they are looked after. Like anything, he says, "you have to put the best in to get the best results."
There are regional variations in the fish on offer. This, Linford says, is due to the historical availability of stocks and the tastes people have grown up with.
South of Grimbsy, cod is the fish of choice. It accounts for 95 percent of sales at Linford's Traditional Fish and Chips. It takes its stocks from the well-managed waters of the Barents Sea, north of Norway, off the coast of Iceland and the Faroe Isles, where the colder waters make the fish firmer and perfect for frying.
Travel north and the stronger-tasting haddock takes over. In Scotland, it makes up the majority of sales. In Wales, hake is the most popular. Other whitefish like pollock, plaice, skate, sole, and halibut are available, too. Tuna, salmon, and mackerel are noticeably absent from the chippie's menu, however, because they are too oily to fry.
How the batter is made
Whatever your preference, requesting boneless fish will no doubt make your meal more enjoyable, says Linford, who removes the bones from his fillets as part of the precooking prep.
Before frying, the fish is coated in batter - water and flour, sometimes including baking soda and vinegar to add lightness. Some shops also like to add milk or beer.
Maris Piper is one of the best known and most popular potato varieties on sale; more are grown across the UK than any other type.  Maris Piper is so popular as a chipper because it contains exactly the right amount of dry matter, which in turn helps it give just the right taste and texture.
Other varieties like Cabaret and Markies can also be used, while "new" or "early potatoes" such as Maris Bard, Dunrod and Premier are popular in June, July and early August, before the Maris Piper main crop is ready to harvest. Storage at the correct temperature is important—ideally about 50 degrees; if the potatoes get too cold, sugar levels increase, which means the chips will fry darker and have a bittersweet taste.
Historically, beef dripping was used to cook fish and chips, but many chippies have moved to the healthier alternative of vegetable oil. Looking after the fat is one of the most important parts of the cooking process; it needs to be filtered regularly and maintained at an optimum temperature of 185 degrees centigrade.
Linford says the key to producing crispy chips is "not to cook too many together," adding, "putting too many in the fryer can color the fat; if it starts breaking down, the product will absorb more fat. Also by putting too many in the fryer at once, you reduce the temperature and they end up boiling as opposed to frying. And if you don't wash the chips properly before you start the starch from the potatoes can get into the fat and this will break it down and again discolor the chips." 
Fish and chips still has something of a poor reputation when it comes to nutrition, but Linford thinks that's undeserved. "You're getting carbohydrates from the potatoes and protein from the fish. And there's a common misconception that it's all fried when that's not the case. The fish inside the batter is actually steamed and not at all saturated with fat."
* Originally published in July 2016.