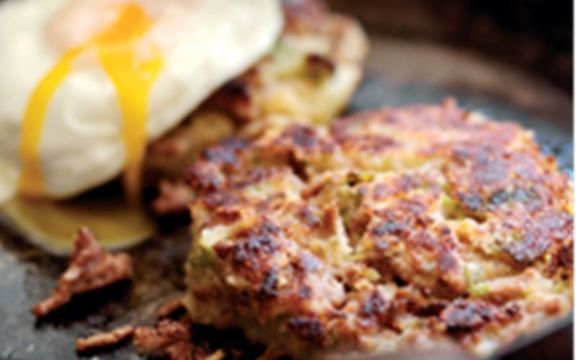 One of the "greatest peasant dishes of the world" this traditional British potato and cabbage dish dates back to the 18th century.
Bubble and squeak, toad in the hole, spotted dick many British traditional dishes have some seriously strange names but this potato and cabbage fritter couldn't be more simple despite its comical name. A firm favorite bubble and squeak was dubbed the "great peasant dishes of the world" by food writer Howard Hillman.
Bubble and squeak actually dates back to the 18th century. Listed in the Oxford English Dictionary, from 1762, it's believed that its name comes from the sound the potatoes and cabbage make as they hit the hot griddle.
Of course, over the last 250-plus years, the recipes had evolved. Originally the earliest versions contained cooked beef but by the mid-20th century potato and cabbage had become the main ingredient. Here is a modern twist on the British favorite from Food – a fact of life.
Bubble and squeak lamb brunch recipe
Complexity - Medium-High
Time - 45 mins
Ingredients
- 1kg potatoes
- 450g Savoy cabbage
- 1 large onion
- 225g lean minced lamb
- 2 x 15ml spoon tomato ketchup
- 1 x 5ml spoon Worcestershire sauce
- 1 egg
- 25g plain flour
- 1 x 15ml spoon oil
- Extra flour
Equipment needed
Vegetable peeler, chopping board, knife, large saucepan, non-stick frying pan, mixing spoon, measuring spoons, colander, potato masher, large mixing bowl, fork, small mixing bowl, flour dredger, fish slice, plate.
Method
- Prepare the ingredients:
• peel and chop the potatoes into large chunks;
• shred the cabbage;
• peel and finely chop the onion.
- Place the potatoes in a large saucepan, cover with cold water and bring to the boil.
- Cook for 5 minutes and then add the cabbage. Simmer for a further 5-8 minutes until the potatoes are tender.
- In a non-stick frying pan, dry fry the minced lamb and the onion until the mince is browned.
- Stir in the ketchup and the Worcestershire sauce.
- Drain the potatoes and cabbage.
- Mash the potatoes and cabbage and transfer to a large bowl.
- Beat the egg in a small bowl.
- Stir the cooked mince and onion, beaten egg, and flour into the bowl of mashed potatoes and cabbage.
- Divide the mixture into 8 portions.
- Using lightly floured hands, shape each portion into round patty shapes (roll into a ball and then flatten slightly).
-  Heat the oil in a frying pan and fry the patties in batches over a medium heat for 3 - 4 minutes on each side, until golden.
Tips:
- Serve with a poached egg and wilted spinach.
- Try using lean beef mince.