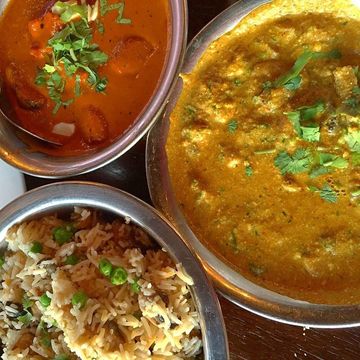 How Britain fell in love with Britain and Chicken Tikka Massala become the United Kingdom's official favorite dinner. 
In 2001 British Foreign Secretary Robin Cook called chicken tikka masala "a true British national dish." Everyone gasped. What about fish and chips and roast beef and Yorkshire pudding? But Cook was right. The enticing curried chunks of chicken—the tikka of its name—in a spicy sauce—the masala—had become the UK's most popular dish, served in all Indian restaurants and many pubs, available ready-made in all supermarkets and known affectionately as CTM.
CTM sped to popularity in the 1970s and succeeded so quickly because the British were confirmed, curry lovers. And not just Indian curries. British cooks had tinkered with Indian recipes, giving birth to British kissing-cousin curries rather than clones of the originals.
The passion for curry developed during the 350 years when the British were living in India, first as traders but eventually as rulers. Since Indian food varies from region to region, what they ate varied too, but they called most of it "curry." William Philip first used the word, adapted from the Tamil Kari, in 1598 to describe a fish mixture served with rice as "somewhat sour but it tasteth well." In 1681 Robert Knox noted cooks boiling fruit to make curry "that is somewhat to eat with and relish their rice."
In contrast to these curry adjuncts to rice, the first English curry recipe emphasizes meat. Published by Hannah Glasse in 1747, "To make a Curry the India Way" calls for two fowls or rabbits stewed with 30 peppercorns, toasted coriander seed and just one "large spoonful of rice." Clearly, we have here an English stew jazzed with Indian spices.
This habit continued. Many Indian curries are fairly dry so they can be eaten with the fingers, but the British love of meat with gravy inspired curries of meat or fish submerged in sauces.
Colonel Kenny Herbert, writing his Culinary Jottings for Madras in 1885, made the point: "A cook who is adept with the stew-pan, and who has mastered the art of slow, and very gentle simmering, will soon become familiar with the treatment of curry." Like many British cooks, the Colonel did not hesitate to use British ingredients such as apple in curry recipes. Also like his countrymen, he favored curry powder, sharing his own "very valuable receipt" and insisting it be made and stored in large quantities. In contrast, Indian cooks typically grind and mix spices fresh each day. Curry powder thus numbers among Anglo-Indian inventions.
Others include kedgeree, a favorite Victorian breakfast dish, now usually served for supper. It's made of lentils, rice, smoked haddock or other fish and eggs flavored with curry powder. Its origin is kitchri, an Indian dish of lentils and rice. Mulligatawny, a thick spicy soup, derives equally from the broth-like dishes of southern India and the Brown Windsor Soup of 19th-century England. A more recent invention is Coronation Chicken, created by Constance Spry in 1947 to be served at the Queen's wedding reception. Loosely based on the kormas of northern India, it is chicken in a creamy curry-flavored sauce with almonds. It is now a favorite salad or sandwich filling in Britain.
While such dishes are rooted in the British Raj, British curries really blossomed in the 1960s, when thousands of Indian and Pakistani immigrants came to work in the industrial cities. Some opened restaurants to cater to their compatriots, but the British soon discovered them, and their owners began to adapt their food to the preference for curries with plenty of sauce.
Chicken Tikka Masala is an example. Its origins are contested, but most agree it got its start in Britain, probably in Glasgow. The story goes that a customer complained that his chicken was too dry, so the chef quickly concocted a mixture of tomatoes, cream, and spices, poured it on the chicken and CTM was born.
Today 15 percent of the curry orders in Britain's Indian restaurants are for CTM. Other popular dishes include Rogan Josh, which is meat, usually lamb, in a sauce colored with chilis and paprika; do piaza—literally "double onion" dishes; and jalfrezi dishes of marinated meat fried with green chilis in a thick sauce.
As Robin Cook said in that gasp-inducing speech, CTM and other curries are "a perfect illustration of the way Britain absorbs and adapts external influence."
Here are some of the UK's other popular curries.
Balti curries
Balti Curries are rich dishes of meat, fish or vegetables cooked and served in a deep metal pan called a balti. Though the pan originated in the Pakistani region of Baltistan, the restaurants of Birmingham claim credit for inventing balti food. Baltis are now popular throughout the UK, but Birmingham's Balti Triangle—streets lined with specialist balti restaurants—remains balti central.
Korma curries
Korma refers to luxurious dishes from Pakistan and northern India composed of meat steeped in thick yogurt marinade then braised, often with fruit, ground almonds and mild spices that highlight the fine meat. Kormas are traditionally served on festive occasions. The word Shahi in the name of a korma means "royal," and suggests the opulence of the dish.
Phaal curries
Phaal is a searing Indo-British curry zinged with those ultra-hot habañero or scotch bonnet peppers. Phaal was devised by Britain's Indian and Pakistanis immigrants. Arriving in the 1960s and '70s, they couldn't find familiar spices, so they upped the amount of chili and cilantro with ingredients bought in stores catering to the Caribbean community.
Tandoori curries
Tandoori food is rubbed with spices and an orange-red food coloring and then cooked in a clay oven called a tandoor. Chicken and shrimp tandoori are big favorites in Britain, though unlike most British curries, they lack sauce.
Vindaloo curries
Vindaloo comes from a Portuguese pork stew called vinho do alhoes—wine and garlic. It comes from Goa, whose Portuguese rulers introduced newly discovered New World chilis. Eventually, these transformed India's food, previously more gently heated with peppercorns and ginger. Vindaloos, now made of any kind of meat, is fiercely hot and the curry of choice among late-night revelers.
Chicken Tikka Masala Recipe
FOR THE MARINATED CHICKEN:
Ingredients: 
- 6 boneless skinless chicken breasts
- 2 teaspoons salt
- 1/4 cup lemon juice
- 4 cloves garlic, minced
- 2 tablespoons grated ginger
- 2 teaspoons cumin
- 2 teaspoons coriander
- 2 teaspoons paprika
- 1/2 teaspoon turmeric
- Pinch cayenne
- 1 1/2 cups plain yoghurt
FOR THE MASALA:
Ingredients:
- 1 1/2 tablespoons coriander
- 1 tablespoon paprika
- 1/2 teaspoon turmeric
- Pinch cayenne
- 2 tablespoons oil
- 1 large onion, chopped
- 1 teaspoon cumin seeds
- 5 cloves garlic, minced
- 2 tablespoons grated ginger
- 2/3 cup plain Greek yogurt
- 3 cups canned crushed tomatoes
- 1 cup chicken stock
- 3/4 cup heavy cream
- 4 tablespoons chopped fresh cilantro
- 1-2 teaspoons sugar (optional)
- Salt to taste
- 2 teaspoons garam masala
Method
First marinate the chicken. Score the breasts, rub with salt and drizzle with lemon juice. Place in a single layer in a dish. Combine garlic and ginger, and then mix with the cumin, coriander, paprika, turmeric, cayenne and yoghurt. Pour this over the chicken breasts, turning them until they are coated in the mixture. Cover the dish with plastic wrap, and let the chicken marinate in the fridge for 6-10 hours, turning it 3-4 times.
Meanwhile, make the masala. Mix the coriander, paprika, turmeric and cayenne. Heat the oil in a large saucepan, stir in the onion, and cook over moderate heat until it is golden. Stir in the cumin seeds, then the garlic, ginger and the spices. Stir in half the yoghurt. When it is mixed in, stir in the rest. Mix in the crushed tomatoes and chicken stock, then simmer for 20 minutes or until the mixture has thickened. Over the heat, stir in the cream and half the chopped cilantro. Season to taste with salt and sugar.
Next broil the chicken under hot preheated broiler. Take the breasts from the marinade. Arrange them on a shallow foil-lined pan and place 6 inches below the broiler. Broil for 8 minutes or until the chicken has a few charred spots. Cut each breast into 6-7 pieces, and place in the masala. Bring to simmering point and cook for 5-6 minutes. The dish can be served immediately with basmati rice or naan bread, but like many stews, it tastes better on the second day because the flavors have blended. Stir in the garam masala and sprinkle on the remaining cilantro just before serving.
* Originally published in July 2016.