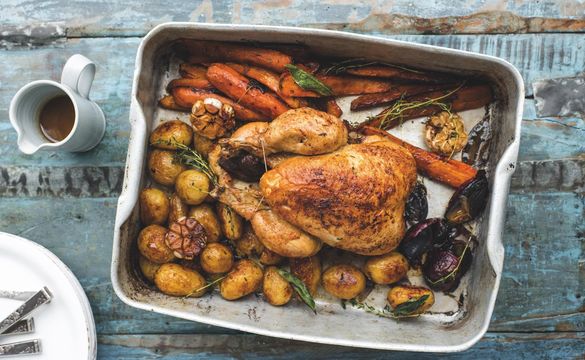 "I embrace [Scottish cooking], but we're breaking up the shackles a little bit."
"Can you buy pigeon meat in America? Is that even legal?" I asked Tom Kitchin, head chef and proprietor of Kitchin and The Scran and Scallie in Edinburgh. Since the unusual fowl and game meats he champions—venison, pheasant, partridge and grouse—aren't exactly readily available at American groceries, he decided to share his version of the classic Sunday roast chicken with
BHT
. "Roasts are something we love to do here as a family, something we're famous for. It's that one special meal, Sunday afternoon, where everyone is off and you can all sit down together. A big tradition in the UK."
A fierce advocate for always using the freshest ingredients, Kitchin suggests modifying this recipe with the most seasonal produce available. "It's a flexible dish, and autumn is a great time of the year. In the fall, you can try it with all those root vegetables," he suggests. "Just as long as you're putting everything into one pan so all the flavor from the chicken is going into them."
[caption id="TomKitchinsTraditionalPot-RoastedChicken_img1" align="aligncenter" width="634"]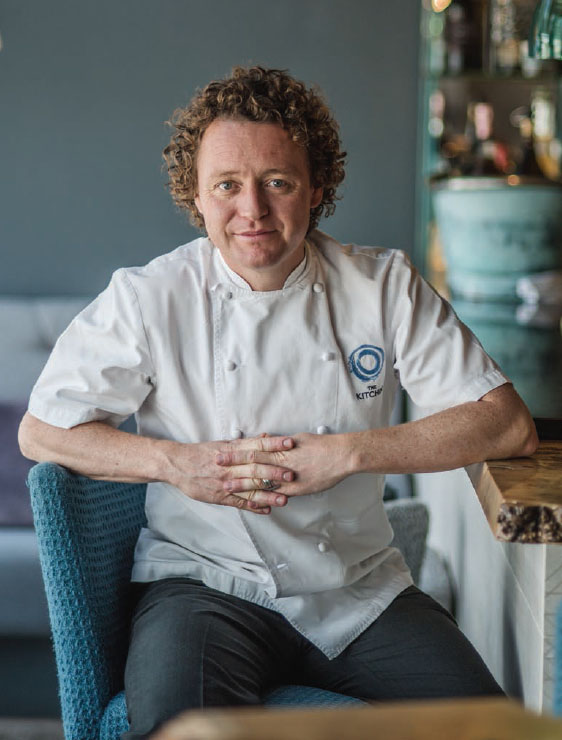 4
After training in some of the best kitchens in London and Paris, this Scottish chef—awarded his first Michelin star at the age of 29—decided to come back and open restaurants in Edinburgh.
[/caption]
Though the Edinburgh-born chef admits the hearty, meaty foods you imagine for the Scottish diet are a big part of the food culture ("We eat to the kind of environment we're in—and it's cold here, so we eat foods that fill us up"), he says it's also important to modernize.
"We keep our traditions, but it's all about doing little twists on the classics," he says, clarifying that this means embracing great Scottish produce. "We've always had this produce, but we've always exported it. We're trying to get it to stay in Scotland. When I was working in some of the best restaurants in Europe, I was using Scottish produce."
And for those who can't find these seasonal veggies? Or those lacking the deer and pigeon meat often prepared in Kitchin's kitchens? "Well, they'll just have to come visit us then! Some of our game dishes are a bit more specialist, but my restaurant is filled with Americans every night, and they absolutely love it!"

Traditional Pot-Roasted Chicken
Ingredients:
1 free-range chicken, about 3 pounds
Olive oil
3 oz. pancetta in one piece
16–20 small new potatoes, scrubbed
6 small red onions on shallots, peeled, but kept whole with the root on
4 carrots, peeled
4 thyme sprigs
3 bay leaves
2 heads of garlic, peeled and cut in half
3 tablespoons brandy
3 tablespoons dry white vermouth
1 ¼ cups chicken stock
1 tablespoon butter
Sea salt and freshly cracked black pepper
Method
Preheat the oven to 425°F.
Place the chicken on a chopping board and use a small sharp knife to remove the wishbone. Tie the legs together with kitchen string for even cooking. Smear the chicken all over with olive oil and season well with salt and pepper.
Heat a roasting tray over medium-high heat, and then add a splash of oil. When it is hot, add the pancetta and color on both sides—this gives extra flavor to the dish. Remove the pancetta and set aside.
Add the chicken to the roasting tray on one side and leave it to turn golden brown. Then, using a roasting fork, turn it over and color the other side. When it is golden brown all over, remove from the tray and set it aside.
Turn the heat down to medium and add the new potatoes, red onions, carrots, thyme, bay leaves and garlic. Return the pancetta and season well with salt and pepper, then stir everything together. Use a wooden spoon or spatula to push the vegetables to the side of the roasting tray, and return the chicken to the center.
Cover the tray with kitchen foil and place it in the oven for 60 minutes, until the chicken is cooked through and the juices run clear when you pierce a thigh. All the vegetables and garlic might be tender before the chicken is cooked, depending on their size. Shallots will probably cook first, so keep a good eye on them, checking after 15 minutes. When the tip of a small knife slides in without any resistance, you know they are ready. This is also a good time to baste the chicken with all the lovely juices. Wrap the vegetables in foil and keep hot as they are cooked until you're ready to serve.
When the chicken is cooked through, remove it and any remaining vegetables from the tray and set aside to rest for 5 minutes, covered with foil.
Tip any of the cooking juices back into the roasting tray with the brandy and vermouth, stirring to deglaze the tray, and boil until they reduce by half. Add the chicken stock and continue boiling until it reduces one-third. Whisk in the butter and adjust the seasoning with salt and pepper.
Serve with the chicken and vegetables straight from the casserole.

The Scran and Scallie's Pigs Ears and Pork Scratchings
[caption id="" align="alignright" width="402"]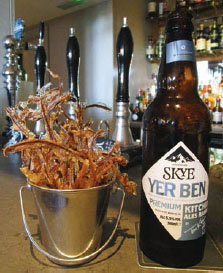 4
To wash it down, Kitchin's own ale with Skye Brewery. Visit The Scran and Scallie at 1 Comely Bank Rd. and The Kitchin at 78 Commercial St. in Edinburgh.[/caption]
For a truly Scottish appetizer, try this at Kitchin's gastropub, The Scran and Scallie. "We get the whole pigs ears, take the meat and make great big sheets and slice it up!" says restaurant manager Kerr.
"You make us sound like savages," a server chimes in.
"Well, we are!" he laughs. "You're basically just cooking parts of the pig in some kind of fat. Lots of ways of doing it. Like a bit of crackling. People have been eating something like this in pubs around here forever."
[caption id="" align="alignleft" width="162"]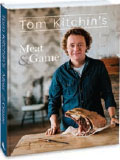 4
Tom Kitchin's Meat and Game, published by Absolute Press, goes on sale October 24.[/caption]