Hidden behind a store room, a complete Georgian confectionery reveals itself
[caption id="HamptonCourtsChocolateKitchen_img1" align="aligncenter" width="1024"]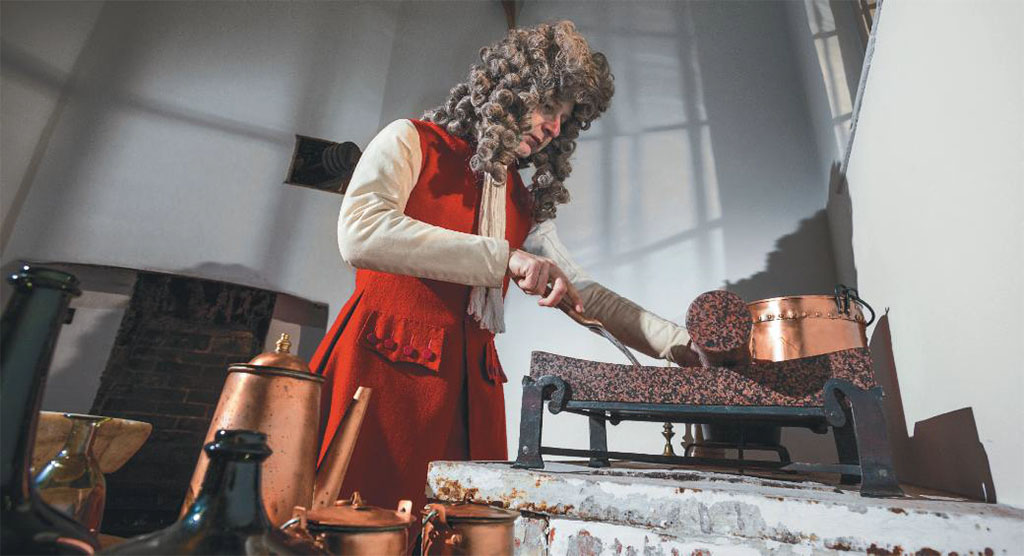 5
The King's private chocolate chef, Thomas Tosier, turns out all manner of dishes in the Royal Chocolate Kitchen.
[/caption]
WHEN YOUR PALACE HAS 1,600 rooms, you can be forgiven for losing the odd chocolate kitchen. "It's not so much that we lost it," protests Marc Meltonville, Hampton Court's resident food historian, "more that we weren't looking for it."
There had been rumors, of course. Most of them started with the Victorians who opened the palace to the public and concocted all sorts of legends. "That's when most of the ghosts turned up," says Meltonville. But the Historic Royal Palaces' archaeological team didn't really expect a Georgian chocolatier's workshop to actually fetch up, not least because so many rooms had been demolished over the years and more were lost in a devastating 1986 fire.
Their lucky break came when they found an inventory made on the death of King William III, which mentioned a specific doorway in Fountain Court. On finding a key to mysterious "Door Eight," the team discovered miles of steel shelving and a small colony of vases. It was the store room for the annual flower show.
The team cleared the area, intending to re-create a workshop that might have been like the one George I's personal chocolatier, one Thomas Tosier, would have used. As the rolls of florists' wire and acres of bunting disappeared, the curators were astonished. "We'd actually found a kitchen," says Meltonville.
Everything was intact: the charcoal fireplace where the beans would have been roasted, complete with elaborate spit mechanism and smoke-jack operating system, 18th-century shelves and a cupboard where equipment was stored; a brick stove over which the chocolate would have been heated and the original fold-down prep-table, still firmly fixed to the wall.
The world's sole surviving Georgian Chocolate Kitchen is an even luckier find, as the room just feet away next door was destroyed in the 1986 fire. This, though bad at the time, has proved a blessing, as historians have been able to create an exact replica of Tosier's realm in the space. Experimental archaeologists can don the full periwig, breeches and frock coat ensemble to work out how kings William III and Georges I and II enjoyed their chocolate. Exotic spices, oils and techniques gleaned from contemporary letters, documents and recipes are all minced into the mélange of tasks that includes roasting, distilling and a lot of grinding.
The public can visit three rooms: the kitchen itself, with a fascinating projected display that informs without annoying; the replica kitchen opposite, where experimental chocolate-making sessions take place; and the room where Tosier garnished his creations ready for presentation. The exquisite serving apparatus has been re-created specially for the project using authentic processes and shards from archaeological digs around the palace to replicate Tosier's culinary armory.
Of course, the chocolate enjoyed by the monarchs of old has little in common with how we know it today. Cocoa was first introduced in the 16th century and became an immediate hit with the very wealthiest members of society (it was much more expensive than the already astronomically priced coffee or tea), but it was always a beverage. It was dark, spicy and rich, though not as bitter as one might expect. Visitors can discover the differences for themselves.
Specially produced sample flights of chocolate are being served in the Fountain Court Café, including examples from each era. "The King's Chocolate," heady, spicy and very dark, dates from 1661 and was Charles II's tipple. The Georgian version has overtones of cardamom and aniseed and is served with milk. Victorian hot chocolate is much like the recipe we know today and, after the first two, rather sweet. The final taster is a modern, white-chocolate fantasy, tasting of vanilla, raspberry and hot summer evenings.
It is unlikely Hampton Court has yielded all of its secrets yet. Marc Meltonville has his eye on an old engine room a few doors down from the chocolate heaven. He thinks it could be a wine cellar, but until someone finds a key it remains a mystery. —Sandra Lawrence
[caption id="HamptonCourtsChocolateKitchen_img2" align="aligncenter" width="328"]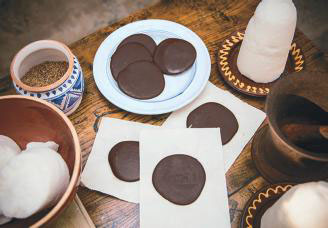 5
[/caption]
Chocolate Sessions
Hampton Court's Georgian Chocolate Kitchens are open to the public as part of the entry price. Dates and times for live chocolate-making sessions can be found at
www.hrp.org.uk
. Historic chocolate taster-flights are available from the Fountain Court Café, priced £3.95.
Once More, the Little Gray Cells at Work
MAIS OUI, IT'S TRUE. Hercule Poirot is not as young as he was once. It is hard to believe that our favorite Belgían detective has been solving Agatha Christie's diabolical puzzles for so many years. But the end, mon ami, it is inevitable.
Once again, David Suchet takes up the persona of our favorite Belgian detective and wades into script and action with a relish undiminished since he undertook the roll in 1989 with The Mysterious Affair at Styles. In the 25 years since, Suchet has reprised the fastidious Poirot in a dozen series now. The four film-length mysteries of Series 12 bring to 65 the episodes of Poirot that Suchet has completed in character.
For the first time, Poirot looks and moves like an older gent. The confident and sometimes arrogant detective who has always been sure of the moral high ground has seen enough of life and human depravity to have left his jaunty breeziness behind. In these four well-known mysteries we have a more reflective, introspective man. In Murder on the orient Express especially, Poirot confronts a new challenge: moral ambiguity. The tale is darker, and filmed accordingly, but both story and protagonist are more mature and satisfying.
[caption id="HamptonCourtsChocolateKitchen_img3" align="aligncenter" width="328"]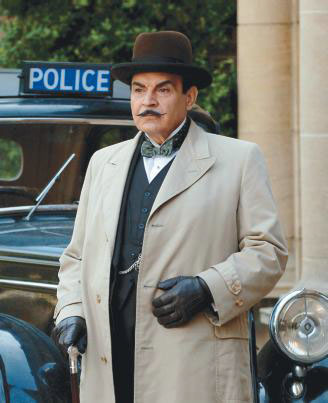 5
[/caption]
DVD
Poirot: Series 12 Collection, starring David Suchet, 2-disc boxed set, Acorn Media, Silver Spring, Md., 4 episodes, approx. 502 minutes, $59.99.
A final Poirot series has been shot and broadcast this past winter in Britain. Series 13 brings to 70 David Suchet's performances as Hercule Poirot—the entire canon of novels and short stories that Agatha Christie wrote featuring her most popular detective. Suchet hangs up his moustache with an amazing achievement in film. When the last series is released in the United States, we will revisit Suchet and his epic accomplishment across 25 years.
The More Things Change…the More They Might Not
IT IS AN ERA OF ACCELERATING climate change. Extreme and historically anomalous weather events appear with uncommon frequency. Welcome to the early 1300s, when a seven-year period of rain, cold, disease and war created the worst famine in European history—a tragedy history has all but forgotten.
If there was ever a British and European period history that seemed timely, this is it. The whys and wherefores of climate change in the 21st century may be debated for decades, but the impact of significant climate change upon society and international events has a historical track record. Ultimately, The Third Horseman's thesis is that events that shaped the 14th century across Britain and Europe were in themselves influenced dramatically by climate change occurring over a relatively short period of time.
Rosen tells an eclectic tale of the early 1300s, of the reign of hapless King Edward II. During those years of intermittent warfare across Europe and with a independence-minded Scotland, the epoch of four centuries that climatologists call the Medieval Warm Period came abruptly to an end. A succession of cold winters, rainy summers and failed harvests brought famine across Britain and Northern Europe. Rosen focuses on the impact of climate on crop yields, population pressure and political infrastructures.
[caption id="HamptonCourtsChocolateKitchen_img4" align="alignleft" width="165"]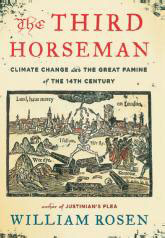 5
[/caption]
Occasionally the narrative tale of Edward II's doomed dealings with rebel earls, French politics and Scottish wars seems to veer away from the topic, but Rosen always draws the threads together convincingly. While it would be speculative to draw parallels between the tragedies of the 14th century and our contemporary world, it would be equally as foolhardy to ignore history.
Book
The Third Horseman: Climate Change and the Great Famine of the 14th century by William Rosen, Viking, New York, 302 pages, hardcover, $28.95.