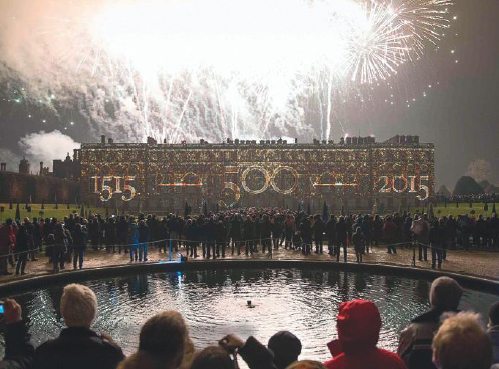 5
HAMPTON COURT celebrates its 500th birthday this year. I like to think I know the palace, yet however often I visit, there's always something new. This year they've added some truly spectacular extras, and more than ever it's worth making that short, leafy train ride from Waterloo.
A newly-recruited Royal Turn-Broach, in full costume, now turns the ancient iron spit over the great fire in the kitchens in full Tudor costume every day, and after Historic Royal Palace's jumping through the health and safety hoops, for the first time the resulting authentic hogroasts, and dainty meat treats can be enjoyed by visitors as well as His Majesty.
In the courtyard a replica of Henry VIII's wine fountain pours a free glass for all from 4 p.m., and over in the Georgian palace the king's chocolatier, Mr. Tosier, prepares 18th-century hot chocolate par excellence. I recommend the fight; tasting-cups from three centuries of Royal cocoa-drinking: rich, spicy and truly decadent.
It's the centenary of Philip Webb this year, too. He is all-but forgotten now, and that's just the way he'd like it. We don't even have a proper photograph of him, but without this exceptional, quiet man we might not today enjoy some of Britain's finest buildings.
To say Webb was William Morris's right-hand-man would be misleading. If anything, Morris was Webb's follower, though the pair of them were such close friends comparisons are pointless. Indeed if you visit Red House, the home Webb built for Morris in Bexleyheath, the murals, carvings and decorations National Trust conservators keep uncovering are all collaborations by famous visitors such as Edward Burne-Jones, Ford Maddox Brown and Dante Gabriel Rosetti.
The house has always been a work-in-progress. Murals were begun by inspired pre-Raphaelites, then never completed. Today's panelled, whitewashed walls are covered in test-strips. No one knows if they're about to uncover another priceless artwork or just the odd artistic squiggle in this delightful family home Webb built for his friend.
Webb is also remarkable for the co-founding, with Morris, of the Society for the Protection of Ancient Buildings. Since its inception nearly 140 years ago SPAB has been responsible for saving countless British gems, and remains active today.
Red House is open regularly, and this year for the first time displays the few worldly goods Philip Webb left behind: his drawing materials, snuff boxes, pipes and a pistol. His modest chattels, however, belie the quiet man's rich contribution to British heritage.
While we're on the subject of conservation, I have a good-news story for you. In the late 1800s, one Mr. Wickham rather fancied himself as the East End's answer to Mr. Selfridge. He decided to build an enormous department store on the Mile End Road as Whitechapel's version of the famous Oxford Street store. There was one fly in the ointment.
[caption id="HappyAnniversariesandHighFashion_img3" align="aligncenter" width="241"]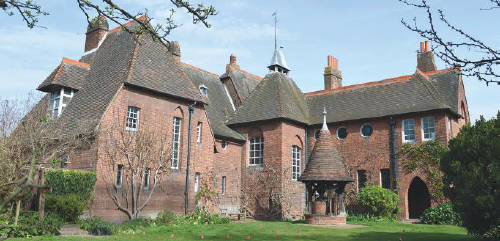 5
Bexleyheath's simply-named Red House was built for William Morris by his friend Philip Webb.
[/caption]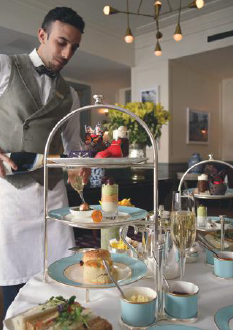 5
For More Information
Hampton Court Palace
www.hrp.org.uk/HamptonCourtPalace
Red House
www.nationaltrust.org.uk/red-house
Mr Spiegelhalter's visual joke
Wickham House, 69-89 Mile End Road
Quilon
www.quilon.co.uk
Alexander McQueen Savage Beauty
www.vam.ac.uk/content/exhibitions/exhibition-alexander-mcqueen-savage-beauty
Alexander McQueen Tea
Kensington Hotel:
www.doylecollection.com
Mr. Spiegelhalter's jeweller's shop sat right in the middle of Wickham's proposed grand entrance. Spiegelhalter refused to sell. Wickham went ahead with his plan, building his department store around the little 19th-century building. A flashy, neoclassical job, it came complete with ionic columns and entrance tower, just off-center thanks to Mr. Speigelhalter, who still wasn't budging.
One of my favorite London writers, Ian Nairn, describes it as "a perennial triumph for the little man, the bloke who won't conform." Time, however, was not on either family's side and the area became run down. Wickham's closed in the 1960s; Speigelhalter's followed suit in 1982. Both buildings started to decay.
With the recent property boom, a developer recently applied to finish Wickham's job, to finally demolish Spiegelhalters' one-family-protest, but by now locals had grown to love the ugly little shop. A petition was raised, the Victorian Society and Twentieth Century Society objected; even the developer's own heritage expert advised against the demolition. News has just arrived that the application has been withdrawn, and what has been called London's best visual joke will remain as lop-sided as ever.
The sumptuousness of Michelin-starred dining can be a pricey business. One way of tasting the luxury without the months of booking ahead or the scary price tags is to seek out lunchtime deals. Some of London's best restaurants have wonderful, set-price meals at reasonable prices, but they rarely shout about it.
[caption id="HappyAnniversariesandHighFashion_img5" align="alignright" width="240"]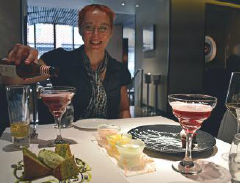 5
Take an exquisite setprice Southern Indian lunch at Quilon.
[/caption]
You have not tasted South Indian food until you've tasted the exquisite fare prepared by Sriram Aylur at Quilon in Buckingham Gate, just around the corner from Westminster Abbey. He specializes in southwest India's sweet, spicy flavors and exquisite seafood. From delicately fried ladies' fingers to succulent black cod, spiced minced crab cakes to the softest, sweetest mango curry and fluffy steamed rice, everything in the set lunch is cooked to perfection, yet two courses cost just £24.
If you're a beer lover, there is even more reason to visit—Quilon been voted Beer Drinker of the Year by the All Party Parliamentary Beer Group of MPs, for the sheer depth of its beer list. I took my beer-drinking friend Timandra, because I actually don't drink beer, but they even found one for me, the fabulously fruity Liefman's Fruitesse, as sweet and yummy as it is pink.
One of the hottest tickets this season is the Alexander McQueen retrospective exhibition, Savage Beauty, at the V&A. Much of it is sold out, but odd tickets are available online and a few are released at the museum itself each day. The experience is extraordinary.
For people like me, though, who want to continue the haute-couture excitement, what better than tea around the corner that actually celebrates specific exhibits? The Fashion Forward afternoon tea at the Kensington Hotel is, like the designer himself, a combination of old-fashioned glamor with funky, fabulous innovation.
McQueen's to-die-for studded clutch bag is recreated in daintily-piped Genoese sponge. Philip Treacy's Butterfly Hat, as seen at McQueen's 2008 Spring/Summer collection comes in cupcake form, complete with edible butterflies. A hand-decorated marzipan "sable dress" reflects the late designer's 2009 Horn of Plenty collection. Star of the show, however, has to be a delicate gilded quail's egg, paying homage to McQueen's stunning, 2006, bird's-nest, Swarovski-crystal headdress. Kensington Hotel likes to reflect exhibitions in the major museums round the corner, but this time the chef's imagination has really gone crazy. The tea is listed as part of a sumptuous hotel deal on the website, but it can be ordered separately.
One last thing. In case you hadn't noticed yet, I've got news! In addition to Around London Town in the magazine, I am now writing special posts on the BritishHeritage.com site. These are designed to include up-to-the-minute tips, suggestions and other things you might enjoy, so do join me online. Meanwhile, I'll be back here next time with gardens large and small, secret ways to get into livery halls and the joys of pop-up tea.