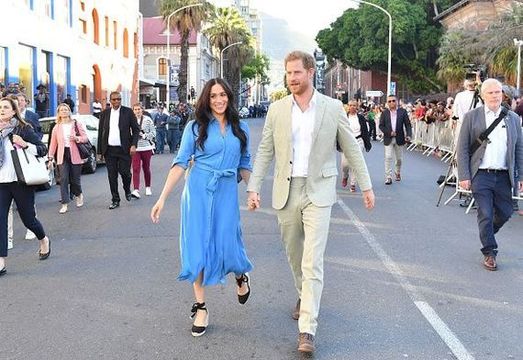 Harry and Meghan have received criticism for the use of a crown in their branding this week
The Duke and Duchess of Sussex announced their split from the Royal Family earlier this year. This meant they would carry out their final duties as working Royals before leaving their estate at Frogmore Cottage and setting out for North America.
A huge part of the reason for the split was so that Harry and Meghan could eventually work their way towards becoming financially independent, and step out from the looming shadow of the Royal Family at large.
Read more: Queen Elizabeth's advice to Harry and William
Well, now that Harry and Meghan have officially stepped back from the Royal Family, they have come under fire for their use of a crown in their official monogram.
StreetGames, a charity dedicated to improving the lives of disadvantaged children through sport, posted a message sent to them by Harry and Meghan on Twitter.
Wow! Thank you so much Harry and Meghan for your kind words and your continued support for StreetGames and the brilliant local organisations working to support their communities in these challenging times pic.twitter.com/4h9bMGTuTR

— StreetGames (@StreetGames) June 21, 2020
Twitter users were quick to point out that the insignia used by Harry and Meghan in their letter certainly had many 'Royal' connotations. One user wrote ''Still using the logo!! What don't you understand about your walk away from Royal Life? Still want the perks with none of the work?'', while another claimed ''Harry walked away from everything Royal, which includes crown logo. Meghan never was Royal.'' Stern words indeed!
While the Sussex's use of the crown certainly got many Twitter users riled up, Richard Fitzsimmons, a well-known Royal commentator, said that they are in fact well within their rights to use the logo. He explained ''They are entitled to use the coronet as Harry is the son of an heir apparent and Meghan was also assigned a coronet on their marriage.''
Read more: Are these the prettiest streets in Britain?
If we look at the rest of the Royal Family, there are several other non-working Royals who use a crown insignia. Princess Eugenie and her sister Beatrice also use the crown, and they have never been working Royals, so there is clearly still some precedent to use the logo. Having said that, Harry and Meghan have taken steps to actively distance themselves from the family, so many view the use of the crown as a mixed message. 
Do you agree with Harry and Meghan's use of the crown in their logo?