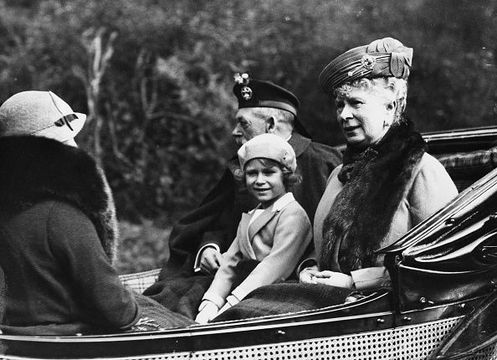 Footage like this of the Queen Mother is certainly hard to come by.
This British Pathé segment from 1953, shows the Queen Mother, Mary of Teck, throughout the years. Starting with stills of her at age 19, it progresses to show her surrounded by the entire Royal Family inclusive of Queen Elizabeth II. 
The life of the Queen Mother has always been shrouded in mystery to some degree. Born into a family of British nobility, Elizabeth came to prominence in 1923 when she married the Duke of York, the second son of King George V and Queen Mary.
In 1936, Elizabeth's husband unexpectedly became king when his older brother, Edward VIII, abdicated in order to marry the American divorcée Wallis Simpson. Elizabeth then became queen. She accompanied her husband on diplomatic tours to France and North America before the start of the Second World War. During the war, her seemingly indomitable spirit provided moral support to the British public. After the war, her husband's health deteriorated, and she was widowed at the age of 51. Her elder daughter, Elizabeth, would go on to become Queen and as we know, the rest is history.
The footage shows the Queen Mother attending events and spending time with the Royal Family. 
Flags can be seen at half-mast as footage is seen of King George's funeral. A coffin draped with a flag and several of George's belongings can be seen being carried up the steps of Westminster Cathedral.
The footage is also shown of Queen Elizabeth's wedding, where the Queen Mother can be seen watching on happily.
Have a look at the clip below, courtesy of British Pathé: