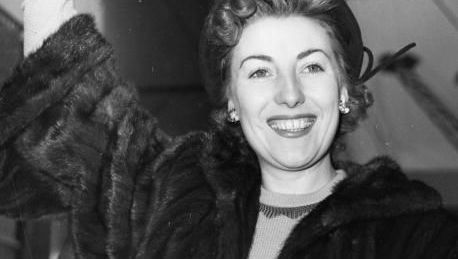 Dame Vera Lynn was born in London and by the age of seven, was singing on a regular basis in working men's clubs. She made her first broadcast in 1935. During the Second World War Vera found fame as the "Forces Sweetheart", keeping up the spirits of the public with such songs as "We'll Meet Again" and "White Cliffs of Dover". These songs, and some films, catapulted Vera Lynn into what would now be referred to as superstardom.
Dame Vera Lynn, simply put, was an icon. Best known for songs such as We'll meet again and The White Cliffs of Dover, Dame Vera Lynn regularly performed on the frontline in countries where British troops were stationed and was a true symbol of hope for the British military.
On June 18, 2020, Dame Lynn passed away. In a statement released by her family on the morning of her death said "We are deeply saddened to announce the passing of one of Britain's best-loved entertainers."
Born in London in 1917, Dame Vera Lynn was tipped for stardom at a young age. She left school at 11 in order to pursue a full-time career in the entertainment industry.
The singer gained real fame during World War II, where, as Britain was locked in a nasty war with Germany, her songs were played all over the country. The songs spoke of hope and yearning for better times and truly struck a chord with the people of the UK, not least the soldiers. In 1939, Dame Vera Lynn was voted as the favorite entertainer of the servicemen, which earned her the nickname of 'The forces' sweetheart'. 
Lynn's song "We'll Meet Again" was a particular favorite of the UK masses, and would go on to become what many still maintain is the quintessential wartime anthem in the UK. 
Lynn played famous shows at the London Palladium and Holborn Empire and was a 'national tonic' at a time when the UK was looking for something to take minds off the war. 
Lynn's legacy will certainly live on, and several national figures were quick to speak out about the impact she had during her time. Boris Johnson, the then British Prime Minister, said Lynn's 'charm and magical voice entranced and uplifted our country in some of our darkest hours. Her voice will live on to lift the hearts of generations to come.'
Even Captain Tom has spoken out about the impact Vera Lynn had on him as a young serviceman. He said 'I really thought Vera Lynn would live longer, she's been speaking so well on TV recently. She had a huge impact on me in Burma and remained important to me throughout my life.'
Clearly, Dame Vera Lynn's star will continue to shine, even in her death. At a time when the United Kingdom is battling with crisis after crisis, it is important to remember someone who certainly did their part to help the nation during its biggest battle ever. 
* Originally published in 2020, updated in March 2023.