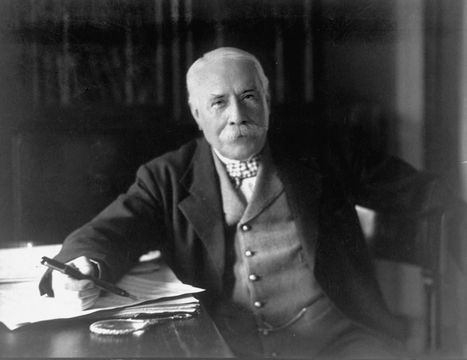 Today marks Edward Elgar's birthday, 1857, one of Britain's most famous composers and the man behind the world-renowned Pomp and Circumstance
We celebrate by looking at his life's achievements and the Elgar Birthplace Museum and Elgar Center in Worcestershire.
"I've got a tune that will knock 'em—knock 'em flat," composer Edward Elgar confided to a family friend in May 1901. The "tune" was part of a D major march and the first in a series of what would eventually be five marches that Elgar called Pomp and Circumstance. The larger-than-life strains of the composition stir the blood and set the heart-pounding each spring when graduates across North America and beyond march the processional to claim their diplomas in a commencement tradition that had its start at Yale University in 1905.
Though this and other Elgar works are readily familiar and much beloved today, the Lower Broadheath-born son of a shopkeeper travelled a long and humble path to fame. In fact, Elgar's largely self-administered musical instruction began in his father's music shop.
"I saw and learnt a great deal about music from the stream of music that passed through my father's establishment. I read everything, played everything, and heard everything that I possibly could."
The Elgar family had no money for formal education for Edward, so he left school and at age 16 began his musical career as a piano and violin teacher. To Elgar, however, "teaching was like turning a grindstone with a dislocated shoulder."
During these early years, he also played the violin with the Worcester Philharmonic Orchestra, and in 1879 he took the position of bandmaster of the Attendants' Orchestra at the Worcester and County Lunatic Asylum. Then in 1886, Caroline Alice Roberts walked through his door for music lessons, and despite the differences in their social and economic situations, Caroline and Elgar married three years later.
The new Mrs Elgar inspired and supported the composer's ambitions, and that same year the couple moved to London to further Elgar's career. The endeavour proved unsuccessful, however, and they soon returned to Worcestershire. There, near the Malvern Hills in the heart of England, Elgar wrote some of his greatest works, including the Enigma Variations, which marked the turning point in his career.
In the Variations, Elgar took an improvisation and composed variations on the theme based on the personalities of 14 friends (and one dog). It debuted in London on 19th June 1899 to critical acclaim and is still a popular inclusion in the classical repertoire. The Variations brought him fame.
Other successes soon followed, including The Dream of Gerontius, Cello Concerto, The Apostles, and of course, Pomp and Circumstance, which had its London premiere on 22nd October 1901.
Afterwards conductor Henry Wood observed, "The people simply rose and yelled. I had to play it again—with the same result; in fact, they refused to let me go on with the programme. After considerable delay [and] merely to restore order I played the march a third time. And that, I may say, was the one and only time in the history of the Promenade concerts that such an orchestral item was accorded a double encore."
Thereafter, Elgar's music gained recognition and earned him many rewards and honours, including an Honorary Doctor of Music from Yale and a baronetcy.
Elgar continued composing major works until Alice died in 1920; thereafter he produced nothing truly original. His own death came 14 years later on 23rd February 1934. He was buried beside Alice in the graveyard of Worcester's St. Wulstan's Roman Catholic Church, Little Malvern, in Worcestershire.
Elgar Birthplace Museum
Not far from the church, just outside of Worcester, sits the small 19th-century cottage in Broadheath where Elgar was born on 2nd June 1857. According to Elgar's wishes, his daughter Carice Elgar Blake established the Elgar Birthplace Museum here.
The site is managed by the Elgar Foundation and Birthplace Trust, and its mission is "to celebrate the life and achievements of Edward Elgar, and to inspire all visitors with his love of music."
Inside the charming cottage, visitors can walk into the study of one of England's greatest composers and see Elgar's gramophone and the desk Alice set up for him. The museum also showcases personal possessions such as family photographs and mementoes along with the paraphernalia of Elgar's wide-ranging hobbies, including his golf clubs, books, cycling maps, and the microscope he used for chemistry experiments.
The Elgar Centre
Adjacent to the birthplace cottage sits the Elgar Centre that opened in 2000. The new centre features displays of manuscripts, music scores, awards, letters, concert programmes, photographs, and other items that illustrate the composer's career. Exhibit highlights include early recordings of Elgar's compositions and a film showing the musician during his later years.
The museum and centre together illustrate the personal and professional life of a truly complex man who had a wry and whimsical sense of humour and who could be abrasive or charming, witty or caustic. But his passion for music remained constant.
During the twilight of his life, he observed, "There is music in the air, music all around us, the world is full of it and you simply take as much as you require." Elgar required quite a bit, but he gave back so much more.
For more visit www.nationaltrust.org.uk or www.elgarfoundation.org.
* Originally published in May 2004.