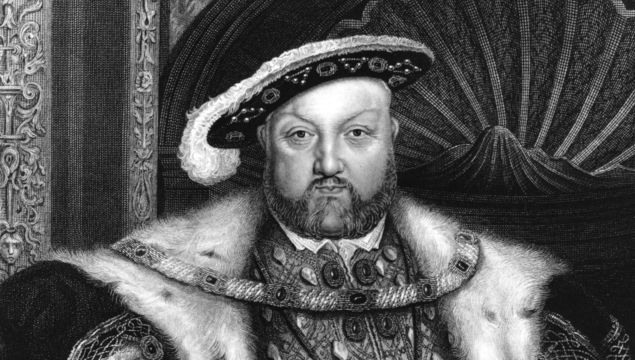 We take a look at the castles associated with King Henry VII's wives.
The faiths of his wives are well known, but did you know that each is associated with at least two castles? Here we trace the footsteps of his six queens through to the modern-day.
Henry VIII, who reigned between 1509 and 1547, is famous for his six wives, with the rhyme "divorced, beheaded, died, divorced, beheaded, survived" summarizing their largely unenviable fates.
Many sites are famously associated with the Tudor king, but the footsteps of his six queens can be retraced as well. From the setting of Catherine of Aragon's brief married life with Henry's older brother to the castle where his sixth queen, Catherine Parr, died, it is possible to sense the presence of each wife as each in her turn became Henry VIII's.
Spread across England, the sites listed below provide a good overview of each of the six wives and fascinating tales about how they negotiated marriage to one of history's most infamous husbands.
Catherine of Aragon 
The Spanish princess, Catherine of Aragon, spent nearly 35 years in England. Two sites are particularly important to her memory. Ludlow Castle, which is connected with the beginning of her time in England, and Peterborough Cathedral, which marked the end of her life.
Medieval Ludlow Castle stands on the edge of the town market square and is open to visitors. Although ruined, it dominates the town, as it did when Catherine and her first husband, Arthur, Prince of Wales, took up residence in Prince Arthur's Tower soon after their marriage in November 1501. In Tudor times, the tower in the north range of the castle was impressive. Today, without its floors or roof, it remains imposing, in spite of the fact that pigeons are now the only residents. Soon after their arrival, Arthur died. Catherine maintained that the marriage was unconsummated, which allowed her to marry her brother-in-law Henry in 1509. Arthur's boast that he had spent his wedding night in the midst of Spain later came back to haunt his widow, allowing Henry to seek an annulment when Catherine failed to produce a surviving son.
Henry spent nearly six years seeking a papal annulment of his first marriage before breaking with Rome and marrying Anne Boleyn in 1533. Catherine was banished from London and died in January 1536. Her grave is in Peterborough Cathedral, an hour's train ride north of London. The cathedral, which dates from the 12th century, contains much of interest, from Anglo-Saxon carvings to the former burial place of Mary Queen of Scots. It is Catherine's grave, however, that is particularly poignant. Although she maintained that she was Henry's wife and queen, she was buried as Princess Dowager of Wales. Following modern renovations, her grave was marked with the words Katharine Queen of England, the title she had been denied in life.
Anne Boleyn
Henry VIII's second wife, Anne Boleyn, was beheaded when he tired of her after only three years of marriage. Two of her childhood homes survive, giving a sense of her early life before she caught the king's eye and began a relationship that changed English history.
Anne spent her early childhood at Blickling Hall, which is run by the National Trust and just a short drive from Norwich. The current house largely dates from the 17th century and there is little left of the building that Anne knew. Adjacent to the house is the parish church that contains a number of memorials to the Boleyn family, including a brass commemorating another Anne Boleyn; Anne's aunt who died a few years before her namesake's birth.
Anne's family moved to picturesque Hever Castle in Kent in 1505, where she spent the remainder of her childhood before continuing her education abroad. Much remains as she knew it, with rooms furnished in Tudor fashion and two of her prayer books on display. Anne returned to Hever after refusing to become Henry's mistress. Undeterred, he pursued her with letters, gifts and, eventually, an offer of marriage. She signified her agreement with the gift of a jewel-shaped like a maiden in a storm-tossed ship. Hever passed into royal ownership following Anne's execution on trumped-up charges of adultery and formed part of the divorce settlement of Henry's fourth wife, Anne of Cleves. The house and gardens make an excellent day trip and guest accommodation is also available.
Jane Seymour
Like Anne Boleyn, Jane Seymour attracted the king while serving as a maid to her predecessor. Jane is usually portrayed as meek and demure. She died while giving Henry the thing he desired most: a healthy son.
The small Wiltshire village of Great Bedwyn lies close to Wolfhall, Jane's childhood home. St Mary's Church dates from the 11th century and remains much as she would have known it. Jane's father, Sir John Seymour, is depicted on his elaborate tomb in full armor, while her eldest brother, another John, is commemorated with a brass. Two stained-glass windows showing Jane's badge as queen and the emblem of her son as Prince of Wales were moved to the church from Wolfhall when it was demolished: nothing else remains of Jane's home, with a modern farmhouse standing on the site.
Jane, who was the only one of Henry's wives to die as queen, received a royal funeral at St George's Chapel, Windsor Castle. Henry, who shares her grave, requested burial next to his son's mother. The castle remains a royal residence, of course, and is open much of the year. A visit to Jane's grave, which is marked with an inscribed slab, can be combined with a tour of the state apartments and other parts of the castle.
Jane was very familiar with Windsor, and it was there in October 1536 that Henry threatened her with Anne Boleyn's fate when she begged him to spare those who took part in the Pilgrimage of Grace, a rebellion against the religious changes of the reign.
Anne of Cleves
Although Henry had seen a portrait of the German princess, Anne of Cleves, before committing himself to a diplomatic fourth marriage, he found that she was not as described. After complaining that she smelled, was badly dressed and that he doubted her virginity, the marriage was never consummated.
Richmond Palace stands close to the River Thames and can be reached by boat or train from central London. Although the surviving palace buildings are not open to the public, they can be viewed from the outside. Anne of Cleves was abruptly sent to Richmond in June 1540, ostensibly to avoid the plague, but in reality as the first step toward her divorce. Although shocked, Anne had received such a limited education that she was reputedly unaware that her marriage remained unconsummated, she agreed to Henry's demands. She accepted a role as the king's "sister" and a large divorce settlement, including Richmond Palace. Richmond, which became Anne's main home, was lavish, with extensive royal apartments. Though little remains of the palace today, the gatehouse, which is a private residence, is particularly impressive when viewed from Richmond Green.
Anne of Cleves House, a picturesque half-timber building in Lewes, Sussex, was one of a number of smaller properties granted to Anne to provide her with rental income following her divorce. While it is a small property and one that she never visited, it is intriguing to explore the quiet rooms of the house, furnished as they would have been in Anne's time, and the beautiful Tudor-inspired gardens.
Catherine Howard
While Henry doubted Anne of Cleves' virginity, he failed to notice that his teenaged fifth wife, one of Anne's maids, had something of a past, publicly referring to her as his "rose without a thorn."
A visit to Cambridge should always include King's College Chapel, which is cathedral-like in its proportions and grandeur. Henry VIII took a personal interest in the chapel and a number of his additions remain, such as an organ screen that bears his initials entwined with Anne Boleyn's. A stained-glass window depicting King Solomon, prepared during Catherine's marriage, presents the Queen of Sheba as a fair-haired and striking young woman, kneeling before the king. Henry was the model for Solomon and the Queen of Sheba is recognized to be a rare contemporary likeness of his fifth wife.
Following a northern progress, in the autumn of 1541, Henry VIII returned to Hampton Court just outside London to learn that his wife had been sexually involved with two men before her marriage. He initially refused to believe the allegations, but, after further inquiries, called angrily for a sword to cut off his wife's head himself. Catherine was confined to her apartments and legend has it that she escaped and rushed to plead hopelessly with the king. The ghost of the hysterical queen is still said to make this last desperate attempt in the haunted gallery at Hampton Court. Catherine was beheaded the following February after evidence emerged of a further adulterous affair. Hampton Court, with its fine Tudor apartments, has connections with many of Henry VIII's wives. It is with Catherine and the trauma of her arrest, however, that the palace will forever be associated.
Catherine Parr
Catherine Parr had already been widowed twice when she caught the king's eye. Although famous for surviving Henry, she narrowly escaped arrest for heresy during the reign and outlived him by less than two years.
Catherine was born at Kendal Castle in Cumbria, her family's ancestral home, and she retained connections with the area as an adult. The castle is an imposing ruin above the Lake District town and is open year-round with free admission. It is well worth the steep walk up the hill to visit the surviving tower and other ruins. The town museum has further information on the castle. A Parr chapel in the church contains Catherine's grandfather's tomb and other items associated with the family, including depictions of Catherine's badge as queen.
Within weeks of Henry VIII's death, Catherine caused a scandal by marrying her earlier suitor, Thomas Seymour, with whom she had enjoyed secret nocturnal meetings in the gardens of her London residence. In the summer of 1548, Catherine travelled to Sudeley Castle in Gloucestershire to give birth to her first child, sadly dying only a few days afterward. She was buried at the castle and, although her grave was later disturbed, a new tomb was subsequently built for her in the chapel in the grounds. The castle is open to visitors and contains objects associated with Catherine, including a tooth and some of her hair. The displays and exhibitions focus so much on Henry VIII's sixth wife that it is possible to get a real sense of her presence.