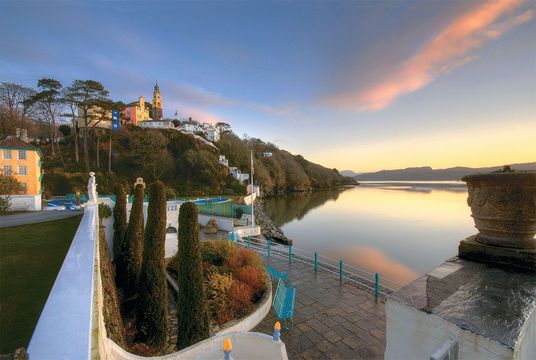 It's not your usual seaside resort. This picturesque North Wales is a striking feat of architecture that influenced the development of postmodernism.
In 1925, architect Sir Clough Williams-Ellis decided to take a small rundown area in Gwynedd, North Wales, and turn it into a little slice of Italy. It would not be the Italy of pastel sugar cubes tumbling down the hillside, nor of shaded streets and flapping laundry, but one with architecture evoking elegant buildings, statuary, piazzas, gardens, and fountains. The striking result, Portmeirion, has been credited with influencing the development of postmodernism in late 20th-century architecture. 
Williams-Ellis spent 20 years searching for a spot to create what he envisioned as a little coastal village on a cliff, island, or estuary. At last, he found it virtually on his doorstep and bought the land for around £3,500. Once the site of a 12th-century castle owned by Williams-Ellis' ancestor, Gruffydd ap Cynan, it had become a private estate called Aber Ia, translated variously as "Ice Estuary" or "Frozen Mouth." Williams-Ellis didn't find this appealing and cobbled together a name based on its location as a port and Merioneth, its county. Today, Portmeirion is a major Welsh tourist destination.
Visitors may think they are arriving at a village, but it is one with no school, church, council rooms, or, in fact, villagers. And it requires an admission fee. Instead, there are souvenir shops, self-catering cottages, restaurants and tea shops, an art gallery, and a five-star hotel, all shaded by palms, eucalyptus, monkey puzzle trees, and even a giant sequoia. The whole village is owned by a charitable trust.
Although Williams-Ellis took the Italian town of Portofino as his model, he added whatever his fancy directed. Those wrought-iron shop signs would look at home in Bavaria, and surely that blue tile wall plaque came from Portugal. Even the church is merely a clock tower. St. Peter reads a scroll from the roof of a tea shop and self-catering cottage. Whimsy reigns. The architect's sculpted head flanked by two satyrs welcomes visitors to the loos. A 19th-century pine figurehead tops an old gas pump. The Pantheon's ornate gothic exterior started life as a minstrels' gallery over a fireplace. One visitor summed up Portmeirion as "a fantasy of an oddity."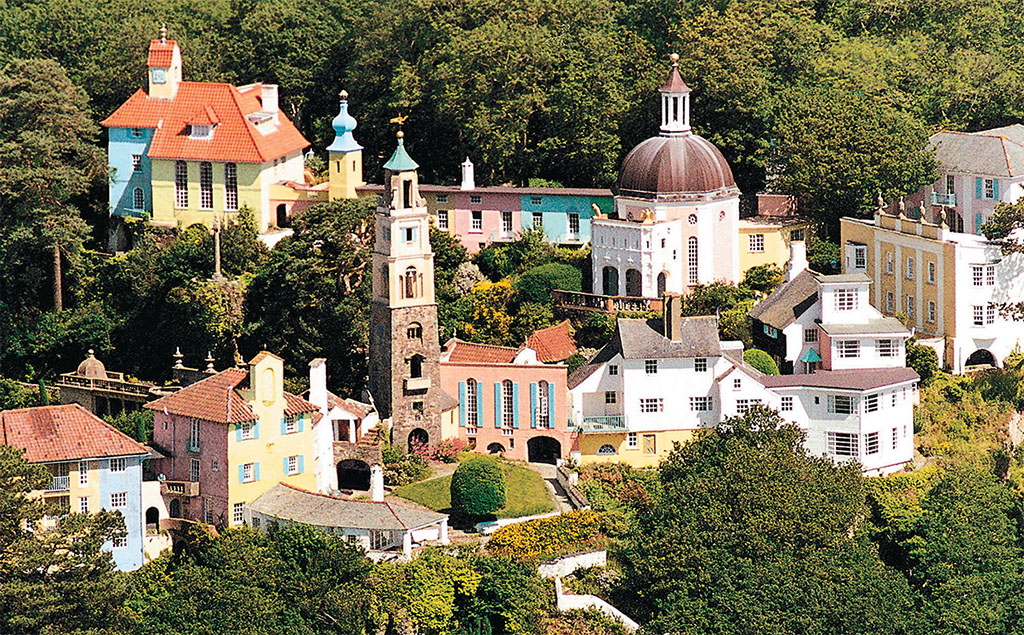 4
Visitors can view a video on the village's evolution. Its creator, in his characteristic yellow gaiters, strides through the town as buildings grow. Or, take a short walking tour, then hop a little tram through the green belt called Salutation Wood. As carefully planned as the village itself, the Wood's Chinese bridge, classical temple and dog cemetery overlook plantings of rhododendrons, holly, bamboo, banyan and eucalyptus.
Williams-Ellis had hoped to incorporate Castell Deudraeth, an actual medieval castle located in the woods just outside the village, into the complex, but it wouldn't happen in his lifetime. By 1931, when Williams-Ellis bought it from his uncle, the castle had become a pseudo-Gothic Victorian mansion. World War II and other factors prevented him from doing anything further with it. In 2001, it finally opened as an 11-room hotel and restaurant.
Occasionally, American visitors to Portmeirion are struck with deja vu, as they recognize the setting for The Prisoner, a highly popular television show made in 1967 and again in 2009. It spawned several homages and a few parodies, and inspired other shows, such as Dr. Who, to use its colorful setting as a background. Fans keep coming back for annual Prisoner conventions, and the fictional lead character's home in "The Village" is a Prisoner-themed souvenir shop.
Loyal fans can see the Prisoner's jacket and sit in his chair. Most are Brits, but a fair number of Americans still sympathize with the Prisoner's plight. Some scenes from the 1958 film The Inn of the Sixth Happiness were filmed in Portmeirion as well, with local children depicting Chinese orphans.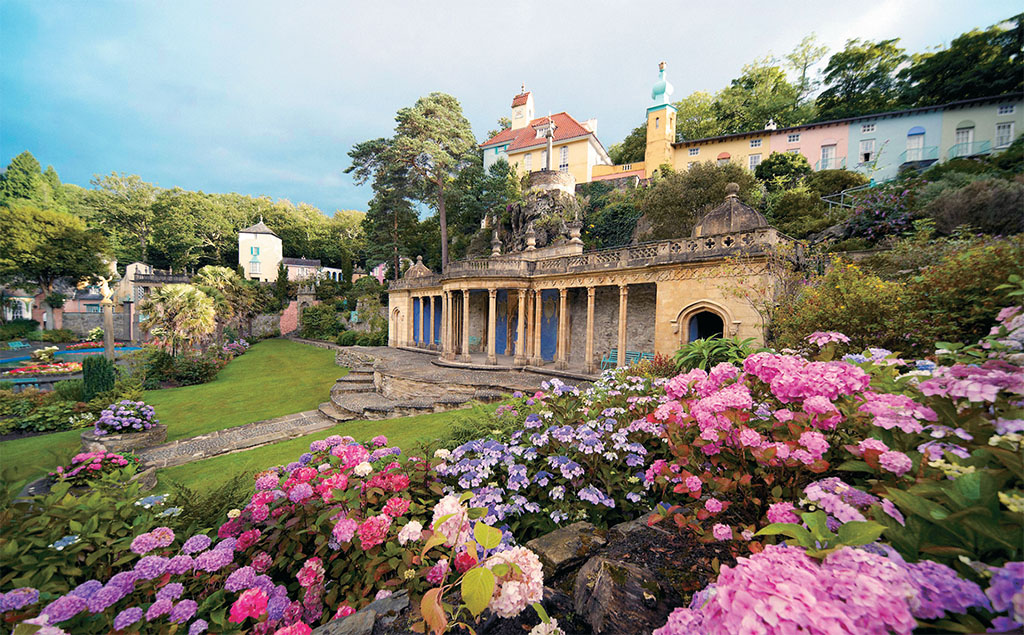 4
Festivals keep Portmeirion lively throughout the year. Festival No. 6 (that was the Prisoner's name) won an award for "Best Small Festival." There are two annual Christmas celebrations as well. Some say they prefer the town in winter when the crowds are smaller, hotel rates lower and snow adds its charms to the architecture.
Many stay in Porthmadog, six miles away, and easily reached by car, taxi or bus. Porthmadog is a comfortable village with plenty of accommodation, pubs and restaurants. It has an excellent maritime museum and is surrounded by some of the most gorgeous scenery in Wales—making it a hub for hikers, cyclers, campers, pony trekkers, climbers and boaters. Porthmadog is also convenient to Carnarvon, Harlech, Snowdonia National Park and the Llechwedd slate mines of Blanau Ffestiniog. Railhead for the steam train that once carried slate to England, the town now boasts the gleaming and restored engines and cars of the Ffestiniog Railway, which carry visitors to two slate mine tours that are among the top attractions of North Wales.
Porthmadog also cherishes a little-known legend: Who were really the first to sail to and colonize North America? Columbus, the Vikings, a lost tribe of Israel—or a Welsh prince named Madoc ap Owen Gynneth? The story has its detractors, but many in this village firmly believe it. They point out the spot in the estuary at Tremadog, just up the road, from which the prince sailed. The more romantic-minded tell the story like this: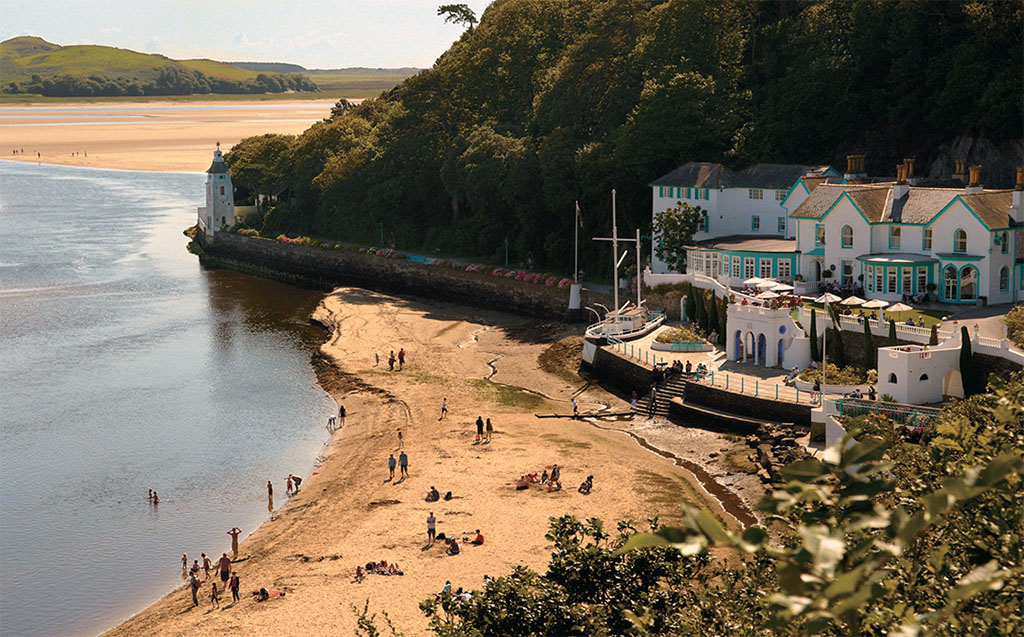 4
Madoc was the son of Owen Gynneth, one of the greatest Welsh rulers of the Middle Ages. After the king's death, bloody family fighting broke out, and Madoc wanted none of it. In 1170 he sailed off to find a place of safety, with several ships of men, women and children. Some 100 of them disembarked in a promising new land, and Madoc returned to Wales for more. According to the legend, their new home may have been Florida, Alabama, Rhode Island, Kentucky or Panama.
They intermarried with the natives and produced Welsh-speaking, light-skinned, blond descendants, who built hill forts, sailed in coracles, lived in wattle-and-daub huts and were familiar with the rudiments of Christianity. Like the legends of Robin Hood, it may never be proved. But don't tell them in Porthmadog!