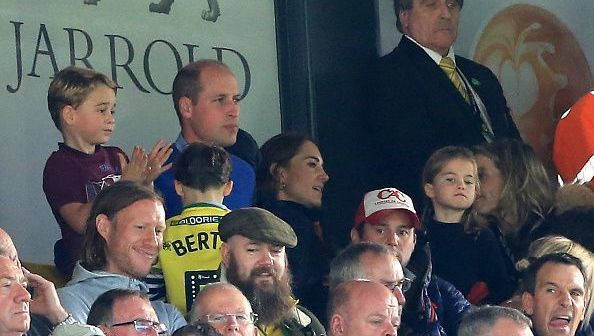 Football in England is nearly a religion. And it looks as if Prince George has fallen in love with the beautiful game 
Aston Villa are a football club based in Birmingham with a rich history and a huge fan base. It is well known, however, that their most famous fan is Prince William himself.
While it is rumored that Queen Elizabeth supports the mighty Arsenal Football Club, based in North London, Prince William chose to devote himself to Aston Villa, who have in recent years gone through a mixed bag in terms of their results on the pitch.
Read more: Visiting London in Winter
It would appear that he has taken the first steps in initiating Prince George to the Aston Villa ranks, as he took him and Charlotte to their game against Norwich City FC this weekend.
And what a game it was for Villa! They managed to come away with a fantastic 5-1 win, away from home. Even the most die-hard of Villa fans will admit that a victory by a margin like this is unusual.
Footage emerged during the game of Prince George jumping for joy, and celebrating after every Villa goal. Could he be a good luck charm for the Villans? 
Have a look at the clip below, courtesy of Access
Read more: Who was Queen Mary I?