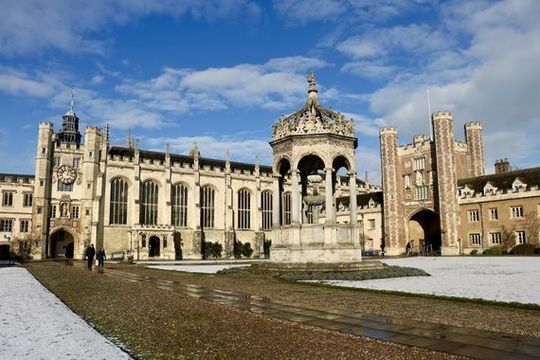 Oxford and Cambridge, with their prestigious universities, retain an ancient appeal for students and visitors alike
Those soaring spires of Oxford and the sprawling meadows that extend to the River Cam in Cambridge enchant all who visit. While there are those who prefer the unique charms of one over the other, each has so much to offer it would be a shame to miss either. Oxford and Cambridge, both "town and gown," have featured in countless novels over the centuries, and they've been the sites for a number of films. 
The two universities have set a high standard for academic excellence for centuries. A degree from either carries great prestige, and continues to be a solid steppingstone to a successful future. More than 30,000 students study at Oxford and Cambridge each year. While it may not be as common as it once was to see students with black academic gowns flapping in the wind as they toddle around on bicycles, they still dominate each town with their youth and energy. 
Though England has other universities, Oxford and Cambridge are seen as peerless—so much so that the term "Oxbridge" was coined to refer to these educational institutions or to "the old-boy network" of graduates who dominate the political and economic life of Great Britain. William Thackeray first used the term in his novel Pendennis, in which the title character attends a fictional college at Oxbridge. 
Both universities have been in the business of education for more than 900 years, with Oxford taking the lead. Its three oldest colleges, Bailiol, Merton and University, have been joined by 36 other colleges; each usually presided over at the entrance by a porter in bowler hat who seems to have been there forever. Each college has its own network of passageways, spiral wooden staircases, academic halls and individual chapels, as well as a friendly rivalry with the university's other colleges.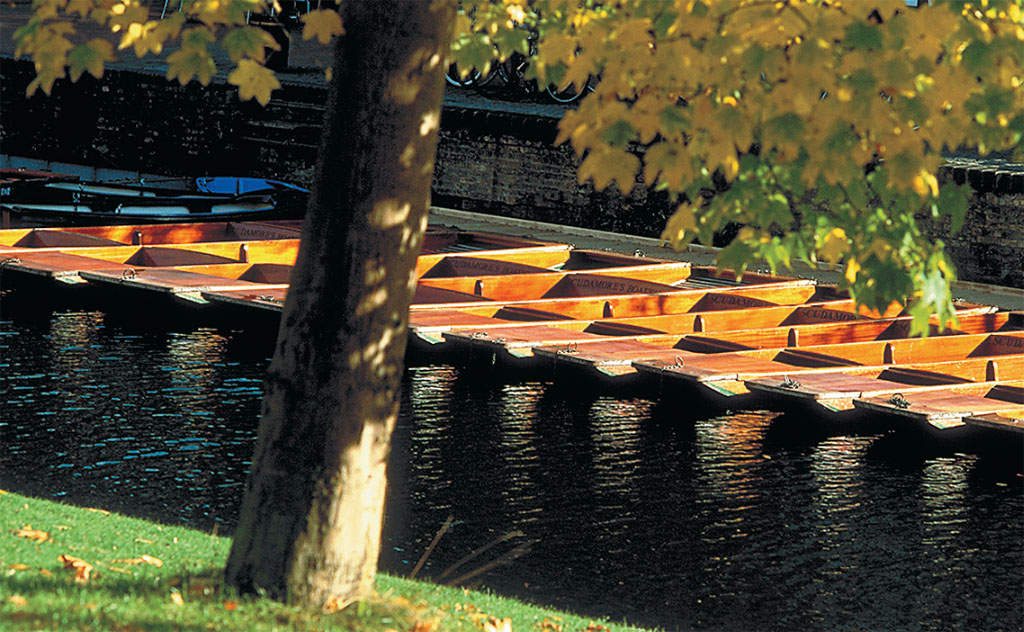 4
Some students hastily fled Oxford in 1209 after an incident with local townspeople, one of many such conflicts between town and gown in the Middle Ages. They settled in Cambridge, where Peter-house College, the first of the current 31 colleges, was founded in 1284. Its original hall remains.
While Oxford has its "quads," front quadrangular lawns around which the colleges are housed, and Cambridge has its "backs," extensive meadows behind each college that extend to the river, the schools have many similarities.
Both universities are dominated by architecturally ornate and beautifully designed academic buildings. Both have prestigious printing houses (Oxford University Press and Cambridge University Press), superb art museums (the Ashmolean in Oxford and the Fitzwilliam in Cambridge), highly regarded libraries and peaceful botanical gardens. The Botanic Garden at Oxford is the oldest in Great Britain, dating to 1621, while Cambridge's Botanic Garden was founded in 1762, though its present location dates to 1846.
While a family name and upper-class status once offered entry into these universities, Oxford and Cambridge are making tremendous efforts to reach out to students from state (public) schools, from low-income neighborhoods and from diverse backgrounds to achieve "positive discrimination." But a recent article in The Times pointed out that a third of all admissions to Oxford and Cambridge still comes from just 3 percent of elite independent schools. The fact remains, though, that a degree from Oxford or Cambridge is still highly regarded throughout the world, and both universities are making greater efforts to bring in students who might not have thought an education at one of these places possible.
Former Oxford student Evelyn Waugh drew from his personal experiences for his novel Brideshead Revisited. He wrote that one knows immediately if a new acquaintance has graduated from Oxford or Cambridge because he says so within five minutes of meeting. Today these universities stress that there is no "right background" for admission and that they are looking for students who enjoy a challenge and have done well on entry exams.
Students enjoy the benefits of a large university while being part of their smaller college community. The individual colleges, each with its own financial structure, are the center of academic and social life as students live and eat within their particular schools, especially during their first and last years of study. Most students "read" in a major subject and achieve a degree in three years. While lectures are common in American colleges, individual instruction in the form of "tutorials" at Oxford and "supervisions" at Cambridge are more the norm. There are three eight-week university terms: Michaelmas, Hilary and Trinity at Oxford; and Michaelmas, Lent and Easter at Cambridge.
Traditions do not change easily, and a dress code is still sometimes imposed for students taking examinations at Oxford. Men are required to wear dark suits, white shirts and white bow ties, while women must wear dark skirts, white blouses and dark stockings.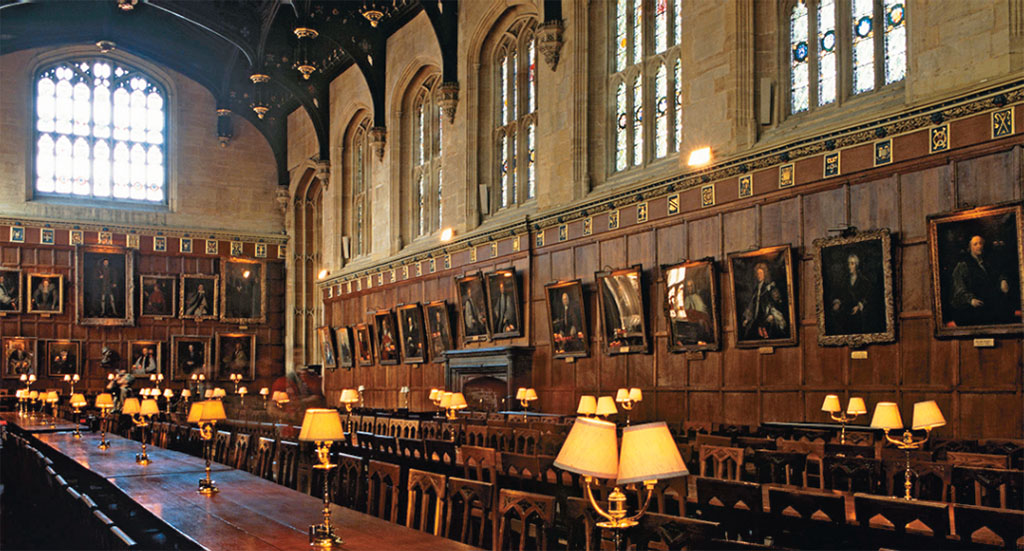 4
The towns themselves draw many visitors to make the easy day trip from London to explore the quaint streets and lanes, historic university buildings and other sights. Oxford, with its beautiful buildings made of Cotswold sandstone that changes color with the light, would probably be a hub of activity even without a major university, because of the automotive companies headquartered nearby. But Cambridge seems to retain a quieter pace, and might have remained a tranquil country market town in the heart of East Anglia if the university did not exist. Cambridge has less motor traffic and more parks, though in recent years a number of high-tech companies have sprung up in and around its science parks—giving rise to its new nickname, "Silicon Fen."
Oxford is about 55 miles northwest of London. Nearby is the charming town of Woodstock, site of Blenheim Castle, the ancestral home and burying place of Winston Churchill. Frequent train service from central London's Paddington Station is available for the journey, which takes just under one hour. Oxford's formerly nondescript station was completely renovated several years ago to better accommodate this cosmopolitan city.
At the top of the curving High Street, considered by many to be the most beautiful street in England, is the 14th-century Carfax Tower, with 99 steps to the top and fantastic views over the city. Off the truly Broad Street is the Bodleian Library, affectionately known as "the Bod," the university's main library. It was named for Sir Thomas Bodley, who gave his extensive book collection to the university in 1602. The Radcliffe Camera just across the way serves as the Bodleian's main reading room. It is a distinctive landmark, with its circular dome and impressive parapet dating to 1737-1749.
One of the city's architectural treasures is the Sheldonian Theatre, with its imposing octagonal cupola and 12 busts of various Roman emperors adorning its façade. The Sheldonian was the first design project of Christopher Wren, the great architect of many of London's churches, including St. Paul's Cathedral. The theater was built in 1664 to host special ceremonies at Oxford University; today it's also the venue for classical concerts open to the public.
Pop into Blackwell's—Oxford's most popular bookshop, also on Broad Street—for a book about the city's history. Over on Beaumont Street is the Ashmolean Museum with lots of great artwork, including paintings by Bellini and Mantegna in the Italian Renaissance room.
Dating to 1774, the Covered Market in the center of Oxford remains a robust presence with food stalls brimming with fresh produce, baked goods and other items for a good, inexpensive picnic lunch.
The Cherwell Boathouse, a bit of a walk from the town center, is an excellent though expensive restaurant, while Brown's at 7 Woodstock Road or The Nosebag on St. Michael's Street offer good meals at reasonable prices. Like many college towns, Oxford has plenty of pubs where students and locals gather, but here they usually are in centuries-old historic buildings. Many of them, though centrally located, are hidden away in corners and lanes that you would almost have to stumble upon by chance. Three to look out for are The Turf Tavern, The Chequers and the Bear Inn.
Cambridge is about 50 miles northeast of London; about 50 minutes to one hour and 15 minutes by train from London's King's Cross or Liverpool Street stations.
Surrounded by rich farmland and the wetlands known as fens, Cambridge is dominated by the university. At the corner of Bridge and St. John's streets stands a 12th-century Round Church, the oldest of four such churches remaining in England. On Castle Street, the Cambridge Folk Museum gives a clear glimpse of what life in Cambridge was like as far back as medieval times.
Anyone visiting Cambridge must be sure to walk those "backs" or rent a punt (boat) to enjoy and revel in the beauty of the river and its tranquil setting.
The best restaurant in Cambridge may well be Midsummer House on Midsummer Common. But for a quick and reasonable meal, there is Michael's Brasserie, located in a quaint 18th-century building that was once an almshouse on Northampton Street; and Brown's, a sister restaurant to the one in Oxford, on Trumpington Street. Students flock to the Copper Kettle on King's Parade for a self-service lunch, to historic pubs like the Anchor and the Eagle and to the Little Tearoom on All Saint's Passage for traditional afternoon refreshments.
The main reason to visit Oxford and Cambridge, however, is to see the stunning architecture of many of their colleges. While colleges may be closed during school holidays, they are generally open to visitors for a few hours each afternoon.
Perhaps the most impressive college in Oxford is 16th-century Christ Church College, situated around the splendid Tom Quad and its magnificent cathedral. The Great Hall within Christ Church College was the inspiration for the dining hall in the recent Harry Potter films, and the staircase leading up to the hall was actually used in those movies.
There are many beautiful college buildings to visit here, but the buildings and grounds of New College are particularly attractive. The 17th-century chapel within Trinity College contains an exquisitely carved screen and altarpiece attributed to Grinling Gibbons, the master carpenter who worked closely with Wren on his designs. Trinity is the largest college in Cambridge. Sir Isaac Newton studied here and lived in rooms on the first floor.
King's College and its chapel, built during the reign of Tudor kings, are spectacular. The chapel's treasures include its famous stained-glass windows and the altarpiece of Ruben's "Adoration of the Magi," painted in 1634 but only presented to King's in 1961. The King's College Choir is one of the best-known in the world, and anyone visiting Cambridge should hear it at evensong.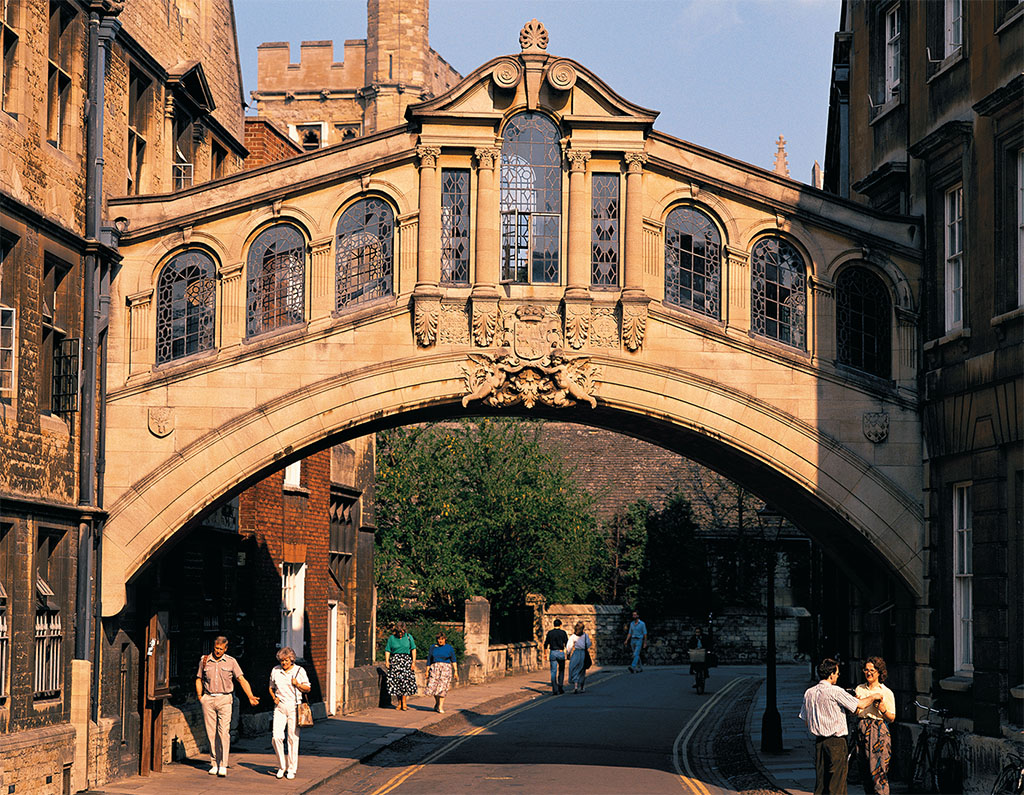 4
Magdalen (pronounced "Maudlin") College contains the famous Pepys Library, where the famous diarist's books are kept on the original oak shelves he had made for them in the 1600s.
Christopher Wren also has a presence in Cambridge, having designed the chapel of Pembroke, the third oldest college here. This chapel is one of his earliest works and will seem familiar to anyone who has visited the London churches designed later in his career. Be sure to go over the Bridge of Sighs in each university city. The 1831 Bridge of Sighs at Cambridge spans the River Cam, connecting the buildings of St. John's College. In Oxford, the Bridge of Sighs dates to 1914 and is situated over New College Lane with its blackened stone buildings.
Finally, stand in the yard at Trinity College in Cambridge and remember the sprinters in the Oscar-winning film Chariots of Fire, who practiced by running around the two-acre yard before the college clock struck 12. Walk down an Oxford street and imagine Inspector Morse, the detective created by Colin Dexter and portrayed so well by the late John Thaw in the British television series. A Who's Who of past students at Oxford and Cambridge would include great politicians, world leaders, famous actors, musicians, writers, scientists and Nobel Prize winners.
Though the eternal question remains "Oxford or Cambridge," why should one have to choose?