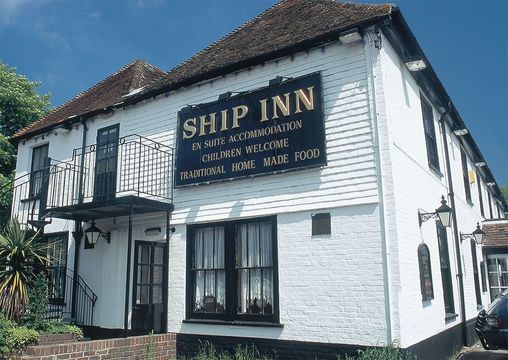 Parsons, piracy and pints play along Kent's southern coast
The first thing I discovered about Romney Marsh was that it isn't a marsh. At least not anymore. It used to be very marshy indeed, but that was a long time ago. The Romans drained most of it, and the Saxon Kingdom of Kent pretty much finished it off before King Alfred's time.
A few parts are more recently reclaimed. Eight hundred years ago it had a navigable inlet running right up its center, its inland towns of Rye and New Romney were deep-water ports, and its pebbly shingle beach at Dungeness had not yet grown to its present gargantuan size.
But apart from these medieval bits, Romney Marsh has been level farmland for 15 centuries.
This was a disappointment. I was expecting high rushes by still pools, herons poised on stilted legs and ducks morning mists hanging over the ponds and evening sunsets gleaming red on reflecting waters.
Okay, I also wanted masked horsemen galloping madly in the moonlight, led by a cavalier figure disguised as a scarecrow. I wanted the Romney Marsh of Dr. Syn.
Noted actor Russell Thorndike created the fictional Dr. Christopher Syn, rector of Dymchurch, in his 1915 thriller of that name—a breathtaking account of Romney Marsh smuggling at the close of the 18th century. Thorndike's tale weaves together supernatural horror and bloodcurdling crime as it follows the meek, beloved rector and discovers his chilling secret.
Most astonishing is the novel's completely amoral nature, its sympathetic characters being openly and viciously criminal, and the upright enforcers of the law given to actions as harsh as their opponents.
Dr. Syn has been made into movies three times, including a 1962 Walt Disney production (The Scarecrow of Romney Marsh) that made the smugglers into a sort of happy Robin Hood gang intent on social justice. Be assured that Thorndike's characters are not at all nice, and they all get what they deserve.
Russell Thorndike, like his fictional protagonist, knew the marsh well; he spent summers at Dymchurch from the 1890s until his death in 1972, and in Dr. Syn he would describe this seaside village minutely. The rectory looked out over the church, and the good doctor would compose his sermons in his front parlor, by a
bay window facing the graveyard. He would preach long and restful sermons, after which his seafaring parishioners would belt out hymns as if they were chanties.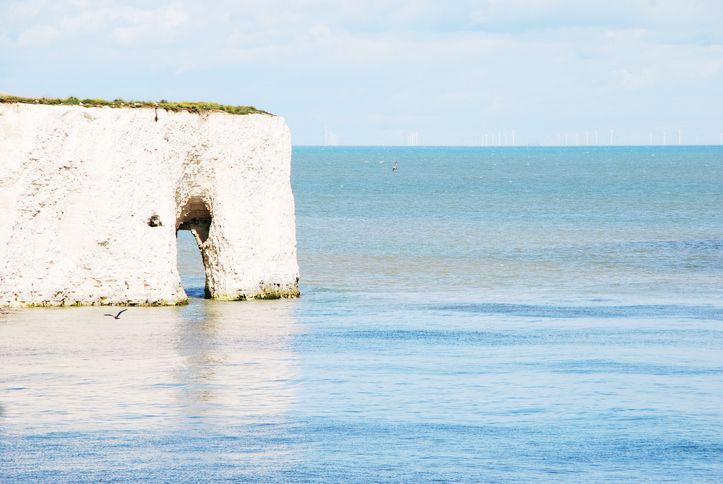 4
After church, Syn would dine with the local squire, while his sexton, the comical little Mipps, would mesmerize the crowd at the Ship Inn with stories of piracy and adventure on the high seas. Some evenings, the mild-mannered man of the cloth would enjoy a pint at the Ship Inn with his parishioners, claiming that "a parson drinking with the men in a public inn had a good effect upon the parish, for a good parson, as a good sailor, should know when he has had enough." And on a blowy afternoon he would walk along the seawall, deep in thought, perhaps composing a sermon—but singing softly to himself a most inappropriate sea song:

Oh, here's to the feet that have walked the plank, Yo ho! for the dead man's throttle, And here's to the corpses floating round in the tank, And the dead man's teeth in the bottle.
"He was as proud of this song as if he had written it himself," wrote Thorndike.
I visited Dymchurch 90 years after Thorndike penned Dr. Syn, and 200 years after the good doctor's time. I found it much changed. Modern Dymchurch is a thriving seaside resort complete with large caravan parks, amusement rides and arcades—a testament to the English love of the sea, for it beach is naught but small rounded flints piled under the towering seawall. Nor is this the only such resort town on the marsh's seaward edge; development lines the shingle for miles to the south.
However, the beach becomes a glorious thing as the resorts finally give out at the far southern end of the marsh, at Dungeness. Here I could see the shingle extending unbroken a quarter mile from the roadside to the sea, and I could finally see the local fishing boats pulled up onto the stony shore, just as in Dr. Syn's time. Inland, the shingle extends for miles, part of the great deposition that closed up the southern end of the marsh in medieval times. It's a desert, and like many deserts, remarkable in its barren beauty and surprising ecological diversity. A huge nuclear power plant adds a dramatic backdrop.
From Dungeness stretch the empty marshes, flat farmlands cut by drainage channels known as "sewers." The scenery is old enough to be interesting and to have a few fine ancient villages. New Romney was a river port until the 1280s; now there's no sign of water for many miles around (apart from the sewers), and the river flows miles to the south. Lydd, another substantial village, is filled with eclectic architecture and has a remarkable parish church with a skyscraper of a tower. In contrast, St. Mary in the Marsh is little more than a church and a pub thrown together on an isolated hillock. It's a beautiful spot, beloved of children's author E. Nesbit, who made her final home here.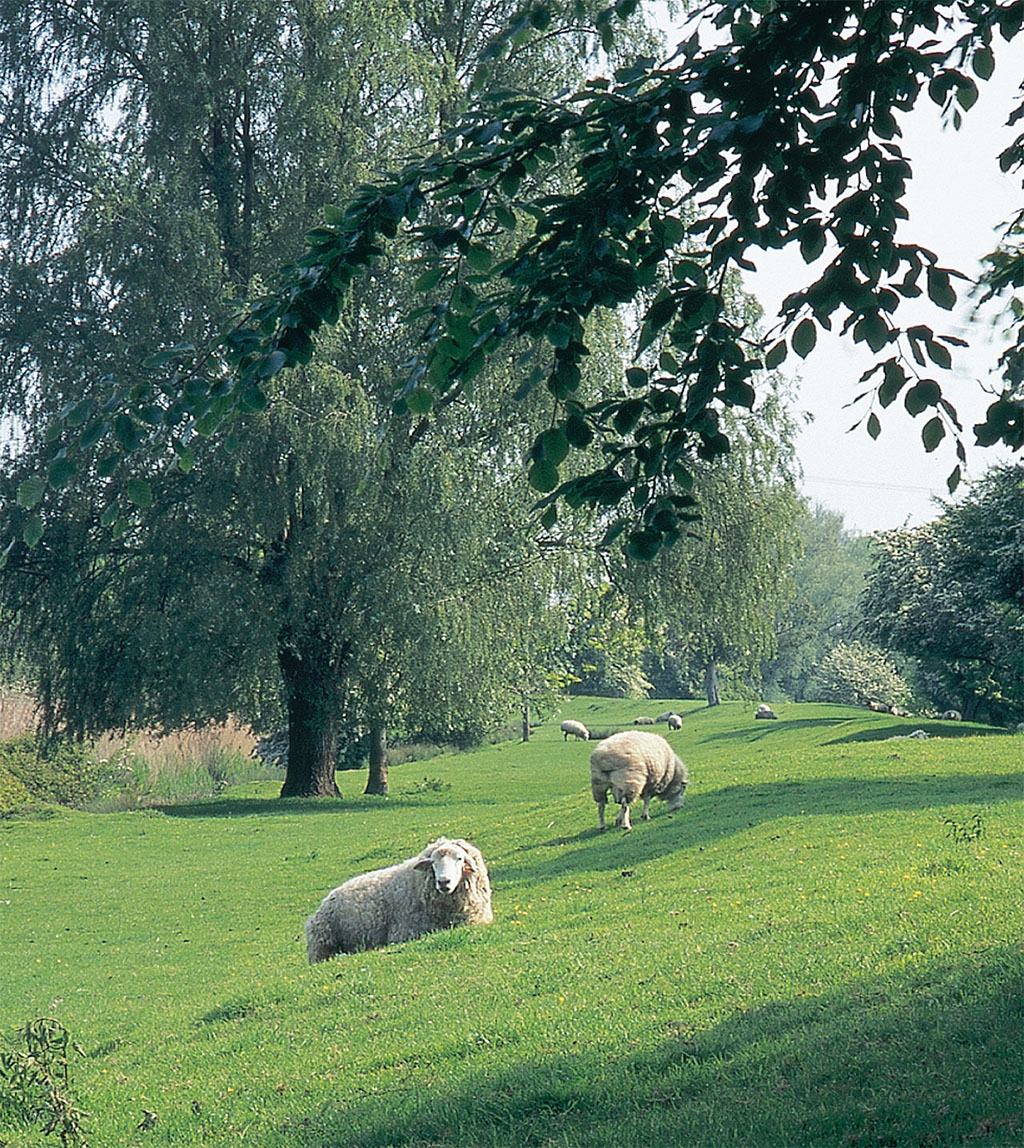 4
Back at Dymchurch, I was trying to find Thorndike's old fishing town, hidden under the modern resort. Walkers strolled along the high, wide wall top (once the main road into Dymchurch), following Dr. Syn's example of enjoying the blowy May weather and exceptional sea views. The church is a delight, a fine medieval Kentish structure with a large balcony; one could easily imagine it filled with fisherfolk depicted in Dr. Syn, "whose voices would roll out some sturdy old tune like a giant p'an, shaking the very church with its fury, and sounding more like a rum-backed capstan song than a respectable, God-fearing hymn."
The best part of Old Dymchurch, though, is the Ship Inn. Founded in 1452 and in continuous business for over a half-millennium, the Ship Inn is a classic two-bar pub with a separate restaurant and an upstairs B & B. Today its comfortable lounge bar is packed with Thorndike and Dr. Syn memorabilia—paintings, portraits and exhibits. The current rector had escorted a church group there, 24 elderly couples sipping wine and pints of ®ne local ale, following Dr. Syn's excellent example. The food was good, fresh pub fare, and the talk was good as well. And yes, that business about the smugglers is real; they will gladly show you the smuggler's hole discovered during a modern renovation. 
In fact, the wildest details of Dr. Syn are no wilder than the actual facts of Romney Marsh smuggling. Thorndike based his smugglers on an existing criminal organization of the 1820s, the notorious "Blues." Like Thorndike's fictional smugglers, the Blues was one of three such large-scale conspiracies in the history of Kentish smuggling organized by a criminal mastermind, George Ransley. Ransley deployed his gang in a highly military style, reminiscent of Thorndike's Scarecrow, executing complex operations involving as many as 250 smugglers at one time; Ransley even kept a doctor on staff to attend to the wounded.
Ransley was known to use the locals' fear of the supernatural to cover his army's movements. He was also known to engage in fierce battles with the revenue agents, much more murderous than the Scarecrow's efforts. The Scarecrow seems fantastic, but he was small potatoes next to Ransley.
The wildest details of

Dr. Syn

are no wilder than the actual facts of Romney Marsh smuggling.
It was a surprise and a delight to discover that Ransley and I had both chosen the same village for our headquarters—Aldington, on the high escarpment that forms the northern edge of the Romney Marsh. It's a lush and green land, where rich farms top rolling hills. Aldington's smugglers had supplemented their illegal income with hop farming, and I had the pleasure of renting the Lanary Oast, one of the area's fine old oast houses, wonderfully renovated into a self-catering cottage.
The distinctive, cylindrical hops oven, with brick walls 3 feet thick, held a round dining room on its first level and a round master bedroom on its second, while the main barn (where the hops were once stored) held the rest of the cottage. Like Ransley's gang, I would swoop down on an unsuspecting marsh, then retire in the evening, perhaps to the Walnut Tree Inn, Ransley's favorite hangout and still going strong as the village local.
Thorndike fingered the medieval walled town of Rye as a smuggler's den, and he did not exaggerate. Rye had been an open center of the smuggling trade since the 15th century, when its piracy businesses began to fail. By Dr. Syn's time its harbor had long since silted up, remaining open to only the smaller craft favored by fishermen—and smugglers. Once again, Thorndike's characters visit a real smuggler's den, the Mermaid, now a hotel and restaurant in the center of Rye's cobblestoned historic district. This is an area little changed in appearance from Dr. Syn's day, save for being clean and safe.
The Napoleonic coastal defenses, erected around the marsh in about 1805, were ultimately the smugglers'downfall. Warships, after defeating the French, could harass the smugglers. The 74 Martello towers built along the marsh coast, each five stories tall with a gun platform on top, could now spy out and capture smugglers. Then there was the strangest of all the coastal defenses: the Royal Military Canal, encircling the marsh on its landward side.
The government meant the canal to form a final line of defense against a French army, as if Napoleon's engineers didn't know how to cross a moat. After the war, the canal became an open, easily patrolled corridor with few bridges—yet another place to capture smugglers with their goods. Smuggling was becoming too difficult, too unprofitable. By the late 19th century, the smuggling trade had fizzled out.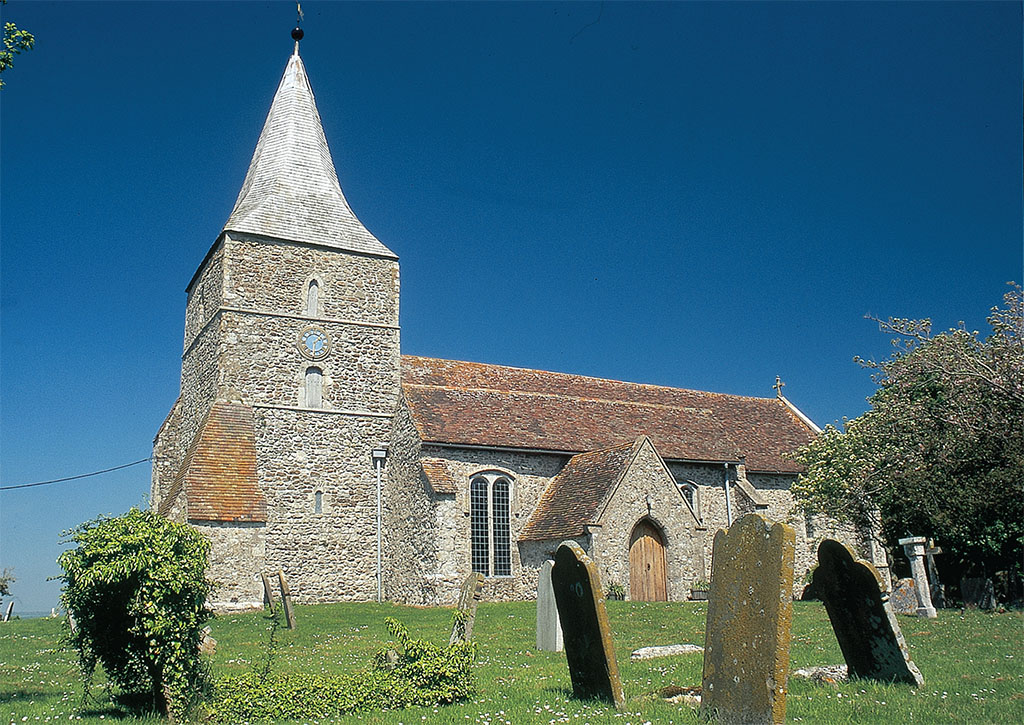 4
"Dymchurch is very quiet again," Thorndike concluded, perhaps writing in a corner of the Ship Inn, which he frequented for 50 years. Since 1963 the good citizens of Dymchurch have celebrated their smuggling heritage and their famous fictional parson with an annual Day of Syn, in which the Scarecrow once more emerges, dogged by Mipps, to lead the townspeople to smuggling and riches. And yes, the village rector always plays the part of Dr. Syn. He even gets to recite the doctor's song—if he dares:



For a pound of gunshot tied to his feet, And a ragged bit of sail for a winding sheet; Then the signal goes with a bang and a flash, And overboard you go with a horrible splash.
And all that isn't swallowed by the sharks outside, Stands up again upon its feet on the running tide; And it keeps a bowin' gently, and a lookin' with surprise At each little crab a scramblin' from the sockets of its eye
Storyteller and poet Rudyard Kipling (1865-1936) made his home in Burwash, East Sussex, near the western edge of Romney Marsh. The smuggling gangs were gone well before his day, but Kipling perfectly captures local attitudes toward the underground economy of those times. Though he declined many of the honors proffered him, Kipling accepted the Nobel Prize for Literature in 1907.
"Do you like Kipling?"
"I don't know. I've never kippled."
A Smuggler's Song by Rudyard Kipling
If you wake at midnight, and hear a horse's feet, Don't go drawing back the blind, or looking in the street.
Them that asks no questions isn't told a lie.
Watch the wall, my darling, while the Gentlemen go by!
………………………………….
Running round the woodlump if you chance to find Little barrels, roped and tarred, all full of brandy-wine,
Don't you shout to come and look, nor use 'em for your play.
Put the brishwood back again—and they'll be gone next day!
…………………………………..
If you meet King George's men, dressed in blue and red, You be careful what you say, and mindful what is said.
If they call you "pretty maid," and chuck you 'neath the chin, Don't you tell where no one is, nor yet where no one's been!
…………………………………..
If you do as you've been told, 'likely there's a chance, You'll be given a dainty doll, all the way from France, With a cap of Valenciennes, and a velvet hood—A present from the Gentlemen, along o' being good!
Five and twenty ponies, Trotting through the dark—Brandy for the Parson, 'Baccy for the Clerk;
Them that asks no questions isn't told a lie—Watch the wall, my darling, while the Gentlemen go by!