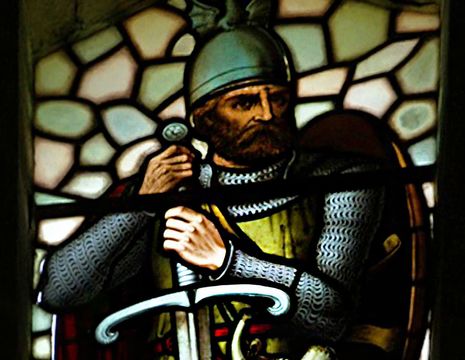 The Academy Award-winning film Braveheart managed to propel Sir William Wallace through nearly seven centuries. Through the magic of Hollywood, the infamous 13th-century Scottish hero has returned to his homeland and has once again created quite a stir.
After Scotland's September 1995 premiere of Braveheart at Stirling Castle, letters and columns about Wallace dominated Scottish newspapers. Many praised or criticized his legend, while others decried the film's lack of historical accuracy.
Director and star Mel Gibson said that he felt compelled to make the film after researching Wallace's battles against the English and attempts to reinstate John Balliol as king.
'I pored through history books to find out what was it that was driving [Wallace],' he told the New York Daily News. 'Was it money? Land? A crown? And I found it was none of these things.'
The film's script, by American screenwriter Randall Wallace (no relation), of William's life, love, and death owes much to Blind Harry, a 15th-century minstrel who put his rhymes into writing about 150 years after Wallace's execution. His dramatic saga of William Wallace's life and times survives as one of Scotland's best-known and best-loved stories. The Acts and Deeds of Sir William Wallace, Knight of Elderslie, possibly one of the first books printed in Scotland, sold more editions than any other Scottish book, with the exception of those of Robert Burns and Sir Walter Scott.
Wallace historians and biographers have continually disputed part or all of Blind Harry's narrative, but his account of the patriot's life does provide the most entertaining version of the tale. According to Blind Harry, Wallace was 45 when executed in 1305, although the commonly accepted date of Wallace's birth is 1270, making him a decade younger than Harry suggests. Most Wallace historians agree with Blind Harry's account of William's birth and parentage, although one recent biographer argues the location of Elderslie to be near Ayrshire, rather than Paisley. Wallace's uncle, a parson at Dunipace, near Stirling, apparently tutored him in Latin, English, and French.
Blind Harry used a heavy hand when sprinkling his tale with bittersweet passion. His mention of a young maiden named Marion Braidfute of Lamington, who Wallace allegedly courted and wed, provided the inspiration for Murron, Wallace's secret wife in Braveheart. No factual evidence of the marriage survives to corroborate Blind Harry's tale.
On the other hand, Wallace did murder Sir William Heselrig, English sheriff of Lanark, in May 1297. Wallace cut him to pieces, perhaps to avenge Marion's death at the hands of Heselrig.
One indisputable fact does exist--Wallace's military genius. Well-documented evidence survives of his first use of round schiltrons of spearmen. Even Sir Winston Churchill admired his fighting skills. After the Scots' brilliant victory at Stirling Bridge on 11th September 1297, Wallace was knighted and elected Guardian of Scotland, a position he resigned after his army's defeat at Falkirk.
One of the film's most intriguing twists is a pure Hollywood invention. A calendar puts the lie to the tale of Wallace's affair with Princess Isabella, wife of Prince Edward II, and his fathering of her child. Isabella and Edward II married in 1307, two years after Wallace's execution. Her son, Edward III, was born in the years that followed.
In Blind Harry's tale, Wallace similarly meets with an English queen, but, again, the timing of the account clashes with recorded historical dates. King Edward I was unmarried in 1298 when the meeting allegedly occurred; his first queen, Eleanor, died in 1290, and he did not marry his second wife, Marguerite, until 1299.
Still, Andrew Wallace of Edinburgh, next in line as Clan Wallace chief, relishes the idea that his patriotic ancestor fathered Isabella's child. 'We were particularly pleased that, after many hundreds of years, the British public now know that the Royal Family has some good Wallace blood in them,' he jokes.
According to historical accounts, Wallace went to France in 1299 to plead dethroned Scottish King John Balliol's case with King Philip IV. He may also have travelled to Rome to meet the Pope on his behalf before returning to Scotland four or five years later.
Upon his return, Wallace continued to harass occupying English troops, although on a much smaller scale than before. In 1305, Sir John Menteith, a former friend, betrayed Wallace and as a result, Edward I captured him at Robroystoun near Glasgow. Following his trial and conviction in 1305 in Westminster, the English executed Wallace by hanging, drawing, and quartering him at Smithfield on 23rd August 1305.
The violence of those distant centuries still incites Scottish nationalists. Following last September's premiere, they attempted to attract supporters by distributing posters and leaflets at theatres showing the film. The nationalists' attraction to Braveheart came as no surprise to Andrew Wallace. '[William] Wallace is and always will be a potent symbol of nationalism,' he says.
Nevertheless, the legend of William Wallace that has endured in the hearts and minds of the Scottish people for generations can now be shared by film-goers throughout the world.
* Originally published in 1996