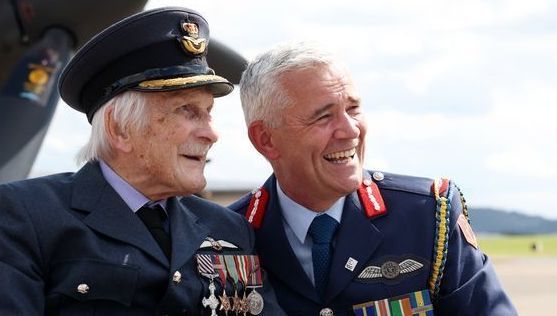 A 103-year-old veteran who flew for the Royal Air Force during World War II was honored at a special Veterans Day event. 
The Irish Air Corps celebrated a special centenary Veterans Day on Friday. July 22, with a fly-past by RAF aircraft and the Air Corps over Dublin in Ireland.
Group Captain (retired) John 'Paddy' Hemingway was also honored at the event, he is the last known Battle of France and Battle of Britain pilot.
The two veteran RAF aircraft - a Lancaster bomber and a Hurricane fighter aircraft - made a 'Battle of Britain memorial flight' over the Irish Sea
They were escorted into and over Dublin city airspace by the Irish Air Corps aerobatic display team, the Silver Swallows.
The six aircraft then flew in formation over Dublin city and the River Liffey.
Reunited at last!

Earlier today the Irish Air Corps celebrated a special centenary Veterans' Days in Casement Aerodrome, Baldonnel. As part of the event the Royal Air Force 'Battle of Britain Memorial Flight', accompanied by the Irish aerobatic display team 1/5 pic.twitter.com/otcfTxQi60

— Irish Air Corps (@IrishAirCorps) July 22, 2022
They landed at Baldonnel in west Dublin, where dozens of Irish Air Corps veterans and their families had gathered and Captain Hemingway was escorted out to see the planes and to meet the young pilots of today.
"Seeing the iconic and historic Lancaster and Hurricane flying in Irish skies was very special," said General Officer Commanding of the Irish Air Corps Brigadier General Rory O'Connor to RTÉ.
Born in Dublin in 1919, John Hemingway joined the RAF in 1938 and, following the outbreak of the Second World War, was assigned to 85 Squadron in France.
He was credited with destroying a Heinkel He 111 bomber and a Dornier Do 17. Hemingway was awarded the Distinguished Flying Cross for bravery after he endured being shot down four times during World War II.
He continued to serve in the RAF after the war until he retired as a group captain in September 1969. Today, he is the last surviving Allied fighter pilot from the Battle of Britain.