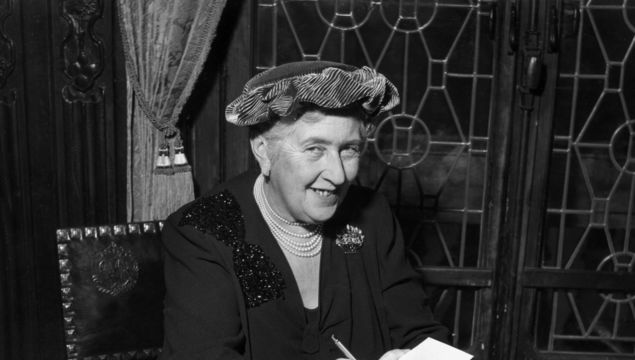 Agatha Christie was born on September 15, 1890. Follow the trail of one of England's best-known mystery writers from London to her beloved home of Torquay as we look at her life and times.
While London has undergone much change in the past 45 years, one constant has remained: Agatha Christie's The Mousetrap at a West End theatre. The great mystery writer's first play, The Mousetrap was originally written for BBC Radio as a birthday present for Queen Mary. The stage play opened at the Ambassadors Theatre on 25 November 1952 and relocated to St. Martin's Theatre in 1974 where it continues its record-breaking run today.
A visit to the Theatre Museum in lively Covent Garden also reveals traces of Agatha Christie the playwright. The museum displays the original playbills from The Mousetrap and Witness for The Prosecution, which won the New York Drama Critics' Award for Best Foreign Play of 1954.
Christie loved houses and while she spent a considerable part of her adult life at Greenway, (her home near Dartmouth) she also lived at various addresses in London over the years. She was particularly fond of the charming small mews house and garden at 22 Cresswell Place, a quiet cobblestone lane of small houses in South Kensington. A blue plaque over the doorway commemorates her residency there.
A visit to Brown's Hotel in London's elegant Mayfair also conjures up thoughts of Agatha Christie. Many readers will recognize Brown's as the model for the fictional hotel she called Bertram's. The first few pages of At Bertram's Hotel (1965) describe Brown's traditional décor and impeccable service. While there is no evidence that Christie ever stayed as a guest at Brown's, she often enjoyed afternoon tea in the same lounge as her fictional character, Miss Jane Marple.
Once you have explored London's clues to the 'Queen of Crime', to uncover the rest of the story, head south-west towards beautiful South Devon, and her beloved seaside town of Torquay.
To Torquay
British Rail offers service to Torquay from London's Paddington Station. By car, take the M4 west from London to the M5 south near Bristol. Follow the M5 to Exeter, then take the A330. Follow signs for Torquay. The distance is about 225 miles.
Agatha Mary Clarissa Miller was born at Ashfield, a Victorian villa, in Torquay, on 15 September 1890, to a well-to-do American-born father and an English mother. Torquay was then, as now, a fashionable resort, often referred to as 'The English Riviera' because of its beautiful beaches, mild climate, and semi-tropical vegetation. The long pier that dominates Torquay today was built the year Christie was born. As a child, young Agatha spent hours roller skating there.
On Christmas Eve, 1914, she married Colonel Archibald Christie, a dashing young airman she had met two years before. During the First World War, while Archie was off fighting on the Continent, Christie worked in the dispensary of a Red Cross hospital in Torquay. Here she gained the knowledge of medicines and poisons that she later used in her stories.
Agatha began her first detective story in 1915 following a challenge by her sister Madge. A year later, she completed the manuscript and sent it off to four publishers. After outright rejections from the first three and a long-delayed response from the fourth, The Mysterious Affair at Styles was finally published in 1921. This story introduced the dapper, meticulous, diminutive Belgian detective, Hercule Poirot, who would appear in many of her later works until his death in Curtain in 1975. In her autobiography, she wrote that the idea for Poirot's Belgian origins came from the fact that many Belgian refugees were in Torquay during the First World War.
In 1926 the publication of The Murder of Roger Ackroyd with its controversial and wholly unanticipated ending made Christie famous.
Agatha Christie and divorce 
At about this time, Agatha's mother died following a short illness. A few months later, after a dozen years of marriage, Archie asked Agatha for a divorce. Following these traumatic events, on 3rd December 1926, Christie mysteriously disappeared, abandoning her car by the edge of a pond. Nearly two weeks later, she turned up at a hotel in Harrogate in Yorkshire under an assumed name. Although amnesia was the official explanation given for her disappearance, the author herself never fully revealed the details of this enigmatic episode.
Christie continued to write during this period. The lovable Miss Jane Marple first appeared in Murder at the Vicarage in 1930. Miss Marple became a rival sleuth in Christie's fiction and Christie received many letters from fans requesting that Hercule Poirot and Miss Marple be featured together in a story. She justified her refusal in her autobiography by stating that she was sure the investigators would not have enjoyed it at all: 'Hercule Poirot, the complete egoist, would not like being taught his business by an elderly spinster lady.'
In 1930 Christie married Max Mallowan, an archaeologist, whom she accompanied on his excavations in Syria and Iraq, spending several months a year there. She wrote about these travels and experiences and used the material in several of her detective stories, including Death on The Nile and Appointment with Death.
Although she travelled to such exotic locales, Christie's life was forever intertwined with her beloved Torquay and she often returned to its sites and buildings in her stories, sometimes under different names. Today the Torre Abbey in Torquay has a room in its tower dedicated to Agatha Christie, filled with memorabilia of her life. Her trusty old Remington typewriter sits there in a place of honour.
In 1990, the Torquay Museum created the Agatha Christie Exhibition to celebrate the centenary of Torquay's most famous native. The first part of the exhibition focuses on the years from her birth up to the First World War with text from the author's autobiography accompanying rare family photographs. The second part of the exhibition displays scenes and characters from her stories.
Christie had a passion for food and might have enjoyed the excellent cuisine at Remy's in Torquay. This French restaurant, which opened more than a decade ago, provides an elegant atmosphere for dinner. For something less formal, the Poppy Tearooms offers breakfasts, light lunches, and traditional Devonshire cream teas in a Victorian setting.
The Imperial Hotel in Torquay offers a comfortable choice for an overnight stay. Agatha Christie often used this hotel in her stories, calling it 'The Majestic' in The Body in The Library, and featuring it in Sleeping Murder when Miss Marple enjoys the view from its terrace.
Follow up your visit to Torquay proper with a side excursion to Dartmoor National Park, an area that Christie knew and adored.
Local bus service is available from Torquay into the Park. By car, follow signs from Torquay for the A380 and then the A382, which crosses the Park. The distance to the village of North Bovey is about 20 miles.
This area of dark natural beauty was one Christie knew well and visited often. She stayed at the Moorland Hotel at Haytor in the Park in 1916 to work on her first mystery. In her autobiography, she describes how she spent her mornings writing and her afternoons walking the moors and working out her plots aloud to herself. Her portrait hangs in a prominent spot today in the Agatha Christie Bar at the hotel. The 13th-century Ring of Bells Pub in the nearby village of North Bovey also offers good food.
Agatha Christie lived the last years of her life in the historic town of Wallingford, near Oxford. She died there on 12th January 1976 and is buried at Cholsey, about 3 miles south-west of Wallingford. Although an autobiography, as well as several biographies, have been published, Agatha Christie valued her privacy and rarely granted interviews. She felt that writers should be judged by their work, not by who they are. Even today, an air of mystery lingers over her memory.
Once you have returned to London, you might spend some time at Murder One on Charing Cross Road. This bookshop specializes in mystery stories, and here you'll be able to complete (or begin) your collection of the works of England's best-loved mystery writer.
* Originally published in 1997.