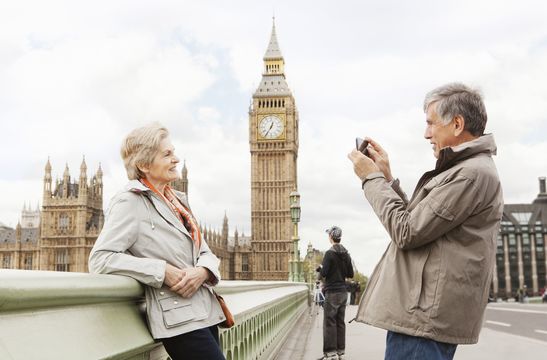 Join in on social media next week and post your British vacation photos for English Tourism Week, May 25 - 31, 2020.
VisitEngland has announced that 2020's English Tourism Week, with the aim of highlighting the economic importance and value of tourism to local economies across England, is going virtual.
English Tourism Week is an annual celebration of the tourism industry, a week dedicated to showcasing what England's tourism has to offer.  For this year's event, being held from 25-31 May, VisitEngland and local destinations are asking politicians, local authorities, the British Government, and other stakeholders to shine the spotlight on the importance of tourism to the local, regional and national economy and pledge their support to the sector's recovery.
Read more: Take a virtual tour of Britains top tourist attractions during quarantine
VisitEngland has this year asked MPs to record video messages for use on their social media channels during English Tourism Week, pledging their support for tourism and highlighting the sector's economic importance to their local economies.
On Thursday 28 May, as part of English Tourism Week, VisitEngland is also asking MPs to share photos and social media posts from previous English Tourism Weeks or from their favorite English holiday destinations using the hashtags #ThrowbackThursday and #EnglishTourismWeek20. 
Tourism Minister Nigel Huddleston said: "English Tourism Week recognizes the important role the industry plays in our local, regional and national economies, supporting jobs and attracting investment. This is a challenging time for the industry and we're providing support through an unprecedented government package for businesses and workers. I hope everyone will use English Tourism Week as an opportunity to celebrate the sector, and we'll be encouraging people to book a great British holiday as soon as it is safe to do."
Read more: A look at the renovated Buckingham Palace
VisitEngland Director Andrew Stokes said: "English Tourism Week is all about highlighting the economic benefits that tourism brings to local economies, celebrating our diverse and exciting sector, and showcasing the quality, range, and value of English tourism.
"While we cannot run events, as usual, this year, the spirit of the week has never been more important. Tourism has been one of the first and hardest hit economic sectors due to the COVID-19 pandemic and this year's virtual week is dedicated to showing support for the industry, the millions of people who work in it, and the hundreds of thousands of businesses impacted.
"It is also about looking towards the future recovery and doing everything we can right now to ensure that tourism can bounce back to once again become one of the most successful and vibrant sectors of the economy."
Read more: A room with a view - Edinburgh!
For more information visit www.visitbritain.org.