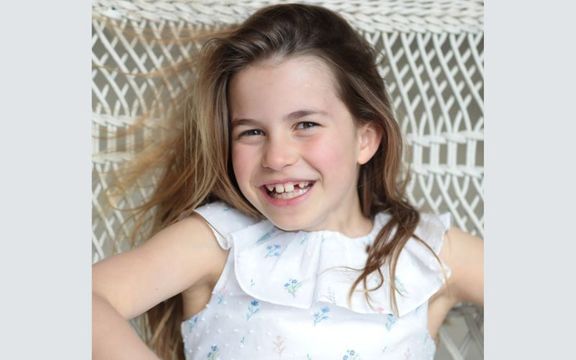 Princess Charlotte celebrates her 8th birthday on May 2 and to celebrate Kensington Palace has released new photos of the Royal.
Photos of Princess Charlotte, the daughter of the Prince and Princess of Wales have been released for her 8th birthday, on May 2. Charlotte who looked uncannily like her father Prince William in the shot is pictured in a white dress patterned with flowers and sitting in a white chair.
Charlotte is the second child of William and Kate. She has two brothers - Prince George (9) and Prince Louis (5). Her full name is Charlotte Elizabeth Diana and she is third in line of succession to the British throne, behind her father and her older brother.
Wishing Princess Charlotte a very happy birthday! 8 tomorrow 🎈🎂

📸 The Princess pic.twitter.com/0N8Aaxl8s9

— The Prince and Princess of Wales (@KensingtonRoyal) May 1, 2023
When Charlotte was born on May 2, 2015, several landmarks were illuminated pink to mark her birth, including Tower Bridge, the London Eye, and the Trafalgar Square fountains. There were also gun salutes at Hyde Park and the Tower of London. 
She was named to honor her grandfather King Charles, her late great-grandmother Her Majesty Queen Elizabeth and her late grandmother Princess Diana. 
Her godparents are her parents' cousins Laura Fellowes and Adam Middleton, and family friends Thomas van Straubenzee, James Meade, and Sophie Carter.
Charlotte started her education at the Willcocks Nursery School, near her family's home in Kensington Palace, in January 2018. She joined her brother Prince George at Thomas' School in Battersea in September 2019, where she is known as Charlotte Cambridge.
Despite the efforts of her parents to shelter their children from the press, Charlotte is a major children's style icon. Retailers, particularly in clothing, benefit greatly from their products appearing in photographs of the Princess. The phenomenon has been referred to as the "Princess Charlotte effect" or "Charlotte effect".
The Princess' birthday comes shortly after her brother's, Prince Louis, who turned five on 23 April, and her parent's wedding anniversary on April 29. It's a big few weeks in the "Cambridge" household. 
Happy Birthday, Princess Charlotte!