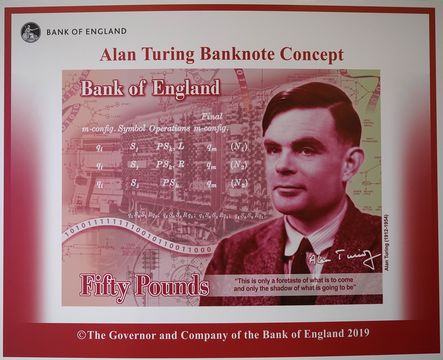 The Royal Mint recently revealed that WWII code breaker Alan Turning will be the face of its new £50 note. But who is Alan Turning and what's made him so iconic?
Alan Turing was a visionary mathematician, WWII code breaker and a man who was convicted under Victorian-era homophobic laws which eventually saw the government pardon all those also convicted for similar crimes. 
Read more: Royal Mint releases D-Day coins
Why Turing?
Bank of England Governor Mark Carney announced that Turing will appear on the new polymer note by the end of 2021. Speaking about the decision, Carney said: "As the father of computer science and artificial intelligence, as well as war hero, Alan Turing's contributions were far ranging and path breaking."
Turing was played by Benedict Cumberbatch in the film The Imitation Game. 
Turing & WWII
Born in 1912, Turing and his colleague are believed to have shortened WWII by several years with their code breaking discoveries. 
Turning worked for the British Government's Code and Cypher School before World War Two broke out. In 1939, he began working at Bletchley Park in Buckinghamshire, where top secret work was carried out to crack Germany's military codes. 
Read more: The real story of King Edward II and his husband
Turing's main job at Bletchley was to crack something called the 'Enigma' code. The Enigma was a type of machine used by the German army to send secret messages.
Turing and another code-breaker called Gordon Welchman invented a machine known as the Bombe. This device helped to significantly reduce the work of the code-breakers.
Most of his work was carried out in secret, and it wasn't until after his death by suicide in 1954 that stories about him began to circulate. 
The Alan Turing Law
Turning, who was gay, is also the man behind the Alan Turing Law, which allows for men previously arrested for homosexual activity to be pardoned.
This came about after Turning was arrested in 1952 for homosexual activity. It wasn't until 2013 that he was pardoned for his crime by Queen Elizabeth II, and finally in 2017 the government agreed to officially pardon men accused of 'crimes' like this, meaning they will no longer have a criminal record. This pardoning has come to be known as the Alan Turing law.