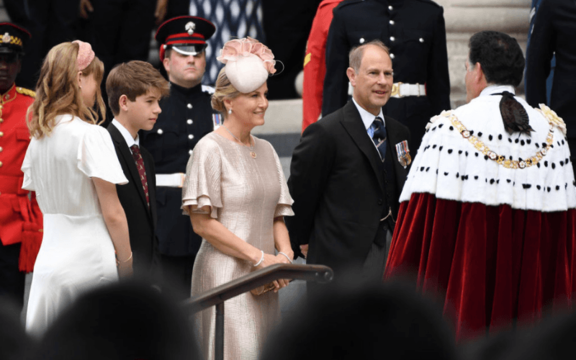 A service of thanksgiving for the Queen's reign is taking place today in St Paul's Cathedral but Buckingham Palace has announced the Queen will not attend.
Today marks the second day of the Platinum Jubilee celebrations with a historic Service of Thanksgiving in the Queen's honor being held in St. Paul's Cathedral in London.
Great Paul, the largest church bell in the country, will be rung for the Service. It was made in 1882 but fell silent in the 1970s due to a broken mechanism. It was restored in 2021 and has been rung on 8 occasions since, but this is the 1st royal occasion it will be rung. 
It was confirmed earlier today Her Majesty will not attend the service after experiencing "some discomfort" yesterday at the opening of the Platinum Jubilee. 
In a statement, the Palace added: "The Queen greatly enjoyed today's Birthday Parade and Flypast but did experience some discomfort.   
"Taking into account the journey and activity required to participate in tomorrow's National Service of Thanksgiving at St Paul's Cathedral, Her Majesty with great reluctance has concluded that she will not attend.   
"The Queen is looking forward to participating in tonight's Beacon lighting event at Windsor Castle and would like to thank all those who made today such a memorable occasion."
Yesterday Queen Elizabeth appeared on the Buckingham Palace balcony, joined by members of her family as the country marked the Platinum Jubilee with a four-day weekend of festivities, parties, and parades.
The celebrations began with the Trooping the Colour military parade in central London, and the Queen took the salute from the 1,500 soldiers and officers from the balcony of Buckingham Palace.
Her Majesty then took part in a lighting ceremony at Windsor Castle, which launched the illumination of thousands of beacons across the UK and beyond.
Are you enjoying watching the Platinum Jubilee celebrations so far? Let us know in the comments below!