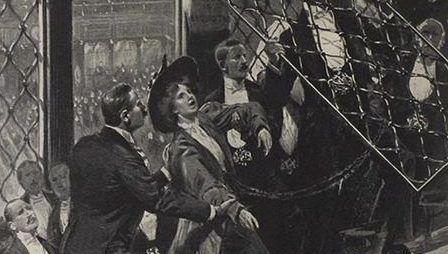 In Part 2 of our podcast series on the Houses of Parliament's Voice & Vote exhibit celebrating women's suffrage in the UK, we learn about "The Cage", a ladies gallery enclosed by heavy metal grilles. Curators Melanie Unwin and Mari Takayanagi describe the incidents that took place when women repeatedly protested the hardships associated with listening to Parliamentary debate from this difficult vantage point.
In 1886 with no formal voice in government, women began a nationwide petition campaign which collected 1,500 names and spurred the creation of hundreds of petitions that were signed by hundreds of thousands of citizens.
Not all of the suffragettes were well-to-do women with lovely dresses and hats? Not so. The Voice and Vote exhibit features suffrage memorabilia from Alice Hawkins, a shoe machinist. Her experiences represent the difficult challenges faced by working-class women. The podcast ends with the dashing Countess Markievicz from Dublin, the first woman elected to Parliament in 1918.