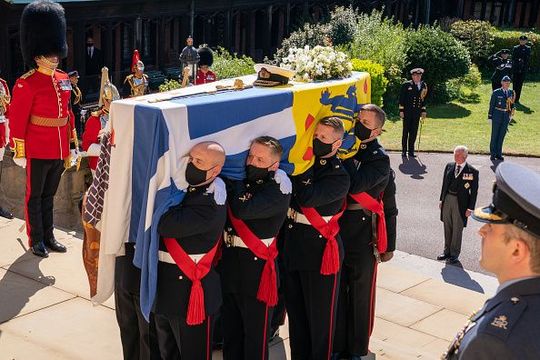 The Duke of Edinburgh's funeral was held this weekend
The Royal Family came together on Saturday afternoon to lay Prince Philip's body to rest.
The Duke of Edinburgh almost spent 100 years on earth, and his life was commemorated on Saturday.
The funeral of Prince Philip took place earlier today in St George's Chapel, Windsor Castle

This is how the day unfolded https://t.co/otRF06oLIP pic.twitter.com/21uoIjSfE2

— BBC News (UK) (@BBCNews) April 17, 2021
Prince Philip's funeral was viewed by over 2 million people in the United Kingdom, making it one of the most viewed television events of the year.
Ahead of the funeral, riders from the King's Troop Royal Horse Artillery made their way up the Long Walk toward Windsor Castle, and military personnel and royal guards all in ceremonial dress took up their positions in Windsor's Quadrangle beneath a blue sky.
The military musicians played the songs "I Vow to Thee My Country", and "Jerusalem", as the family members who weren't in the procession made their way to St. George's Chapel.
The queen, 94, who has called her husband her "strength and stay," sat on her own at the service that limited to 30 and maintained social distancing in accordance with the country's Covid-19 rules. 
Reverend David Conner, the Dean of Windsor, had this to say regarding Prince Philip; "We have been inspired by his unwavering loyalty to our queen, by his service to the nation and the Commonwealth, by his courage, fortitude and faith, Our lives have been enriched through the challenges that he has set us, the encouragement that he has given us, his kindness, humor and humanity."
Prince Philip's coffin was with his personal flag, and placed on top was his sword, a naval cap, a flower wreath — and a letter from his wife.
The service itself lasted less than half an hour. Following the service Queen Elizabeth stood up slowly and left the chapel with her family.
Prince Philip's coffin is carried out of Windsor Castle by soldiers from the Grenadier Guards and placed on the back of a custom-built Land Rover designed by the Duke of Edinburgh to be taken to St George's Chapel

Follow live: https://t.co/5veRhyq58Z pic.twitter.com/AHfB914A92

— Sky News (@SkyNews) April 17, 2021