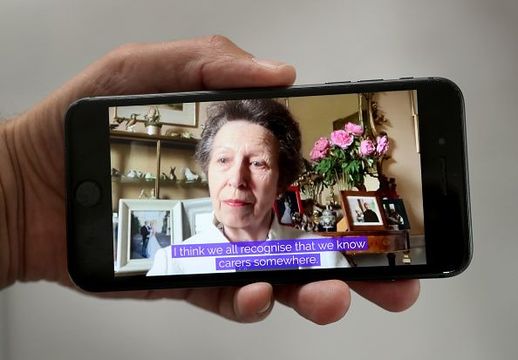 The hardest working Royal in the game has been passing on some knowledge to her mother
By now, we are all well-acquainted with the workings of Zoom, an app used for video calls. With Covid-19 still present in most parts of the world, social distancing is a requisite, and we are all being encouraged to stay indoors as much as possible to protect ourselves and those who are most vulnerable in society.
With that in mind, we have to remember that for many people of a certain vintage, the logistics of operating a Zoom call can be quite difficult to get to grips with.
Read more: Queen Victoria's funeral
This is certainly true of Queen Elizabeth, who, to her credit, has jumped straight into the Zoom life, and has appeared in several calls over lockdown.
It did, however, take her some time to learn how to use the app and a new clip has surfaced from an upcoming documentary about Princess Anne that reveals how the Princess showed her mother the ropes.
A new show on ITV called Anne, The Princess Royal at 70 is a new documentary set to mark the occasion that is Anne's 70th birthday.
In this charming clip, Princess Anne can be heard making sure that everything is set up correctly for Queen Elizabeth. She says 'Can you see everybody? You should have six people on your screen. Actually, you don't need me. You know what I look like!'
Princess Anne also spoke on the effect social media has had during the lockdown period. She praises the fact that she can meet people in virtual meetings but acknowledges that they are no real substitute for real-life encounters.
The documentary is set to air tonight at 9pm, and will shed some light as to why Princess Anne is so well-liked around the world.
Have a look at the clip below, courtesy of the ITV Youtube page