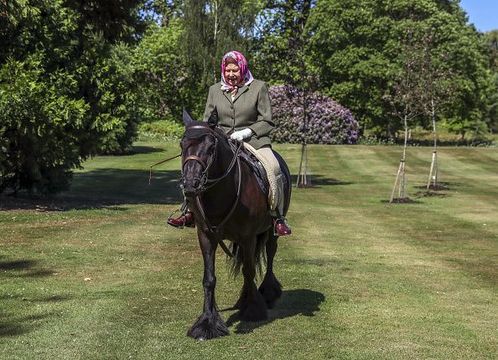 Queen Elizabeth has stepped out of lockdown to share a photo with us all 
It has been quite some time since we've heard from Queen Elizabeth. The Covid-19 lockdown has meant that Britons have been resigned to their homes for the last few months, and the Royal Family is no different. 
The Royals have been doing everything in their power to keep national spirits high amid political unrest in the United Kingdom. While Boris Johnson and his entourage have stumbled through the crisis, the Royal Family has emerged as somewhat of a leading force in the battle against Covid-19. They have been working tirelessly to ensure health workers and frontline staff get the respect and appreciation they deserve for their efforts in this trying time.
Read more: Sarah Ferguson's message to Princess Beatrice
The United Kingdom is slowly starting to emerge out of the lockdown. Schools are preparing to re-open, and shops and restaurants will slowly start getting back to normal service.
It seems that Queen Elizabeth has also got the message. Her Majesty has shared a photo of her enjoying one of her favorite hobbies, horseriding. Last week, we spoke about Queen Elizabeth's love for horseriding and her lockdown life, so it's great to see the Queen out enjoying those passions.
According to the BBC this is in fact the first time that Queen Elizabeth has been seen outside since the lockdown started. Reports have emerged stating that Queen Elizabeth is actually quite enjoying her lockdown life, as it has allowed her to spend more quality time with Prince Philip.
What with her daily horse rides around Windsor Castle, and her stately dinners every evening with Prince Philip, Queen Elizabeth is living the life! She is also reportedly still holding her weekly phone call with the British Prime Minister Boris Johnson, who recovered from Covid-19 in April, and is coming under increasing scrutiny due to his handling of the coronavirus pandemic.
Have a look at the photo below, courtesy of the @theroyalfamily Instagram