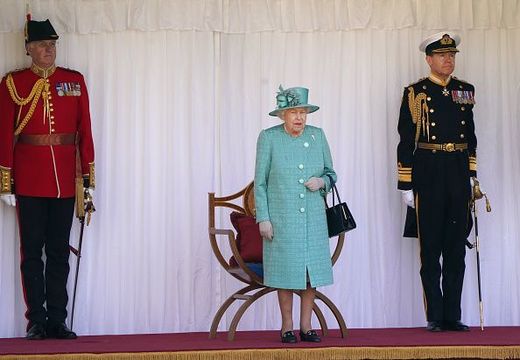 Queen Elizabeth has been celebrating her official birthday while in lockdown
Her Majesty is one of the only people in the world to actually celebrate two birthdays a year. Born on the 21st April, Queen Elizabeth celebrates that date, but as the reigning monarch, she celebrates her official birthday in June, which is marked by the Trooping the Color ceremony.
This is one of the landmark ceremonies in the Royal calendar and always offers up some of the best photos every year.
Queen Elizabeth celebrated her 'real' birthday back in April while self-isolating with Prince Philip. It was impossible for any other members of the Royal Family to see her due to restrictions, which were aimed at combatting the coronavirus.
Read more: 5 Royal rules that must be followed while on the move
Trooping the Color
Last weekend was set to be the weekend that the Trooping the Color parade was held. Sadly the parade was cancelled back in March, which led to much speculation as to whether or not the event would go ahead in any capacity.
Thankfully, it seems that Queen Elizabeth was in fact able to celebrate the day after all. 
Over the weekend, a much smaller scale ceremony was held. The 2020 Trooping the Color ceremony was held in the Quadrangle at Windsor Castle. Typically, the whole family will step onto the balcony at Buckingham Palace the greet the crowds, but this time, it was just Queen Elizabeth at the Quadrangle, as well as soldiers from the 1st Battallion Welsh Guards.
Queen Elizabeth looked to be delighted to be making what technically amounts to her first public appearance in months. Her Majesty has been locked away and unable to perform her normal duties, so to get the chance at celebrating the Trooping the Color ceremony is certainly a plus.
While it was a low-key affair, it is great to see Queen Elizabeth out and about again. 
Have a look at the full stream of the event below