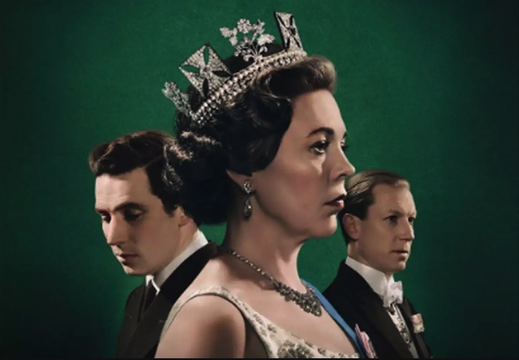 Costume designer Amy Roberts explores the visuals journeys of your favorite characters on The Crown.
The Crown is renowned for its attention to detail and accuracy when it comes to its sets, as well as its costumes.
Amy Roberts is an award-winning Costume Designer and has worked on notable shows such as Call the Midwife for which Amy received a BAFTA nomination, BBC's Oliver Twist, The Virgin Queen, and An Englishman Abroad. With each of these three productions, Amy won a BAFTA award. She won a Royal Television Society award for Cilla.
She has almost one hundred film, TV, opera, and theatre credits including Doctor Who (1977-1983). Other credits include; ITV's Wuthering Heights, Collision, An Inspector Calls, Prime Suspect 1973, The Tunnel, Swallows and Amazons and ITV's Cleaning Up. She was nominated for an Olivier award for The Misanthrope. Other theatre productions include Arcadia, The Lady from Dubuque, Phaedra, Aunt Dan and Lemon. During Amy's time on The Crown she has also received a nomination from the Costume Designers Guild Awards. 
Working in tandem with Amy Roberts, Sidonie Roberts is the Head Buyer and Assistant Costume Designer on the Crown. Studying Fine Art at Central Saint Martin's, Sidonie went on to work as an artist both exhibiting her own work as well as working with others such as Laurie Anderson, Melanie Manchot, co-curating the works of Nam June Paik and Assisting Jeffrey Perkins on his documentary feature about Fluxus, the art movement and its founder.
After getting into costume through contemporary dance she then moved into the TV & Film Industry and worked on hit TV shows such as; ITV's crime drama Cleaning Up, Britain's Got Talent and BBC's The Rack Pack. As well as working within the Costume and Wardrobe Department, Sidonie has worked as a producer, co-producing The First Film a documentary looking into the Yorkshire origins of the film industry.
Here's the interview
How do you begin work on a project of this size? What is the research/preparation process?
AMY: Everything starts from the scripts, the stories that are going to be told, you read the stories, immerse yourself in them, see where the arc of each episode goes and the journey of each character.
There is a wealth of photographic image to be had on our lead characters - the Royal family, the politicians etc and so, to start, we look at all that, online, in books and magazines. We have a huge wall in our studio and on that goes a pictorial journey for each main character. Having that big visual up there all the time really focuses us and it's a great starting point for all our actors and directors.
I do tend to do a mass of research, absorb it then "forget about it" and just get on with DOING it. Those images, colors and period details do stay in your mind but it's good to be free of them to put your own stamp on things. A key part in preparation is sourcing and buying fabrics as most of the clothes are designed and made from scratch in our studio workroom and with freelance costume makers.
Do you have a specific color palette for each principle character?
AMY: Pretty much, two clear examples are Elizabeth who has moved away from last season's palette of 1960's clear pinks, lilacs and blues to slightly more somber, "middle-aged" colors. These reflect both her age and a settling into her role as monarch as much as to a general move away from the optimism of that time to the now 'broken Britain' of the 1980s. Princess Margaret's colors are much darker indicating the real tragedy and loss of direction her life has now taken. As for the Queen mother she remains in her moth shades of lilac, sky blue and rose hues showing her unchanged position within the monarchy.
With Thatcher at Balmoral, it was very much the use of color, to make her look as far away from the natural country look as possible. When she goes stalking with the Queen, she's in the most vivid synthetic blue dress and coat with heels.
SID: With Diana the color palette we chose was governed by (as with most of the decisions) what she really wore as a point of departure. However, for Diana we decided to isolate the colors she wore that the other royals did not and make that her particular color scheme to further emphasize the narrative of 'her' vs 'them'. So, with that we introduced a lot more red and black as well as a typically 80s shade of green and purple into season 4.
Where do you draw your inspiration from?
AMY: Photographs of the period, film and magazines, but it might also be an amazing combination of colours you see in a Medieval painting or a contemporary Miu Miu campaign it's all up for grabs!
What has evolved in terms of fashion since season 3?
AMY: Shapes are a big difference, wider shoulders, bigger, more loose tops, narrower skirt and trouser shapes. Towards the mid-80s, the power suits hinted at more confidence for women in the workplace, they were very fashionable as seen on Margaret Thatcher.
Can you talk us through vintage shopping in Paris / London? Where else do you source your costumes?
SID: We source fabrics, clothing, buttons, jewelry, accessories etc from a wealth of places, ranging from dealers, fabric fairs and shops, costume hire houses and markets both antique and car-boot. Now that we've moved into the 80s, I have been able to buy far more original clothing for this season seeing as there's still vintage pieces out there in immaculate condition which obviously for the Royal family they need to be.
Along with all the reputable places like one particular fabric shop in Paris we go to that buy original Hermes, Fendi, Versace fabrics etc both vintage and contemporary, I stay very open to finding things in lesser expected places too. I think coming across things by chance is always a buyer's bonus. It's a real mixture of the two. One of my favorite buys as an example of this was an original 80s Guy Laroche coat in such beautiful condition, perfect for Princess Margaret that I found when rummaging in a junk shop in Paris for a fraction of the price it's worth.
Where do you start with dressing 200 extras? What elements do you include to typify 80s Britain when dressing a large crowd?
AMY: There is a team in the costume department who deal specifically with dressing the big crowd scenes. In Series 4 the crowd was as diversified as Argentinian oil workers to Australian outback farmers to high-end socialites in New York. A lot of the clothes for crowds are sourced from customers in the UK, Paris, Madrid and Poland and a lot are bought. The main elements of typifying the 1980s when dressing the crowd is mainly silhouette, but you are able to use 80s clothing so that the overall effect will be very accurate. Each and every crowd artist is fitted, and their age and type is carefully taken into account resulting in a visually true representation of large and varied groups of people.
What has been the most challenging costume to source / create?
SID: I'd say actually the most challenging thing was sourcing the correct type of fabrics specifically for Diana on her and Charles' Australian tour. The reason being the dresses Diana wore here were so specific to the 80s in terms of the particular weight of the fabrics, which were mainly silks, and therefore how they drape on the body. As well as weight they were very distinctively 80s in color and shade also. As with everything in fashion fabric trends move on too meaning the specificity of those particular fabrics was harder to source in contemporary fabric shops. However, through a combination of sourcing vintage fabric, dying existing ones and having it made as well as continuing to hunt for it we made a collection authentically fitting to the rest of Diana's season 4 wardrobe.
Talk us through the private looks of the Royals at Balmoral and Sandringham?
AMY: I think these are the places the Royal family feel most at home and at ease in. It's where they stalk and hunt, ride, fish and walk their dogs. The clothes are comfortable and practical, made of tweeds and wools, raincoats and Wellington boots for the English weather. Knitwear. Kilts at Balmoral. Headscarves for the women caps and deerstalker hats for the men. They aren't here on show for the public, they are "off duty" and doing the things they feel supremely at home with and the relatively casual clothes reflect that, mud and all.
How has Charles' style evolved as we see him go from a student in S3 to a father of two by the end of S4?
AMY: Primarily his style has moved on from the 60s, 70s of S3, narrow jacket lapels and flat fronted trousers, to the wider shouldered jackets and pleated front trousers of the 80s. It's a subtle nod at these fashion statements as Charles isn't a slave to fashion but always very English in patterns and colour choices, very elegant and stylish. We have moved him away from the boyish single-breasted jackets and flannel trousers of S3 to more double-breasted suits in lighter weight cloths, classic striped shirts, strong coloured ties and always the pocket square. The cut of the suit slightly wider to suggest a more mature figure.
Likewise has Anne's style evolved?
SID: Simply put, Anne has become an adult in season 4 meaning her style as with most when you grow up has settled and become more established as both a royal and as a mother. We saw her as a teenager in season 3, in fact she was our main vehicle out of all the royals into the 'swinging 60's' as we know it.
This season her skirts have got longer, heels lower and we welcomed the introduction of the headscarf worn in a sartorially brilliant way often with hats which due to the amount we focus on her in private spaces like Gatcombe Park we get to see a lot of. She was one of the first major royals to repeat wearing clothes in public, sometimes as much as 30 or so years later so we chose to play with putting her in the same outfits multiple times to differentiate her from any of the other principal royal women in this particular way.
How much artistic license have you had with Diana?
SID: I think the biggest conversation for us regarding Diana was as someone so well documented how we negotiated what she really wore vs what or how we designed for her. There were key moments where we adhered to recreating iconic looks she wore. For example, the wedding dress, which with the unprecious generosity of David Emmanuel (the original designer) we went about recreating.
Or the 'off the rack' engagement suit Diana bought from Harrods. Allowing for moments like this also meant that we then had scope or more creative license when it came to the lesser-known public moments or quieter private spaces she inhabits in the story. Given how much we know of her and her image, there were of course moments where we consciously decided to stray from what she actually wore and design something more in keeping with the costume story or journey we were telling. It was of course always with an essence of truth in mind but adapted for the purpose of ultimately telling a story rather than making a documentary.
Could you give a rundown of her looks, inspiration and why you think she may have dressed in that way?
SID: We almost see Diana's entire journey throughout season 4. We start at the very beginning and see her evolve from a young girl living with her friends in Sloane square to the makings of a princess, then actually becoming the 'People's Princess' to finally the beginnings of the end which we will see more of in season 5.
I think despite the obvious changes there is a real sense or arc of the same person throughout all these stages in terms of how she dresses. There is and always was a sense of playfulness, openness, and with that a vulnerability that connects her to her image. 
What has the collaboration with Emma been like?
SID: Emma completely understood just how integral clothes are to Diana's character and therefore the importance of her costumes for season 4 and our work. So, with that said from the very get go she was so invested in the most excited, enthusiastic and committed way that it was a real joy for us working together with her.
Could you give us a rundown for Thatcher's looks, the inspiration and why you think she may have dressed that way?
AMY: We follow Thatcher from a young student at Cambridge in the 1940s. There is one key moment in these scenes where director Julian Jarrold wanted to point up in a very visual way the woman she will become. It's a brilliant blue evening dress we had made, now there's a clue! Then we see her evolving from the early pale oatmeal-colored, softly tailored suit as she casts her vote on Election Day, to the famous electric, pleated skirt suit whilst giving her winning speech outside Downing Street. As she increases in power, she creates a personal style to project her political values, adopting the "power dressing" of the 1980s. She could use this look to great effect wearing wide-shouldered, strongly tailored suits but, cleverly softening this, by wearing pussy-bow blouses.
There are many scenes with Thatcher and the Queen at their weekly audiences. These illustrate moments both in her political and private story. It was interesting deciding what the clothes could say here for both women. For example, when Thatcher's son Mark is lost in the Sahara and she is deeply distraught, it's a moment where both of them are reacting as mothers and so dressing them both more softly, more sympathetically seemed appropriate, a time to see Thatcher without her 'armor'.
SID: I think for Thatcher her style not only evolves with the changes from the early to the late 80s but also in terms of where she is within her political position and place. She starts season 4 as we know her at the polling stations and then soon after getting elected as prime minister and at this stage, we see her with her signature pussy bow spilling out from her late 70s suits. Her style here still feels somewhat relatable with its softer 'feminine' touches. Later as the shapes begin to change throughout the decade so do Thatcher's. She gets far more established within her role and with that, we see her dressing in much sharper shapes, wider shoulders and with an abrupt goodbye to the frothy pussy bow. The journey of her style feels very reflective/symbolic/illustrative of her journey as prime minister.
Have a look at the clip below:
* Originally published in 2020.